---
(3) Private Residencies
---
National and public residencies offer the benefit of stability to maintain and support the program and environment for the artists. Some artists may find these as typical residencies. In comparison, the residencies, operated by private art galleries or independent organizations, exhibit more pronounced and strong individuality by aiming to present artist's uniqueness in art. If you are an artist with specific genre, particular perspective, or certain type of living environment, you may want to pay attention to this section.
---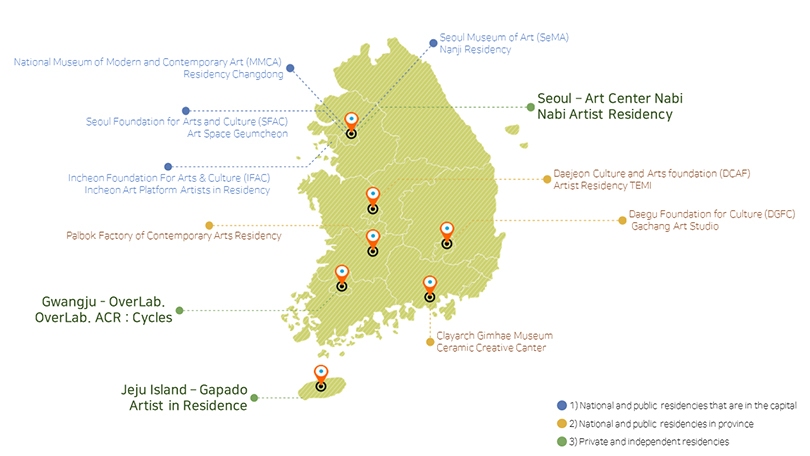 ---
1. Art Center Nabi – Nabi Artist Residency
---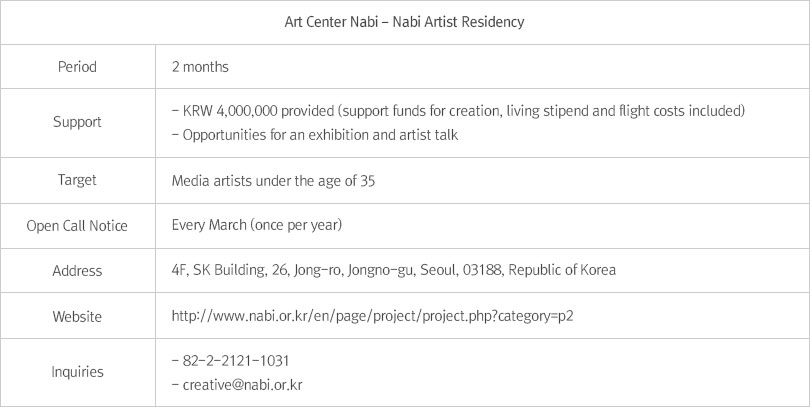 ---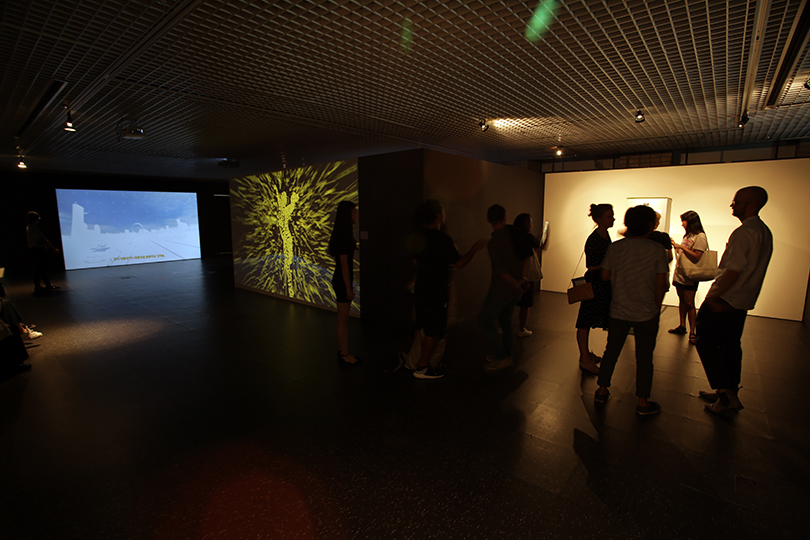 An exhibition view of《Nabi Artist Residency 2018》, 2018. ⓒNabi Artist Residency
---
Opened in 2000, Art Center Nabi, a media art-focused art center, has explored art along the fine line between technology and art by actively operating exhibitions and educational programs. In 2016, Art Center Nabi opened the Nabi Artist Residency to introduce emerging young media artists to the international community and vice versa. Currently, the residency is in collaboration with V2, a media art organization in the Netherlands. V2 is an organization that was established in 1981, in Rotterdam, the Netherlands and has promoted collaborations between artists, designers, and scientists. Nabi Artist Residency continuously plans to expand by introducing both unfamiliar and famous media art organizations globally.
---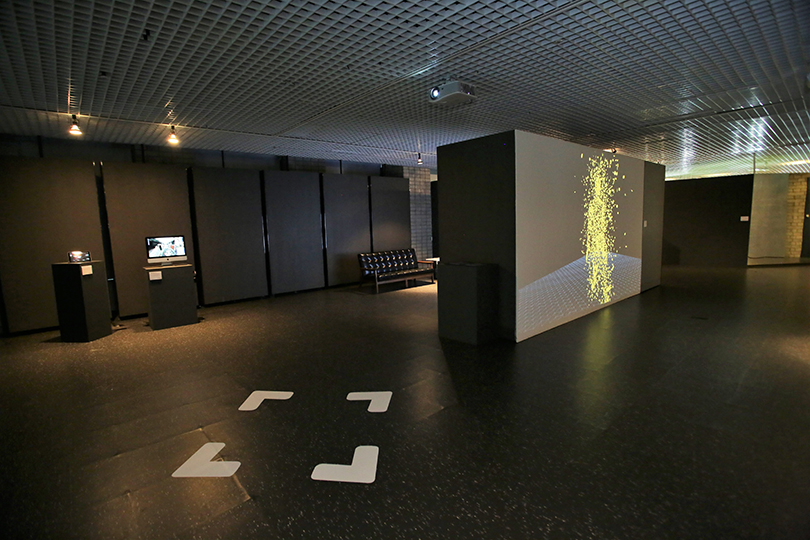 An exhibition view of《Nabi Artist Residency 2018》, 2018. ⓒNabi Artist Residency
---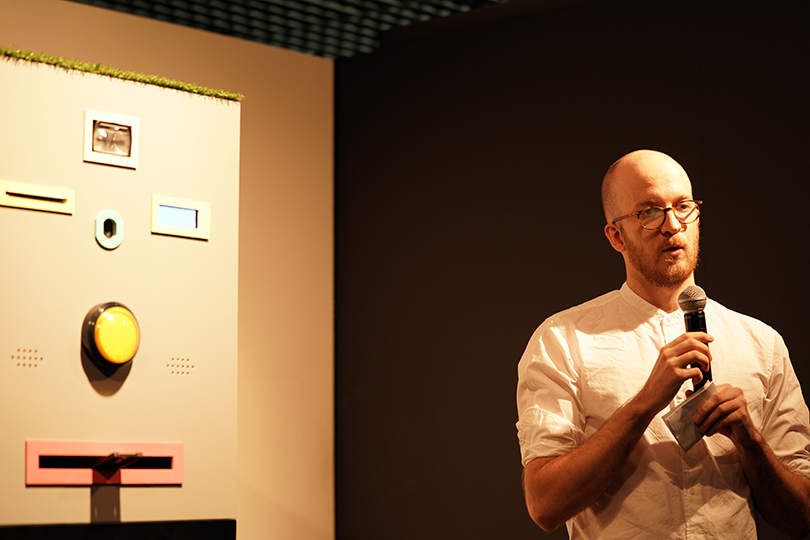 An exhibition view of《Nabi Artist Residency 2018》, 2018. ⓒNabi Artist Residency
---
Though it is a relatively young residency of three years, as the organization that has almost 18 years of research experience, it does not spare any costs in supporting art under the genre of media art, AI, blockchain, robotics, and other high-tech materials for art. Nabi also operates several programs with other Korean and international research institutes for art creation and media art centers. Therefore, the artists in residency can create networks among artists under Nabi Lab and use tools available in the lab. Furthermore, artists have the opportunity to exhibit their final artworks and present their activities in an exhibition and an artist talk. Sjoerd ter Borg, the artist in residence from last year, produced a film with street view archives of Seoul and returned to the Netherlands to receive Icarus Award 2018 for creating an artistic work, fusing together that of technology and society.
---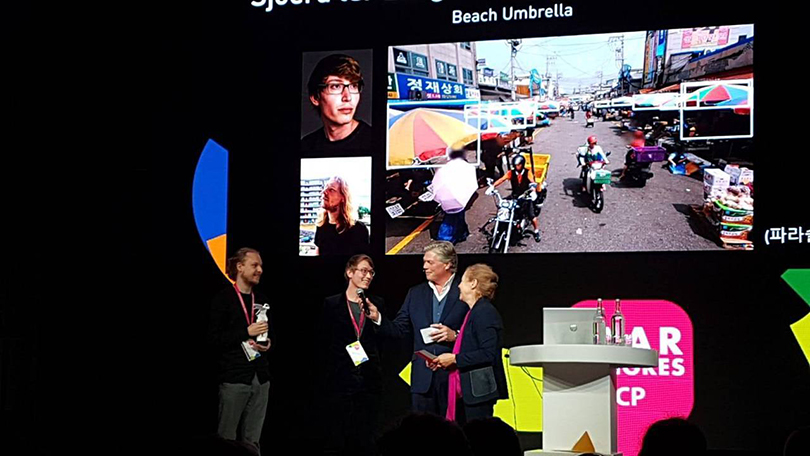 Sjoerd ter Borg receiving 'Icarus Award 2018' ⓒThe Artist
---
The open call for the application submission will open in March. If you are a young artist carrying a new vision for creating art between technology and art be sure to look this place up on time.
---
Related link: https://youtu.be/RvZ5usN3NuY
---
Artist Review



Sjoerd ter Borg / the Netherlands / Media Art
---
Q. How do you apply to the residency? What's your reason to choose the residency?
Currently my research focuses on how we can use computer vision techniques (such as image recognition software) to study gentrification to through Streetview archives. I heard about the residency through V2 _ Lab for the Unstable Media in Rotterdam (the Netherlands) which is a interdisciplinary center for art and media technology. They are working for some years now with Art Center Nabi in Korea through a program called 'Summer Sessions'. For me Seoul was the perfect location for a residency: there was a lot of professional knowledge about technology and at the same time it is one of the most interesting cities in the world to study gentrification. Some neighbourhoods in Seoul change completely over the course of one year. I wanted to break from my own Western assumptions about the subject and submerge in a completely different context.
---
Q. Let us know about good & bad point during the stay? What would be made and progressed by the experience?
Overall I had a great time in Seoul. A lot of my research happened through meeting local artist, designers and researchers on sight and walking through different neighbourhoods. This got me to a lot of interesting places and it always led to new insights which helped me a lot. The disadvantage is that Seoul is really hot in summer so sometimes it was also a challenging method. In the end I made three works that were presented at the exhibition of the residency. To give an example, of one them was a short film called 'Beach Umbrella'. In the film a computer categorizes the city of Seoul using Street View archives of companies like Google, Kakao (Daum) and Naver. It questions how technology can be used to examine urban changes such as gentrification. By witnessing the birth, life and death of objects, aesthetics and urban phenomena through extensive visual archives, technology becomes like a fortune teller: reading, analyzing and predicting the future of the city. The film shows the past, present and future of one of the objects often used by small businesses and street vendors: the beach umbrella.
---
Artist Review



Amay Kataria / U.S. / Intersection of sculpture, hardware, and software
---
Q. How do you apply to the residency? What's your reason to choose the residency?
I came to know about this residency by a former SAIC student, Nihat Karatsali, who also did a residency at Art Center Nabi the year before I went. I chose to apply there because Nihat had an amazing time at Art Center Nabi and was continuously supported for his endeavors. As an artist working with technology, I'm an international artist and my practice is not just applicable in the United States. Art Center Nabi is at the forefront of New Media Art and applying for a residency there came very naturally to me.
---
Q. Let us know about good & bad point during the stay? What would be made and progressed by the experience?
There were a lot of great things about the residency. First and foremost, the stay was absolutely gracious. The hospitality by the Art Center Nabi staff was top-notch and they did their best to keep me comfortable in a foreign country. Secondly, continuous critiques, critical conversations about the work, and weekly sessions to make me familiar with the Blockchain technology was a great plus. I not only made new work there but ended up learning new skills, which are extremely valuable in my artistic career. A con about the residency was the lack of access to facilities. Due to the heat-wave that was in South Korea this past summer and overworked staff, the fabrication facilities were not available during my time there.
I learned a lot of new skills during this residency and pushed my art to another level. This experience has made me more confident about my technical skills and also increased my exposure to a new cutting-edge technology. Doing a residency at Art Center Nabi opened more doors to pursue other opportunities in the field of Art & Technology. I'd love to go back there and relive the awesome time I had.
---
2. OverLab. – OverLab. ACR : Cycles
---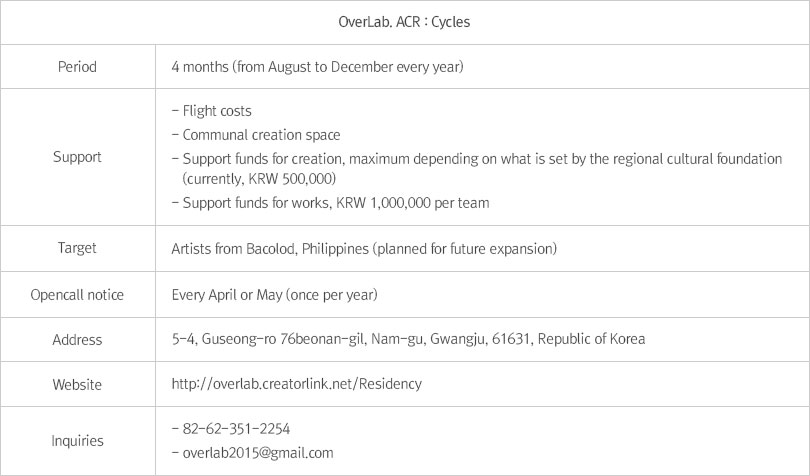 ---

An exhibition view of 《Cycle 003 BALANCE》, OverLab. 2018 Artist Collaboration Residency Exhibition, 2018. ⓒOverLab.
---

An exhibition view of 《Cycle 003 BALANCE》, OverLab. 2018 Artist Collaboration Residency Exhibition, 2018. ⓒOverLab.
---
OverLab. ACR : Cycles is a unique type of residency operated by a Gwangju-based independent curator group, OverLab.. Unlike the national and public residencies, the OverLab residency focuses on promoting communicating and interaction among the artists, rather than simply exhibiting artists' works and operating programs.
OverLab. ACR Program first began with OverLab's participation in visual art biennale called VIVA ExCON (the Visayas Islands Visual Arts Exhibition and Conference) in Visayas, Philippines and it expanded as a co-creation and co-production program in 2016. Currently, the residency program is operated under the name, Cycles. From 2017, OverLab signed an MOU with the Institute of the Moving Image at St. La Salle University in Bacolod, Philippines, and has been providing more stable support to the artists since.
There are no academic or age requirements, however, since it is a residency that emphasizes cultural diversity, communication, and collaboration, it is important that the artist is open-minded, culturally considerate, and respectful in their art and artistic philosophy. More than anything else, the residency values the coming together of cultures in creating art. The residency offers programs for the artists to do so in the four months of their residency program. Selected artists will be provided with artist residency funds, a shared studio, and residence.
---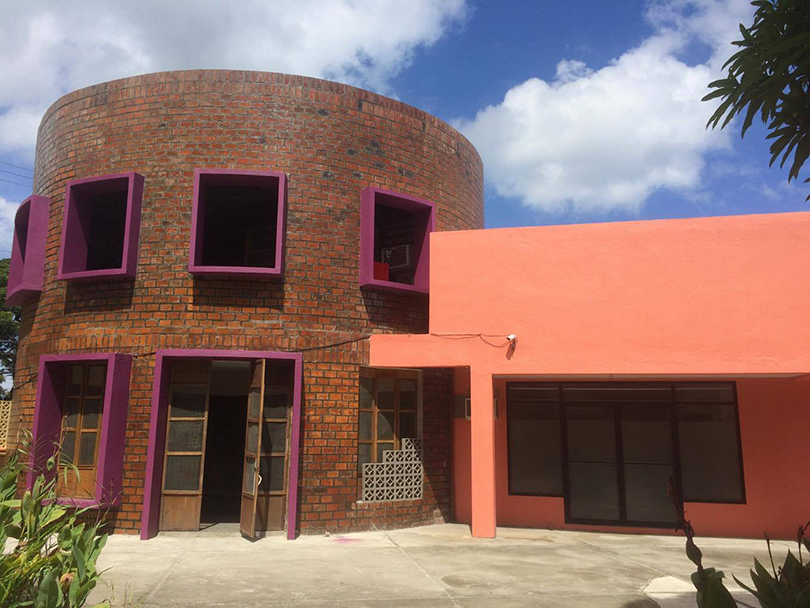 The Residency in Bacolod, Philippines, 2018. ⓒOverLab.
---
Unfortunately, the residency program is only available for artists from Gwangju and Bacolod, but the organization plans to expand the program to accept artists from more regions and countries. Keep a close eye on the future activities of OverLab. ACR : Cycles, a program that runs in close collaboration between the region's curators and artists.
---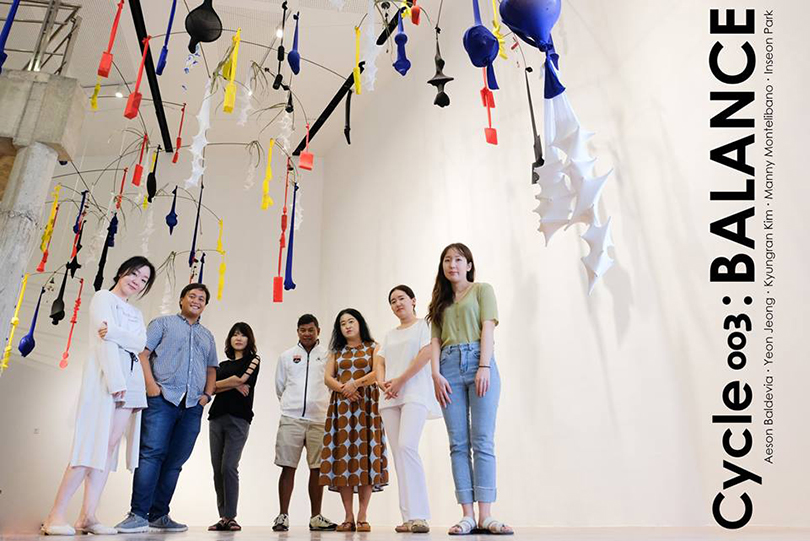 OverLab Curator and Participating Artists of '2018 ACR: Cycle 003' program, 2018. ⓒOverLab.
---
Related link: http://www.theartro.kr/kor/artnews/event_view.asp?idx=2066&b_code=20e&page=1&searchColumn=&searchKeyword=&b_ex2=&r_b_ex3=&r_b_ex8=
---
3. Gapado Artist in Residence
---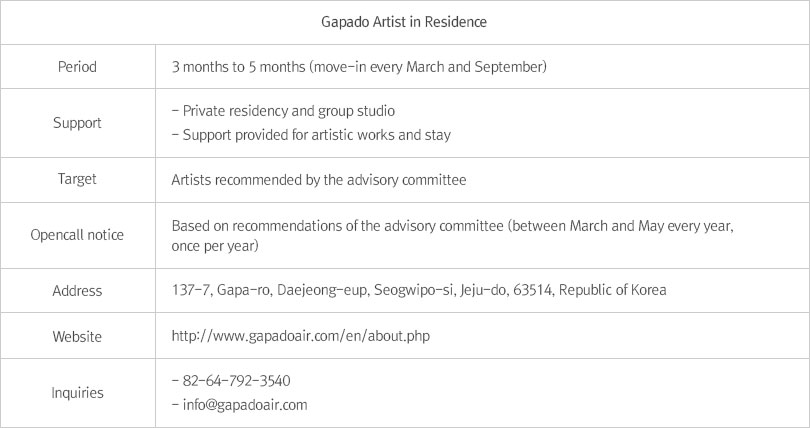 ---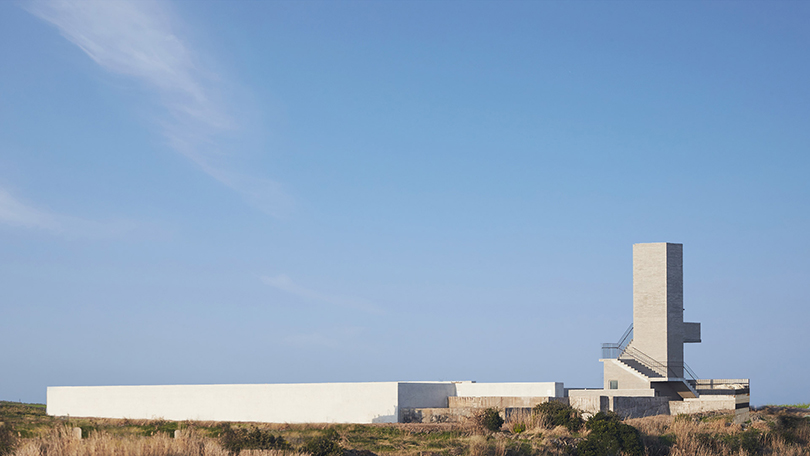 View of Gapado Artist in Residence ⓒGapado Artist in Residence
---
A new type of residency opened in Gapado, an island 10 minutes away from Jeju Island, is located in the East China Sea. Gapado Artist in Residence is a part of the Gapado Project by Hyundai Card, a financial corporation, and the local government of Jeju Island. The program is to establish economic independence for the local Gapado residents and to preserve the island's environmental and cultural values. Gapado Artist in Residence was established as a part of the initiative to preserve the island's culture and is open for artists from all areas. In the main and two annex buildings, there are individual residences, studios, galleries, terraces, and more.
Gapado Artist in Residence does not have an application period. Instead, it accepts artists based on recommendations from the advisory committees which include curators of the National Museum of Modern and Contemporary Art, MoMA in New York, Tate Modern in London, and more. Once the artists with recommendations from the advisory committees submit their portfolios and resume, around five Korean and international artists are selected.
Selected artists live in Gapado from 3 to 5 months, trying to discover new artistic inspirations. They participate in programs with local residents to grasp a better understanding of the special island and have the privilege of taking a walk by the beach every day to enjoy a little personal time. Korean curators visit the island to provide feedback and critique the artists' works and artists also host exhibitions to present their works created during their time in Gapado. The exhibitions take place on the island and also in Seoul, which is more accessible to the public. Currently, at the Hyundai Card Storage in Yongsan, Seoul, there is an exhibition taking place to exhibit all the works of past artists from the Gapado Artist in Residence program, as well as different milestones that the project has reached. The exhibition is available until February 28th, 2019, and recommend interested artists to come and see what the program has to offer.
---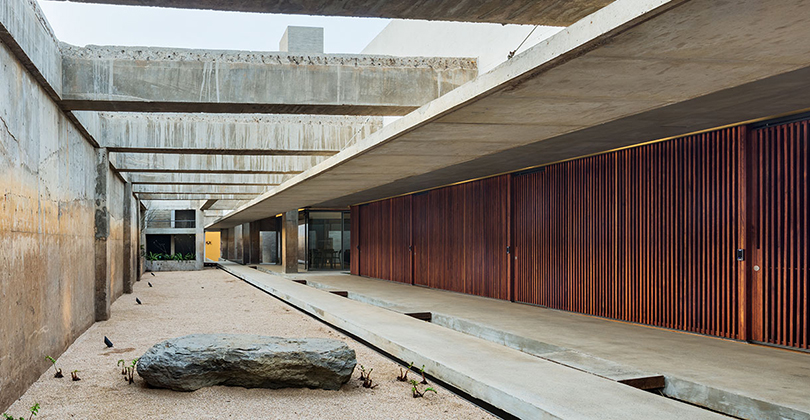 View of Studio ⓒGapado Artist in Residence
---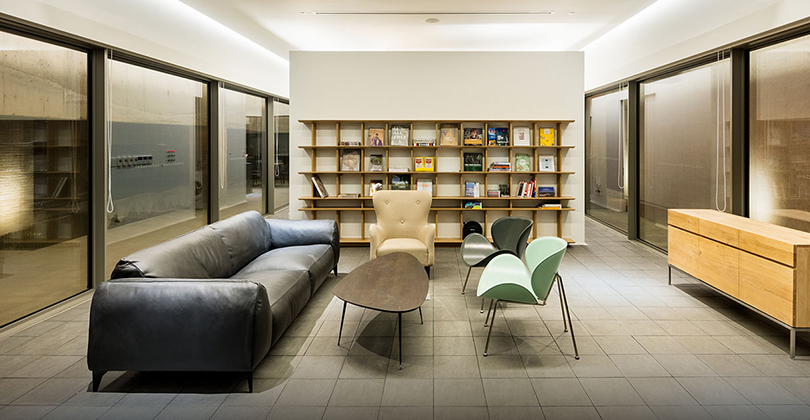 View of Community Room ⓒGapado Artist in Residence
---
This will be a unique experience for today's artists, who are used to living the busy city life. In their time in Gapado, artists from all over the world look back on their works and find new artistic inspirations. Since its opening in 2018, 11 Korean and international artists have been a part of this residence. We look forward to more artists taking advantage of everything this unique residence has to offer.
---
Related link: https://youtu.be/8FjDfM-KXgo
---
Artist Review



Jeannette Louie / U.S. / Films
---
Q. What's the main reason that makes you to join Gapado AIR program?
Because my films portray cognitive landscapes, I often seek out unique physical environments to experience and collect source footage. For about a year or so, I was grappling with the concept of isolation, of consciousness as being an island. I came across quite a bit of information regarding island themes and motifs, but most of it was pedantic and of second-hand experience. When I received the invitation to participate in Gapado AIR, I was not initially interested in visiting South Korea as I have been there on numerous occasions. However, when I read about its location I realized the residency would offer me an opportunity to gain firsthand experience of living on a remote island.
---
Q. What was the most impressive thing about Gapado AIR program?
The geographic location and makeup of Gapado is idiosyncratic. The island is flat, inhabited by a shrinking population, and is oftentimes cut off by rough sea currents. Though a 10 minute ferry ride separates the island from Jejudo, the distance seems psychologically greater. The last ferry of the day empties the island of tourists and the immediate solitude that settles upon the village is incredibly concentrated. When night falls, one feels absolutely singular, solipsistic and silent. The landscape can only be described as being "National Geographic". The immersion into oneself is a completely unique experience not often felt by 21st C beings who are constantly tethered to a digital network. Nightfall occurs quickly on the island and I can only say that during such instance, thoughts transform into hauntings and all human sensation is heightened.
---
---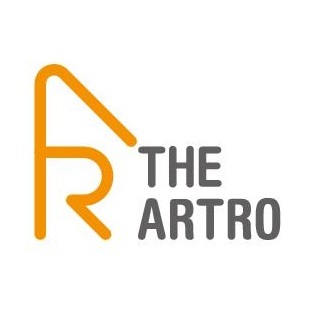 An Suyeon, Choi Sunjoo
An Suyeon (The Artro Editor)
Choi Sunjoo (Freelance Writer)