Features / Focus
Reviewing Overseas Visual Arts Support in Korea (2) : International Residency Programs in Korea, Current Status and Suggestions
posted 26 Dec 2017
TheArtro will present a Korean visual arts fund and provide support information to international readers. Currently, quite a number of notable exhibitions and art projects are offered with the support of public funds in the Korean visual arts world. Among them, support plans for international exchange programs are continuously expanded as the Korean art world has become internationalized. . A variety of opportunities and support plans including invitations for research, international seminars, publication support, and art competitions directly planned and run by public institutions or art museums of Korea are open to international artists, as well as residency programs and exhibitions that international artists and professionals themselves can apply for. TheArtro will cover such opportunities including various support programs for international artists offered by Korean institutions in a series of articles, topic by topic.
The second article will cover the current status of international residency programs in Korea. The article will feature a variety of residencies ranging from major public residencies to privately run residencies with unique opportunities, with particular attention given to those that pursue active interaction with international artists.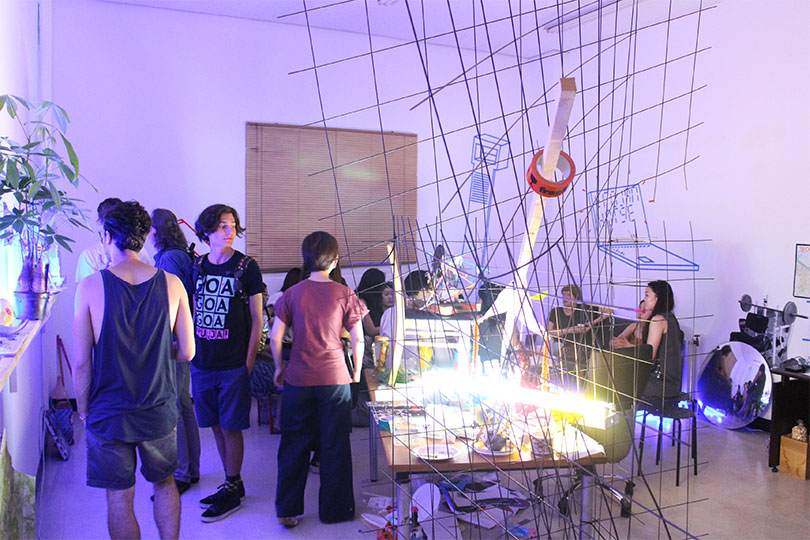 Photo of MMCA Residency Changdong's Open Studios, organized by Tim Breukers, 2016.





International Residency Programs in Korea: Current Status and Suggestions
According to A Study for Current Status Research and Support Plan of the 'Artist Studio' published by the Korea Culture and Tourism Institute (KCTI) in 2013, more than 120 residencies are currently open and running across Korea. The number of residency programs in Korea is on the constant rise with the opening of the Jeju Culture and Art Foundation's (JCAF) residency, which selected its first artists in 2017, and Palbok Contemporary Art Factory run by the Jeonju Cultural Foundation, which is in the process of selecting its first residing artists for 2018. Not all residencies in Korea among the total of 100 institutions run an international program, but it is certainly true that for many international visual arts professionals, it is quite difficult to receive information related to Korean residency programs. I typed "South Korea" into the searching engine of Res Artis, one of the biggest networks of international residencies with around 600 residency programs from 70 countries registered, and I received seven results as follows:
MMCA Residency Changdong & Goyang, Gyeonggi Creation Center, Incheon Art Platform, Seoul Art Space Geumcheon, Seoul Art Space Yeonhui, Seoul Dance Center, and SeMA Nanji Residency. (Note that since 2016, the Gyeonggi Creation Center no longer selects international artists through its contest.)
The residency directory of the Alliance of Artists Communities (AAC), a residency network based in North America, also showed only three results: MMCA Residency, Seoul Art Space Geumcheon, and Incheon Art Platform. Without a unified platform, only very limited, sporadic information is available now. An English online database is urgently needed to categorize and provide information on major residency programs of Korea by location and characteristics like China Residencies (chinaresidencies.com), which offers residency information in China or Hong Kong, and Japan's AIR_J (en.air-j.info) and Move Arts Japan (movearts.jp). Under the current circumstances, one has to acquire information only through each residency's social media accounts without an integrated data platform. In this article, I would like to briefly cover the current status of Korea's international residency programs based on my own experience of working for a public residency program.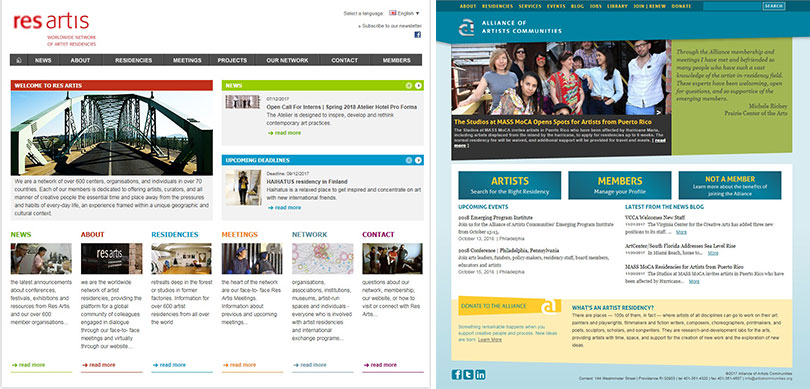 L) Res Artis. R) AAC.





Various Support Plans
As the list of residencies mentioned above shows, Korea's major residencies are often run by public art museums and local cultural foundations (according to the aforementioned study on the current status of artist studios, 39 out of 124 residencies are run by public institutions). With a relatively more stable budget, the public art institutions are able to run residency programs on a regular basis. Most programs select international artists or researchers once a year through a public contest, and the residency period for selected artists is usually less than three months. The selected artists and researchers can use individual studios (accommodations) and shared spaces in the residency without additional fees. They are also entitled to receive partial assistance for production cost when presenting at exhibitions (in the case of Artist Residency TEMI and the Busan Cultural Foundation Hongti Art Center) or round-trip flight tickets (SeMA Nanji Residency, Seoul Art Space Geumcheon, and Incheon Art Platform) or round-trip flight tickets plus subsidies for work production amounting to KRW 300,000 a month (Daegu Foundation For Culture's Gachang Art Studio) or living expenses of KRW 1 million a month without flight tickets (MMCA Residency Changdong). In short, each residency has slightly different support policies in detail. Applicants for the programs are evaluated mainly based on submitted materials such as portfolios, CVs, and project plans, while additional factors such as the applicant's statement of purpose, concreteness of plans, and influence on the Korean art world are considered comprehensively.
〈Supports for international residents〉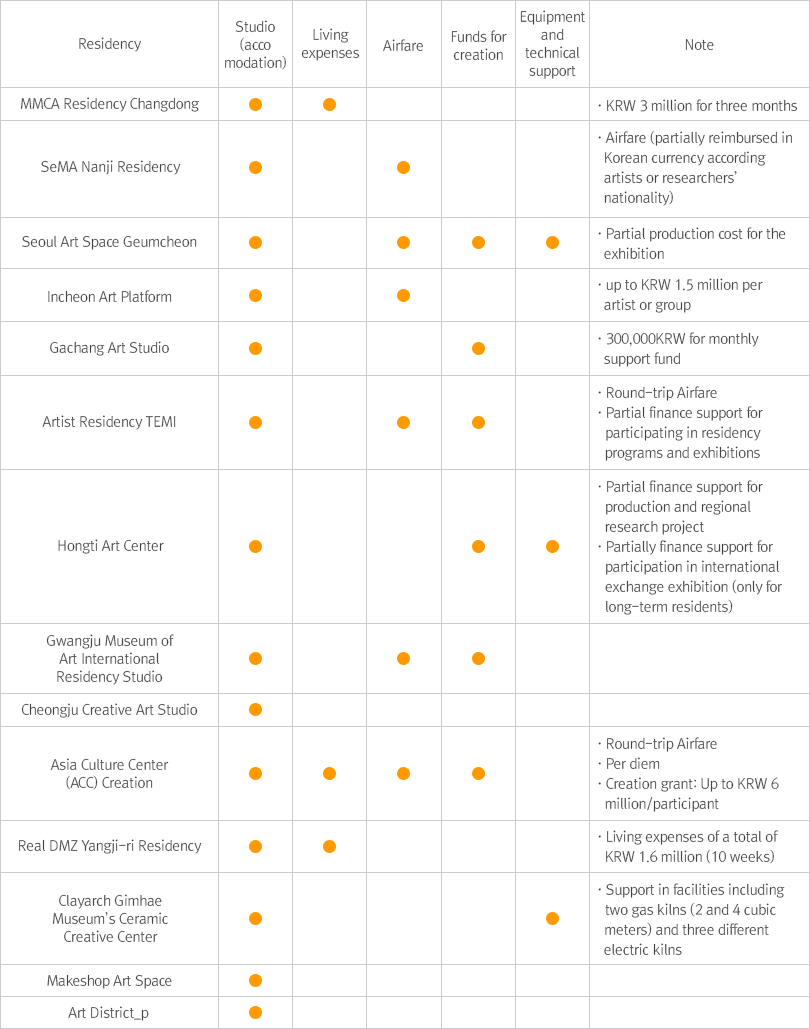 Among the 300 artists who have received MMCA Residency Changdong from 2002 to 2015, excluding 146 Korean artists, more than half are from Europe (68 artists) and Asia (47 artists), and I assume other residencies will also have the similar statistics. The rest of the artists come from Oceania (12), North America (10), South America (6), the Middle East (6), and Africa (4), making up 4 percent, 3 percent, 2 percent, 2 percent, and 1 percent of the international artists respectively. The MMCA Residency Changdong runs the International Artists Fellowship Program that invites renowned artists from South America in 2016, Middle East in 2017, and Africa in 2018 to the program through recommendation by prestigious art institutions and experts in the field and offers monthly living expenses of KRW 2 million for a total of KRW 6 million (including flight ticket fees and production costs) to the artists as well as residency opportunities, in order to resolve too-narrow concentration on specific areas and expand the scope of international exchange.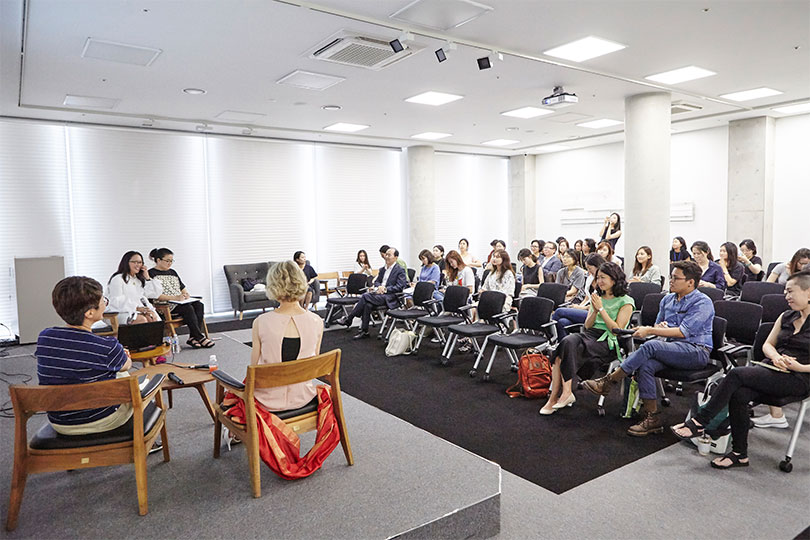 Photo of the seminar given by Christine Starkman, the researcher-in-residence at MMCA Residency Changdong, with participation by Kim Sunjung, and Dr. Charlotte Horlyck, at DAL330, MMCA Seoul, 2017.





Major residencies run by public institutions currently operate an international exchange program for artists who previously have participated in residencies or those who are currently in residency. As of 2018, the MMCA Residency Goyang runs an exchange program in collaboration with six international institutions, AIR_Frankfurt, Bauhaus Dessau, and Künstlerhaus Schloss Balmoral in Germany; Darling Foundry in Quebec, Canada; Taipei Artist Village in Taiwan; and Tokyo Arts and Space in Japan. The artists selected for international residencies will receive KRW 2 million a month for three months, while international artists who will stay in residency in Goyang will also receive the same assistance in return. SeMA Nanji Residency is currently running an exchange program with HIAP in Finland, BilbaoArte in Spain, and Dunedin School of Art's (DSA) Artists in Residence and Artists Adjunct program in Australia. Seoul Art Space Geumcheon also operates an international exchange program with Kuandu Museum of Fine Arts in Taiwan, Apexart in the US, and Hanger Art center in Spain, while Incheon Art Platform has partnered with BankART1929 in Yokohama, Japan, and Sanskriti Foundation in New Delhi, India.


Most public residencies mentioned above had been established in unused spaces in downtown or suburban areas in the 2000s, and they often lack workshops at all or have ones only for woodwork or metalwork. When an artist needs to focus on other media, then he or she will have to look to other residencies for a necessary work studio. For example, Clayarch Gimhae Museum's Ceramic Creative Center, the only residency specialized in ceramic art in Korea, is equipped with three different electric kilns, a 2-cubic-meter gas kiln, and a 4-cubic-meter gas kiln to enable on-site creation of large-scale pieces over two meters high and provides technical consultation by ceramic technicians. Art District_p in Busan selects domestic and international artists for its residency program based on the theme of drawing (including esquisse, text, symbols, replicas of all genres) and offers a large-scale Imacon film scanner, an Epson digital printing system, and a photo studio and printing machine.
There is another type of residency which is run based on a project that touches on specific regions or themes, such as the Real DMZ Yangji-ri Residency. Under the theme of the division of Korea, a situation specific to the country, the residency transformed an empty house in Yangji-ri, Cheolwon-gun, Gangwon-do, which is in the area neighboring the DMZ, to provide domestic and international artists and researchers opportunities to explore its spatial and historical significance and study related issues in the fields of humanities and social science. The residency program has been operating since 2014, and since 2016 it has recruited artists and collectives through an open call every year, offering a studio, a stipend amounting to KRW 1.6 million (for ten weeks), and a mentoring program.

L) View of Seoul Art Space Geumcheon. R) View of MMCA Residency Changdong.





Limitations and Achievements
After arriving in an unfamiliar land with a different language and different culture, international artists and researchers often find it difficult to adapt themselves to a new environment, ranging from the daily life issues such as activating a mobile phone or eating out at a restaurant, to issues of art production such as conducting research, buying materials for artwork, and the creative process. To solve these problems, Videotage, an art institution specialized in media art in Hong Kong, pairs up every international artist with a domestic artist in a sort of mentoring system, while Taipei Artist Village in Taiwan designates an assistant or a coordinator for each international artist. Considering the situation in which the average number of full-time staff per residency is only 3.2 persons in Korea, these solutions may sound too idealistic.
For domestic artists, the residency period is around one year, while for their international counterparts it is often less than three months. This discrepancy leads to separation of the program between these two groups; for instance, as many programs host exhibitions only twice a year, international residents may find that their residency comes to a close long before the exhibition date, and they are unable to present their works, while their Korean counterparts have ample opportunities to exhibit during their lengthier residency period. At the moment, almost all Korean residencies claim themselves a platform for an international network; however, it is questionable if the Korean art world fully accepts international artists who work as artists in Korea. In contrast, the Mondriaan Fund in the Netherlands provides all artists based in the country, regardless of nationality, opportunities to participate in residency programs for four months in 16-20 foreign countries, including the MMCA Residency Changdong in Korea, Delfina Foundation in London, and ISCP in New York and offers support fund of EUR 8,000 (as of 2018) to every participating artist. Residencies in Korea need to create various support plans that can go beyond the dichotomy of "domestic" and "international" artists.
The artists-in-residency often have ample opportunities to present at small and large exhibitions held at home and abroad. Such achievement is important in that it can be shown visually and statistically. However, what is more important is forming an international network that enables further collaboration after the residency finishes. Dutch graphic design duo Team Thursday participated in the Residency Changdong from April to July this year with the support of the Creative Industries Fund in the Netherlands, and during their stay, they presented their works at small and large projects and workshops held in Korea. After returning to their country, the duo held a small exhibition to introduce to the public 42 posters by 21 Korean designers they had collected in Korea at their own studio situated in Rotterdam. Ksenia Galiaeva and Jin Dallae and Park Woohyuk Jin & Park, who met through the 2016 Residency Changdong, continued to share their interest in "autocommunication" even after the residency and developed their common ideas, which gave birth to a publication titled NOLEMON & NOMELON (Tique, The Netherlands) in 2017. "The time after the residency, when things really begin," once observed Jean-Baptiste Joly, the director of Akademie Schloss Solitude, a residency academy in Germany, in his keynote speech at the Res Artis meeting held in October this year in Denmark. The period of residency is short, but its effects are long. Like Joly said, maybe things may not have yet really begun.
Photo of a workshop given by Tyler Stefanich, the artist-in-residence at MMCA Residency Changdong, 2016.




Heejung Park / Manager, MMCA Residency Changdong
Heejung Park is working as a manager of MMCA Residency Changdong run by the National Museum of Modern and Contemporary Art, Korea(MMCA), Park has organized exhibitions alles bewegt sich (Kulturpalast Wedding International, Berlin, 2017); Ruins (Korean Cultural Center in Shanghai, 2015); AS_Pedia Project (Gallery Purple, 2015)(co-curated); The Young and The Restless (Common Center, 2014)(co-curated).