Features / Focus
Reviewing Overseas Visual Arts Support in Korea (4) : Supporting Exhibitions Based on International Exchanges and International Art Awards
posted 26 Dec 2017
TheArtro will present a Korean visual arts fund and provide support information to international readers. Currently, quite a number of notable exhibitions and art projects are offered with the support of public funds in the Korean visual arts world. Among them, support plans for international exchange programs are continuously expanded as the Korean art world has become internationalized. A variety of opportunities and support plans including invitations for research, international seminars, publication support, and art competitions directly planned and run by public institutions or art museums of Korea are open to international artists, as well as residency programs and exhibitions that international artists and professionals themselves can apply for. TheArtro will cover such opportunities including various support programs for international artists offered by Korean institutions in a series of articles, topic by topic.


This article is an overview of programs supporting exhibitions and events based on international exchanges occurring in and out of Korea. It also includes information on Korean art awards open to overseas artists.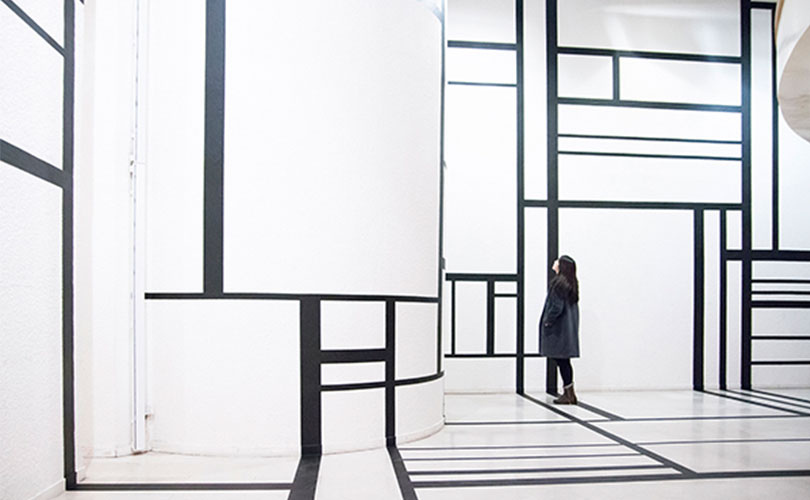 EunHye Kang, Paris is most beautiful in the rain, Gaffer tape, 2016, The Korean Cultural Center Washington, D.C.
Hangeul, the Aesthetics of the Lines, 2017.





In today's art world, there are numerous international exhibitions that render national boundaries practically meaningless. We may easily find traces of international exchanges from the exhibitions hosted by numerous public or private sectors; however, unlike others, the exhibitions supported or sponsored by Korean public institutions often emphasize national identity or display traits of being the means of cultural diplomacy. Even if the country name overtly appears in the title of the exhibition, one need not picture the image of an old-fashioned, government-initiated exhibition. For instance, exhibitions held in Korea and France during Year France-Korea 2015-2016 showed cutting edge art by contemporary artists of both countries that had not often previously been revealed. As such, exhibitions based on international exchanges can open up the opportunities for spectators to relish the cultures of other nations, as well as being the avenues for expanding networks for the artists by showing their works overseas. This article will first go over the means of support that basically provide exhibition spaces, which are mostly hosted by the Korea Foundation (KF), Korean Culture and Information Service (KOCIS), and diplomatic missions abroad. Then, I will take a look at both outbound and inbound programs ran by Arts Council Korea (ARKO), Korea Arts Management Service (KAMS), and the Korea Craft and Design Foundation (KCDF), which support programs held overseas and invitational international events in Korea.
Left) Alex Strada, Great Pyramids of Giza. Shenzhen, China, 2015, Archival inkjet print, 27× 40inch. Right) Byeong Gi Baek, Take Me Home, 2015, Photography printed on roll screen, mixed media, Dimensions variable (roll screen: 74.8×110.2inch). the Korean Cultural Center New York In/visible: Things to be Discussed, curated by winners (Edie Yonwoo Kim, Hae Lin Park, and So-Ok Park) of the 'Call for Artists 2017.'





Providing Exhibition Space
As for exhibition spaces overseas, they are often spaces run by Korean Cultural Centers. Korean Cultural Centers overseas are utilized as spaces for holding exhibitions of international exchanges related to Korea including feature exhibits and occasional open calls. Recently, a feature exhibit held in a Korean Cultural Center shed light on the wave of Korean monochromatic paintings, known as Dansaekhwa, and '70s Korean avant-garde performance art that drew great global attention. Like the primary objective of diplomatic missions abroad, overseas Korean Cultural Centers play the role of the first gateway to Korean art for the international audience. In this year's open calls offered by theKorean Cultural Center Washington, D.C., and Korean Cultural Center New York, each center received applications from artists to be able to use exhibition space regardless of their nationalities. They provide exhibition space free of charge and offer the publication of leaflets and press releases and preparations for opening receptions to applicants selected based on the artist's portfolios.
As for domestic exhibition space, the Korea Foundation provides its KF Gallery to support exhibitions. Application is not open to individuals, but foreign diplomatic missions and cultural centers in Korea, non-profit international exchange organizations, and private cultural organizations at home and abroad are eligible for the Foundation's support for organizing exhibitions. The KF states that criteria for evaluation are the quality of proposed exhibitions, expected effects on cultural diplomacy, and the level of contribution to international understanding of Korean people. Support details include space rental, installation and removal fees, exhibition space maintenance, operational expenses, and production cost for promotion materials. Documents required for application are a detailed proposal for the exhibition and a list of participating artists including the CVs for all curators and artists involved. The KF Gallery is working as the channel for Korean audiences to have a change to meet art from other countries. Salt of the Jungle, commemorating the twenty-fifth anniversary of Korea-Vietnam diplomatic relations, received international attention by displaying works tracing the rapid changes that these two societies underwent in the past thirty years by thirteen teams of young artists, who share common denominators throughout modern and contemporary Asian history.


〈Support for Exhibitions and Arts Events Based on International Exchanges, by Institution〉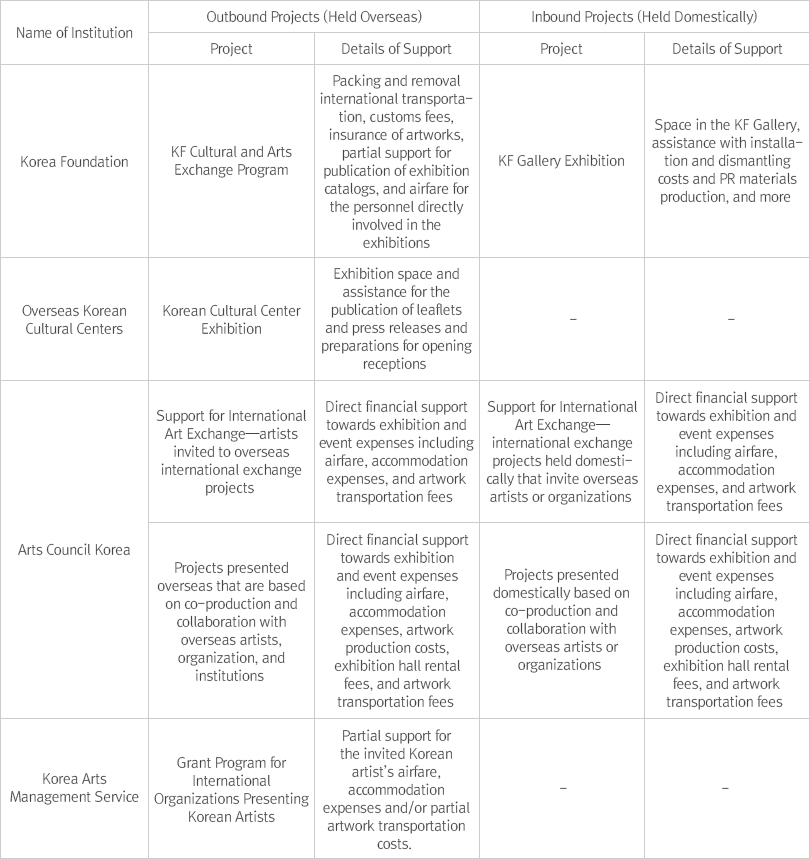 Programs Supporting Diverse Exhibitions and Events
Aside from the programs that prove assigned exhibition spaces, various other programs provide direct financial support towards the expenses of exhibitions and events based on or pertaining to international exchanges.
Arts Council Korea provides support to both inbound and outbound projects through its program that supports international art exchange, referring to projects held domestically and those designed to make inroads into overseas. As for inbound support, there are programs that allow domestic hosts to apply for financial support when inviting overseas artists to the international projects of cultural and art exchange. A list of projects that qualify for support includes exhibitions, biennales, festivals, and other forms of events. Additionally, works or events revealed and presented in Korea that are co-produced or co-organized by overseas artists, organizations, or institutions can receive support as well. As for outbound support, there are programs that allow artists or arts organizations invited to the overseas international projects of cultural and art exchange to apply for financial support. This includes forms of activities that could enhance global networks or global capacity, such as participating in the general assembly of international organizations or international conferences. As for supporting co-production and collaboration with overseas artists, organizations, and institutions, the support can also be provided to the projects revealed overseas. For projects conducted domestically or those extending invitation to overseas personnel or groups, the support for direct expenses ranges from KRW 3 million to KRW 30 million; as for supporting international collaboration projects, support offered may be between KRW 10 and 60 million. Areas of support not only include visual arts, but also encompass literature, theatre, dance, music, and traditional arts. Art organizations and artists are eligible to apply for support. This project aims to enhance the competitiveness of Korean art in the world by supporting international and South and North Korean art activities that occur domestically and globally in private sectors. ARKO has supported invitations to main exhibitions in major international biennales (Venice Biennale, São Paulo Biennale, Whitney Biennial, Documenta in Kassel, Istanbul Biennial) and feature exhibit programs at major art museums, as well as managing the Korean Pavilion of the Venice Biennale.

Rehearsals from the Korean Avant-Garde Performance Archive, Korean Cultural Centre UK, London, 2017.





The Korea Foundation supports events related to Korean art and culture that are hosted by overseas cultural and art institutions or organizations through their KF Cultural and Arts Exchange Program. In the field of visuals arts, support is provided for exhibitions, lectures, workshops, and seminars. Benefits of support include packing and removal, international transportation, customs fees, insurance of artworks, partial support for publication of exhibition catalogs, and airfare for the personnel directly involved in the exhibitions. The application is open only to overseas institutions or organizations.
Korea Arts Management Service offers open calls through its Grant Program for InternationalOrganizations Presenting Korean Artists Exhibitions as part of their project to assist Korean artists in extending their reach to international art markets. International art organizations exhibiting Korean artist by invitation and/or collaborating with Korean partner are eligible for application. Eligible expenses are the Korean artist's airfare, accommodation expenses and/or part of artwork transportation costs. Each project can receive up to KRW 20 million KRW. The international organization or artist who receives the grant must submit a post-event report that includes the price information and sales record of the artwork. In addition to this project, KAMS offers a wide range of assistance for Korean arts to make headway into the overseas markets by providing support to Korean galleries participating in international art fairs and opening events promoting Korean art at international art fairs.
Outside of this, the Korea Craft and Design Foundation provides support to Korean craft fairs and exhibitions held overseas. For instance, KCDF is seeking potential applicants who will be participating as exhibitors in Collect (The International Art Fair for Contemporary Objects) that is held in Saatchi Gallery, London, in February 2018; SOFA (Sculpture Objects Functional Art and Design) Fair in Chicago; and Maison and Objet Paris, the home decor fair in Paris, in order to provide them support.

Left) The winner of the 2016 Nam June Paik Art Center Prize, Blast Theory. (photo: Nam June Paik Art Center, ©Andrew Testa). Right) the winner of the 2016 Yanghyun Prize, Hito Steyerl.(photo: Yanghyun foundation)





International Exchange through International Art Awards
Meanwhile, Korea is currently holding art contests and art awards that are open to both Korean and foreign artists. As for the international competitions managed by Gyeonggi InternationalCeramic Biennale and Cheongju International Craft Biennale, the competitions have developed over time into exhibitions that receive attention from global artists, in which the winners are awarded prizes of KRW 50 million. The Art + Technology Lab, co-presented by Hyundai Motor Company and Los Angeles County Museum of Art (LACMA) since 2013, selects artists whose works are based on utilizing emerging technology and provides financial and technical support for them for one year.
Although awards do not allow the artists to submit applications themselves, they have been another form of continued international exchange for the artists as they offer them opportunities to receive awards and present their works at the exhibitions. The Nam June Paik Art Center Prize, which was established by the Nam June Paik Art Center affiliated with the Gyeonggi Cultural Foundation (GGCF) in 2009, is awarded to artists or theorists who continue on the spirit of Nam June Paik who integrated and converged various fields. The winner of this award is given a prize of US$5,000 (approximately KRW 60 million) and an opportunity to exhibit his or her work at the Nam June Paik Art Center. Blast Theory, an artist group from the United Kingdom, was the winner of this award in 2016, and previous winners include: Seung-taek Lee, Eun-me Ahn, Ceal Floyer, Robert Adrian X (2009); Bruno Latour (2010); Doug Aitken (2012); and Haroon Mirza (2014).

Left) Kader Attia, J'accuse, 2016 © Christian Danner
Right) Kader Attia, the 10th winner of the Yanghyun Prize © Christian Danner





The Yanghyun Prize, which is an art prize awarded by a private cultural foundation, was established in 2008 with the objective of increasing international exchange in the field of art by supporting global artists. It is equipped with a groundbreaking system to support the artists in a substantial manner by providing them with the prize of KRW 100 million and sponsoring an exhibit at a noted international gallery or museum during the period of their choice within three years of their receiving the award. Previous winners include: Cameron Jamie (2008), Isa Genzken (2009), Jewyo Rhii (2010), Akram Zaatari (2011), Abraham Cruzvillegas (2012), Rivane Neuenschwander (2013), Apichatpong Weerasethakul (2014), Otobong Nkanga (2015), and Hito Steyerl (2016) Kader Attia (2017).
NOON Art Prize, awarded to artists selected from among the participants of the Gwangju Biennale, is also one to be counted in. Prize of USD 10,000 and USD 5,000 are awarded to established artists and rising artists respectively. Among the previous winners are Gustav Metzger and Yang Haegue (2010); Moon Kyungwon & Jeon Joonho and Motoyuki Shitamichi (2012); Lee Bul and Cecilia Bengolea& François Chaignaud (2014); and Dora Garcia, Anton Vidokle, and Jun Sojung (2016). In addition to these prizes, the master of monochrome painting (Dansaekwha), Park Seobo, is in the process of establishing the Seobo Art Prize by donating fund to Seobo Art Foundation, which he co-founded with other artists. The foundation plans to select and award KRW 100 million to outstanding artists each year.
This article focused on introducing open calls, competitions, and support programs for which overseas personnel and organizations are eligible to apply directly. However, there are a variety of different opportunities to hold exhibitions based on international exchange and receive support for tangible and intangible resources in the programs offered by the aforementioned government institutions or local governments. We would recommend the artists or curators planning to design a project related to Korean art to consider seeking support from Korean public organizations before they proceed.
〈Benefits of International Art Prize and Previous Winners〉