---
(1) National and Public Residencies in the Capital Region
---
Korea's capital region refers to Seoul, Gyeonggi Province, and Incheon. If an artist moves into a residency located among these areas, they can enjoy and actively take part in cultural life. Not only can they visit state-of-the-art modern art galleries and events, but they can also easily expose themselves to landmark buildings, K-pop performances, dances, movies, and other artistic genres. Amongst all, the national and public residencies will provide a stable support and an opportunity to explore Korean culture.
---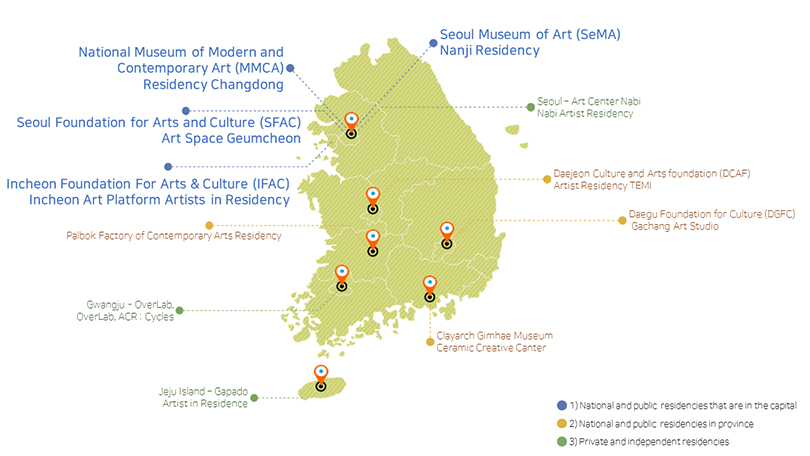 ---
1. National Museum of Modern and Contemporary Art (MMCA) – Residency Changdong
---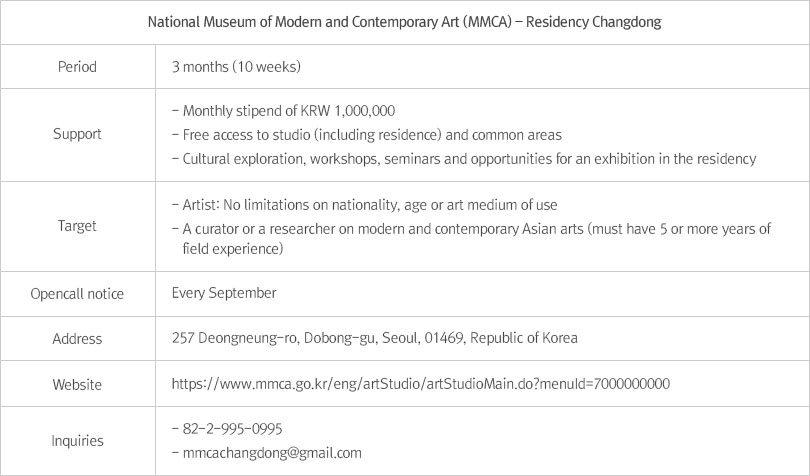 ---
Since 2002, the National Museum of Modern and Contemporary Art (MMCA) has been operating residency programs in Changdong (Seoul), and Goyang (Gyeonggi Province), to encourage exchanges between domestic and international artists and specialists. Amongst these, the MMCA Residency Changdong is registered in Res Artis and AAC (Alliance of Artists Communities), where many talented artists have lived. Im Heung-Soon, who was the first Korean artist to receive the Silver Lion at La Biennale di Venezia, was also a part of the Residency Changdong program. Since 2017, the program has broadened the scope of operations to include not only artists, but also curators and researchers. At the Changdong Residency, Curator Marc Mayer from San Francisco Asia Art Museum, Curator Kris Imants Ercums from Spencer Art Museum, and other active curators have been a part of the program.
---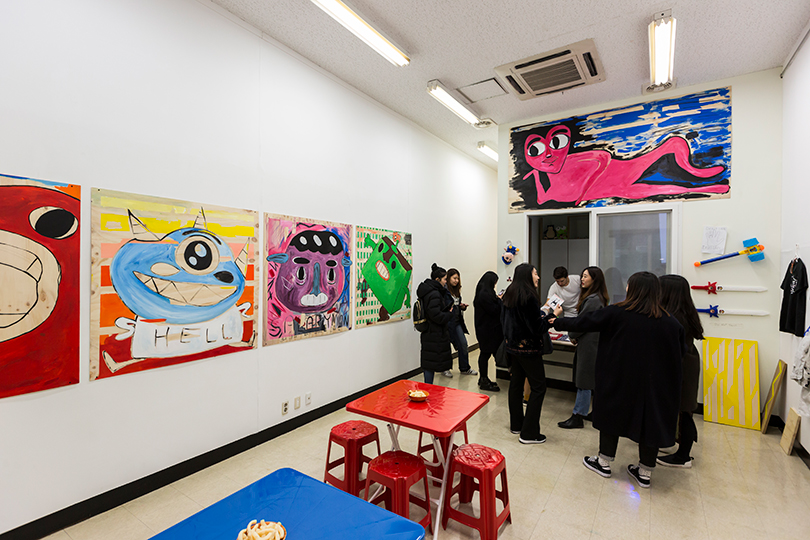 Open studio by Chris Romero, the researcher-in-residence at MMCA Residency Changdong, 2017. ⓒMMCA Residency Changdong
---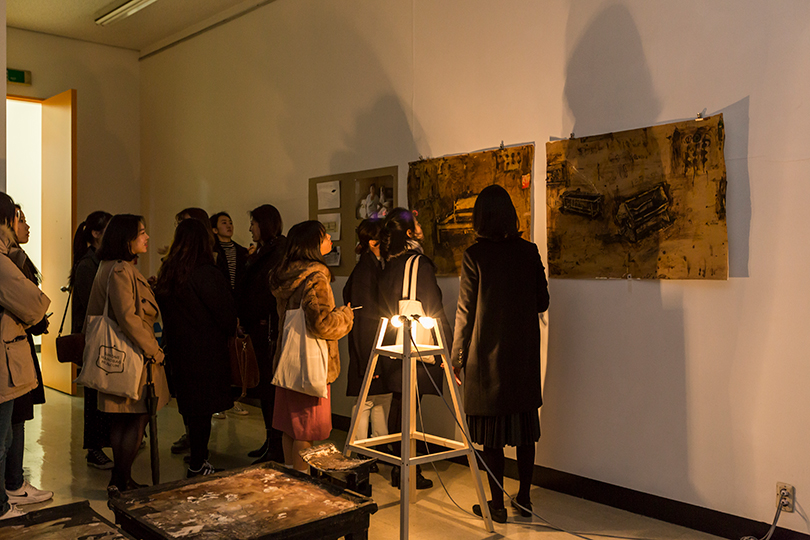 Open studio by Mojtaba Amini, the artist-in-residence at MMCA Residency Changdong, 2017. ⓒMMCA Residency Changdong
---
During the residency, artists and researchers in Changdong host an exhibition or a seminar, twice a year in May and November, to exhibit their works. They also have the attractive opportunity to host their own MMCA Residency Seminar at the MMCA Seoul. It is a great opportunity to meet and communicate with the professionals in the field, as well as art students residing in Korea. Furthermore, residents can also participate in cultural explorations, workshops, seminars, and other various programs hosted by the MMCA.
The residency is located at the central-northern part of Seoul with in a convenient access to public transit into the heart of Seoul. There are Sinchang Market, banks, big hospitals and etc. near by the residency, where one can experience the daily lives in Korea. Applications open every September on the MMCA website, so be sure to keep up with date by referring to the website.
---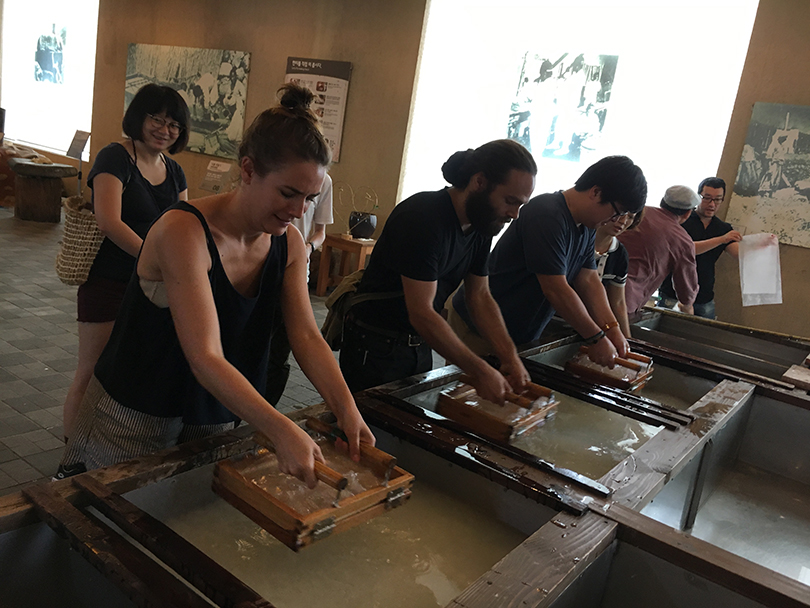 Field trip to masters' workshop at National Intangible Heritage Center, 2017. ⓒMMCA Residency Changdong
---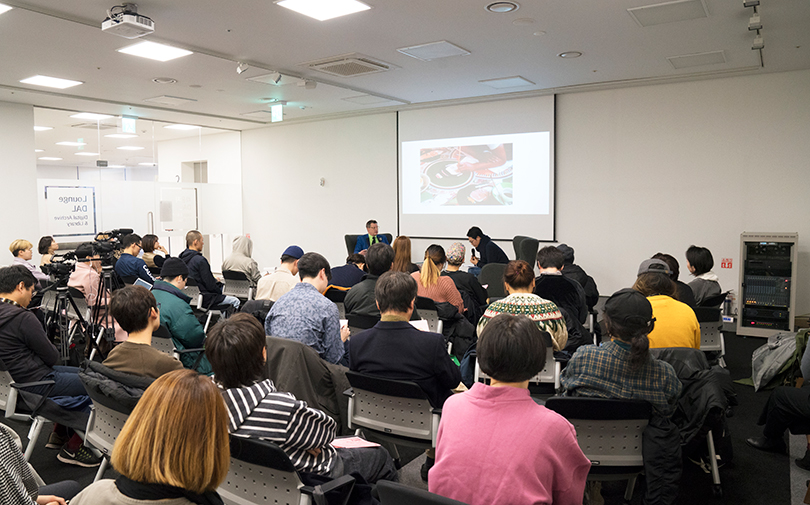 MMCA Residency Seminar by Kris Ercums at Lounge DAL, MMCA Digital Library and Archive, 2018. ⓒMMCA Residency Changdong
---
Related link: https://youtu.be/dseD5Y5_R7M
---
Artist Review



Karo Akpokiere / Nigeria / Fine art, graphic design and drawing
---
Q. What's your reason to choose the residency?
Since a part of my work focuses on fusing experiences and observations gotten from living in cities, I was open to the idea of being in a part of the world I have never been in and engaging with its strong visual culture. I accepted the invitation to be at the residency because I wanted to see the world anew and also make new work inspired by all of the newness.
---
Q. Let us know about good & bad point during the stay?
What would be made and progressed by the experience? It was all good experiences. Being in South Korea led to the expansion of my well of experiences and inspiration and as such, I have more material to create work with. Most importantly, the experience I had in Seoul, made me think about the role language plays in shaping how people see ourselves and the world around us. it made me wonder how does language influence how we design, how we interpret scientific concepts. Being in Seoul offered a vision of what Lagos and I dare say what Nigeria would be like if we let our language and culture guide our paths in education, science and how our cities are planned and developed. The good thing is Seoul has offered me a lot to think about.
---
2. Seoul Foundation for Arts and Culture (SFAC) – Seoul Art Space Geumcheon
---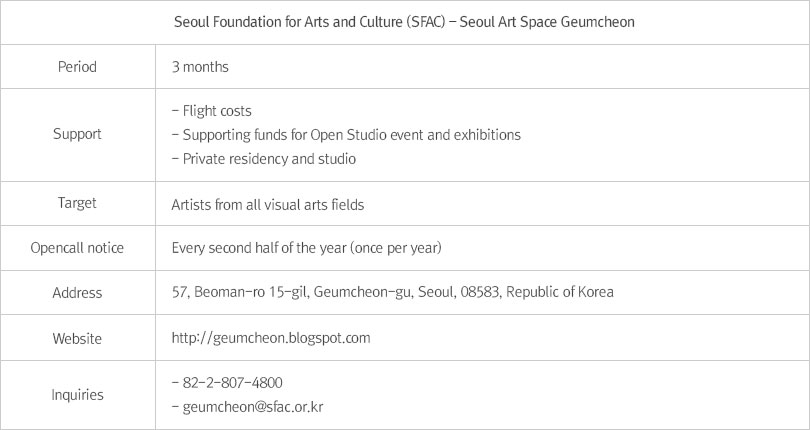 ---
Seoul Art Space Geumcheon, operated by the Seoul Foundation for Arts and Culture (SFAC), was previously a printing factory located in Seoul, renovated into the residence facilities that it is today. Unlike other residencies located on the outskirts of Seoul, Art Space Geumcheon is located downtown. It is still, particularly, an industrial area with many factories, where the artists can spark a sense of inspiration while they are staying at the residency. For example, a sound artist collects sounds from the factories surrounding the residency, while an installation artist collects industrial waste to create make art. The raw connection between creation and living is what makes Art Space Geumcheon so special.
Art Space Geumcheon, also located in one of residential area in Seoul, hosts various programs such as workshops with resident artists and locals, and programs involving artists meeting with local students under the theme known asa "glocal" (global + local). The biggest event is the Open Studio, where the studio is open to the public once a year, and will be celebrating its 10th year anniversary in 2019. In fact, it has already become a popular local festival in area, promoting interaction among artists and the public to introduce their creative processes and works.
---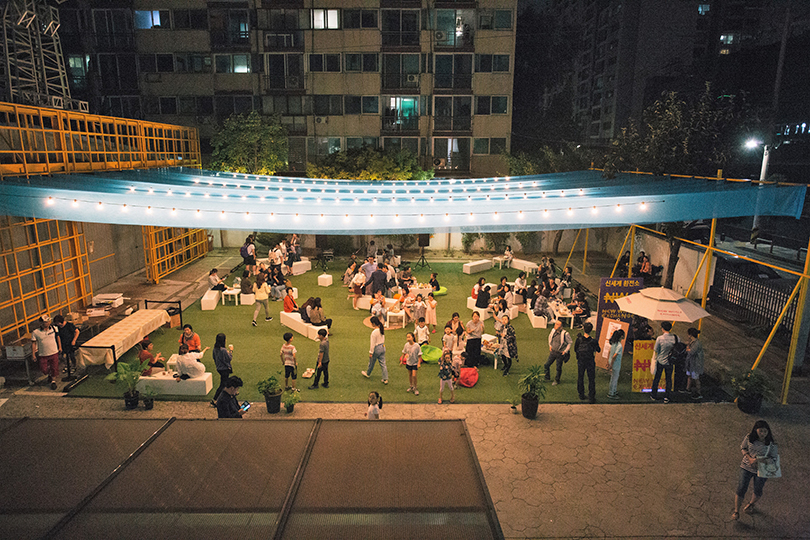 The View from the Open Studio at Seoul Art Space Geumcheon, 2018. ⓒSeoul Art Space Geumcheon
---
Other than the private studios, Art Space Geumcheon offers a large-scale exhibition room called PS333, media labs, storage space, and other spaces, for both exhibitions and artwork creation. Aside from Open Studio and featured exhibitions, the DA VINCH CREATIVE FESTIVAL, discovering creative ideas in technology and art, and the Seoul Art Space International Symposium, featuring issues of the cultural arts, have been hosted here. If you would like to immerse yourself in the local community of Korea through a wide array of program participation, the Art Space Geumcheon has its doors open to artists from each and every corner of the visual arts world.
---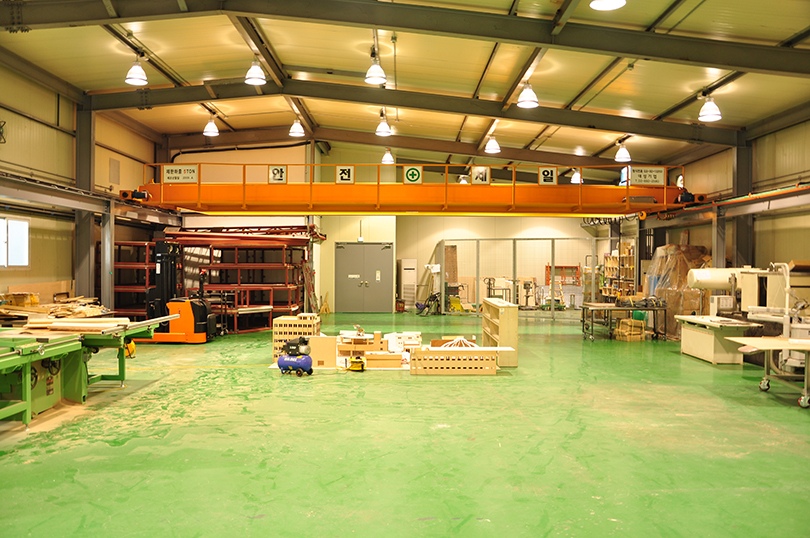 Storage Space ⓒSeoul Art Space Geumcheon
---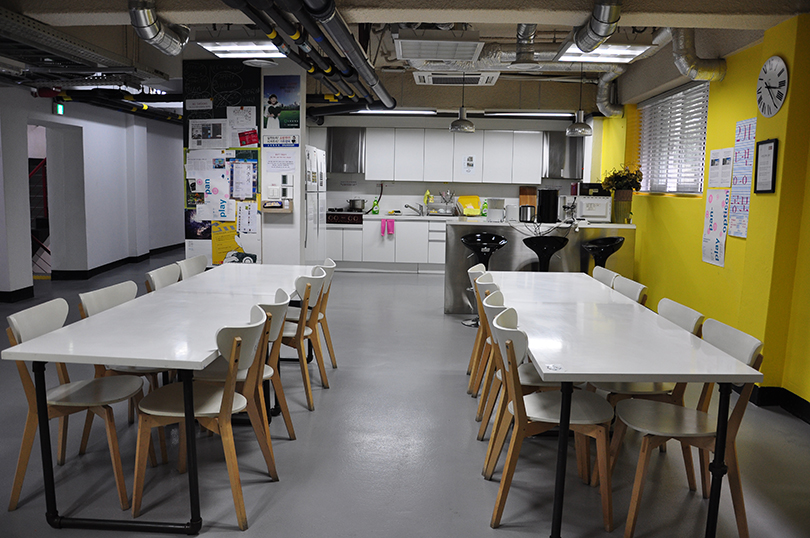 Communal Kitchen used by Artists in Residence ⓒSeoul Art Space Geumcheon
---
Related link: http://www.theartro.kr/eng/artnews/calender_view.asp?idx=1654&b_code=20
---
Artist Review



Roland Farkas / Hungary / Various Projects
---
Q. Introduce your interest and artworks during the stay in Korea.
I am interested in the effect of social, economic, cultural and political phenomena on human values. By mapping the comfort of daily life situations and constantly changing fashion frenzy, during my stay in Seoul, I have examined the radical impact of the last decades' rapid modernization on South Korean society. In my project "New World Exchange", realized at SASG, I used the symbolic material of economic development: banknotes. I have transformed illustrations on all denominations of KRW banknotes by overprinting on their surfaces. The depicted historical characters suddenly find themselves traveling on metro in face mask with smart phone and electric hand fan, drinking soju in a grill restaurant in a suit with a trendy haircut, being in the middle of a crowded K-Pop concert or wearing cosmetic face mask with plastic surgery signs of Gangnam in the background. These transformations are actually invisible overprints that appear only under ultraviolet light. Representing transition from the past to the new world.
---
Q. Let us know about good & bad point during the stay? What would be made and progressed by the experience?
The 3 months Artist in Residence program enabled me perfect conditions for uninterrupted studio work with unlimited access to media and audio room, wood workshop, library, different digital equipment and not least an effective assistance of kind employees in all issues to be resolved. The creative process was made convenient by a kitchen and private apartment in site. I had the opportunity to take part in the Museum and Gallery Visit program and the chance to meet a local critic in the frame of the Expert Support program who wrote about my works. I also had the opportunity to present my works to the public, as well as to international curators during the open studio days. The expenses related to material costs were covered financially as my flight costs too, which was an enormous help. Though it is a crucial issue amongst artists that they can't make ends meet, and on the other hand it stimulates a global debate about the equity of artist's living costs as e. g. per diem. It would be welcoming if state authorities would take into consideration to give access also to underprivileged but talented international artists.
---
3. Seoul Museum of Art (SeMA) – Nanji Residency
---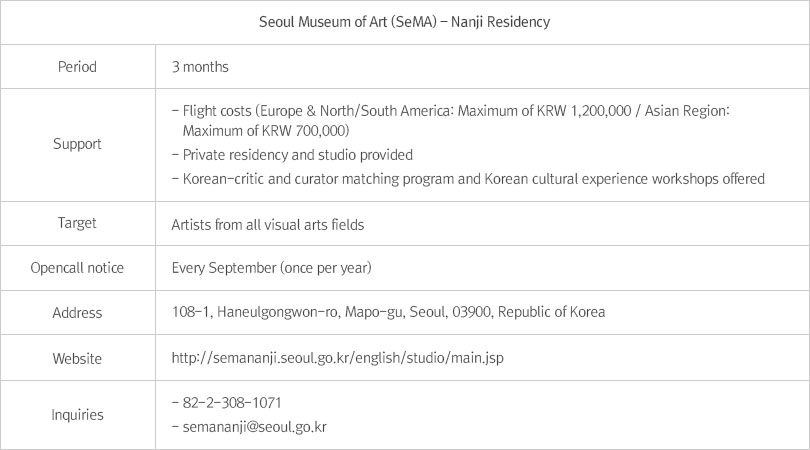 ---
Nanji Residency is a residency operated by the Seoul Museum of Art (SeMA). This space, previously an abandoned building, was renovated and located by the Nanji Hangang Park, where you can get a taste of the city while enjoying the beautiful scene of nature.
---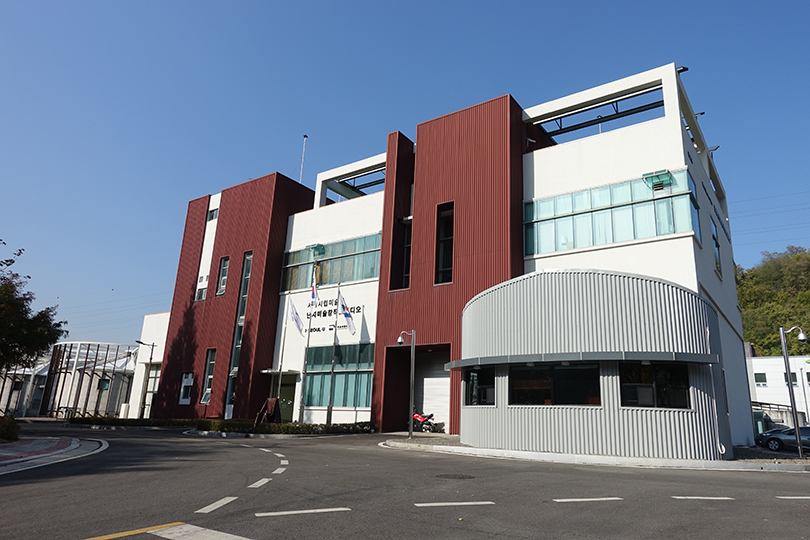 The Front of Nanji Residency ⓒNanji Residency
---
Nanji Residency, founded in 2006, is a member organization of Res Artis, an international residency network. They have been annually accepting international artists in residence with various programs. On years when large-scale art festivals are hosted in Korea, such as the Gwangju Biennale, all the artists in the residency attend the events together. They also have the opportunity to visit the DMZ or Bukhansan Mountain, where they can embrace Korean history. The critique workshop, where artists are matched with a Korean critic, one-on-one, provides a chance for artists to receive feedback on their work from a critic who is active in the field. On the last month of residency, a special exhibition is held to show all works that have been created during the time of residency. In particular, in the exhibition at the Nanji Residency, residents participate in the organizing process of the exhibition. Artists, regardless of their national backgrounds, collaborate on their exhibitions, which is yet another charming feature about the residency program itself. From this year, four artists will be selected three times per year. The application will be accepted during the months of September and October on the SeMA website.
---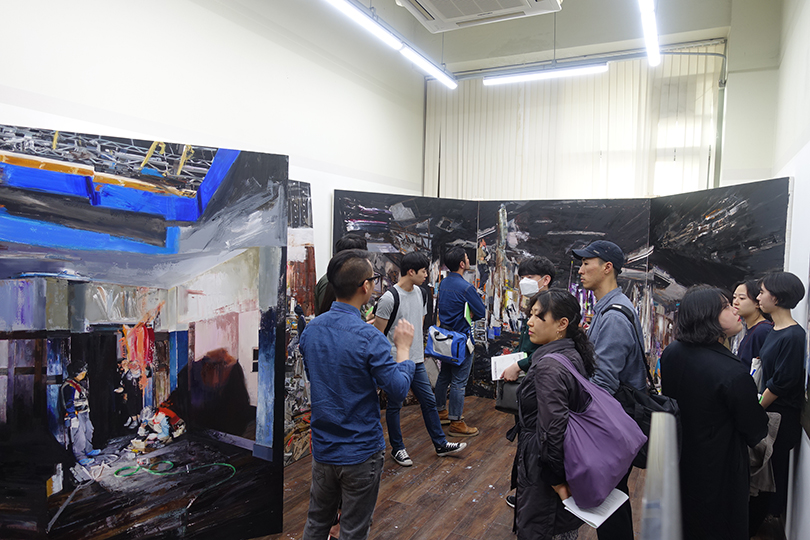 View of the Nanji Residency Open Studio ⓒNanji Residency
---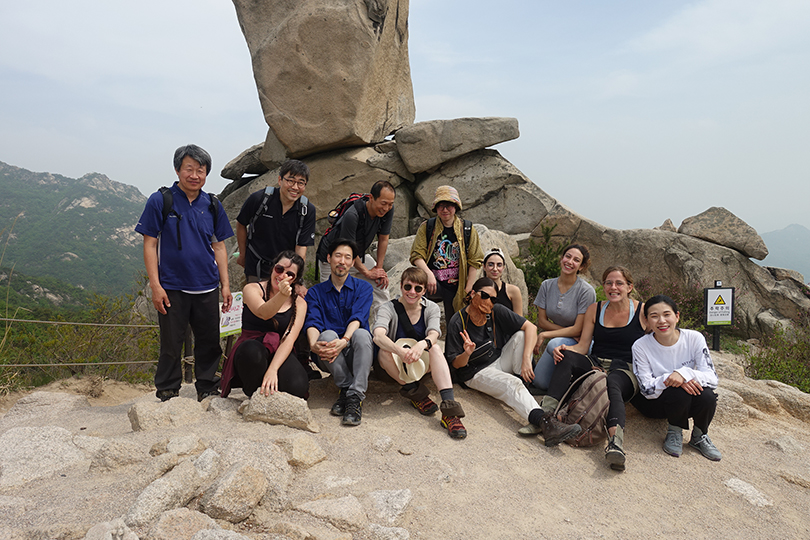 Korean Cultural Experience Program (Bukhansan Mountain Hiking and Korean Cultural Heritage Exploration) ⓒNanji Residency
---
Artist Review



Sam Thomas / New Zealand / Hand forged bronzeware, and etc.
---
Q. How do you apply to the residency? What's your reason to choose the residency?
I applied to do this residency through the Asia New Zealand foundation. I chose SeMA Nanji because I was interested in visiting the bangjja yugi, Hand forged brass workshops of South Korea. I thought the polished bowls and bells produced in workshops Id seen online looked like no other metal style I had seen. I wanted to visit a similar workshop to find out how they did it. The workshop I visited had recently opened a museum next door to showcase their work. It was a family run business three generations working together there. They helped me produce a fantastic custom piece for me using both modern and ancient techniques.
---
Q. Let us know about good & bad point during the stay? What would be made and progressed by the experience?
A really good feature of the SeMA nanji residency were the group day trips to the local galleries and to the top of Mt Bukhansan. By being able to talk to the other local artists about the city I learnt lots of interesting and helpful information for my projects. There were no low points other than my own unpreparedness of not know any language.
---
Q. In case you recommend your peer this residency? Why?
This is a great environment to be in while working on your art practice. The park where the residency is located has people come to camp over the weekend and is still quite central to the city. I really appreciated the nature that surrounded the residency as you can often hear toads on the mountain at night. Also one morning I found a rabbit in the park who came back to the studios. The rabbit appeared in another residents work a film of Romeo and Juliet by Kwang-Ju Son.
---
4. Incheon Foundation For Arts & Culture (IFAC) – Incheon Art Platform Artists in Residency
---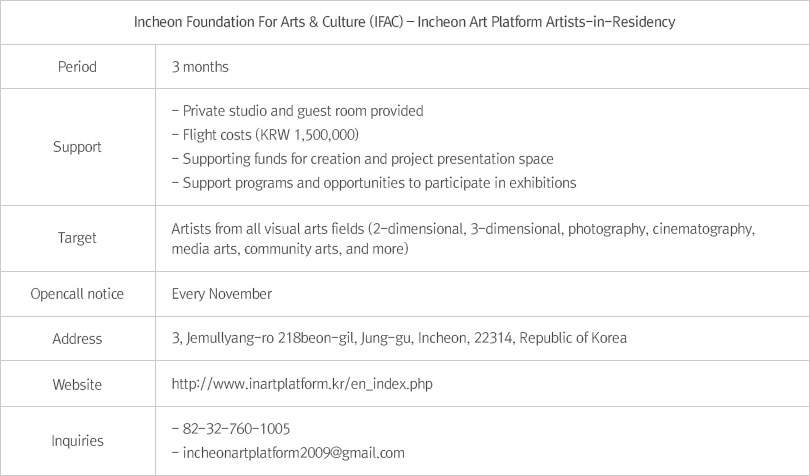 ---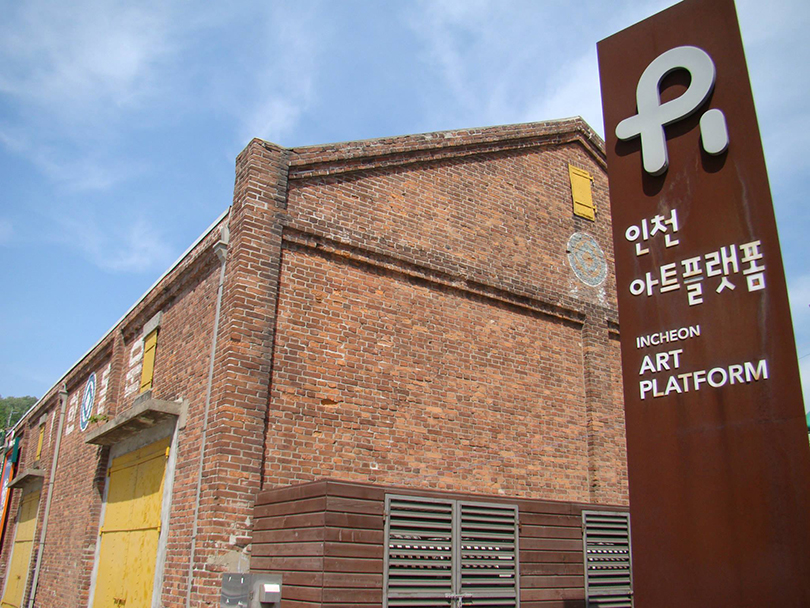 View of the Incheon Art Platform ⓒIncheon Art Platform
---
If you would like to fully immerse yourself in modern Korean history, have a look at the Incheon Art Platform. The former Incheon Port, where the Incheon Art Platform is currently located, was a geographically strategic location between Seoul and China, which served as an access point for Korea to bring in modern civilization. Opened in 1883, the port was used as a transportation hub for a long time, but became an eyesore to the public after the Korean War. Without any actual function to serve, there have been many discussions on how the port can serve as suitable function for today while preserving the old storage and buildings. The thorough discussion, involving artist's contention, lead to the formation of the Incheon Art Platform.
---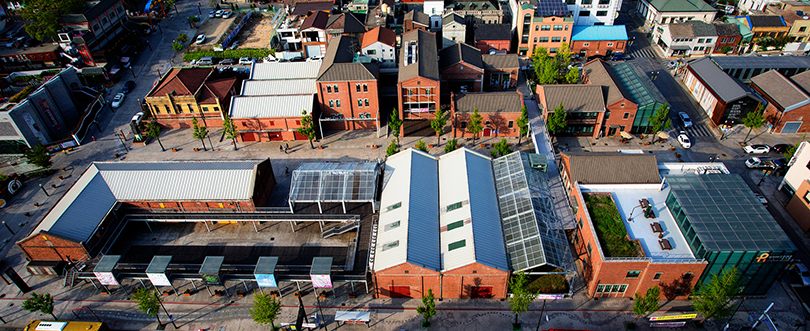 View of the Incheon Art Platform ⓒIncheon Art Platform
---
Renovating modern buildings built in the 1930s, the art Platform has 13 sections for artists and the public. These sections include creative studios, exhibition halls, concert halls, and cultural centers. Needless to say, it is a unique experience to be residing in buildings that are registered as a national cultural heritage, an experience that cannot be found in other residencies. The Incheon Art Platform is not only located in a historically significant site, but also in the vicinity of residential areas such as Chinatown, Wolmido, Sinpo Market, Songdo International City, as well as the Incheon International Airport and subway Line 1, promoting convenient public transit use.
The Incheon Art Platform, recruiting its 10th batch of artists in residence, prioritizes the synthesis between different genres, while encouraging visual artists to show a propensity for creativity and experimentalism in their work. Recruiting begins every November. For those artists who are interested in embracing a piece of history, be sure to refer to the Incheon Foundation For Arts & Culture (IFAC) website.
---
The 9th Reporting Exhibit in 2018 ⓒIncheon Art Platform
---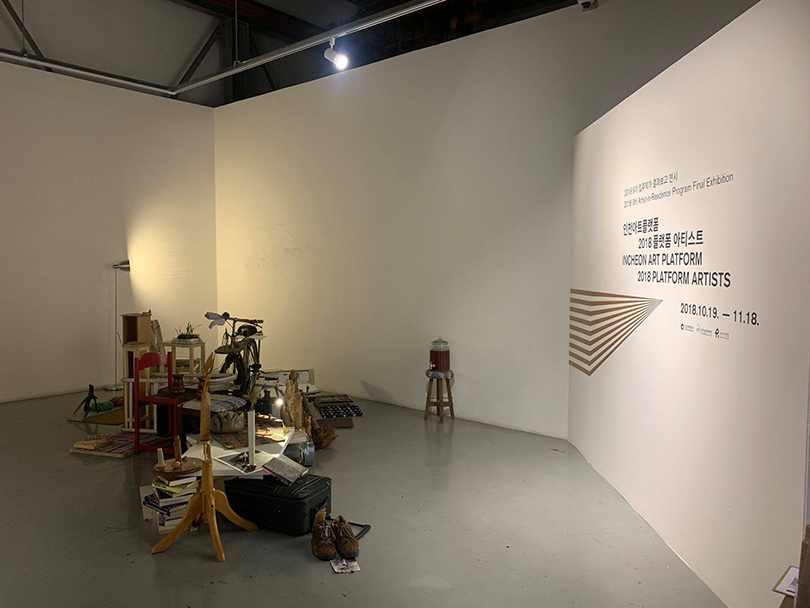 The 9th Reporting Exhibit in 2018 ⓒIncheon Art Platform
---
Related link: https://youtu.be/9C6uB3f3v14
---
---
An Suyeon, Choi Sunjoo
An Suyeon (The Artro Editor)
Choi Sunjoo (Freelance Writer)