---
---
《Soungui Kim: Lazy Clouds (2019.8.31-2020.1.27)》, a large-scale solo exhibition of Soungui Kim, who has been experimenting with a new art language in France, is currently being held at the National Museum of Modern and Contemporary Art Korea. The exhibition's title of "Lazy Clouds" appears to metaphorically represent the artistic perspective of the artist, who has been making creative and philosophical work while playing with the everyday without being confined to predefined structures. To this extent, Soungui Kim's work is broad and deep while light yet weighty. The some 200 artworks, ranging from early works to the new 〈Time and Space 2019〉, are results of the artist breathing with nature and filling daily life entirely with art, and they will provide an opportunity to think about the meaning Kim's work can have in contemporary art. Let us meet the free and borderless artist Soungui Kim, who still says her dream is to visit the moon.
---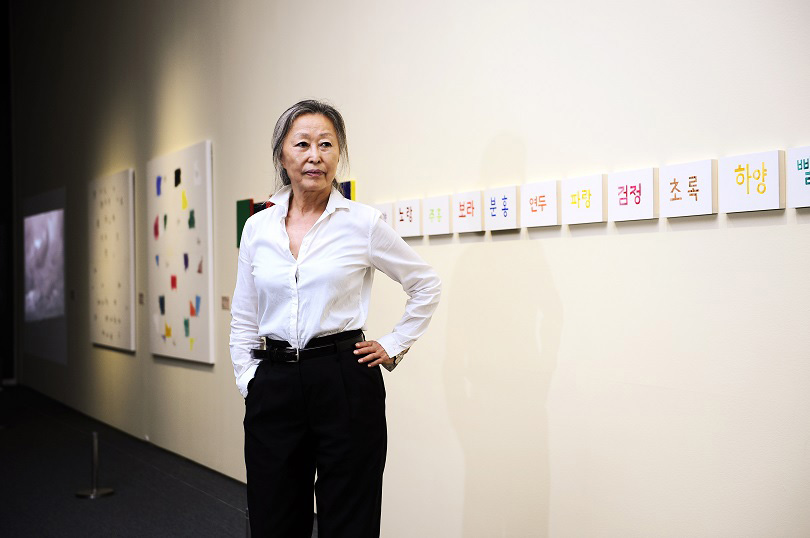 Soungui Kim. ⓒKim Heung-gyu.
---
You have participated in the group exhibitions 《Korean Art '95: Sense of Mass (1995)》, the Nam June Paik one-year death anniversary memorial exhibition 《Memories of Wuppertal (2007)》, and 《Korean Contemporary Art: Grand Narrative II (2013)" at the National Museum of Modern and Contemporary Art, but this is your first large-scale solo exhibition there. What are your thoughts on having this exhibition?
---
It was an interesting experience. It has been a while since I left Korea, and this exhibition was an opportunity for me to understand Our Country. While the curators I worked with for the exhibition were talented and we got along, there were challenges due to this being a national institution and the administrative procedures being complicated and the system sturdy. In an exhibition, the work's meanings change depending on how one installs it, and there were some difficulties. For instance, the National Museum of Modern and Contemporary Art requires the submission of an exhibition layout three months prior to an exhibition, and it was not easy to exhibit work according to a layout without even having properly seen the space. The fact that most of my work is related to space made it tougher. I always speak of my work as processes than as objects. I mean that the meaning of my work changes depending on the space and how it is installed. The word "installation" entered use in this sense. The space is transformed when the artwork is placed in it, and thus the artwork's meaning changes, too. I think that having an exhibition is an installation piece in and of itself. In that regard, I wish the art museum's system could become a bit more relaxed.
---
I was able to see work through which I could examine your overall artistic perspective, from the early, 1969 pieces 〈Colorful Stripes 2〉 and 〈Colorful Stripe Picture 2〉 to the new work 〈Time and Space 2019〉. I was able to gain a solid understanding of your practice as the work was divided into eight sections by theme rather than chronology. What kind of discussion did this organization follow?
---
I completely trusted Curator Lee Sujeong's opinion for the exhibition's organization. A curator is someone who creates exhibitions. I think an exhibition is something that opens up new meanings in a certain space and a certain period of time, and the person who does that is the curator. Therefore, I tried to be understanding in the preparation process while experiencing considerable difficulties. Curator Lee Sujeong did some enduring (laughter).
---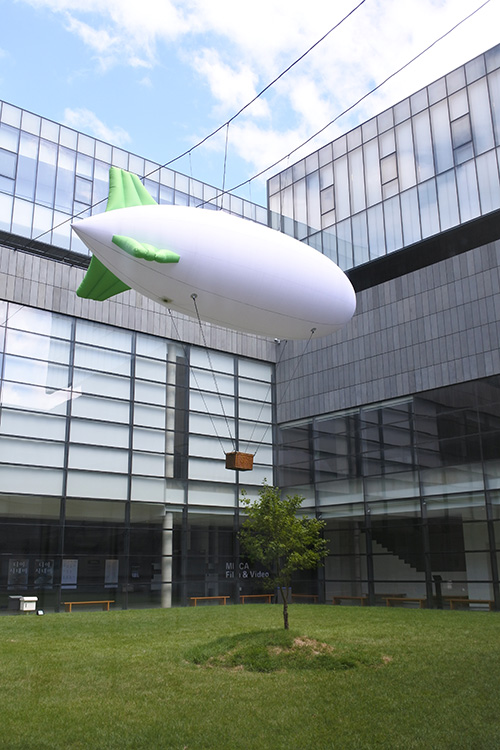 Panorama of the exhibition 《Soungui Kim: Lazy Clouds》. ⓒ Seoyoun Chang.
---
In this exhibition, a video of the "Soungui Kim Art Festival" held at the American Center in 1975 was installed, allowing me to glimpse into the mood at the time. It was interesting how you showed slides or screened a film(s) and organized discussions while presenting process-mode work including 〈Calendar for Six Days〉 and 〈Calendar〉, 〈Water Drop〉. You must have garnered much attention as a female artist who hosted an art festival at the time avant-garde groups like A.G. and S.T. were active. What did you want to show people through the art festival?
---
Professor Jeon Seong-wu, who taught me in college, suggested I exhibit my work, and the exhibition happened because he met with the director of the American Center and helped me exhibit there. However, I was not interested in simply showing my work in an exhibition. Representation is of traditional art's perspective, and I called my exhibition an art festival because I was opposed to that perspective. I hoped for the art festival situation to become a festival, a memorial service, and an incident. I also wanted to converse with viewers and other artists visiting the festival. I intuitively knew that this art festival would create a scandal. Even the First Lady of President Yoon Boseon was there. When we had the debates, crowds of passersby stopped in their tracks because the microphones allowed the speakers to be heard all the way out in the streets, and the gallery was packed to the extent that one could not climb the stairs. It was the military junta era and one had to be careful about what they said, but I was fearless in doing this. I remember speaking at schools and studios for a week upon the artist Lee Kun-yong of S.T. suggesting I lecture after seeing the art festival. People listened with wonder to the words of the small, young girl from France. I have been told my lectures back then were very influential to the students. Particularly, in the case of Seoul National University art students, their scope was limited to oil painting and plaster and live-model drawing. It must have been stuffy for them. I am told I provided a lot of energy at the time. I taught them how to ask questions. I think the avant-garde is about asking questions about a certain situation and proposing something new while analyzing and criticizing that situation. That is engagement, and simply painting a social picture does not automatically constitute engagement. I have always said that the question of "How has this work arrived?" is more important than that of "What is this work?" I am much more tamed now (laughter).
---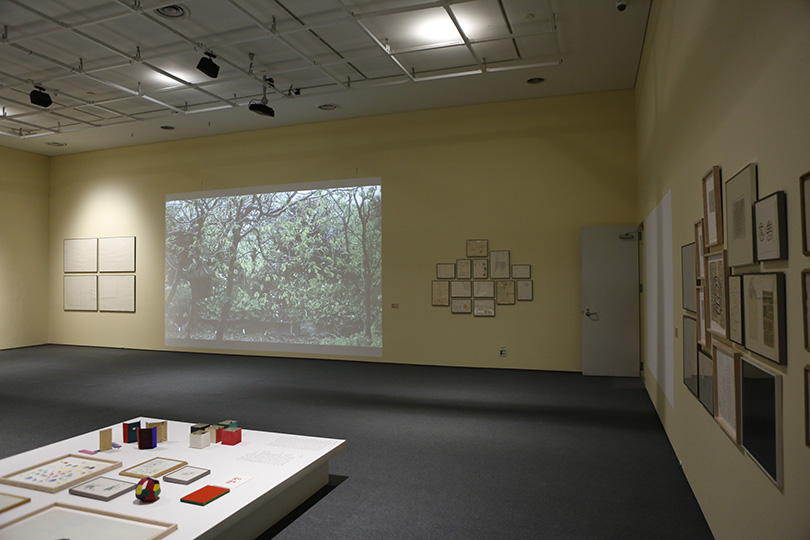 Exhibition Panorama of 《Soungui Kim: Lazy Clouds》.
---
You went to France in 1971. Why did you choose France?
---
I was invited by the Centre Artistique de Rencontre International in Nice. I did not go to France to study. I had said I would neither go to school nor become a professor because I disliked getting up early in the morning and found repeating the same tasks to be tedious. However, I held thoughts about France since childhood. Since I drew well in the first or second grade, my teacher said to me, "You should become a painter later," and I asked what a painter is, to which the reply was, "There is a place called Paris, France, and there people who paint pictures and the homeless live together."
That was my goal. To become homeless or an artist (laughter). After hearing that story, I came home and asked where Paris, France was and tearfully begged my parents to buy me a map book, so my parents acquired a world map for me in Japan. Looking at the map, I said I would visit here and there. As it was the military junta era, I kept saying, like a song, that I would gladly go to the moon riding on clouds and machines as there is no need to be stuck in a place like this.
Then I entered college and learned about the French government's scholarship program through Professor Lim Young-bang, who along with Professor Jeon Seong-wu was of great help to me. It was a program of awarding scholarship funds to one liberal arts student, one science student, and one art student in a country, and I was able to go to France in 1971 through my university's nomination. I bought and wore a miniskirt and wore pointy shoes as soon as I arrived in France, and I was exceedingly excited. As soon as I got there, I hitchhiked to Spain and returned to France two months later. I realized upon returning that there had been panic about my absence from French classes in Bordeaux, with people thinking that North Korea might have kidnapped me. I returned two days before the end of the training, but the problem was that I had to take an exam to receive the scholarship. So I took the exam with two days to prepare, and I was able to pass it because, fortunately, the test was on material I had reviewed.
---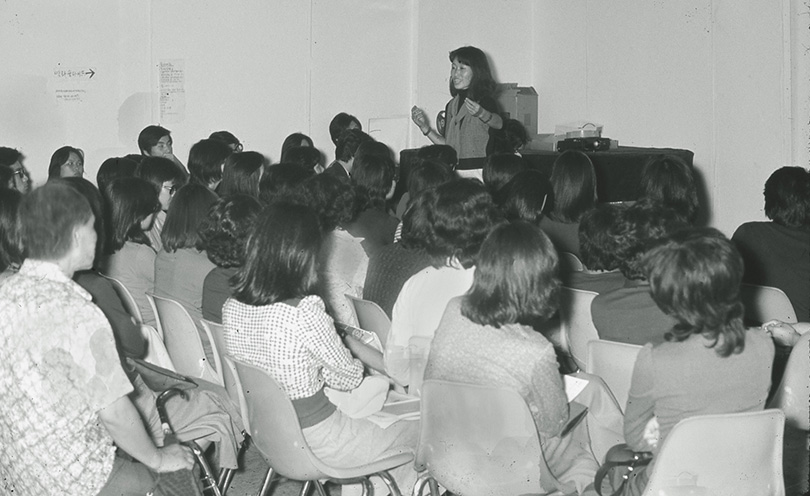 During a conference at the "Soungui Kim Art Festival" held at the American Center in 1975.
---
That you mostly worked in southern France, in places like Nice, Marseille, and Dijon, and not Paris, was also interesting.
---
Professor Lim Young-bang told me there were avant-garde groups in southern France. The Centre Artistique de Rencontre International in Nice was established in the early 1970s, and it was the first contemporary art museum called an art center in France. The Fluxus member Ben Vautier's studio was in Nice, too, and he would hold monthly debates which artists in Paris would travel by motorcycle and hitchhiking to participate in. Members of the important group B.M.P.T., which included Daniel Buren, also traveled south to express their views. To this extent, the avant-garde atmosphere was in southern France in the 1970s. Paris felt like a stuffy, academic and old-fashioned place in comparison.
---
You have a degree in painting, and I was able to confirm that you created abstract paintings using Eastern colors in your early works of 〈Colorful Stripes 2〉 and 〈Colorful Stripe Picture 2〉. What were your concerns at the time? It seems your later expansion into various media including installation, performance, video and pin hole photography, as in 〈Sound〉 or 〈Plastic Situation〉, is likely to be related to your concerns from when you were painting.
---
I was concerned with entering the realm beyond the canvas. I was influenced by Professor Jeon Seong-wu, who was very interested in tradition, to use primary colors in my work, and I think I strove to create work in which the colors themselves transcend the rectangle as I extensively studied the meanings of colors. While I am innately inquisitive, I see this as a question that I naturally asked because I painted for a long time. The same applies to video art. I continuously deconstructed and asked questions about the things that came out of that. I think it was therefore inevitable that I eventually met Jacques Derrida. A philosopher who wrote about me in 1975 also mentioned that my work deconstructs time and space.
---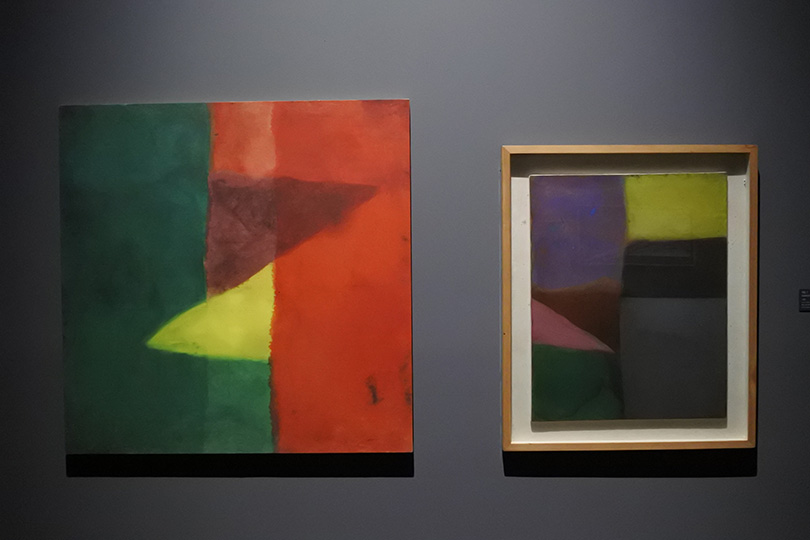 Installation View from left to right: Soungui Kim, 〈Colorful Stripes 2〉, 1969. Soungui Kim, 〈Colorful Stripe Picture 2〉, 1969. ⓒSeoyoun Chang.
---
I think the 〈Plastic Situation〉 series is very important for exploring your art realm since it has the coincidental, accidental and liquid qualities of a situation as its forming elements. Extracting the plastic from a changing situation is also a point to be examined with interest. How did you establish the concept of situations in planning the work?
---
Concepts regarding situations did not come before. I came to realize that situations are important while working, and I was very concerned with what words to express this with. In graduate school, I was working on 〈Sound〉 at school, and one day I dyed cloth and hung what I dyed outside, and when I woke up the next morning and stepped outside the piece looked amazing. The colors of the cloth flying in the wind were all disbanded to meet one another, and there were the street scenery, dust, sky, wind, people, and birds. It became a real situation. If paintings have frames, the frame of 〈Sound〉 was our lives. An open space. I agonized over how to title it and ultimately titled it 〈Sound〉, and the piece's context and meaning all fit in it. It is because sound has no boundaries. 〈Sound〉 is the title, and I wondered what to call my such actions and came up with "situation." I began using the word "situation" in France. When I exhibited 〈Sound〉 at the Centre Artistique de Rencontre International in Nice, the critic and theoretical supporter of the French art movement Supports/Surfaces, which asked a fundamental question about what painting is, Jacques Lepage and his colleagues saw my exhibition; and, saying it is similar to their work, had a conversation with me. The difference was that if Supports/Surfaces artists remained within the canvas by working with rectangular frames or colors only after analyzing the canvas's elements, I advanced toward life. I met Fluxus artists later. They, too, discussed life.
---
Your work has an aspect that grows more interesting the more one looks at it. Although you look like you are playing with common, everyday subject matter and language that is in constant use, rather than being play in the sense of simply being enjoyable, there is an aspect of pleasure being felt the moment one's originally held fixed ideas or molds of thought are broken through the work. What is the meaning of play in your work?
---
You just explained it all (shared laughter). I want people who see my exhibitions to walk out saying, "Ah, I enjoyed that." Young children thanked me once. I asked them what for, and they said they had fun. "It made me happy" is the best response. Happiness resides in play. While happiness includes beauty, beauty does not always encompass happiness. I liked Taoist thought like that of Zhuangzi or Laozi, and the moment I read Wittgenstein I saw Zhuangzi. The concept of play comes from Zhuangzi. The Korean word for play, yuhee, refers to playing while slowly crossing a river, and it is cheonrak, or the heavens' joy. I think that is the foundation of art. It seems we can learn the basis of Eastern art through Zhuangzi. Also, Zhuangzi's philosophy has an aspect of opening borders. Wushi (lit. "unknowing") and wuwei (lit. "inaction" or "intentionless") are examples. Through his concept of language games, Wittgenstein says that language play is playing with words that can be freely used in daily life. Zhuangzi and Wittgenstein meet right there.
---
Wu (lit. "nonexistence") or wuwei also seem important in your work. How can such concepts be connected to your work?
---
I think art-making is searching for and finding oneself in its process. Not knowing, or wushi, becomes the foundation of being learned. It is important to find the floor while systematically breaking away what one studied. Arriving at wushi through knowledgeableness. Not knowing, or lacking knowledge, is the possibility for understanding, and lacking knowledge is the possibility for finding anything. When saturated, you cannot see anything. If you empty your mind, you see this and that. If a bowl is filled with water, you cannot add anything else to it, but if it is empty, you can put anything in it. The meaning of the bowl changes depending on how one uses it. How you use it is life.
In the East, chaos does not simply refer to orderlessness, but signifies the possibility of before yin and yang, the sky and earth split, and the potential for ten thousand things to come out, i.e., the first possibility. Chaos itself is an immensely primitive condition. It is the first condition, and there always must be chaos in order to start over. I normally do not use the word "creation." In the East, creation is close to the concept of just being so-so, as opposed to artificial making. What expressed that effectively is 〈The Book of Changes〉. If you look at 〈The Book of Changes〉, one becomes two, two becomes four, and the splitting continues. Oneness is the meeting between the sky and the earth, and the state of the meeting is chaos. The world is generated as it splits. For Zhuangzi, arriving at that state is the heavens' joy. That joy can be found when one is at ease. The potential to do that comes from the state of ignorance. The state before knowledge comes, before a name comes, before the sky and earth split, the state including everything, an empty bowl.
---
No discussion of your work would be complete without mention of your video pieces. What led you to introduce video to your practice as a painter? Also, please explain for me what role video has in your work.
---
When I was working on 〈Sound〉, the work was fluttering in the wind, and I had to record it. You have to capture the moving situation. I was able to do video work in earnest after moving to France. However, I did not think that documenting my work was a good enough idea. I agonized over why an artist who values momentary situations must document. Instead, I created video art as opposed to records while considering the filming to be an equal element of the work. Also, I wondered if there is way to work directly with light instead of using the method of developing positives from negatives like in photography, slides or film and thus thought of video. Some time ago, in a discussion with Mr. Lee Young-cheol, I said that video is an empty bowl made with light and time. While it contains images woven with light and time, it is a bowl that can do anything and is open to any meaning. One can record, present real time, and make sculpture with video like Nam June Paik, so video is an empty bowl with several different possibilities. I therefore worked in several different ways.
---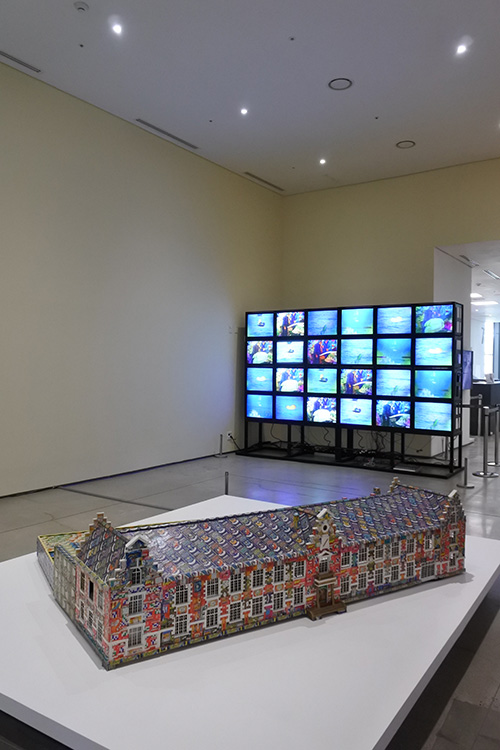 Soungui Kim, 〈Stock Exchange〉, 2005. ⓒSeoyoun Chang.
---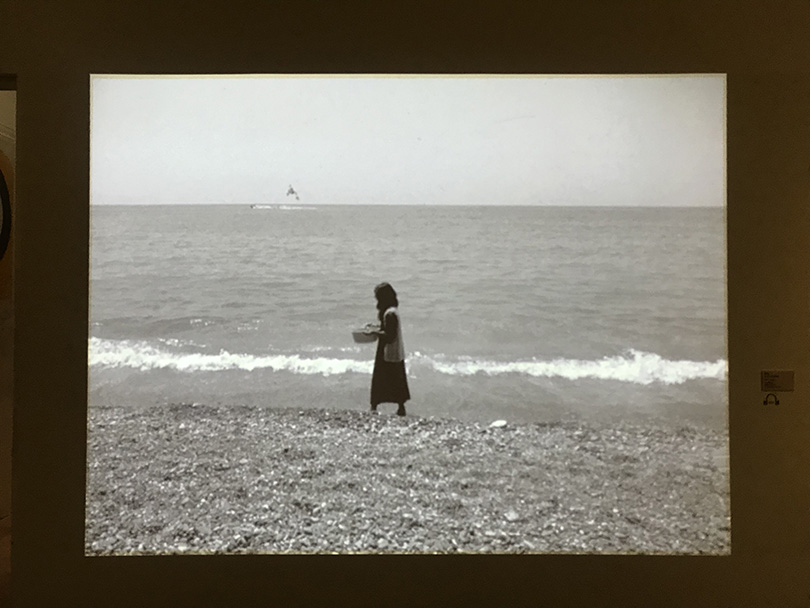 Soungui Kim, 〈Diary〉, 1971-1973. Single-channel video (4:3), 13'33". ⓒSeoyoun Chang.
---
In your case, you do not directly reveal political or specific social incidents, but I was able to consider a socially expanded perspective in works like 〈Stock Exchange〉 (2005), 〈Unknown〉 (1995), which dealt with the "comfort women" problem, and the calligraphy work 〈Letter: In the Dark Eastern Sea〉 (1997-2005) and 〈Letter: Slowly and Gently at the Fog's Sound〉 (1997), which metaphorically contained aspects of the changing society of the time while asking how art should move forward in the neoliberal age. Was there anything that inspired you to change?
---
At the time, I felt like lecturing for some reason. Capitalism used money to make people's hearts run away. I disliked that so. To think, you can feel happiness when you have found your empty mind. In 1991, I traveled to China with just my video camera in my backpack on a research grant from the French government. In the time of six months during which I came to Korea and went to Japan for an exhibition and then traveled in China for about three months before visiting Thailand and India and returned to China, I witnessed an East that was completely transformed by capitalism. I decided I should make art about it. I think I seriously felt inclined to criticize and denounce instead of quietly playing as I had been doing. It was when I was exchanging letters with Jean Luc Nancy, and I told Nancy about this, to which he jokingly replied, "Then you must make art about stocks," and I thought, 'That's it!' and made the work. That is how 〈Stock Exchange〉 came about. I think I wanted to say things like the words in the last part of 〈Letter: Slowly and Gently at the Fog's Sound〉, "When a puppy was barking roof roof roof, my nephews ran to me and said that the dollar's value has risen lately so that PC prices are half of what they used to be, and they asked me if I bought a portable for them, to which I said that all I brought them was my heart."
---
Some three decades have passed since the early 1990s, which is when you made that work. What do you think the meaning of art is in our current era, when capitalism has spread throughout the world and capital is encroaching on all of life's values?
---
That question is also a theme I discussed with Derrida. I opposed Europe becoming unified (the EU) and the world becoming globalized. It is becoming integrated not because of culture or politics, but because of money or economics. The important thing is the issue of meeting. To meet, there must be difference, and we need respect to be different. I think eliminating differences and having everything become similar is problematic. I had the chance to consider artists' work in Korea during my current visit, and I received the impression that a lot of similar work was being made as people travel abroad more due to having greater disposable income than in the past and they quickly acquire information using smartphones. If you work with a focus on what is in the spotlight, you can gain popularity, too. It appears this, too, is related to money. There is a tendency for the structure of neoliberalism itself making art, and I dislike that so much that I want to run away. I think that in our current era, when marketized art is being mass produced, we have to work on finding our empty minds again. I think my art comes out of such an attitude.
---
Soungui Kim, 〈Letter: In the Dark Eastern Sea〉, 1997. Brush and ink on Korean paper, 152×232cm. ⓒSeoyoun Chang.
---
In your new piece 〈Time and Space 2019〉, you presented an aspect of heterogeneous things of different realms intersecting as the robot, a key of science and technology, and a supernatural shaman, who is positioned at the opposite end of science, appear. What did you want to say through the piece? I thought that the robot Boredom Dummy Young-hee might be your own persona.
---
I have frequently used the word "dummy" since many years ago. Upon reading the text of Boredom Dummy Younghee again, I thought it was like me (shared laughter). Anyway, Boredom Dummy Young-hee is a friend I greatly like. I have usually been interested in new technologies like A.I., and I like the future possibilities they would bring. However, the reason people created robots is to be helped by them, for people to gain absolute power. I wanted to use that in reverse. I wanted a robot that read poetry and admired scenery like some fool. Also, I thought that future languages and shamans were a good fit. I really enjoyed the robot, a shaman and myself interacting with one another. Also, from the power generating bicycle comes the sounds of forest insects or ritual-performing Amazon Indians. I intended to represent my idea of an excellent universe. In that universe are all of ecology and traditions, including shamans and robots, which are all of science and technology.
---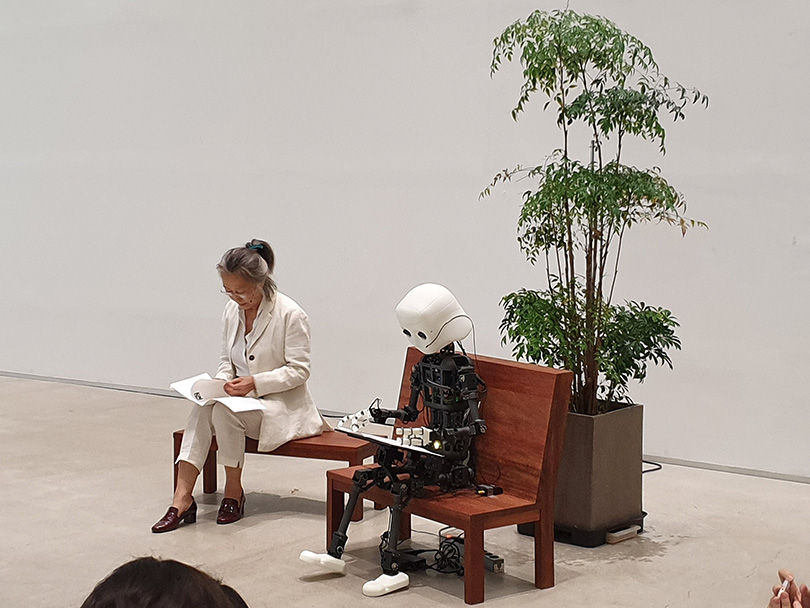 Scene of the new performance piece 〈Time and Space 2019〉.
---
I thought of this question because I remember when you were having your profile picture taken last time, you pointed to 〈Today〉 (1975, 1998), which you provided in a way allowing viewers to participate, and said that the result was different from what you intended and it was not your work. In interactive art, which can reveal an uncertain and diverse world, could not such unintended situations become the work's meaning, too? Particularly since you have been creating unfixed work that constantly aims to have open meanings?
---
That is why I did not remake the piece. In my 2008 Gallery Yemac solo exhibition 《Soungui Kim, 2008 Platform Seoul》, too, I worked hard on the drawings for the piece, but when I returned the next day people had disregarded the instructions and just wrote their names and such on it. Back then I painted over the writing with white because the amount of it was limited, but this time I thought about it and realized that I had provided a place where people can leave uncustomary writings in public. So I decided to let it be. A little while ago I was contacted by an acquaintance telling me she enjoyed the exhibition and asking me if I saw her writing. I asked her which one it was and she said she wrote "What do I do tomorrow?" I think it is a good idea.
---
Lastly, please tell me about your future plans.
---
I normally do not plan ahead (shared laughter). However, I am to return to France in a few days and I called a friend and she told me the vegetables I am growing in my garden are a mess. She said the draught dried up the pond and the mud is cracking. Weeds are growing thick and the fruits are dried and rotting. When I return home I will have to look after these things now. I am told there is hardly anything left to harvest (laughter). Also, I am expecting a book to be published in the U.S. next year, and I have to translate and there is still much to do.
---
---
※ This content was first published in the October, 2019 release of Misulsegye Magazine and has been re-published on TheARTRO.kr after a negotiation was reached between Korea Arts Management Service and Misulsegye Magazine.

Chang Seo youn / Art journalist, MisulSegye
Chang Seo-youn graduated Hongik University with a Master's in Art Studies and currently works as an art journalist at monthly magazine MisulSegye. She co-organized an art exhibition "Analytical Index" (2015), and also participated in the Korea Art Week program titled "Interlude" at Insa art space (2016).​​