People / Interview
Interview with the Tate Modern Senior Curator on Staging 'Retrospective on Nam June Paik'
posted 03 Dec 2019

---
On October 17, Tate Modern opened a retrospective exhibition on international artist Nam June Paik (1932–2006), whose work is widely bestowed with such adjectives as 'innovative' and 'pioneering.' Co-organized by Tate Modern and the San Francisco Museum of Modern Art (SFMOMA), the exhibition assembles over 200 works by Paik. This represents the first time that Tate Modern – the U.K.'s top tourist attraction, having welcomed some 5.9 million visitors last year alone – has shed light on the Korean-born artist and his works. To mark this occasion and learn more details, let us introduce Dr. Sook-Kyung Lee (50), Tate's Senior Curator responsible for overseeing the exhibition.
---
Nam June Paik, 〈Robot K-456〉, 1964. 20-channel radio controlled robot, aluminium profiles, wire, wood, electrical divide, foam material, and control-turn out, 1830x1030x720mm. ⓒFriedrich Christian Flick Collection in Hamburger Bahnhof. Image Provided by DongA.com.
---
This is a gigantic event, with over 200 pieces of artwork on display. What was your focus in curating the works of Nam June Paik?
---
The exhibition essentially seeks to narrow in on Nam June Paik's post-national, supra-national, and future-oriented aspects. Having said that, we did not follow any chronological order but instead organized 12 rooms under different themes, categorized by the artist's ideas or his relationships and close collaborations with other artists. In the first room, visitors come across, they are presented with 〈TV Buddha〉(1974) and 〈TV Garden〉(1974/2002). The latter of these pieces is a large-scale installation of television units placed in a mesh of green leaves and foliage, foreshadowing a future where the boundary between nature and technology begins to fade. Beyond the garden, part of Paik's first solo show, 《Exposition of Music-Electronic Television》, is showcased. Many of the works that had been on display back then are reunited in these rooms once again. There is also a room that features Paik's satellite relay projects, while another is dedicated to artists that Nam June Paik worked with, such as Charlotte Moorman, John Cage, and Joseph Beuys.
---
The exhibition features 〈Sistine Chapel〉, recreated for the first time in 26 years, for which the artist was awarded the Golden Lion for the German Pavilion at the 1993 Venice Biennale.
---
The recreation took a whole year. It was influenced by the advice of Jon Hoffman, the curator who had assisted Nam June Paik in Venice and now manages the artist's posthumous works. (Because Paik did not leave any records on his work, much of the recreation depended on photographs and witnesses' accounts.) In the room housing the recreated 〈Sistine Chapel〉, 36 beam projectors have been installed. They project videos not only on the walls but also on the ceiling, which created many additional factors to consider, such as the structural design and projector locations. Back in 1993, the installation filled the entire building for one of the two wings of the German Pavilion in Venice. That building had a high ceiling, and they had to use 40 projectors. In our case, the Tate Modern gallery's ceiling is not as high, so 36 projectors sufficed. Meanwhile, projector technology has evolved time and again. Back then, they struggled to install large, heavy projectors, whereas we are able to use small, lightweight ones. Our focus was to express visual images, and we used modern machines to achieve that goal.
---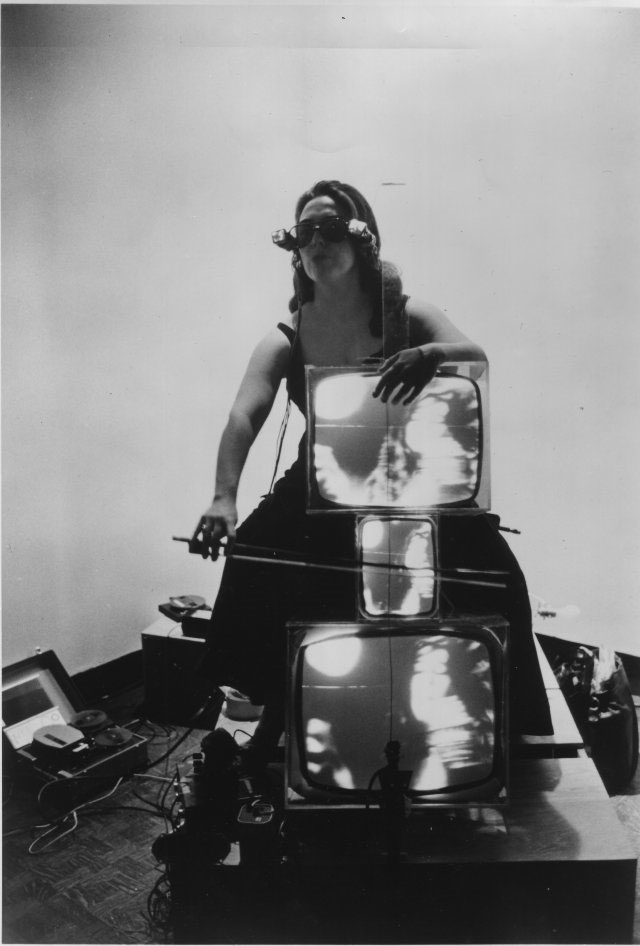 Charlotte Moorman with 〈TV Cello〉 and 〈TV Eyeglasses〉, 1971. Photograph, gelatin silver print. Lent by the Peter Wenzel Collection, Germany. Image Provided by DongA.com.
---
This story about the projectors is quite interesting. Because Nam June Paik always used machines, technical issues are bound to follow. Wasn't it difficult to find adequate CRT monitors?
---
For every piece, we took a tailored approach. If the appearance or sculpture of work was important, we put it on display with the screen turned off. However, if the contents in the video were important, the curator had to make a decision on this, as the artist left no records to consult. Paik did have a different technical approach to each work, and I tried to take a flexible perspective on different technical settings.
---
Could you suggest any works that visitors should pay special attention to?
---
〈The Mongolian Tent〉, which had also been on display at the 1993 Venice Biennale, is a work that viewers rarely have the chance to lay their eyes on. It is on loan from Stadtmuseum Münster in Germany, and it shows Paik's keen interest in Mongolia, Eurasia, and Siberia. He wanted to explore the nodes that connect Asia with Europe as well as the Korean people. This work features a tent in the style that was typically used by Mongolians in the late 1980s, decorated like a home. Inside are a TV-Buddha figurine and a bronze mask of Paik's own face.
---
There is another piece that we worked very hard to borrow: 〈Robot K-456〉(1964). Paik produced many of his robot works in the 1980s, but this was the first such example. Many of his later robots are the types that display videos, while earlier robots were his 'proxy,' controlled by the artist to move and put on a performance.
---
Another work on display that is very rarely curated is the outcome of 〈Zen for Head〉, the performance showcased by Paik in 1961 in Wiesbaden, Germany. For this piece, he participated in the Fluxus Festival, dipping his hands and hair in paint and then using his body to paint. Traces of this performance can be seen on display for the first time ever.
---
Nam June Paik, 〈Zen for Wind〉, 1963. Thirty objects hanging on strings tied to a wooden board: wood, aluminum, iron, steel, leather, stones, tape, porcelain, hemp, sisal string, paint, 2070x2060x250mm. ⓒFriedrich Christian Flick Collection in Hamburger Bahnhof. Image Provided by DongA.com.
---
I understand that Tate Liverpool presented Nam June Paik in 2010. Now that you have traced his artistic vestiges through works dating back to the earliest days and up until the end, how do you feel about him?
---
I have been poring over years of research, and I feel more strongly than ever that Nam June Paik's works carry important implications for those us living in today's world. The digital environment has changed, removing all national borders from the popular culture through which people begin to understand one another. However, we are also witnessing with concern the rise of nationalist trends in various countries, and South Korea is no exception. Through this exhibition, I have learned to look back on the philosophy of Paik, that understanding different cultures through technology and communications can solve many problems. That world is finally upon us, where we are 'connected,' and Paik must have been able to see the future that his contemporaries could not.
---
It is all the more meaningful that 'collaboration' is the key focus of this exhibition. You have devoted sizable space to highlight Paik's collaborations with John Cage and Joseph Beuys.
---
Nam June Paik was born a Korean but later sought asylum and lived in Japan. He then moved to Germany to study and was also active in the United States. He maintained close connections with artist communities in these four countries throughout his activities. As an artist, he bridged Asia with Europe and America, demonstrating through art that national borders did not matter. Tate Modern is the world's most visited museum. Since last year, it has welcomed more tourists than any other place in the UK. Half of its visitors are international, so the gallery is really not just for British people but for people from all over. The reason that Tate Modern is presenting Nam June Paik at this point in time is that the artist demonstrated what 'post-nationalism' and 'connectivity' are all about. The world is rapidly changing. I hope that Nam June Paik serves as the seminal node that leads us to look back and remember where we have been and how we got to where we are.
---
Tate Modern presents 《Nam June Paik》 until February 9, 2020. The exhibition is curated by Dr. Sook-Kyung Lee, Senior Curator at Tate Modern, and Rudolf Frieling, Curator of Media Arts, SFMOMA, along with Valentina Ravaglia (Tate) and Andrea Nitsche-Krupp (SFMOMA). It is jointly organized by Tate Modern and SFMOMA and will tour venues in the United States, the Netherlands, and Singapore.
---
Related Articles:
---
https://www.theguardian.com/artanddesign/2019/oct/19/nam-june-paik-tate-modern-review-bidisha
---
https://www.theguardian.com/artanddesign/2019/oct/15/nam-june-paik-tate-modern-review-artist
---
※ This article was originally published in DongA.com on 15 OCT 2019, and reposted under the authority of DongA.com.
Kim Min
Journalist, [Dong-A Ilbo]