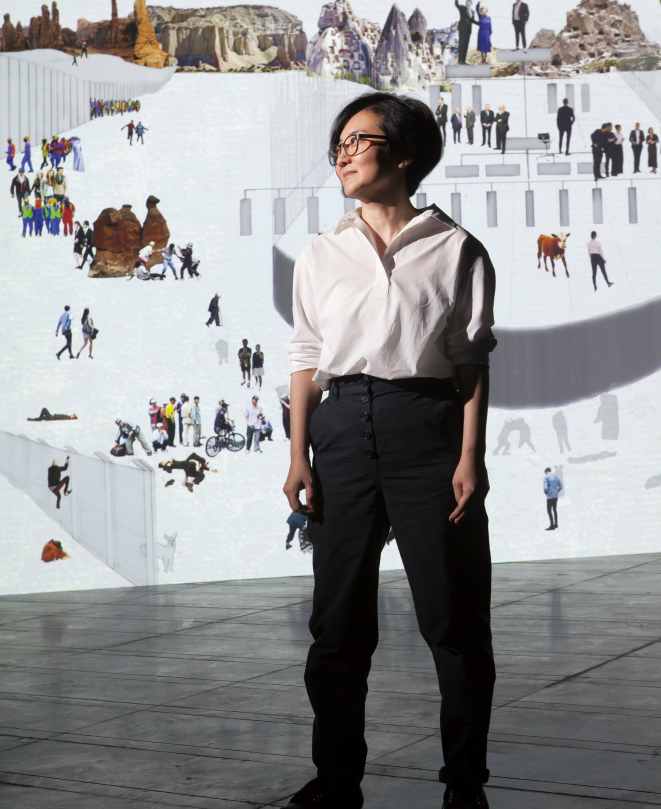 Artist Yang Ah Ham. Photoⓒ Hong Soon Park
---
Yang Ah Ham creates video art pieces inspired by aspects of life that she has observed and reconstructed into a new form. Ham has recently presented a variety of panoramic artworks through two exhibitions: 《The Square: Art and Society in Korea 1900-2019 Part 3. 2019》 (September 7th, 2019 to February 9th, 2020) held at the National Museum of Modern and Contemporary Art Seoul, and a private exhibition held at Alternative Space LOOP, 《Yang Ah Ham Undefined Panorama 2.0》 (September 27th to October 27th, 2019), featuring collages of the anxious and dangerous situations encountered by humans in contemporary society. The artist explores the concept of a 'total narrative' by connecting the different points of view granted to different groups of people in society.
---
Yang Ah Ham was born in 1968. The artist received her BFA degree in painting and a master's degree in art theory at Seoul National University. She then studied media art at a graduate school in New York. Based on her experiences of living in various countries, including Korea, the Netherlands, and Turkey, she continues with her artwork, contemplating the nature of individuality, groups of individuals existing within social systems, and the development of nature by the modern civilization. Ham participated in a number of exhibitions, including 《Trans-Justice》(Museum of Contemporary Art, Taipei, 2018), 《Asian Art Biennial》(National Taiwan Museum of Fine Arts, 2017), 《Korea Artist Prize》(National Museum of Modern and Contemporary Art, 2013), and 《Adjective Life in the Nonsense Factory》(Art Sonje Center, 2010). Ham received many awards, including the Daum Prize in 2004, Arko Artist of the year in 2005, the Hermes Foundation Missulsang in 2008; and she also participated in the Rijksakademie residency program in Amsterdam from 2006 to 2007.
---
Yang Ah Ham has been developing her art career since the late 1990s. She is being called "a media artist who pursuits distinctive narratives into her works by metaphorically portraying the social aspects based in life" (introduction page of 2013 Korea Artist Prize on the website of National Museum of Modern and Contemporary Art). She is also known as an artist who explores moving image art installations, in other words, a 'video artist'. The former description focuses on subject matter and theme, and the latter describes the medium or form of the works. However, since contemporary Korean artists who metaphorically describe various aspects of society develop so many relationships across different media and forms of art, this alone does not clearly identify the uniqueness of the artist. Therefore, to uncover Ham's artistic history and the dialectic between consistency and variety that she has been pursuing, we must track the ways she has used video to express her thematic motifs. This approach is not only required in understanding Yang Ah Ham, but also in understanding other contemporary 'video artists', as well as artists who do not want to be defined as video artists but have created a number of moving image art pieces. Her various works, introduced through 《Yang Ah Ham: Undefined Panorama 2.0》 held at Alternative Space LOOP and 《The Square: Art and Society in Korea 1900-2019 Part 3. 2019》 held at the National Museum of Modern and Contemporary Art Seoul, provide opportunities to contemplate the relationship between content and form through the array of expressions presented by the artist.
---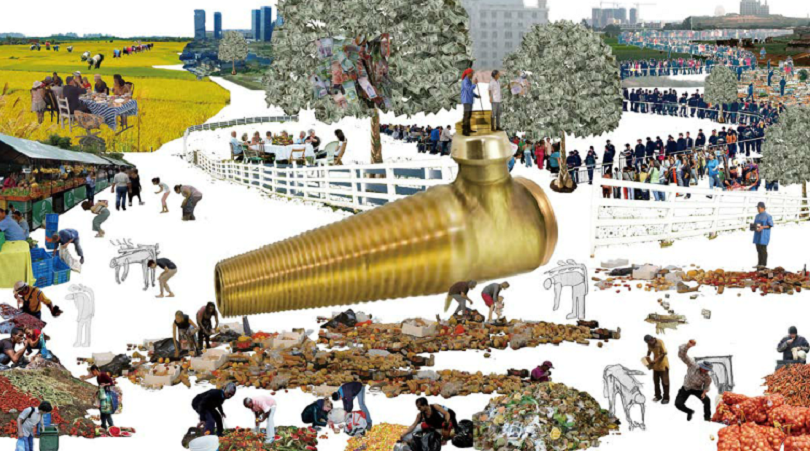 Yang Ah Ham, 〈Hunger〉, 2019. Single channel video, color, sound, 7 minutes.
---
Ham's works, introduced through the private exhibition held at Alternative Space LOOP, are categorized into two. The first category consists of 〈Undefined Panorama 2.0〉(2019), a series of video art pieces portraying images she has been sketching since 2018, including a two-dimensional organization chart of the government, and people who live in the chaos caused by the financial crises of the neoliberalism system. The scenes were created through the acting of her acquaintances in front of a green screen. (Version 1.0 of this series is being displayed through 《The Square: Art and Society in Korea 1900-2019 Part 3. 2019》.) In 〈Hunger〉(2019), another piece of video art created through the same method, the class gap, worsened by the lack of food and the inequality of consumption, is portrayed. The second category of works consists of the two single channel video art pieces belonging to 〈Nonsense Factory〉, an art project that the artist began in 2010. One is 〈Nonsense Factory - Coupon Room〉(2013-2017), which uses an observational documentary method to portray the workers of Korea Minting, Security Printing, and ID Card Operating Corporation, as well as the process of making paper money; and the other is 〈Nonsense Factory - Blue Print Room for a Future Factory〉(2013-2017), which intersects images of a rat repeating the same movements within a mechanical structure, including a spinning wheel and the real-time graphic images of the rat's brain cell activities and brainwave patterns.
---
Yang Ah Ham, 〈Undefined Panorama 2.0〉, 2019. Single channel video, color, sound, 7 minutes. (Installed at Alternative Space LOOP)
---
Comparing the two categories may elucidate the artistic consistency underwriting Ham's thematic motifs. A comment from Sumi Kang, a reviewer who wrote many articles regarding Yang Ah Ham's works, helps with such an endeavor. Kang described 〈Nonsense Factory〉 as a project that "reveals the underlying structure and hidden attributes of contemporary life, as well as the systematic relationship between people and society"1). Ji Yoon Yang, the planner of Ham's private exhibition at Alternative Space LOOP, considered the first category of Ham's works as a digitally updated, chaotic, and multi-layered version of the medieval religious paintings of Hieronymus Bosch, and proposes that the artist "criticizes the current attitude of indifference, which assumes neoliberalism as the general condition that has existed throughout history"2). This view is also an effective approach in defining Ham's underlying thematic motif. However, the two reviewers merely discussed thematic motif and did not mention any developments in Ham's works in terms of form and technique, as well as the consistency maintained (or theoretically assumed) in spite of such developments. How do the two modes of Ham's work complement or contrast one another? To answer this question, I consider 〈Nonsense Factory - Coupon Room and Nonsense Factory - Blue Print Room for a Future Factory〉 as both separate art pieces as well as a two-channel video art installation. In the exhibition room, two 30-inch monitors displaying the artwork are placed next to each other in parallel, and therefore viewers can naturally appreciate and criticize the two artworks from the same point of view. (And I assume the artist intentionally placed them in this way.) In 〈Coupon Room〉, Ham uses closeup shots of various entities: a conveyer belt that facilitates the mass production of paper money, produced bills, the hands, and eyes of a female worker who swiftly checks the bills, and the stacks of bills that she processes. The repeated jump cut images of hands, especially, imply that Ham focuses not only the money itself but also the body of the worker who processes it. An interview with the worker supports this approach. The worker considers the process, which takes place ten to twelve times a day, a "daily routine", and says the bills are "not money, just products" in the factory. As such, Ham visualizes the process of conversion from labor to exchangeable value. However, the overlapping image of the "Blue Print Room" on the right, which is being simultaneously provided, begs the viewers to contemplate the unseen dimension behind the worker's hands and eyes. As the images of hands and eyes interleave the graphic recordings of the brain cell activities and brainwave changes of a rat moving inside a spinning wheel, new meanings are derived: the unmaterial and non-semantic dimension of the repetitive tasks of workers juxtapose the neurological dimension of bodies that sense and act, which is a recent trend in media studies. The technique is based on traditional cinematic methods to produce and deliver critical knowledge and higher ideologies, as well as the cerebral effects of the montage, which have been pursued by many other contemporary multi-channel video art installations (but not always successfully delivered).
---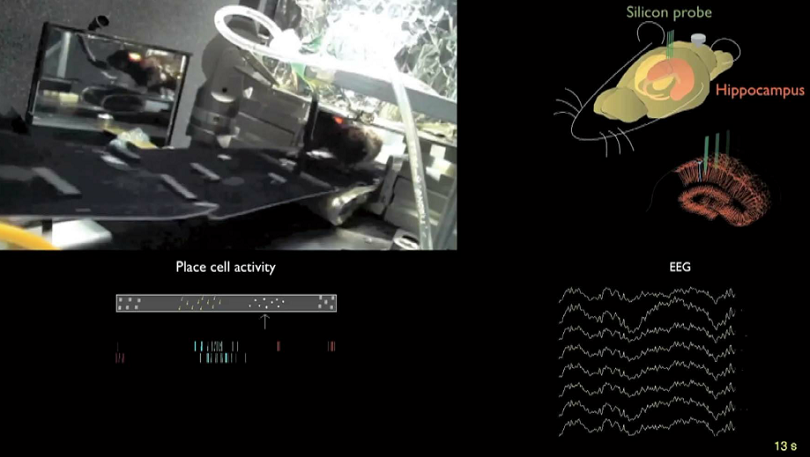 Yang Ah Ham, 〈Nonsense Factory - Blue Print Room for a Future Factory〉, 2013-2017. Color, sound, 3 minutes 30 seconds.
---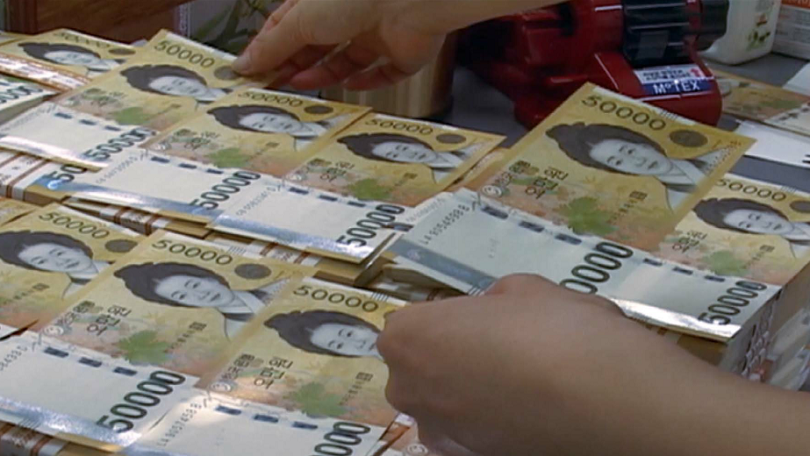 Yang Ah Ham, 〈Nonsense Factory - Coupon Room〉, 2013-2017. Color, sound, 5 minutes 11 seconds.
---
Considering these developments in form, the first category, consisting of Ham's more recent works, can be taken as a methodological change from montage to collage. This development is identical in the second category, which is a type of two-channel video art installation. 〈Undefined Panorama 2.0〉 and 〈Hunger〉 are based on the logic of spatial simultaneity, interweaving the images of bureaucracy, finance, political disturbance, labor, reckless sprawling development, and disaster; and here, viewers experience and construct their own narratives by observing the unstable world of today and the people living inside of it. At the very least, the two art pieces provide unique viewpoints on the signs of potential risks that are exploding simultaneously and unevenly from the various dimensions of our society, thus building a total image that encompasses the signs. The coexistence of these multiple layers in society and the totalistic approach to encompassing them leads to a rebirth of the medieval view of the world. Therefore, compared to the relatively modern 〈Nonsense Factory〉 series, the two art pieces can be interpreted as a postmodern development in the work of Yang Ah Ham.
---
Of course, the conversion to the collage method was not a complete success. Unlike the title, 〈Undefined Panorama 2.0〉 and 〈Hunger〉 do not offer a 360-degree view, which panoramic media should offer. Instead, they appear as flat tableau consisting of seldom changing shapes and the slight movements of objects. In addition, the two artworks display technical and aesthetic limits when compared to works like 〈Civilization(Megaflex)〉 (2008) by Marco Brambilla or 〈Microcosm〉(2007-2008) by Miao Xiaochun, which fused disparate video footage in exploring the chaos of this age from a religious and philosophical perspective, through digital synthesis techniques like collage, or by reconstructing video footage through 3d animation techniques and interpolating the footage into sophisticated and dynamic digital paintings. If Yang Ah Ham continues to use the collage technique based on digital modes of synthesis, she needs to overcome these limits. (According to Ji Yoon Yang, the 〈Undefined Panorama〉 series will be continued for the next few years while introducing updated versions).
---
※ This article was originally published on the November 2019 issue of Monthly Art and is provided by the Korea Art Management Service under a content provision agreement with the magazine.
---
1 Sumi Kang, 「Non/Meaning: Sociality in the Art of Yang Ah Ham」, introduction page of 2013 《Korea Artist Prize》 on the website of National Museum of Modern and Contemporary Art, http://koreaartistprize.org/ project/%ED%95%A8%EC%96%91% EC%95%84-2/.
2 Ji Yoon Yang, 「Yang Ah Ham: Undefined Panorama 2.0」, Alternative Space LOOP website, http://altspaceloop. com/exhibitions/undefined-panorama.
Jihoon Kim
Jihoon Kim is Associate Professor of Cinema and Media Studies in the Department of Film Studies at Chung-ang University. He is the author of Between Film, Video, and the Digital: Hybrid Moving Images in the Post-media Age (New York: Bloomsbury Academic, 2018/2016). His essays on film theory, experimental film and video, art of the moving image, cinema and contemporary art, digital cinema, and experimental documentary have appeared in Cinema Journal, Screen, Film Quarterly, Camera Obscura, Animation: An Interdisciplinary Journal, Millennium Film Journal, Journal of Chinese Cinemas, and the anthologies Global Art Cinema: New Histories and Theories (Oxford University Press, 2010), and Taking Place: Location and the Moving Image (University of Minnesota Press, 2011), among others. Currently he is working on two book projects, each entitled Documentary's Expanded Fields: New Media, New Platforms, and the Documentary and Post-Verite Turns: Korean Independent Documentary in the Twenty-First Century respectively.