Features / Focus
The unparalleled 'Universe' of Whanki: Korean artist's latest public offering smashes previous records at auction in Hong Kong
posted 17 Dec 2019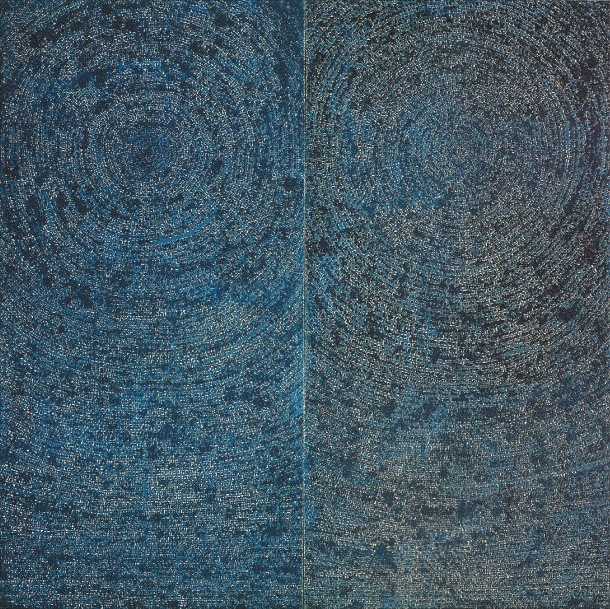 The biggest painting by Kim Whanki (1913-1974), 〈05-IV-71 #200 (Universe)〉 (1971) went on sale for the first time on Saturday at Christie's Hong Kong Autumn Sale. It is the only diptych - a two-piece work - by the artist. ⓒWHANKI FOUNDATION.
---
At 6:08 p.m. on Saturday, in the Grand Hall of the Hong Kong Convention and Exhibition Centre, the auction that would rewrite the history of Korean art began. For the first time in the art market, Kim Whanki's (1913-1974) biggest piece and his only diptych, 〈05-IV-71 #200 (Universe)〉 (1971), went on sale as the 17th lot on the list for Christie's Hong Kong Autumn Auction.
---
The two-day auction took place on Saturday and Sunday, during which the Evening Sale for "20th Century and Contemporary Art" was held. Kim's piece was named as one of the Evening Sale's highlights along with pieces from Chinese painters Sanyu (1895-1966), Zao Wou-Ki (1920-2013) and Chu Teh-Chun (1920-2014). But more importantly for Korean art lovers, it was a moment to see whether Kim could outdo himself and break his personal record for the highest price paid for his artwork, and whether Korea could snag its first $10 million - or 10 billion won - price tag.
---
The bidding for Kim's piece began 38 minutes after the auction started at 5:30 p.m. The price started at 40 million Hong Kong dollars ($5.1 million) - lower than Christie's initial estimate - but quickly shot up as contenders from both the floor and those represented by the staff members of Christie's through the phone threw in their bids. It took just a few minutes for the bidding to exceed Kim's last record of 8.5 billion won ($7.2 million).
---
The hammer has spoken
---
While the bidding for most of the other lots ended within a minute or two, the auction for 〈Universe〉 lasted for 10 minutes. When the price hit 80 million Hong Kong dollars, two contenders remained and went head to head through the phone: one represented by Lee Jun, general manager of Christie's Korea, and the other by Francis Belin, general manager of Asia Art.
---
Before the bidding even ended 〈Universe〉 had already become the first-ever Korean painting to exceed the $10 million milestone, but it didn't stop there. The competition between the last two bidders heated up, until it was sold off to Belin's client at 88 million Hong Kong dollars, $11.3 million or 13.2 billion won.
---
There is no information about the bidder represented by Belin due to Christie's privacy policies, but insiders presume them to be non-Korean, while Lee's client is known to be Korean. The price realized - which is the final hammer price plus any fees - came to 101 million Hong Kong dollars, or around 15.3 billion won.
---
According to Lee, this feat signals a new start for Korean art.
---
"To be sold off at 10 billion won means that Kim Whanki's works have really entered the mainstream international market. It will also help the next generation of artists enter into the global art market," he said.
---
Lee Ok-kyung, the vice chairman of Seoul Auction who was also at the convention center for Seoul Auction's Hong Kong sale, said, "It is truly a historic moment for Korean art. We have never had an artist exceed the 10-billion won price limit. I am so pleased to see the work do so well - even going above our expectations. The 10-billion won mark will hopefully allow more Korean artists to debut into the global market."
---

From left: Staff members of Christie's on the phone participating in the auction on behalf of bidders; Kim's work had been displayed within a separate space in the preview exhibition, opposite Chinese artist Sanyu's 〈Five Nudes〉; A photograph of Kim Whanki in his New York studio shows Kim working on his work laid down, the eastern way. ⓒCHRISTIE'S, YOON SO-YEON, WHANKI FOUNDATION.
---
Whanki's one and only
---
〈Universe〉 is the only diptych by Kim and also his biggest piece. A diptych refers to a single work that is comprised of two pieces of canvas. It is said to be most representative of Kim's abstract paintings and the essence of his art and philosophy. It was made three years before his death in 1974, but has never been on sale at any public auctions.
---
Before Christie's, it was previously owned by Doctor Matthew Kim and Chae Kum Kim, who had bought the piece straight from the artist after its completion. Having met for the first time in 1951 in Busan, while they were escaping the tragedies of the Korean War (1950-53), the artist and the doctor kept a close friendship that went beyond the simple relationship between a sponsor and a recipient. The doctor sponsored and provided unparalleled support to Kim, and 〈Universe〉 was kept under his possession as not just an artwork, but a token of their affection.
---
While owned by Kim, 〈Universe〉 had been on display at the Whanki Museum in Seoul. Numerous buyers and auction houses - including Christie's - had tried to reach out to him via the Whanki Foundation, but to no avail.
---
"To Matthew Kim, 〈Universe〉 was more than just a work," said Evelyn Lin, deputy chairman of Christie's Hong Kong. "It was about realizing the importance of the work. He wanted to find the right time to present it, to find the right position for Kim Whanki in the art market […] The family contacted Christie's New York first, and I felt it was like destiny."
---
According to Lin, who is a big fan of Korean art herself, 〈Universe〉 isn't just the best of Kim Whanki, but the best of Asian culture. Rather than having the canvas standing up on an easel like western painters, he painted the thousands of dots the painting is comprised of while it lay flat on a table with his paintbrush perpendicular from above. This was "rather similar to calligraphy, making it more familiar to the eastern audience."
---
"It was very much like meditation for the artist. This is a very Asian mentality. People in Hong Kong who don't even really know who Kim Whanki is, look at this and they are attracted to the image," Lin said.
---
Kim usually didn't title his works, but there is a specific reason why 〈Universe〉 was named so. The symbolism for the two circles embodies all binary values in the world: the yin and yang, sun and moon, light and dark, life and death, men and women and so on. They are all the binary values and beings that exist in the universe - it is the universe itself.
---
The fact that he made it with a single color is also notable, according to Lee. Kim also used an eastern type of brush, typically used for calligraphy, rather than those used for western paintings. His signature style of dotted paintings first began around the year 1970. With that single brush, he produced his "Whanki blue" paintings, where he uses just one color of blue to express a plethora of different shades and gives depth by using just ink and oil. His skills are unique to him, and it's what makes Kim "such a master," according to Lee.
---
The fact that Kim's works were displayed within a separate room at the preview exhibition, and opposite to Sanyu's work, is also "Christie's recognition of Kim's masterpiece," Lee said. Sanyu's painting 〈Five Nudes〉 was sold for 304 million Hong Kong dollars.
---
Whanki versus Whanki
---
As of now, Kim Whanki is the only match for Kim Whanki.
---
The top five most expensive pieces of art in Korea are all his. His red monochrome dot painting 〈3-II-72 #220〉 was sold for 8.5 billion won last year in May during the Seoul Auction Hong Kong sale, which had held the title for the most expensive Korean artwork until Saturday. His pink monochrome painting 〈Untitled〉 was sold at 7.1 billion won, also at Seoul Auction's Hong Kong sale. According to art price tracker K-Artprice, Kim Whanki's works have sold for a total of 141.3 billion won over the last five years.
---
"Kim Whanki's works practically guarantee a new record price every time they come out to auctions," said Lee. "So if one piece is sold at one auction for a certain amount, then that amount will be overwritten again by the same piece at the next auction."
---
However, Lin explained that while "〈Universe〉 will set a new record for Kim Whanki," it will not immediately lead to the growth of the Korean art market. She first fell in love with Korean art when she visited the country two decades ago and saw the work of Chung Sang-hwa. When she asked the price, she was surprised at how low it was - the equivalent to younger, rookie artists in the western art scene. Since then, it became her goal to promote Korean art on a bigger platform and watch it grow. The volume of the Korean art market is set around 400 billion won, while the U.S. market is set around 28 trillion won.
---
"While it is meaningful that Kim Whanki's work has been reassessed in the way it deserves to be, it won't lead to the growth of the Korean art market as a whole. The masterpieces in Korea don't come out to the secondary market, because most of them are owned by museums. So for now, the record will only be for the Kim Whanki art market.
---
"In the past few years, Korean artists have gone under the radar. But I think now, the market has recognized them. For example, artists like Park Seo-bo - we have a lot of European collectors that follow his work in the market. I think it's about what kind of concept you choose and how you present it. The international collectors are very open-minded, so it's not about where you're from, but about the concept. I think everyone has a good opportunity to grow." Lin said.
---

---
---
※ This article was originally published in Korea Joongang Daily(http://koreajoongangdaily.joins.com) on 26 NOV 2019 and reposted under authority of a partnership between KAMS and Korea Joongang Daily.
YOON SO-YEON / Korea Joongang Daily
yoon.soyeon@joongang.co.kr