People / Interview
Lee Jungjin, an Internationally-renowned Korean Photographer with Works in the Collections of Prestigious Museums
posted 13 Feb 2020
---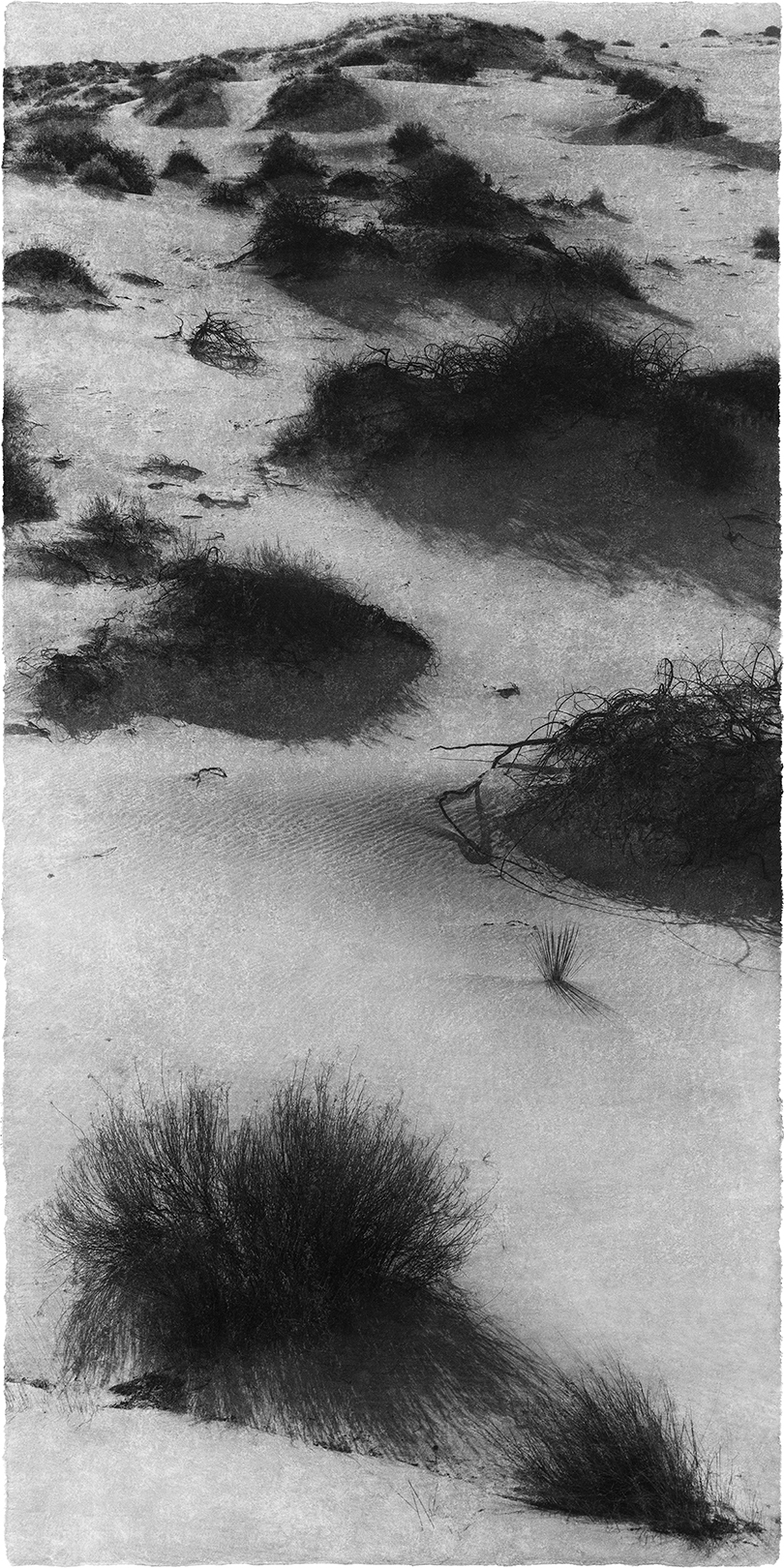 Jungjin Lee, 〈Opening 21〉 (2/10 + 3AP), 2016, Archival pigment print on Korean Mulberry paper 145.5x76.5cm (paper size). Courtesy of the artist & PKM Gallery.
---
"May I touch this photo?"
---
Asking such a question in a photo exhibition seems preposterous and is bound to raise some eyebrows. Interestingly, however, when it comes to photos by Lee Jungjin, there are quite a few folks who do just that. Silken water waves, spiky tree branches sharp like thorns, the coarse surface texture of rocks, desiccated dirt roads about to stir up dust anytime—all these images tug on the tactile sense of the viewer, who just itches to reach out and touch them.
---
In addition to leading Korean art museums, the works of this 58 year-old Korean photographer are held in the collections of some of the world's most prestigious institutions such as the Metropolitan Museum of Art and the Whitney Museum of American Art, both in New York City, the National Gallery of Art in Washington D.C., the Los Angeles County Museum of Art and the National Gallery of Australia. Lee garnered international attention when she took part in 《This Place project》 (2010-2011) by the French photographer Frédéric Brenner as the only Asian exhibitor. Her works were shown alongside those of twelve other photographers, all of them globally renowned, including Thomas Struth, Stephen Shore, Josef Kudelka and Jeff Wall.
---
Her solo show, 《Voice》, at PKM Gallery on Samcheongno, Seoul. This was her first exhibition since the travelling retrospective 《Lee Jungjin: Echo》 was held at the National Museum of Modern and Contemporary Art, Korea (MMCA) in 2017. This exhibition showcased 〈Voice〉, her latest-at-that-point, large-scale serial opus, which she had worked on for two years, together with a selection of 25 works from her earlier series 〈Opening〉.
---
For nearly 30 years, she has been using a manual printing process. Her photos, printed on traditional Korean paper on which she applies sensitizer with the aid of a brush, have a stunning texture. Black and white particles on the paper surface are subtly nuanced, as though they are alive and breathing. The natural scenery captured through Lee's camera lens seems to unfold outside time and has often been compared to landscape paintings. Unlike her previous photos, the works shown in 《Voice》 were produced using a combination of manual and digital printing techniques. Images printed on traditional Korean paper were scanned in high resolution and then digitally printed.
---
What does she want to express or convey through these great outdoor scenes, captured at their most revealing moments? When I caught her at the 《Voice》 exhibition venue, I asked her just that question. "If I had to compare my photography to literature, I would say that my photos are like poetry. My subjects like rocks, soil and trees are equivalent to subjects of a poem," she says. The following is the full transcript of our conversation:
---
The Things that Whisper to You When You Empty Your Mind
---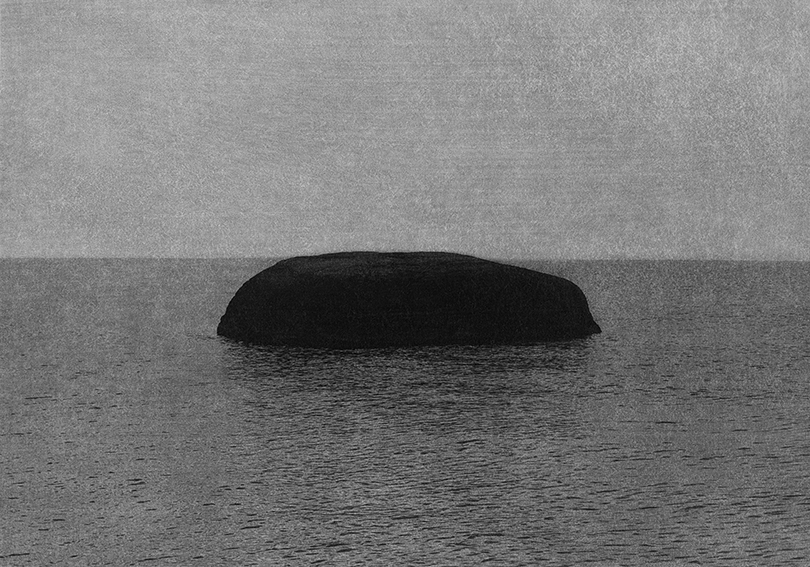 Jungjin Lee, 〈Opening 21〉 (2/10 + 3AP), 2016, Archival pigment print on Korean Mulberry paper 145.5x76.5cm (paper size). Courtesy of the artist & PKM Gallery.
---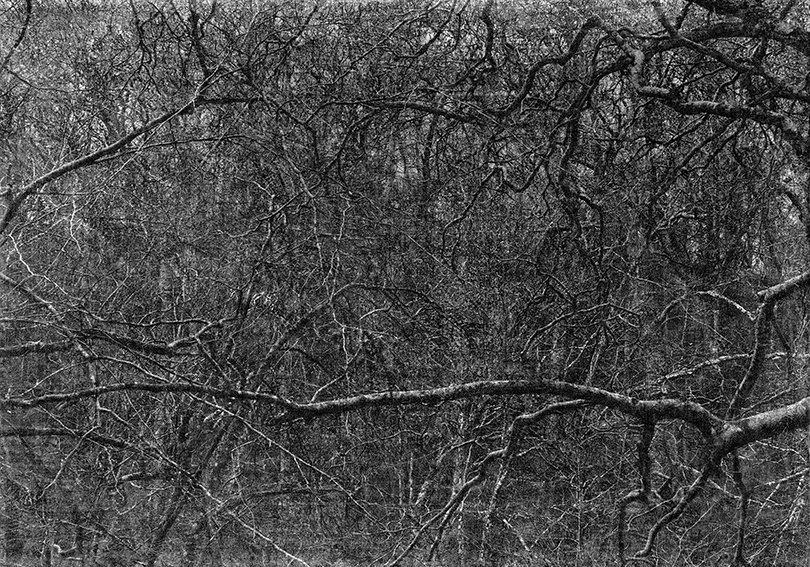 Jungjin Lee, 〈Voice 15〉(1/7+ 3AP), 2019, Archival Pigment Print (Inkjet print) 108.5x 153cm. Courtesy of the artist & PKM Gallery.
---
Q Your photos strongly appeal to the tactile sense.
A Rather than just inviting the gaze of the viewers, I wanted to make them feel my photos with their entire body. For example, if I take a photo of a desert, I want to convey how the desert made me feel and my candid response to it, rather than just show it as such.
---
Q The scenes you capture seem so quiet and serene, as if time has stopped.
A Although these are still images, I believe that they contain lingering reverberations. That is also the reason why I called this new series 〈Voice〉. Even though seemingly still, I think that there are hidden breath-like vibrations. People often say about my photos things like "There is no beginning or end," because they don't obviously show temporality. But, at least at the instant I press the shutter button, I get this overwhelming sense of existing then and there.
---
Q When I think about your photo series, from 〈The American Desert〉 to 〈Wind〉 and 〈Unnamed Road〉, I feel that nature is omnipresent as well as paramount in your work.
A That's because I tend to go to places like the sea, forests or deserts, with very little human traffic. I feel drawn to natural settings far removed from busy urban life. It is in this kind of place that I feel that I can find myself and I feel free. I empty my mind, and when I come upon something amid nature that I can resonate with I press the shutter release button."
---
Q When do you experience this state of resonance with things?
AIt's when I get the sense that something is in its perfect state. Photography is really a medium that deals with 'instants.' But, this doesn't mean that I do things like waiting under a tree for the right kind of light so that I could get a perfect shot. When a place speaks to me with its own combination of sunlight and air, that's the 'absolute' moment. These moments are usually captured without using a tripod, just in a few shots.
---
Lee confided to me that she believes in the "existence of the divine in human beings." "The divine in humans tends to remain invisible in everyday life in cities, but becomes awakened, once in nature, by cosmic energy," she says. "It is probably when the divine in me meets with the primal energy of nature that I get to take the kind of photos I have in mind. I don't really know what the divine is exactly, but I just think that it must be something like the essence of life," she adds.
---
What Is Most Personal Is Most Universal
---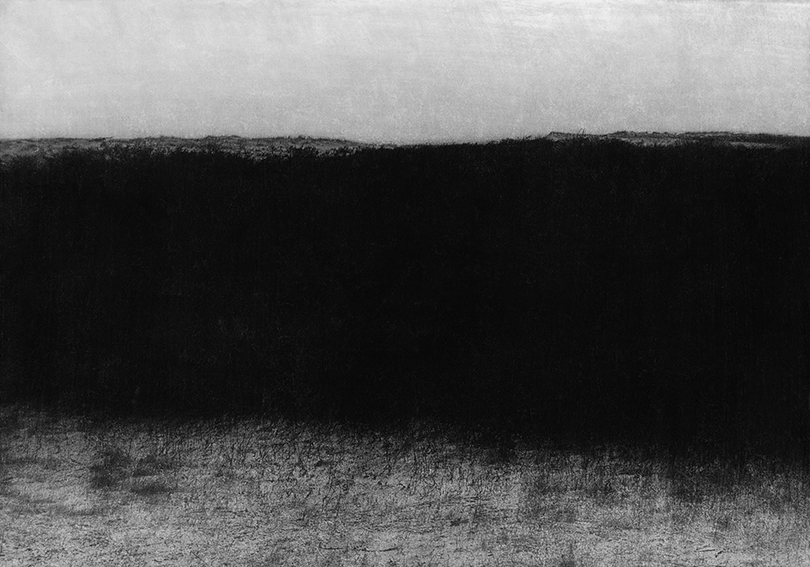 Jungjin Lee, 〈Voice 25〉 (1/3 + 2AP), 2019 Archival Pigment Print (Inkjet print) 152.5x213.3cm. Courtesy of the artist & PKM Gallery.
---
Q Why is it that your landscape photos look almost like abstract paintings, even though what they show is unmistakably a landscape?
A That's probably because I focus on rendering how I feel in front of my subject, rather than just capturing its superficial aspects. At the end of the day, taking photos is an exercise that is not very different from self-reflection. That was also how it was with 〈The American Desert〉, the photo series I made in 1990 during my first trip through a desert.
---
Q I heard that you were surprised after your first exhibition, at how people responded to your photos.
A That's correct. People who were viewing my photos weren't in fact looking at the photos of a certain Lee Jungjin. Instead, they were looking at themselves. That is when I realized it. I understood that art is making others experience what you have experienced, and that my photos are in fact a medium for this transfer of experiences Whereas I thought my photos were my personal diary, I realized that in fact, they help reveal what is in each viewer, at the bottom of their heart. It may be that, seeing my photos, people catch a glimpse of something inside themselves, something they were not really aware of or didn't pay attention to. This is how I got to change my view of my photos, from being a personal and intimate diary to fragments about the candid inner soul that is universally found within human beings.
---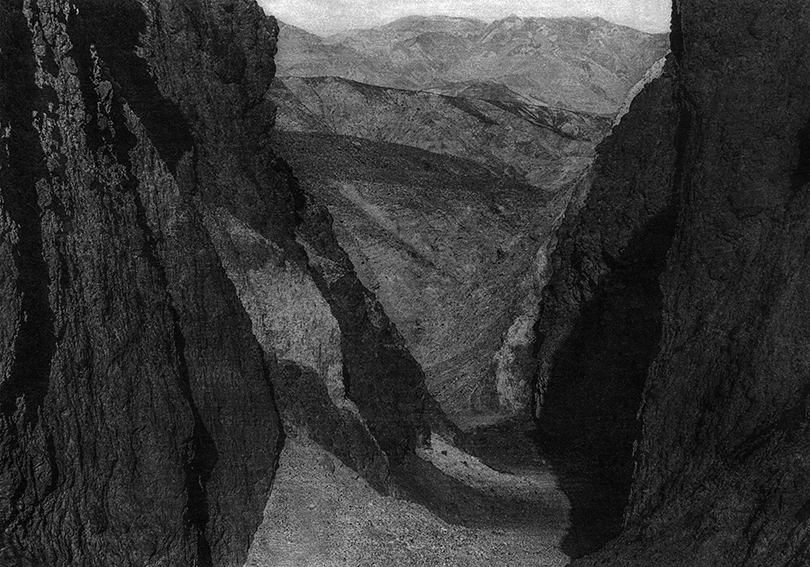 Jungjin Lee, 〈Voice 42〉 (1/7 + 3AP), 2019 Archival Pigment Print (Inkjet print) 108.5 x 153 cm. Courtesy of the artist & PKM Gallery.
---
Lee's photo shoots generally don't last long. She tends to work fast, and one shoot takes no more than 10-15 minutes. "Although it is a rather short period of time, when I am done with a shoot, I feel like a big chunk of myself has left my body. It's almost like there was a hole in me. It's a moment that is both slightly melancholy yet really satisfying," she describes.
---
"When I am done with a shoot, I am never really curious how the photos came out. That's because the experience of this moment is in itself so precious to me. It's all the more precious if I travelled far to take the photos." The photos she gets as a result are "powerful traces of this inner experience."
---
Photography Is Magical for Me
---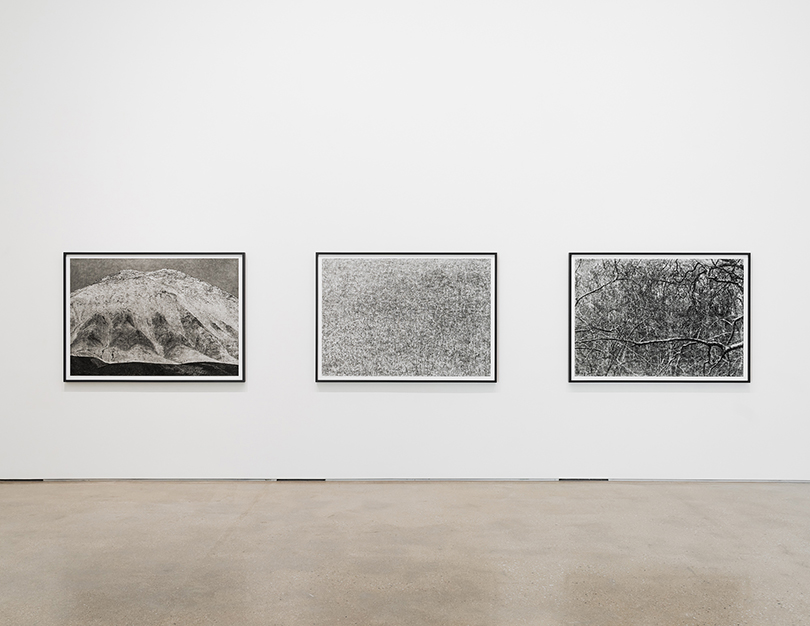 Installation view, Courtesy of PKM Gallery.
---
Lee majored in crafts (ceramics) at Hongik University. She then worked for the magazine 『Ppuri-gipen Namu』 (Deep-rooted Tree) for about a year before she left for the United States where she studied photography at the New York University Tisch School of Arts, at the graduate level. In the early 1990's, she studied under the photographer Robert Frank (1923-2019), for whom she also worked as an assistant. After splitting her time between the United States and Korea for many years, she currently lives and works in New York City. In 2016, Lee had a large-scale travelling exhibition, 《Lee Jungjin: Echo》, at the Winterthur Museum in Switzerland, which also stopped at the MMCA Gwacheon in 2018.
---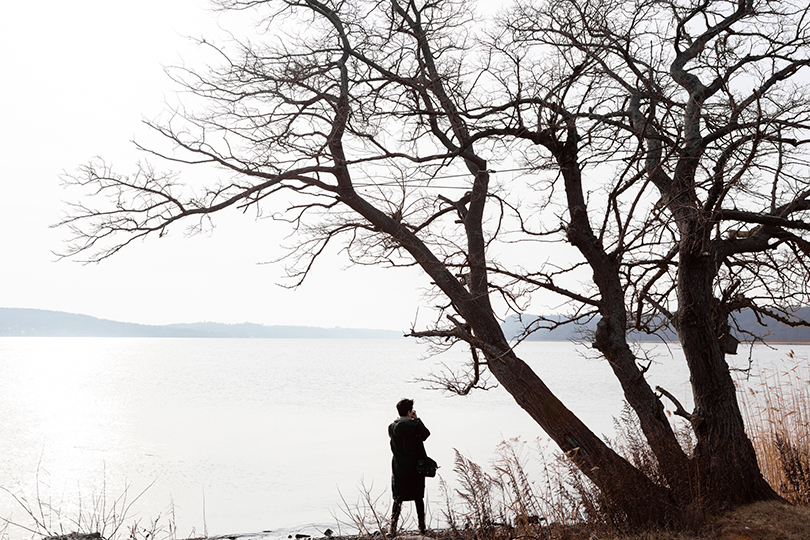 Courtesy of the artist & PKM Gallery, Photo: Paul Rho
---
Q How did you come to choose photography whereas you majored in ceramic art?
AAs an art school student, I joined a college photography club. Less than a year after joining the club, I already understood that photography was something I would be doing for a long time. Photography is a magical tool for me, allowing me to express what I have in my mind with precision and depth.
---
Q You once called photography a "spiritual exercise for discovering my true self."
A People call me "a photographer of the 21st century" or "woman photographer." But I don't think these titles accurately describe me. At risk of sounding pompous, I dare say what I do is a process of finding answers to "fundamental questions about being." Trying something new is not a goal per se for me. I am curious how far the openness and receptivity of the mind can take me in the way of creation, and this makes me keep going.
---
※ This Article was Originally Pyblished in JoongAng Ilbo on 5 FEBRUARY 2020, and reposted under authority of JoongAng Ilbo.
Lee Eunju
JoongAng Ilbo Journalist