Features / Review
Historic Moments from Masters of Korean Modern and Contemporary art
posted 28 May 2020

---
South Korea's galleries have been holding one exhibition after another featuring the works of Korean art's most representative masters. To commemorate its 50th anniversary, Gallery Hyundai has been spotlighting creative works of figure painting within Korea's modern and contemporary art history through the exhibition 《Portrait, Figure and People - Modern and Contemporary Figure Paintings of Korea》, which began late last year. This year, the first part of its 《현대 HYUNDAI 50》 exhibition has been enjoying a successful run. Part 1 of the exhibition brings together works of Eastern and Western painting, offering a glimpse at the tradition and prestige of Korea's figurative art through around 70 works by 40 of Korea's leading contemporary artists.
---
An exhibition that has captivated the public's attention and art history
---
《현대 HYUNDAI 50》 PART 1 is taking place at two locations: the main Gallery Hyundai building and a new branch. Visitors to the new branch can see work by some of the modern era's preeminent practitioners of Western and Eastern art, starting with 〈Water Lilies〉 (1957) and 〈The Harbor〉 (1972) by Oh Chi Ho, who has been described as a Korean Impressionist, and the still-life and landscape images of To Sang Bong, a master of Korean realist academism.
---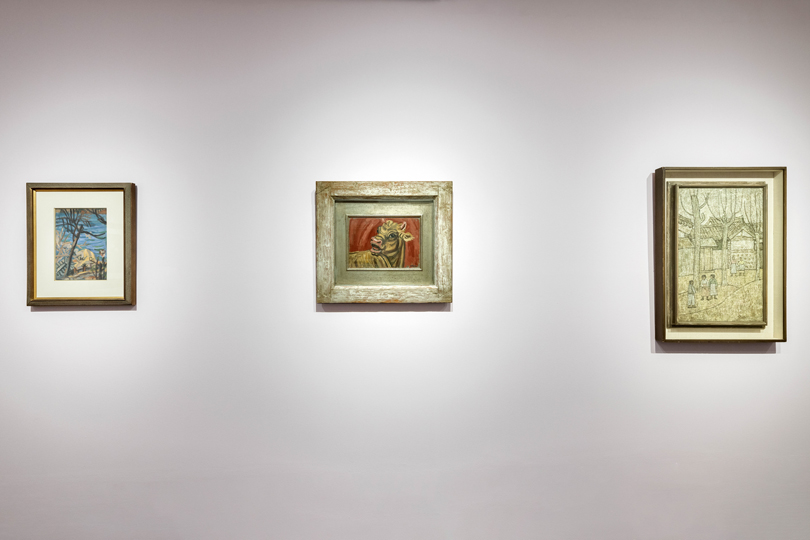 《현대 HYUNDAI 50》 Installation View. Image Provided by Gallery Hyundai
---
Regarded as "the people's painters," Park Soo Keun and Lee Jung-seob are said to have a special relationship with Gallery Hyundai. A total of three solo exhibitions of Lee's work have been held there (in 1972, 1999, and 2015), the 1999 exhibition in particular setting a record as the most visited at a Korean gallery for the time with over 90,000 visitors. Park Soo Keun's relationship with Gallery Hyundai dates back to a posthumous exhibition of personal effects in 1970, while a collection of his paintings published in collaboration with Youlhwadang for the 1985 exhibition 《Park Soo Keun: A 20th Anniversary Retrospective》 has remained an invaluable resource for those researching the artist. Also notable is the work by Chun Kyungja, who opened up new horizons in Korean color painting.
---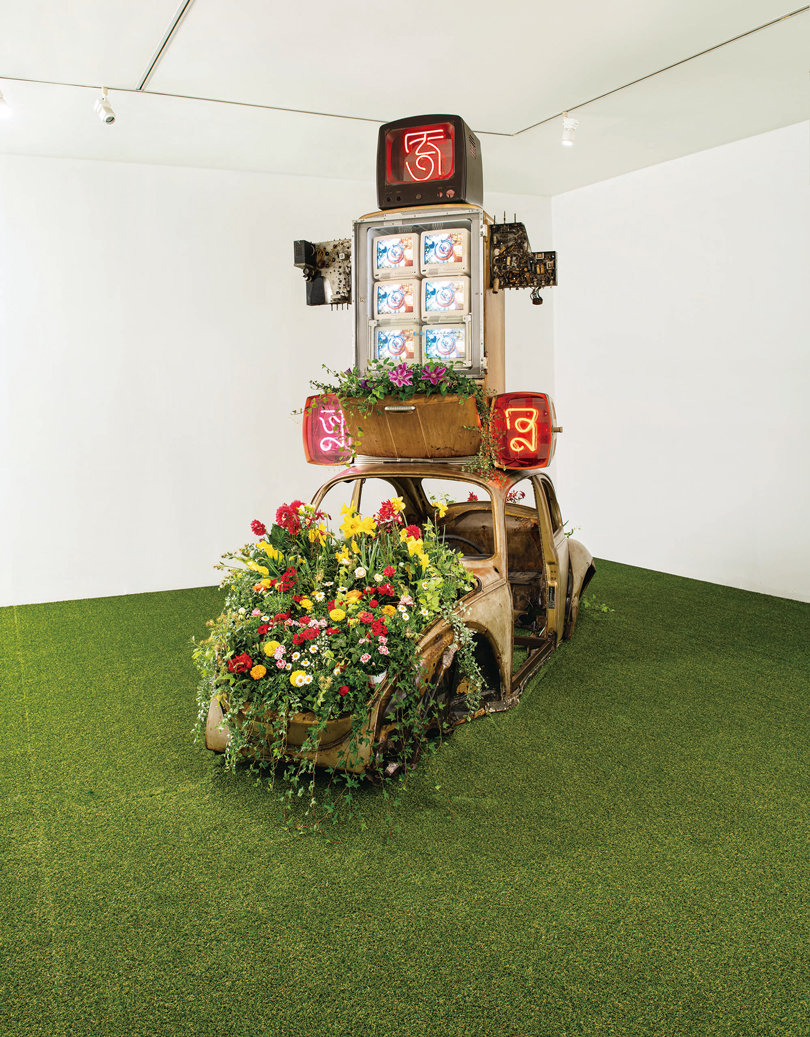 Nam June Paik , 〈Marco Polo〉, 1993, Volkswagen Beetle, refrigerator, 6 TV monitors, neon, flowers and various elements, 180x175x330(h)cm, Image Provided by Gallery Hyundai
---
The main building features a broad selection of works by artists who have represented Korea on a global stage. On the first floor, visitors are greeted by 〈Marco Polo〉(1993), a large sculpture by video art pioneer Nam June Paik. This work earned Paik a Golden Lion award when he took part in the German pavilion at the 1993 Venice Biennale. Some of the artist's major solo exhibitions in Korea took place at Gallery Hyundai, standing in 1988 with 《Prints by Nam June Park to Commemorate the 1988 Seoul Olympics》. Appropriately enough for a Korean gallery that maintained a long collaborative relationship with Paik, the first floor consists exclusively of his work, offering a glimpse at the close relationship between gallery and artist.
---
Korean abstract art lineage at a glance
---
Other highlights of the exhibition include the works of master artists who pioneered abstract painting in Korea, including Quac Insik, who was the focus of a 2019 retrospective at the National Museum of Modern and Contemporary Art, Korea to commemorate the centennial of his birth, and Yoo Youngkuk, who used restrained abstraction to depict Korea's natural environment. Also on display are works by Korean monochrome painters who have been drawing attention within the global art market, including Park Seobo and Lee Ufan – two pioneers in the globalization of Dansaekhwa (Korean Monochrome) – and pipe artist Lee Seungjio.
---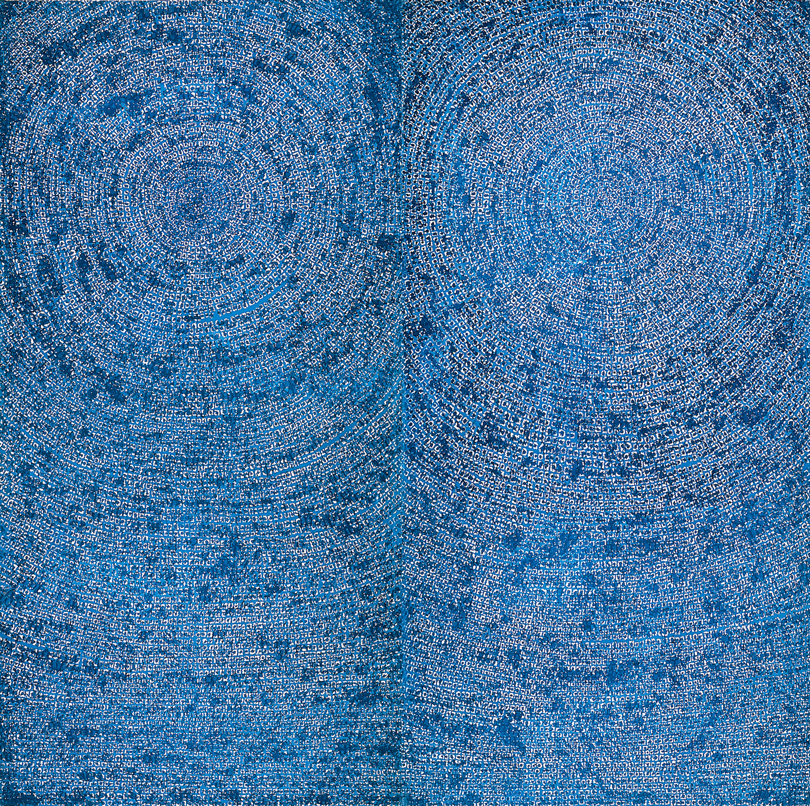 Kim Whanki, 〈Universe 05-IV-71 #200〉, 1971, Oil on cotton, 254x254cm. Image Provided by Gallery Hyundai, ⓒWhanki Foundation · Whanki Museum
---
Kim Whan-ki's work 〈Universe 05-IV-71 #200〉, which drew a record auction price for a Korean artwork at Christie's Hong Kong in November 2019, is being presented in Korea for the first time since that winning bid through this exhibition. Previously shown at the 2012 Gallery Hyundai exhibition 《KIM Whanki》, it is the only diptych among Kim's works and is viewed as representing the height of his abstract painting. The points on the two-dimensional surface of 〈Universe 05-IV-71 #200〉 expand out into a circle, evoking an infinite synesthesia with a cosmic space that has been beloved by many viewers.
---
Heightening promotional effects with the opening of an online platform and publication
---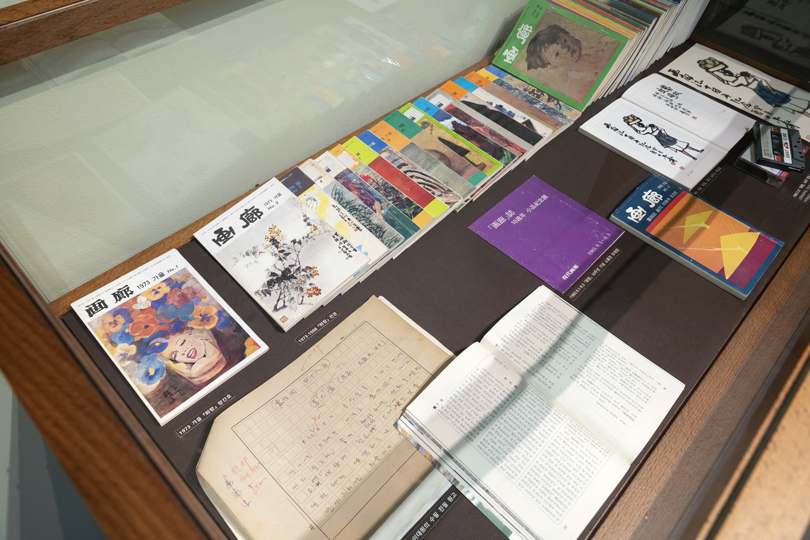 Archive of Art Magazine 『Hwarang』 published by Gallery Hyundai. Image Provided by Gallery Hyundai
---
In addition to the artwork, the exhibition also offers a look at materials that Gallery Hyundai has published over the years as an archive for Korean art history research, along with a visitor's book from its Lee Jung-seob retrospective and photographs of some of the major figures who helped lay the foundation of the Korean art world. Creative director Jaeseok Kim has announced plans to digitize 『Hwarang』(which means 'Gallery' in Korean), an art journal first published in 1973, as well as various catalogues that the gallery has acquired over the past 50 years. Scheduled for June is the release of work from its 50th anniversary publishing project, with participants including Gallery Hyundai president Park Myung-ja and CEO Do Hyung-teh; art historians Mok So-hyeon and Kim Han-na; curators Ahn So-yeon, Youngchul Lee, Seungduk Kim and Franck Gautherot, Doryun Chong, and Seewon Hyun; journalists Kim Bok-gi and Lee Joon-hee; art critic Oh Gwang-su; and artists Kim Jong Hak and Lee Kang-so.
---
Korea's leading galleries have been enjoying success with ambitious exhibitions prepared to help promote the art scene, and the results have been drawing major attention, with visitors lining up to see them even amid social distancing efforts. This exhibition has been an opportunity to underscore Gallery Hyundai's 50-year history of devotion to discovering and supporting Korean artists, as well as to reaffirm its role as one of Korea's preeminent galleries that has contributed significantly to the establishment of the art market. The artists included in this exhibition have drawn attention not just from the art market but also from overseas museums, biennials, and academia. It is this organic and complementary form of development among exhibitions, markets, and scholars that has made their success possible. With this exhibition spotlighting masters who have been recognized both at home and in overseas markets, we look forward to interest in Korean art continuing beyond Korea and throughout the world in 2020.
---
Jiwon Lee
Jiwon Lee is editor of TheArtro. She studied Art Theory and Curatorial Studies ; Worked as a curatorial team member at Gyeonggi Museum of Modern Art, Art Space Pool and many other Contemporary Art Institutions. ; and authored, inter alia, "A Study of Hae-gue Yang's Work on 'Community' and 'Historical Reference.'" and "How Contemporary Art Remembers History"