Features / Focus
Preview of Busan Biennale 2020 : Conversation with Artistic Director (part. 2)
posted 03 Sep 2020

---
No one could argue that the year 2020 has been unpredictable. Many plans have been delayed and canceled in all over the world. Like biennale, a large-scale event held once every two years that people from various countries around the world have to work together for a long time, has had to be faced with a new trouble due to limitation of travel in this pandemic period. The Busan Biennale 2020, which has been preparing while overcoming difficulties that can't be mentioned one by one, is set to open.
The Busan Biennale 2020, organized by Danish artistic director Jacob Fabricius, opens under the epic title "Words at an Exhibition - an exhibition in ten chapters and five poems" Although the Biennale is a comprehensive art venue that freely cooperates with other genres based on visual arts, this year Busan Biennale in particular, visual arts, literature and music interacts more harmoniously with each other than ever before as the axis of exhibition.
TheArtro present a conversation, as a preview of the Busan Biennale 2020, between the artistic director Jacob Fabricius, the Biennale curatorial advisor KIM Sung woo, and the exhibition team leader SeolHui Lee. With KIM Sung woo's hosting, there were interesting talks on exhibition methodology of the director Jacob Fabricius and his perspective on the locality of Busan and the contemporary nature of the biennale of this era. Hopefully, readers who cannot physically come to Busan could learn more about the Busan Biennale through this preview.
---
Busan Biennale 2020 ; Words at an Exhibition- an exhibition in ten chapters and five poems
---
Jacob Fabricius/Busan Biennale 2020 Artistic Director
Busan Biennale 2020 Artistic Director, Jacob Fabricius, is currently the Artistic Director at Kunsthal Aarhus, Denmark. Fabricius previously served as Director at Malmö Konsthall, Sweden (2008–2012), and as Director at Kunsthal Charlottenborg in Copenhagen, Denmark (2013–2014). He has curated numerous of international exhibitions most recently he curated 《iwillmedievalfutureyou1》 at Art Sonje Center (2019). Fabricius is the founder of the publishing company Pork Salad Press and the newspaper project Old News.
KIM, Sung woo/2020 Busan Biennale 2020 Curatorial Advisor
KIM Sung woo is a curator and writer, who is interested in ways of producing questions/ questionnaires via curatorial methodologies in contemporary art. KIM directed the curatorial project/ exhibition and management of Amado Art Space, not-for-profit alternative space in Seoul (2015-2019), and was appointed as an artistic director in the form of curatorial collective for the Gwangju Biennale in 2018.
SeolHui Lee/ Head of the exhibition team for Busan Biennale 2020
Seolhui Lee is the head of the exhibition team for Busan Biennale 2020. She has a master's degree in Art History and was selected for both the 7th Gwangju Biennale International Curator Course (2016) and Tate Modern Intensive Program (2020). Seolhui has worked for the National Museum of Modern and Contemporary Art (MMCA) and Seoul Museum of Art (SeMA). Currently, she also works as an adjunct professor at Korea National University of Arts. Her essays have been published in 『Korean Contemporary Art since 1990』 (2017) and 『Reading Korean Contemporary Art with Keywords』 (2019)
---
Previous Article
Preview of Busan Biennale 2020 : Conversation with Artistic Director (part. 1)
---
KIM : Let's turn to the impact of COVID-19. The pandemic has made the Busan Biennale, one of the three major biennales of Korea – alongside Seoul and Gwangju – the only one to be open to the public this year. The Gwangju Biennale was rescheduled to next February, and other biennales including Seoul also moved to sometime next year. Likewise, the Venice Biennale of Architecture, which was initially planned for this year, was postponed to next year and the Venice Biennale's Art Exhibition gets delayed by one year accordingly. The Liverpool Biennial and Helsinki Biennial have been postponed and the Sao Paulo Biennial is canceled. Many organizations turned their exhibitions online to deal with this new reality of exhibition-making. The pandemic prompted us to revisit the values we shared and test the institutions and their procedures.
Although the Busan Biennale is to be held as scheduled, I believe there must have been quite a number of difficulties. Demark, or other western European countries, have responded to the pandemic quite differently to Korea. Please tell us your personal experiences in relation to this and the alternatives you have formulated. And the Exhibition Team must have had trial and error to find right plans and methods that could fit in the actual locations to make what the director said possible
---
FABRICIUS : My last visit to Korea was in the beginning of March, I arrived in Korea when there were 200 infected COVID19 cases, and when I left it was like 5,000 cases. When I came back to Denmark it wasn't talked about much. A week later the country was shut down to all visitors and residents were called back home. Korea is viewed as a primary example to follow in dealing with COVID-19. In Denmark we're not accustomed to wearing masks and it's a huge challenge. we had a complete lock down from March 13th to June 15th, closing all public and private institutions, restaurants, and people were advised to stay at home. Eventually we are restricted in our own home. The good thing and the reason why we could continue with BB 2020 was that we had the skeletons, we had the short stories, but for the artists it was frustrating and we had to find new ways for how artists do research and deal with site research because they wanted to know details of society like 'how do you deal with trash or what does the waterfront look like?'
All of the sudden, the artist had to think of new ways of researching. It was so inspiring to see them. The artist can do a lot of things, have a lot of wishes and ideas, and if they can't do it by themselves, then there has to be someone who is as inventive and as flexible as they are. The exhibition team, and the team leader Seolhui Lee played a big role for making this happen. Without them, the biennale wouldn't have been possible. We would have had to exclude some artists because we couldn't realize what they would usually do. The team in Busan has been the hands, eyes, and ears for the artist and follow their instructions. That has been extremely vital to the execution of the Busan Biennale 2020. Seolhui and I have been Skyping for 1-5 hours everyday for 6 months, otherwise we couldn't have coordinated all the elements. So you find new systems and new ways, but you can't find new ways if people are not flexible or don't want to participate.
---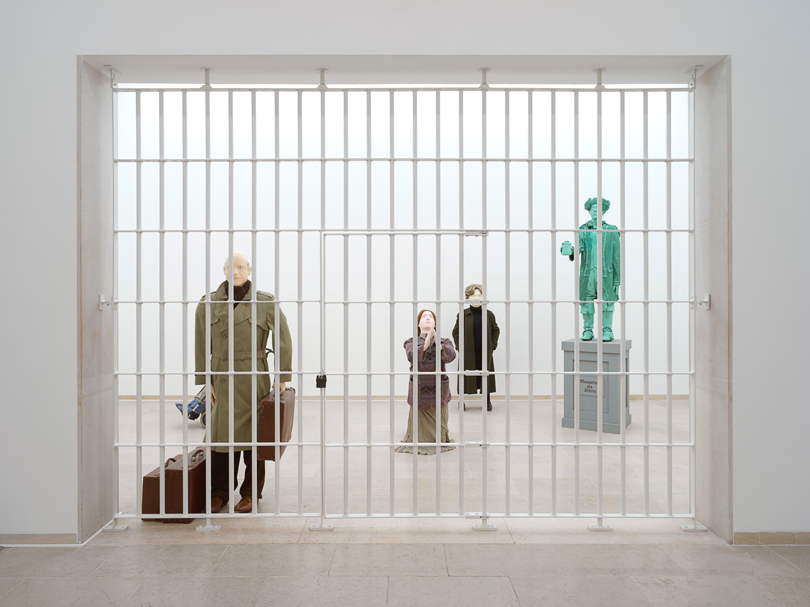 Jos de GRUYTER & Harald THYS, 〈Mondo Cane〉, 2010, kinetic sculpture, dimensions variable, installation view. Image Courtesy of Busan Biennale
---
KIM : The Biennale system is a long process and it requires many parts that work together. But in this extraordinary circumstance for COVID-19, even that must be not easy to do. As an insider and a team leader, please share your experience in coordinating the Biennale.
---
LEE : When Jacob returned back to Denmark in March, COVID-19 was already getting worse in Korea so we decided to push our plans more quickly, a month earlier than what we usually do. Otherwise, the whole Biennale process would have been delayed. That's because there's 90 people involved in the process, from writers to musicians and visual artists. The writers first communicate with Jacob and then we take over to process it, and that took time. Some writers couldn't participate in the end because of the situation so we had to find new ways.
Thankfully, my teammates were happy about cooperating with the writers, getting to know them better. They were skillful researchers. For instance, when artists requested certain ingredients, we would go to the market, take photos, make around 50 PowerPoint slides, and send them back. Because the exhibition was based on short stories we had to start from scratch and meet the budget by doing detailed market research.
They should have researched the local scenes of Busan, but since they couldn't they gave us missions. So, we coordinators became their eyes and years – we were adventurers, always out in the scene and doing research. When artists wanted to know the streets at night, we walked and Skyped with them. When they wanted video footage, we would record every detail, even the shakiness as well. In the case of Yeongdo, the placeness is important. In one case, when Jacob sent one artist a photo of Yeongdo that he took and the artist googled Yeongdo, there was nothing like that image. So the artist would request us to show a similar tree in Yeongdo.
In Biennales, the Exhibition team mostly assists the artists. But we were more involved in the process, and thankfully the artists recognized our involvement and mentioned us in the credits as well. And in the case of Kim Gordon, she gave us the scenarios for video shooting but didn't mention outfits, so we selected outfits based on the story.
What I learned is that usually when you think of the Biennale, it is visual art. But here, we went from literature to visual, and in that transformation process, we had musicians to broaden the art structure spatially. So, we learned how biennales today can be a platform in which art forms expand and widen, not just being limited to visual art.
We had difficulty with space. We had venues, and usually you need to be physically present when setting up space. Because Jacob couldn't be here and cannot physically feel the space and directed us virtually, my team had to sketch the space. And when Jacob finally came here, some spaces didn't exactly feel the way he wanted, so that was difficult. We were also worried about the delivery process. There are things that you really can't accomplish with your own power and determination. It was sad to reach the limit because of the circumstance.
What I really wish is that coordinators could have interacted with the artists and developed the story together, all of which we couldn't do. That's regretful, but we made it through because of Jacob. He really has this positive vibe and humanistic side. I could feel Jacob's sincerity and his willingness to cooperate, share, and work this out together.
---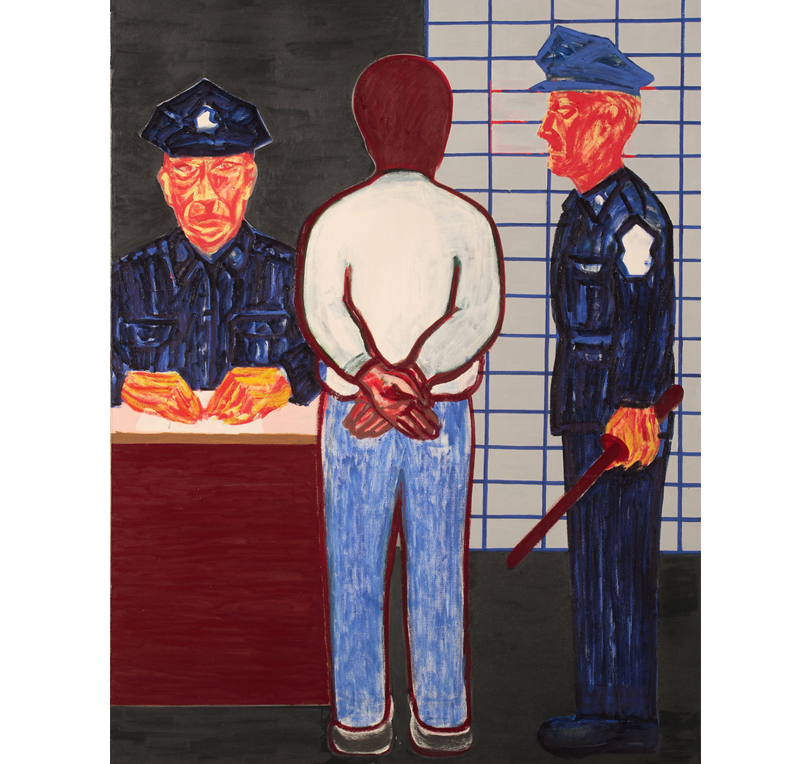 SUH Yongsun, 〈체포된 남자〉, 2003, oil on canvas, 250x200cm Image Courtesy of Busan Biennale
---
KIM : This question is related to something that we cannot brace ourselves for, something that's out of our hands. There's only 10 days left before the opening, but there's again the peak of COVID-19. If you have any approach, direction, and worries regarding the current situation, please share them with us.
---
FABRICIUS : One thing we have experienced is that some artists said: 'we can't do this.' One or two artists simply couldn't take part in the biennale. But most artists said they were willing to do this, and they were actually stepping up. Because many of their shows were canceled globally. Suddenly they had time to sit at home and develop ideas. When I approached 11 musicians in May, sent them the stories and asked them to compose music for them, they were brilliant and all the concepts were brilliant. So within the months we were able to collect new compositions and put them on a record. The record is 15 tracks with five Korean musicians - including Kim Il-du, based in Busan, who did 5 songs, one for each poem by KIM Hyesoon. This incredibly sad situation of COVID-19 released time for people, and this allowed people to make the beautiful vinyl.
Since the artists can't do research in the city in person, I thought it was interesting to do open calls - so we basically came up the idea of public participation, and through 3 different open calls we could approach the city through voices of the city and the citizens who live here. We got more than 700 participants who contributed, and the sounds were sent to the musicians who incorporated elements of these sounds into their recordings, which is also beautiful somehow. So that's the pros and cons of this weird global pandemic situation.
I think we realized that we can do a lot of things with Skype, and we don't necessarily have to get on a plane and use a lot of fuel to go to a meeting. We can do things over the internet at home. That's what makes the internet and what we receive from the internet more important. That's why we have to step up and prepare ourselves better, with digital social media platforms. I think we have good elements we can use: we have sound, images and the stories. So it's a matter of making that engaging on social media platforms. We don't know what COVID-19 will bring us this week or next week. We live in uncertain times, and we have to trust our scientists, doctors and governments. But I think it's important to discuss this: like should we postpone or cancel. But when we're all in difficult situations at home, I think it's important to have topics to discuss, spaces to reflect – those breathing spaces. I think that's what museums, arts and literature do for us. There's nothing sadder than putting a cover on a plant and closing the door, not letting the sun shine on it. I think we will open the cover a little bit, keeping the plant alive.
---
LEE : You mentioned online platforms and how to utilize the platforms. We have sources and content that we can use on online platforms. We have e-texts that will function as voice guidance, for people who have visual disabilities so that they can have access to the exhibition. Also, with the help of Busan English Broadcasting Foundation, we are planning to do various voice-recording projects and expand how we use the online platform, such as having Busan dialect in KIM Un-su's work as the voice guidance.
We're also think of opening online streaming services for the music, for those who don't have vinyl record players. We are preparing online interviews with the writers as well. People who cannot come to Busan can do a 'self-interview' with the writers, asking questions like how the situation affected their art process and what they think about their work. I want to focus on the more "human" aspect in the online content, rather than presenting refined and perfect outcomes of the exhibition.
---
KIM : Last question. The only thing we can talk about today seems to be uncertainty. And you also said, we live in uncertain times. It means that uncertainty is the only certainty in this time. You also mentioned it is our important duty to develop topics and things to think or discuss about. What is the today's topic that you want to push or suggest?
---
FABRICIUS : That's a difficult question. It's an unstable world for many reasons, and if we look at it from a broader perspective, we all have our own problems in our own small countries. I come from a small country myself. At an international level, there seems to be a difficult and hard international powerplay happening among world leaders. Right now, it's not a solution to follow the attitudes of the important nations. I believe in humane and soft values and I hope that we will come to our senses.
In the Busan Biennale 2020, There's so many topics in the stories that you can take out and grow them into a bigger picture. I think the variety of worldviews and elements of history that are being discussed will inspire and create curiosity. Sadly and strangely, history repeats itself, and we don't learn from our mistakes. That has not been put into our genes. I think the human mind is an incredible creature, but we haven't gotten that genetic twist that we learn from ourselves. We keep repeating our mistakes, but it happens. I don't know why we repeat ourselves. When I talk about mistakes, I don't mean that everybody should be perfect. Mistakes are good and I enjoy my mistakes, but when it comes to abuse of power, and when it comes to power games, we have to recognize our mistakes. That's where it goes wrong.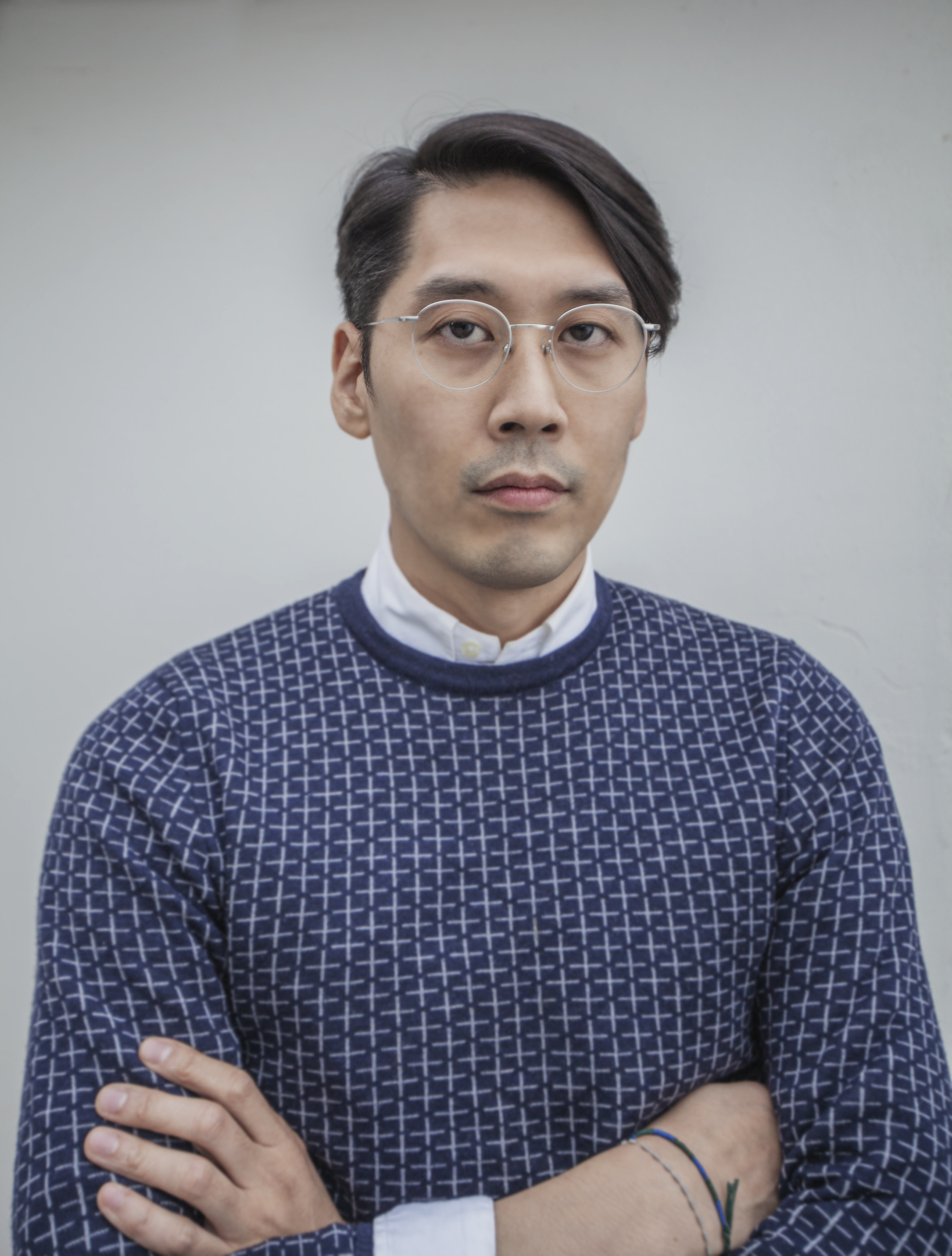 KIM, Sung woo
KIM Sung woo is a curator and writer, who is interested in ways of producing questions/ questionnaires via curatorial methodologies in contemporary art. KIM directed the curatorial project/ exhibition and management of Amado Art Space, not-for-profit alternative space in Seoul (2015-2019), and was appointed as an artistic director in the form of curatorial collective for the Gwangju Biennale in 2018.
---
The exhibitions/ projects he has curated include 《Glider》 (Gallery2, 2020), 《Anamorphose : depict but blurry, distant but vivid》 (WESS, 2020), 《Tracing, Detouring, Piercing》 (Hakgojae gallery, 2020), 〈MINUS HOURS》 (Wumin Art Center, 2019), 《Remembrance has a rear and front》 (publishing project, Hejuk Press, 2019), 《The 12th Gwangju Biennale: Imagined Borders》 (Gwangju Biennale Exhibition Hall, Asia Culture Center, 2018), 《Black Night, Video Night》 (d/p, 2018), 《sunday is monday, monday is Sunday》 (Space Willing n Dealing, 2018), 《Nobody's Space》 (Amado Art Space, 2016), 《Platform. B》 (Amado Art Space, 2015), and etc.