---
In Korea's contemporary art environment, nontraditional practices are increasingly finding their way into the mainstream. At the leading edge of this trend are artists who work with electronic media in pursuit of alternative modes of multisensory perception. This is not just a recent trend, however; the origins of media art in Korea can be traced back some 50 years, when the incipient medium of video first captivated the country's burgeoning conceptual art community. Today, media-based methodologies maintain a constant presence in the domestic art scene, where numerous exhibition platforms have cultivated a strong contingent of media artists, many of whom have also earned international recognition at major contemporary art venues overseas. This essay seeks to introduce the current crop of Korean artists forging new paths in the expanded field of media art, the timeline of medium's rise to prominence in the domestic art scene and the exhibition platforms that have advocated for Korean media art both at home and abroad.
---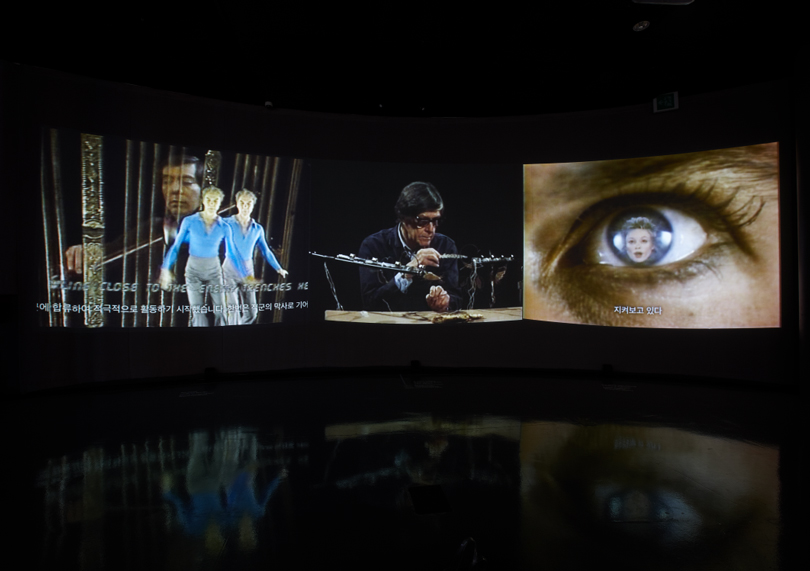 Nam June Paik, 〈Good Morning Mr. Orwell〉 (1984). installation view from 《Good Morning Mr. Orwell 2014》 Nam June Paik Art Center. Courtesy of Nam June Paik Art Center Video Archives. ©Nam June Paik Estate
---
The genesis of media art in South Korea dates to the late 1960s, when avant-garde artists began to adopt first-wave consumer video technology as an alternative medium for expanding their experimental art practices. These early experiments coalesced into a bonafide art movement in the late 1970s, a time when Park Hyungki, Kim Youngjin and others explored the formal potential of video as an expressive medium in itself. This trend continued into the 1980s, bringing with it a watershed moment in the history of international media art: in 1984, Nam June Paik's groundbreaking live global video broadcast 〈Good Morning, Mr. Orwell〉 disseminated video art into homes worldwide and broadened the discourse surrounding media art in Korea. Soon thereafter, Yook keun byung and Yi Won-Kon further developed the genres of video sculpture and video installation, a tendency that persisted well into the 1990s, when artists like Yook Taejin, Kim Haemin and Moon Joo began creating kinetic video installations that activated the medium in unexpected ways. As the decade drew to a close, performance-based video practices predominated the Korean media art landscape, before giving way to narrative-driven approaches in single-channel video favored by the new generation of artists active at the dawn of the new millennium, including Kim Sejin, Ryu Biho, Park Hwa Young and Yang Ah Ham.
---
In the decades since, media art has been widely embraced by the mainstream Korean art world, thanks in large part to the emergence of large-scale festivals and institutions that established enduring exhibition platforms, chief among them the Seoul Mediacity Biennale. Since 2000, this biennial exhibition has hosted countless media artists and curators from around the world, presenting compelling and consistent programming that has elevated the stature of media art in Korea while evolving over the years to reflect broader changes in the global media environment. The country's premier media art institution is the Nam June Paik Art Center, which opened in 2008 with a mission to promote interdisciplinary art practices at the intersection of mass media and contemporary visual culture. Independent and alternative art spaces also play an indispensable role in nurturing the local media art community; notable among these non-commercial art spaces are Alternative Space LOOP (established in 1999), Media Theater i-Gong (2002), Archive Bomm (2007), Amado Art Space (2013), Audio Visual Pavilion (2013), out sight (2016) and d/p (2018).
---
In recent years, media art has also become a regular focus at the two pillars of Korea's national contemporary art infrastructure: the National Museum of Modern and Contemporary Art (MMCA) and Arko Art Cente. In 2016, MMCA Seoul held an experimental group exhibition, 《The Paranoid Zone》, which presented immersive media installations by artists working in video, sound, installation, lighting, acoustics and performance; in 2018, MMCA Gwacheon organized 《Collection Highlights: Synchronic Moments》, which showcased recent acquisitions in the museum's new media art collection; and in 2019, MMCA Gwacheon also hosted a landmark encyclopedic survey of 130 works by 60 video artists, 《Korean Video Art from 1970s to 1990s: Time Image Apparatus》. Arko Art Center is the flagship exhibition space operated by Arts Council Korea (an arm of the Ministry of Culture, Sports and Tourism), which has also committed significant resources to promoting Korean media art. Following a major solo exhibition by media art duo Mioon in 2017, a series of compelling group exhibitions in subsequent years explored various themes related to media and society: 《Double Negative》 (2018), 《Media Punk》 (2019) and 《Diplopia》 (2020).
---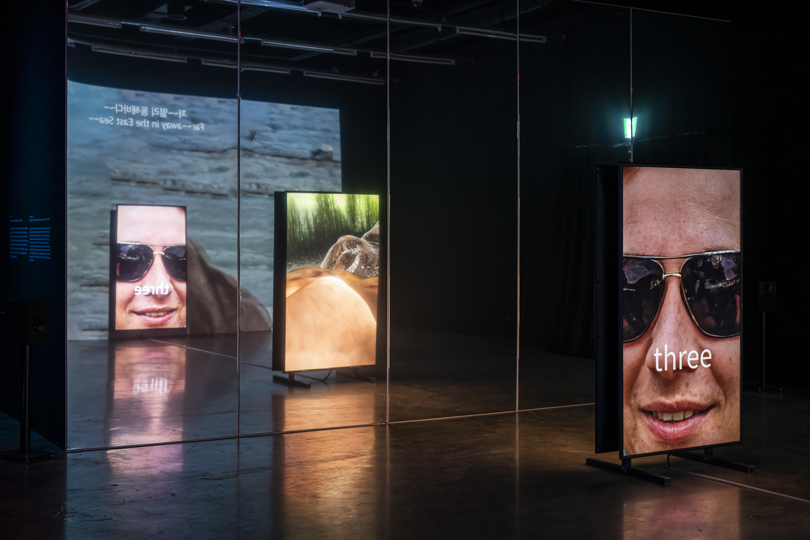 Youngzoo Im, 〈Theta〉, 2020, 4-channel video installation, color, sound, 17min 52sec. Exhibition View of 《Diplopia》. Image Provided by Arko Art Center
---
In addition to its growth at the local level, Korean media art has begun to make inroads in increasing its presence overseas. The year 2015 was especially pivotal in boosting the stature of Korean media art abroad: a touring exhibition called 《The Future Is Now》 introduced many of the country's prominent media artists to audiences in Italy (MAXXI, Rome), France (La Friche Belle de Mai, Marseille) and Hungary (Korean Culture Center, Budapest). At the 2015 Venice Biennale, artist duo Moon Kyungwon & Jeon Joonho mounted a solo presentation at the Korean Pavilion, becoming the first media artists to do so, while Im Heung-Soon, whose video 〈Factory Complex〉(2014) was included in the International Exhibition, won the prestigious Silver Lion award for a promising young artist. These successes were followed up in 2019, when the Korean Pavilion again focused on media art with a group presentation of siren eun young jung, Jane Jin Kaisen and Hwayeon Nam.
---
Most of Korea's internationally-recognized media artists were born in the late 1960s and early 1970s; after emerging from art school in the early 1990s, the rapidly evolving media landscape in Korea offered unprecedented possibilities for these artists, who ushered Korean media art into the 21st century. Taking up the mantle from these digital trailblazers in the early 2000s was an up-and-coming generation of media artists born in the 1980s, whose formative years were spent amid an entirely digital milieu. The technological fluency of this new wave of artists has enabled them to take new approaches to media-based expression, engaging with subjects and themes that reflect the contemporary condition. Today, they are poised to breakout on the world stage, where their works are beginning to garner critical acclaim.
---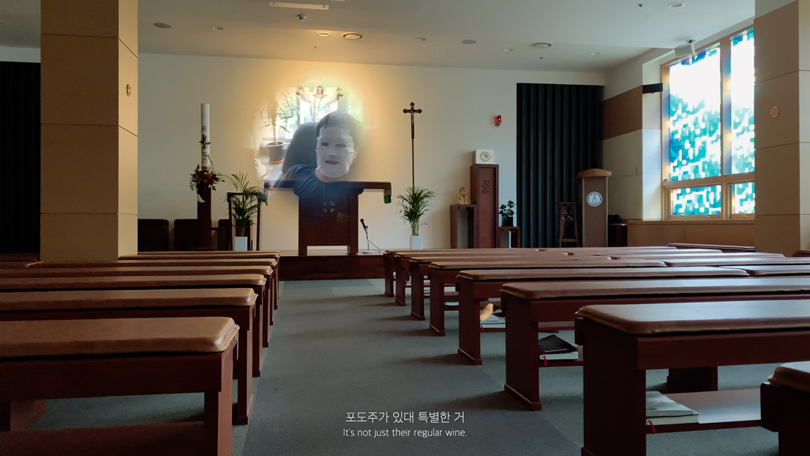 Yi Yunyi, 〈October to June〉, 2019, FHD, color, sound, 24 min 19sec, Image Courtesy Artist.
---
Jun Sojung thematizes narrative methodologies by deconstructing storytelling conventions to explore notions of agency and historicity in the lives of ordinary people. Her work often invokes language itself as a protagonist and fluidly shifts between voices and perspectives as a means of abstracting the perceptual distance between subject and audience. Unconventional narrative formats are also deployed by Yi Yunyi, who originally studied poetry before pivoting to an art career. Yi's video works formulate contemplative and enigmatic anecdotes that are based in reality but acknowledge the possibility of unknown forces acting upon their characters, conveying the complexities of interpersonal relationships in an uncertain world. In Chang Seoyoung's work, image and text operate in tandem to create overlaps and slippages in continuity. Her performance-based media art practice offers insight into phenomena of movement and stasis, taking shape through narratives that unfold in circular sequences while substantiating sensibilities of futility and helplessness that underpin the anxieties of modern existence.
---
Systems of thought and their discontents serve as points of departure for Im Youngzoo, who examines similarities between scientific, sacred and superstitious logics. In doing so, she examines the phenomena and circumstances used to rationalize the often absurd beliefs that inform the decisions and judgments that occur in everyday life. Kim Sylbee engages folk belief systems and arbitrary iconographies in video installations that convey dystopian fantasies premised upon the unchecked acceleration of capitalist desire. Kim's fictions implicate the social and political conditions that contribute to neoliberal distortions of labor and value, which in turn reinforce humanity's fatalistic tendency to worship unattainable ideals. Polemics of urban development and late capitalism loom large in the work of Cha Jeamin, as does the trauma inflicted by these indomitable forces on human lives and the natural environment. Her work incisively foregrounds mental health concerns related to displacement and environmental changes, as well as the isolating effects of digital communication in today's hyperconnected society.
---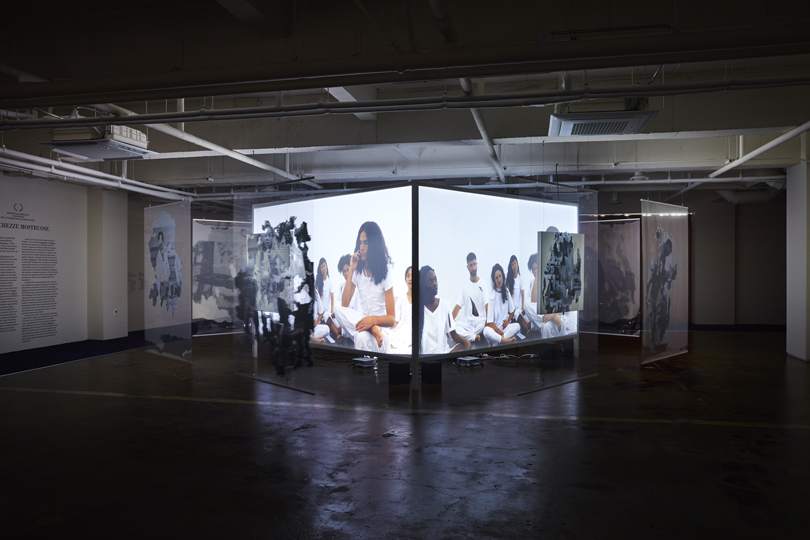 Sylbee Kim, 〈Shrine of Regrets 〉, 2018, 4-channel video installation, 4K transferred to HD, color, sound, 10'25", loop; digital print on PET, mirrors, Installation view of Monstrous Moonshine, Naver Partner Square, Gwangju, 2018. Photography by Sangtae Kim. Image Courtesy Artist.
---
Unsurprisingly, emergent technologies are another area of interest for the new generation of media artists. Kim Heecheon orients his practice around the technologically-mediated intersection of the real and the virtual, with an eye toward the latent human vulnerabilities that blur distinctions between these two dimensions. In his disorienting video works, Kim interrogates contradictions of depth and flatness as fluctuating vectors in the realm of virtual and augmented realities and considers their effects on real-world interactions. Kwon Hayoun approaches similar themes, using 3D animation and VR technology to activate documentary-based simulations that blend memory and imagination. These reveries expose existential truths about borders, migration and geopolitical conflict through surreal renderings of physically inaccessible places that belong to a space and time fundamentally different from the here and now.
---
The pool of talent in Korea's media art landscape is extraordinarily deep, auguring a bright future for generations of artists to come. Notwithstanding, it is important to recognize the enduring legacy of their forebears and the vital role of Korean art spaces and exhibition spaces in championing new media practices in the past twenty years, precipitating the arrival of media art as a representative mode of Korean contemporary art with a global reach.
---
Related Articles on TheArtro
Pivotal Moments in Korean Video Art
Im Heung-soon: 7 Keywords Highlight the History of Isolation
Hyunjin Kim: Artistic Director of the Korean Pavilion at Venice Biennale 2019
2019 Venice Biennale: Korean Pavilion Artist Interview – Nam Hwayeon
2019 Venice Biennale: Korean Pavilion Artist Interview – siren eun young jung
2019 Venice Biennale: Korean Pavilion Artist Interview – Jane Jin Kaisen
Two Kinds of Instabilities - YI Yunyi's 〈Hearts Echo like Mercury〉 and 〈Shine Hil〉
Yi Yunyi : To keep speaking about you, to resist growing
Cha Jeamin on TheArtro
Heecheon Kim - Living amid Moving Image
Kim Heecheon
Kwon Hayoun - The True Nature of Boundaries: Memory, Image, and Space
Andy St. Louis
Andy St. Louis is a Seoul-based art critic specializing Korean visual culture. In 2018, he founded Seoul Art Friend, a platform for promoting Korean contemporary art. He is currently the Seoul desk editor for ArtAsiaPacific and contributing editor for ArtReview Asia.