---
As the pandemic will likely last for a while, major art museums and galleries in Korea are preparing for exhibitions that explore the effects of Covid-19 on people and the fundamental questions it aroused. They also plan to hold solo shows of several renowned Korean artists. Although the lingering pandemic is making it difficult to hold large-scale international exhibitions, Gwangju Biennnale and some other important shows that had been postponed from last year will take place this year. Here is our guide to must-see exhibitions of 2021.
---
State and Municipal Museums
---
ENCOUNTERS BETWEEN KOREAN ART AND LITERATURE IN THE MODERN AGE
MMCA (National Museum of Modern and Contemporary Art) Deoksu Palace branch, Seoul
Feb. 4 - May 30: The exhibition sheds light on the relationship between Korean art and literature especially in the 1930s and 40s. Through 140 paintings, 200 documents and 300 photographs, the exhibition will explore not only the friendships developed between artists and writers such as between poet Yi Sang and painter Gu Bon-ung and between poet Ku Sang and painter Lee Jung-seob, but also the unique environment of the time that enabled the network, such as teahouse culture.
---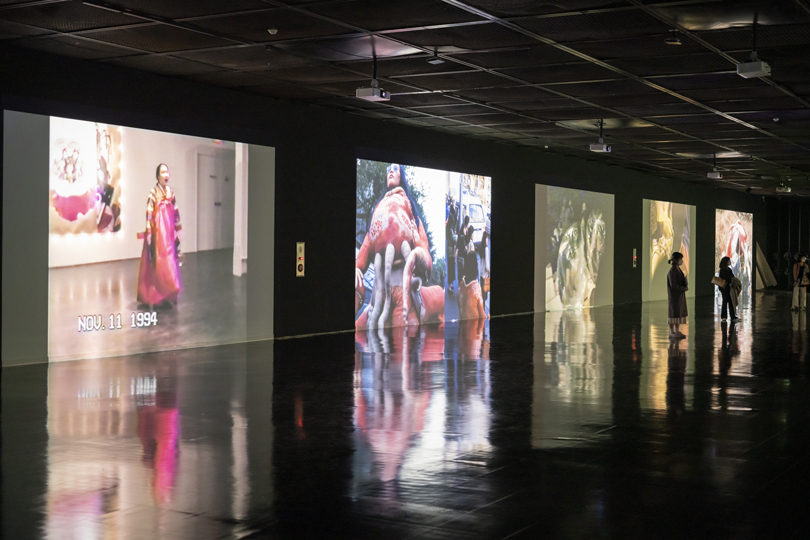 《Lee Bul-Beginning》 Exhibition Photography, Seoul Museum of Art, 2021. Photo:Hong Cheolki. Courtesy of Seoul Museum of Art.
---
LEE BUL: BEGINNING
SeMA (Seoul Museum of Art), Seoul
March 2 - May 16: The solo show of the world-famous Korean artist Lee Bul focuses on her early works including soft sculptures and performances. Underlying Lee's works in the late 1980s and 1990s was an attempt to shatter preconceptions and old notions related to her identities as a woman and Asian. The human body was her principal medium. The exhibition includes "Monster" sculpture series which feature tentacle creatures with a soft flesh-like texture and the similar costumes which Lee wore for her performances, as well as the videos and photos of the performances.
---
GREATNESS OF EVERYDSAY: REVERSING THE NARRATIVES
Busan Museum of Art, Busan
March 31 - Aug. 22: The 1980s in Korean art history is remembered as the era of two art groups that mixed like oil and water: one was a group of abstract artists led by dansaekhwa, or Korean monochrome paintings, and the other was the group of minjung artists, or people's artists, who pursued social realism art of strong political messages. However, there also existed important artists who created non-abstract woks related with individual themes and accordingly are categorized as neither of the two groups. The exhibition sheds light on these artists in Busan in the 1980s and 90s and explores the meaning of them in the Korean art history.
---
HOMIN & JAEHWAN
SeMA, Seoul
May 4 - Aug.1: This is a rare two-person show of an artist and a comics writer who are in father-son relationship. Joo Ho-min, 40, is famous for the webtoon "Along With the Gods"(2010-12) which he wrote and illustrated, inspired by Korean mythology about afterlife. The webtoon was adapted into a film of the same title in a two-part series, which became box office hits in 2017 and 2018. Joo's father, Jae-hwan, 80, is an important figure in the Korean minjung art movement.
---
PANDEMIC — CATASTROPHES AND CURE
MMCA Seoul
May 14 - Aug. 1: The exhibition intends to look at the impact of the Covid-19 pandemic on the lives of individuals and society as well as encourage contemplation and reflection for the post-pandemic era through extensive bodies of contemporary artworks. About 40 teams of local and foreign artists including American artist Andrea Zittel, Finnish artist Eija-Liisa Ahtila, Korean artists Moojin Brothers and Sunny Kim, will participate in the exhibition.
---
Park Sookeun, 〈Grandfather and Grandson〉, 1960, Oil on Canvas, 146X98cm, MMCA Collection.
---
PARK SOOKEUN
MMCA Deoksu Palace, Seoul
Nov. 11 - March 1, 2022: The retrospective of Park Sookeun (1914-1965), one of Korea's most beloved modern artists, will feature about 100 of his paintings, whose colors remind viewers of soil and whose unique textures have the feel of granite, the main material used for traditional Korean stone art. In this style, he depicted ordinary people's everyday lives in the most painful periods of Korean history, including the 1950-53 Korean War. The exhibition will explore not only the aesthetics of Park's paintings but also the spatial and social backgrounds behind them.
---
Private Museums
---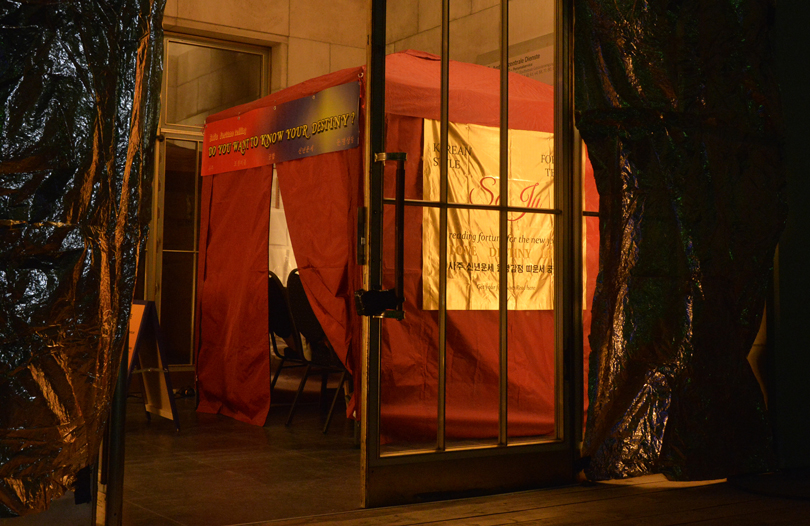 Song Ji Hyung, 〈SaJu-fortune telling〉, 2019, Tent, table, chairs, computer, korean paper, sign, etc, 200x200x200cm, Participatory Performance, Image Courtesy Ilmin Museum of Art
---
FORTUNE TELLING
Ilmin Museum of Art, Seoul
April 16 - July 11: About 20 teams of artists will present their own interpretations or recreations of shamanism and fortune-telling methods such as saju (four pillars of destiny), cartomancy by tarot cards and astrology, "which were once regarded as inferior superstitions but are now attracting attention in the era of uncertainties after the breakout of the pandemic," according to the museum.
---
YEESOOKYUNG: MOONLIGHT CROWN
Art Sonje Center, Seoul
July 29 - Sept. 19: Yeesookyung is world-famous for her "Translated Vase" series, which are sculptures constructed with fragments of broken traditional ceramics. She has been recently creating a new series "Moonlight Crown" which are sculptures of mixed media inspired by old fables and mythology. In this exhibition, she will unveil the new series for the first time in Korea.
---
IMA PICKS 2021 : YUN SUKNAM, HONG SEUNG-HYE AND EUNSAE LEE
Ilmin Museum of Art, Seoul
Oct. 1 - Dec. 26: Three important female artists in different generations will hold solo shows together so that viewers can get a glimpse of the contemporary history of female Korean artists. They are Yun Suknam, 81, "the godmother of Korean feminist art," Hong Seung-hye, 61, and Eunsae Lee, 34. Hong has explored pixelated abstract art both through analogue and digital media. Lee is a fast-rising artist with her colorful paintings of bold strokes hovering between expressionist art and cartoons dealing with social issues.
---
GALLERIES
---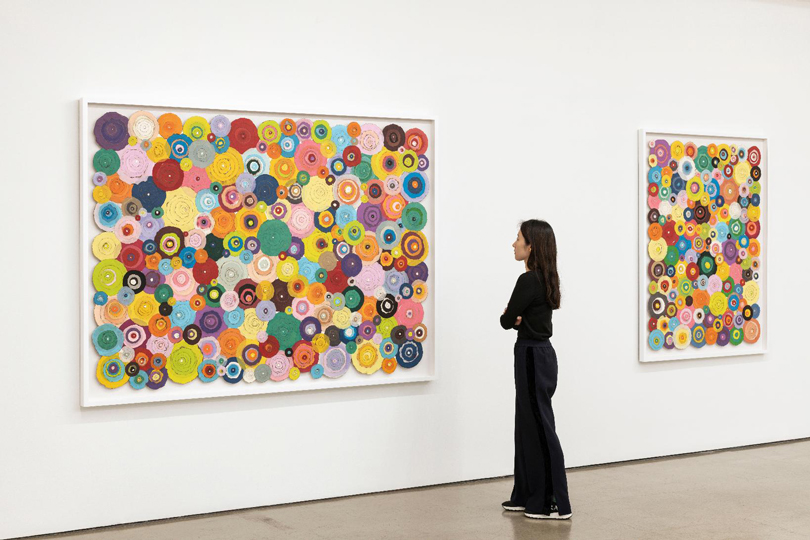 Installation View of 《Minjung Kim : Timeless》 at Gallery Hyundai. Image Courtesy Gallery Hyundai
---
MINJUNG KIM : Timeless
Gallery Hyundai
Feb. 19 – March 28:Minjung Kim, 59, is famous for the abstract works which she creates with traditional Korean hanji paper, through the repetitive process of partly burning and then layering the paper. "The natural lines created by the candle flame or burning incense" give "emotional healing and meditation" according to the gallery. In this solo show, Minjung Kim unveils her new series "Couple."
---
YUN SUKNAM: WOMEN OF RESISTANCE, BECOMING HISTORIC
Hakgojae Gallery, Seoul
Feb. 17 – April 3: Yun Suknam, 81, often dubbed "the godmother of Korean feminist art," is renowned for her unique works that are a combination of wooden sculptures and paintings and depict mainly female figures forgotten in history. This time, she unveils 14 pieces of her latest chaesaekhwa, or Korean traditional color paintings, which depict female activists who fought for Korea's independence from Japan's colonial rule (1910-1945).
---
LEE KUN-YONG
Gallery Hyundai, Seoul
Sept. 3 – Oct. 24: Lee Kun-yong, 78, is famous for his works which can be viewed as gestural abstract paintings in their own right but are actually the traces of his body movements during his performances. For him, both the process and the result make an artwork. In this solo show, he will present new works. Calling him "one of the fathers of Korean performance art," the U.S. art platform Artsy put him on the Artsy Vanguard 2020, the annual list of the world's noteworthy artists.
---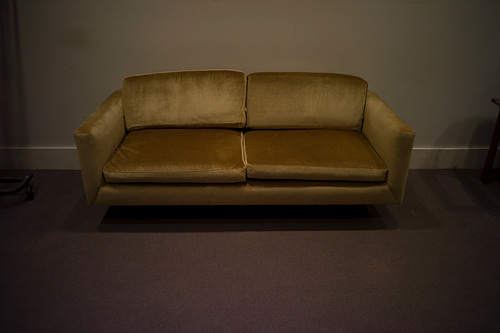 Park Chan-wook, 〈Washington DC. 2013〉, 2019, Archival pigment print, 65 x 98 cm, Courtesy of the artist and Kukje Gallery, Image provided by Kukje Gallery
---
PARK CHAN-WOOK
Kukje Gallery Busan
October: The solo show of film director Park Chan-wook, world-famous for his Cannes-winning film "Oldboy"(2003) and Bafta-winning "Handmaiden" (2018), sheds light on his aspect as photographer. "Park's passion for photography has often been highlighted [...] but the show at Kukje Gallery will be the first devoted exclusively to a survey of his work in print media," the galley said. His photos on view capture overlooked or abandoned objects within religious sites, urban alleyways, museums, and his own film sets.
---
BIENNIALS
---
13TH GWANGJU BIENNALE
Gwangju Biennale Exhibition Hall, and other venues, Gwangju
April 1 – May 9: Under the theme "Minds Rising, Spirits Tuning," the biennale will feature artworks that are in relation to the multidisciplinary knowledge and healing systems across the world from ancient times. Directed by Defne Ayas and Natasha Ginwala, the biennale will also look back on Korean shamanism not as a superstition but as the old system for healing and solidarity in communities. Among the 69 participating artists are Philippine-American painter Pacita Abad (1946-2004), Argentine-French artist Cecilia Bengolea, Beninese artist Emo de Medeiros, Canadian artist Judy Radul, Irish artist John Gerrard and Korean artists Sylbee Kim and Kang Seung Lee.
---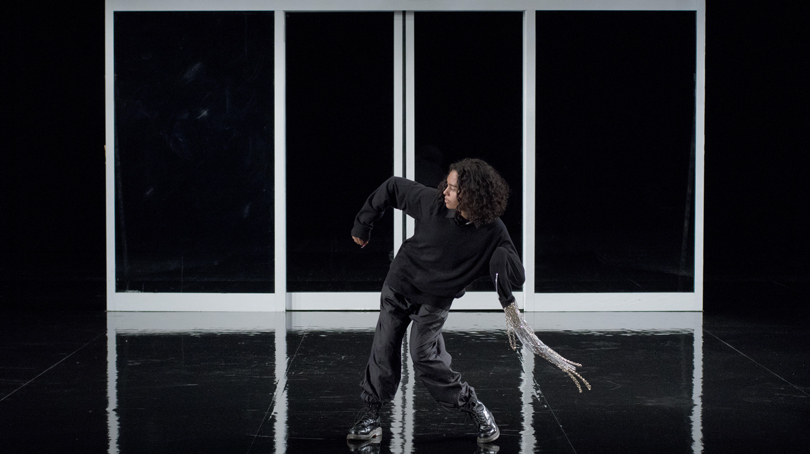 Pauline Boudry&Renate Lorenz, 〈I Know Where I Come From〉, 2020, Image Provided by Seoul Mediacity Biennale
---
THE 11TH SEOUL MEDIACITY BIENNALE
Seoul Museum of Art (SeMA) and other venues
Sept. 8 – Nov. 21: Forty-one teams of artists will present works and projects under the theme "One Escape at a Time." With the theme, inspired by the American sitcom "One Day at a Time"(2017–), a remake of the 1970s sitcom of the same title, the bienniale intends to look back on what sociopolitical issues people want to escape from and what utopian worlds they want to escape to through popular culture and social media, according to Yung Ma, the first-ever foreign artistic director for the Mediacity Biennale. More than half of the participating artists, including Seoul-based Geumhyung Jeong, Manila-based Eisa Jocson and London-based Yuri Pattison, will create new works for the bienniale.
---
Art Fairs
---
ART BUSAN & DESIGN
Bexco, Busan
May 14 - 16: Art Busan, which has grown rapidly to become one of Korea's top art fairs, will celebrate its 10th edition this year. Last year, despite the Covid-19 pandemic, the art fair managed to invite the world's leading galleries such as the Salzburg-based Galerie Thaddaeus Ropac, the New York-based Lehmann Maupin and the Seoul-based Kukje Gallery to the offline market and a lot of collectors as well. This year's list of the participating galleries is yet to be unveiled.
---
KIAF ART SEOUL
COEX, Seoul
Oct. 14 – 17 : The KIAF, organized by the Galleries Association of Korea, has been the leading international art fair of Korea. It was held only in virtual spaces last year due to the pandemic but is expected to take place offline in the COEX this autumn. The list of participating galleries is not yet released.
---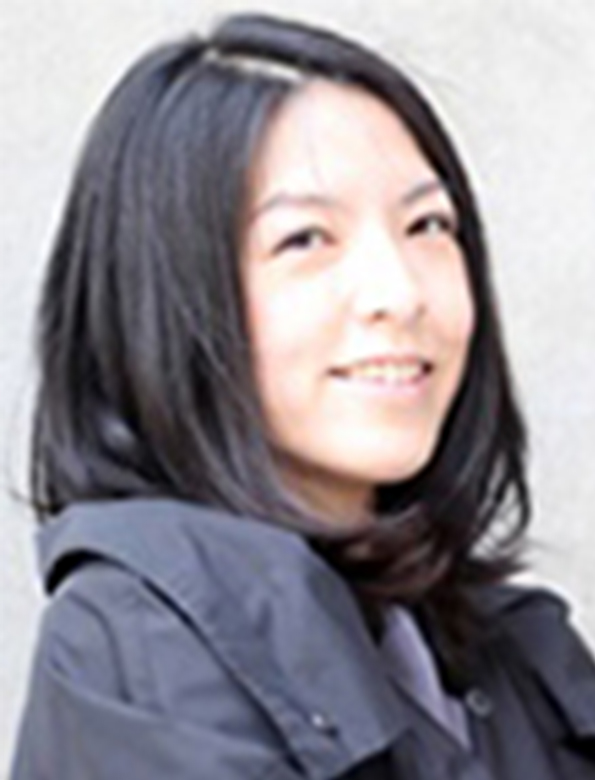 MOON SO-YOUNG / Journalist, Korea Joongang Daily
Culture Desk Chief at the Korea Joongang Daily and Adjunct Professor at Sungshin Women's University's College of Arts.