Features / Focus
Neo-sculpture, Conflicting Materials : Newcomers 77, The Young Powers of Korean Art Selected by Nine Art Experts
posted 06 April 2021

---
Artists of 'young power' who will drive the art world of tomorrow have been selected. They are the so-called, 'Newcomers 77'. Nine art experts participated in this Special Feature as nominators. They are all 'young players' in their 30s and 40s, all active in the Korean art scene today. Art In Culture proposed three requirements for nominations: (1) ages younger than 39, (2) held more than one solo exhibition, and (3) exclude participating artists of 'Contemporary Artists' of Art In Culture March 2018 edition. Here, a total of 77 next-generation artists have gathered. The composition of the newcomers are as follows. 47 women (teams), 29 men, and one mixed-gender team, showing an overwhelming share of women artists. The 'women's power' that hit the art world of Korea is strong. In terms of age, 50 artists were born in the 1980s and 25 in the 1990s. It is a collective of the digital natives, Generation Y. Distinction in region is also notable. Artists based in the metropolitan area of Korea focus on exploring contemporary media, while regional artists voice out social statements or personal desires. We categorized the work of Newcomers 77 around five keywords. It is a work of art criticism against the keywords of contemporary art, an on-ground exhibition that sums up the landscape of 'the young and the new'.
---
Nominators
Kwon Soonwoo (CEO of Tastehouse), Kwon Hyukgue (independent curator), Nam Woong (art critic), Lee Dongmin (curator of Daegu Art Museum), Lee Sun (curator of Gwangju Lee Kang Ha Art Museum), Chung Hyun (professor at University of Seoul), Choi Sooyeon (CEO of P21), Hong Leeji (curator of National Museum of Modern and Contemporary Art, Korea), Hwang Seomi (curator of Busan Museum of Art)
---
Neo-sculpture, Conflicting Materials
---
What is 'neo-sculpture', or the sculpture after sculpture, today when sculpture, objet d'art, installation, and performance share 3-dimensional form? This is the question facing young sculptors today. Korea's young sculptors explore and search for new category and form of contemporary sculpture. They create abstract sculpture using industrial materials such as epoxy, latex, and styrofoam, and extract monumental shapes from ready-made goods like refrigerators and air conditioners, exploring both the production structure of objects and the materiality of sculpture. Their works reveal a tendency of post-modern 'recycling of avant-garde art' such as playful transformation and refreshing application of things. There are also continued attempts to define 'what makes a sculpture'. They use appropriation of the history of modernist sculpture to remake it into contemporary shape and form or move between the boundaries of flat surface and sculpture, and space and sculpture, expanding the conditions for existence of sculpture. There is also a strong tendency of expressing sculpture as a proxy of humans. A sculpture of enraged body glaring fiercely is a sign of the existence of minorities excluded from society. A sculptural tendency that emphasizes the 'decorative feature' as sweet, lovely, lighter, and more fluid objet is another new interest of young artists.
---
---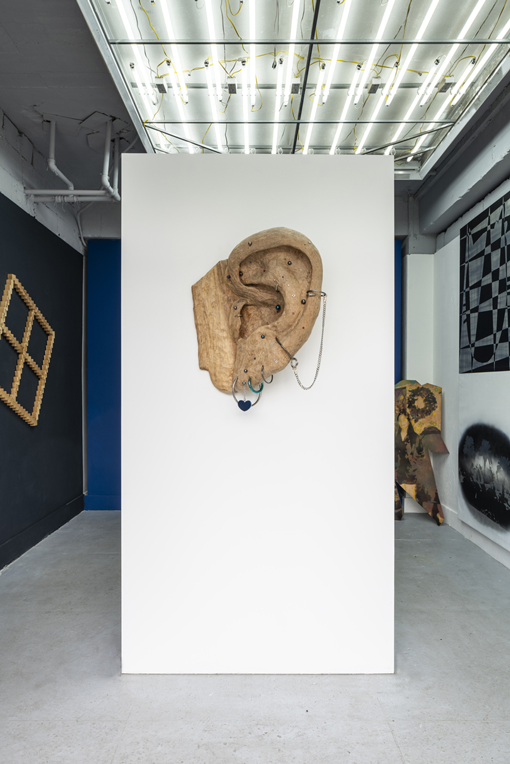 Eusung Lee 〈Pierce〉 wood, stainless steel, earrings 54×66×23cm 2019. Image Provided by Art In Culture ⓒ Artist
---
Eusung Lee
Eusung Lee transforms existing objects into objects with new impression. The process of cutting and (re)shaping objets of hard and definite shapes is an attempt of creating a crack in the firmly established perception of the object. "I intuitively shape the images and movements I have in my mind by twisting and piecing together the outlines of materials"
---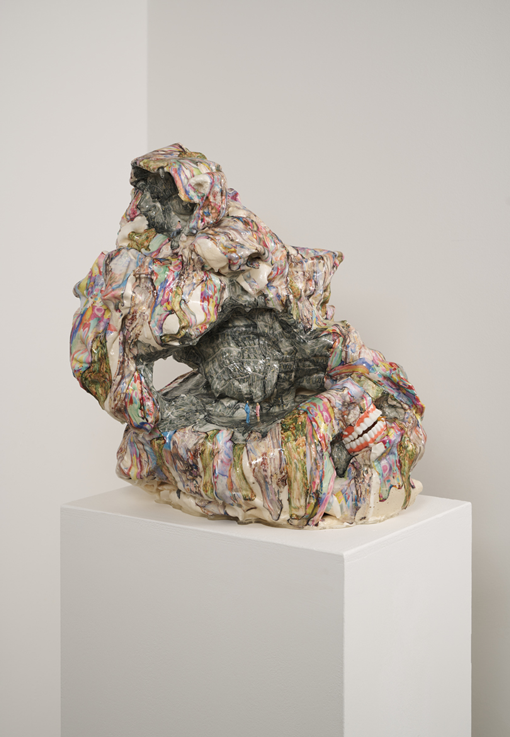 Hyun Nahm 〈Cave〉 print on latex, paint, epoxy resin, dental model, figure 45×36×43cm 2018. Image Provided by Art In Culture ⓒ Artist
---
Hyun Nahm
Hyun Nahm creates sculptures with industrial materials such as epoxy, cement, polystyrene, and latex. The sculptures form a connection with surrounding sculptures, unfolding a curious scenery. They stand wavering or melting instead of demonstrating strength or solidness sculptures previously pursued. "This is the best support to reproduce the phenomenon the artist has witnessed – a new landscape made by incomplete fragments of memory." (Chung Hyun)
---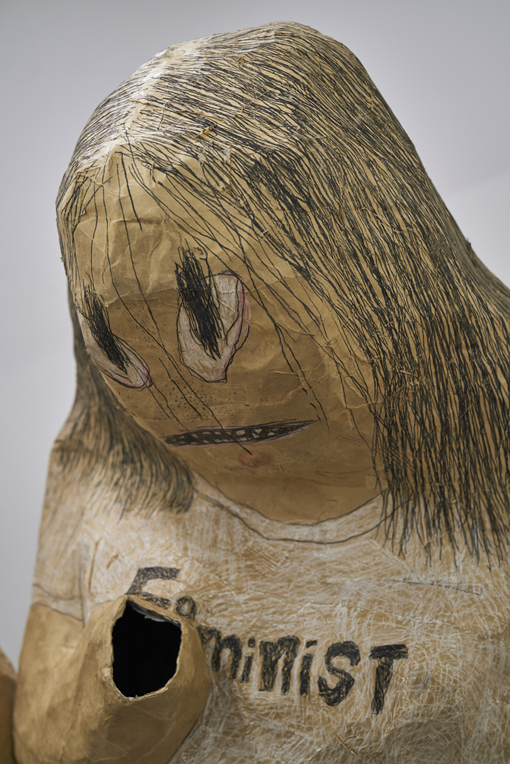 Shin Min 〈demo〉 pencil on paper 182×65×42cm 2017. Image Provided by Art In Culture ⓒ Artist
---
Shin Min
Skin made with newspaper and coarse paper, eyes, nose, and mouth carved coarsely with pencil or crayons or by scraping out clay. These bold lines and dull shapes bring out female victims and workers. Standing alone, but filled with vengeance, they are angry at the violent world. "The artist views those, who reject society's beauty standards and sexual objectification and are filled with life and struggle, as models." (Nam Woong)
---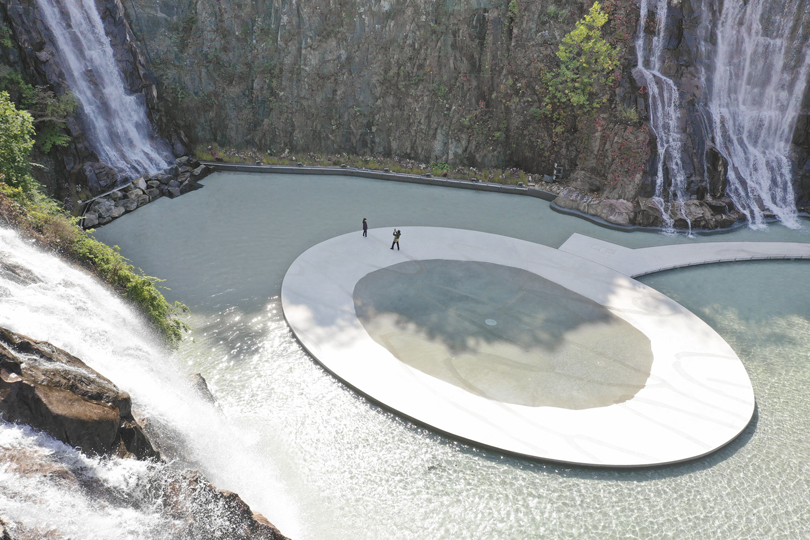 Jihyun Jung 〈Oval Camp〉 exposed concrete 3,000×2,000cm 2019. Image Provided by Art In Culture ⓒ Artist
---
Jihyun Jung
Jihyun Jung finds sculpture in everyday objets. The artist finds a possibility of liberation from firm order of matter in the process of bringing together, breaking up, and piecing together fragments of ambiguous source. He tracks the narrative intertwined in ordinary structures and visualizes familiar systems in a new way. 〈Oval Camp〉 is an oval-shaped concrete structure installed in Yongma Waterfall Park in Jungnang-gu, Seoul.
---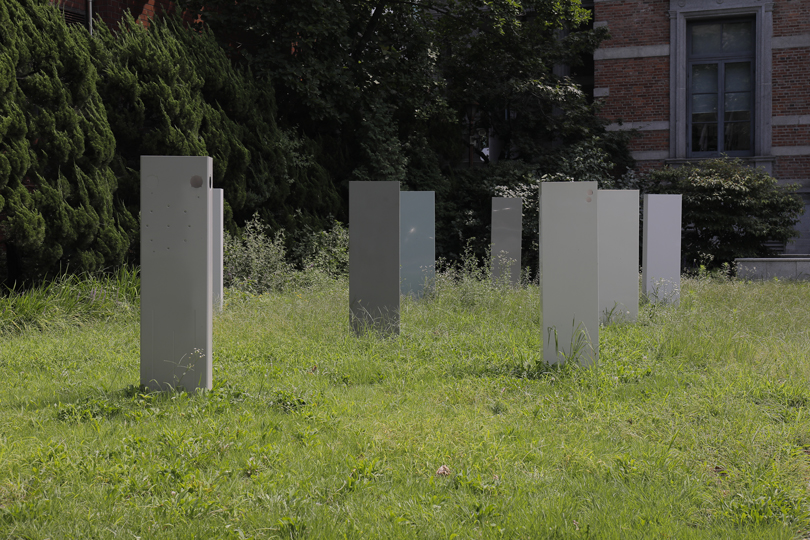 Choi Goen 〈White Home Yard〉 refrigerator, standing air conditioner, resin, steel, epoxy dimensions variable 2019. Image Provided by Art In Culture ⓒ Artist
---
Choi Goen
Choi Goen explores the way of being of objects in factories, cities, distribution networks, and recycling centers. The artist alters and rearranges home appliances, furniture, and construction materials that fill up the modern residential space, unveiling abstract pieces and installations. By maximizing the materiality of objects, the artist emphasizes 'sachlichkeit', or objectivity. "The discussion of 'objects' in a world flooding with products of certain image is always interesting." (Choi Sooyeon)
---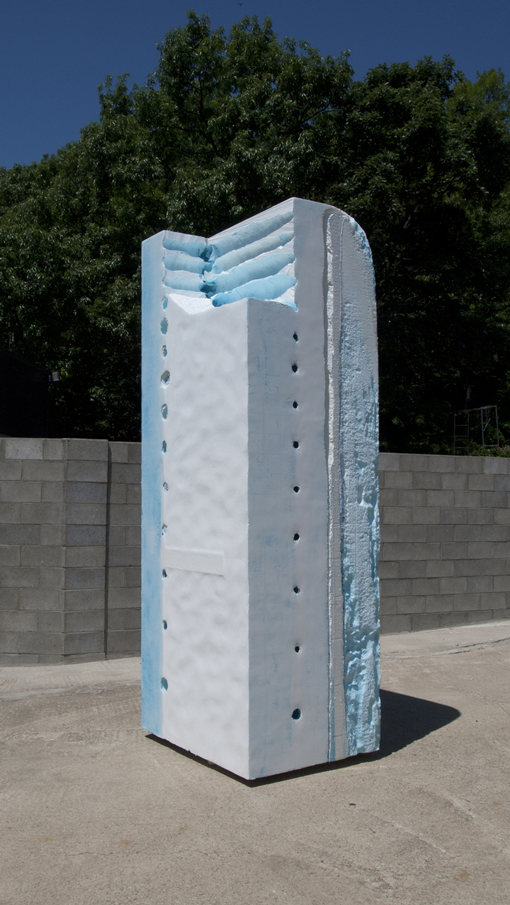 Kwon Hyunbhin 〈Highest point of fountain, sky and others〉 Styrofoam, resin, terraco handycoat, paint 90×120×316cm 2018. Image Provided by Art In Culture ⓒ Artist
---
Kwon Hyunbhin
Kwon Hyunbhin takes an interest in materials composed of particles such as Styrofoam or rocks. The artist visualizes the 'figure of rock' that exists only in emptiness by contemplating on 'being sculpture'. "Rocks were here in the far past and will be in the distant future. I imagine rocks unsculptured in between the times. (…) Rocks, by simply standing still, seem to shake, creating many possibilities and marks."
---
Choi Taehoon 〈Composition TJENA〉 DIY storage box 175×175×160cm 2017. Image Provided by Art In Culture ⓒ Artist
---
Choi Taehoon
Choi Taehoon presents the moment a product becomes sculpture. He creates different objets by appropriating how to assemble furniture recommended by DIY furniture website's algorithm or makes objets by selecting information online. The artist names the result of tightening and piecing together parts and images of objects as his self-portrait.
---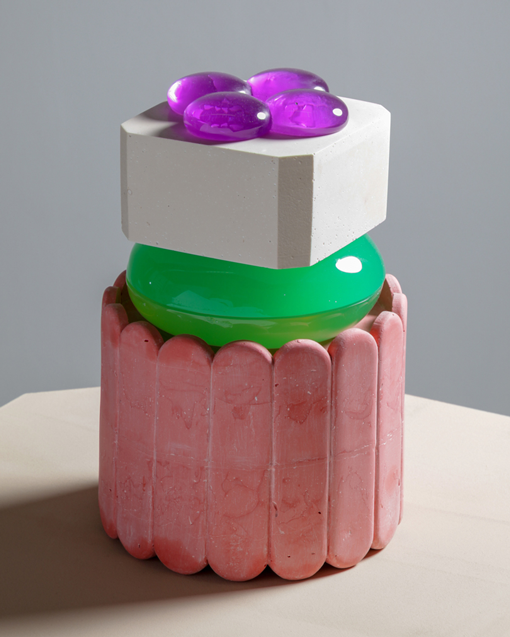 K.Lynn Chang 〈Vintage Dream〉 resin, Jesmonite dimensions variable 2019. Image Provided by Art In Culture ⓒ Artist
---
K.Lynn Chang
K.Lynn Chang reproduces the sweet, smooth, and dreamy feeling of Instagrammable images using resin, silicon, and plaster. "The images of food or of marketing means, or of someone's daily life are reborn into formative arts of transparent materials, clear shapes, and splendid colors. The surreal sculptures will again be uploaded on Instagram with hashtags by someone." (Chung Hyun)
---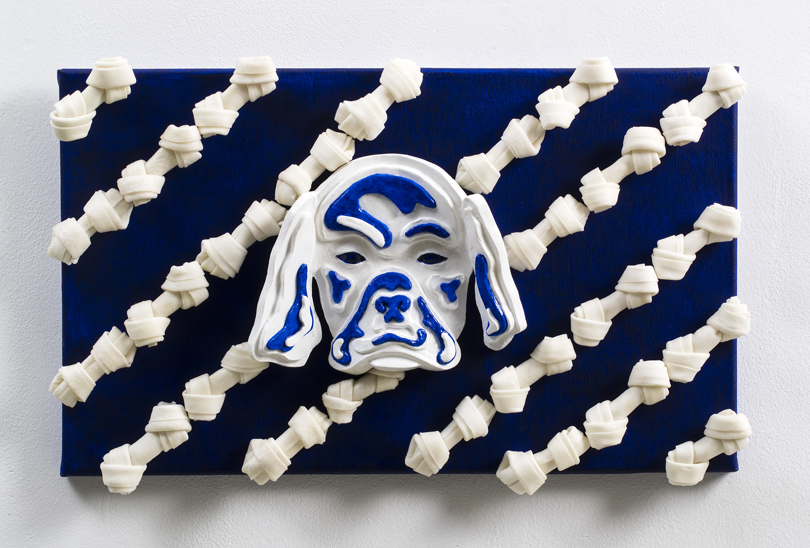 Cho Yuna 〈Happyvirus〉 mixed materials 29×46×6cm 2018. Image Provided by Art In Culture ⓒ Artist
---
Cho Yuna
Cho Yuna transforms the traditional sculpting technique, relief sculpture, into a way of exploring the inner mind. The artist portrays individuals of modern society who live hiding behind masks and the obsession of trying to flee from it. She gives form to the place where peoples' gaze and minds intersect using various materials and images.
---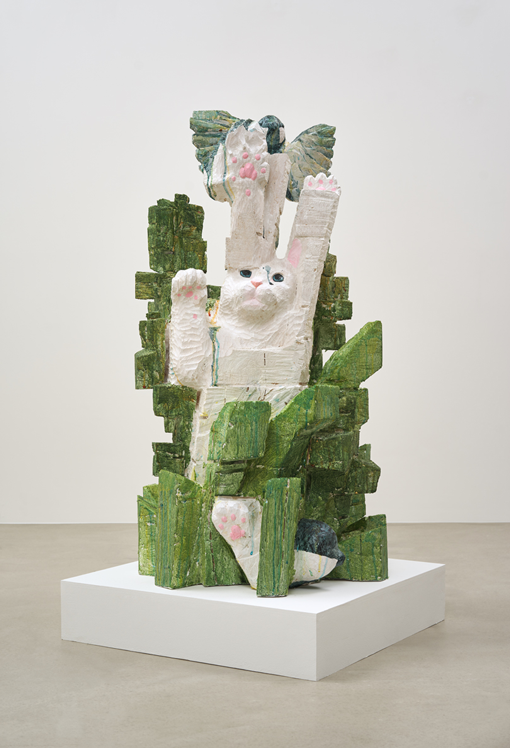 Donghoon Rhee 〈A Cat, a Great tit and Grass〉 Acrylic on wood 52×52×92cm 2019. Image Provided by Art In Culture ⓒ Artist
---
Donghoon Rhee
Donghoon Rhee creates sculptures by carving wood. The artist applies paint to the crude sculpture made with power saw and chisel depending on the diameter and properties of the wood. The paint on the wood surface and marks of a chisel made with force transform the sculptural shapes into pictorial work. Rhee pieces together the traditional medium of sculpture (wood) and painting (fabric) through the act of 'painting'.
---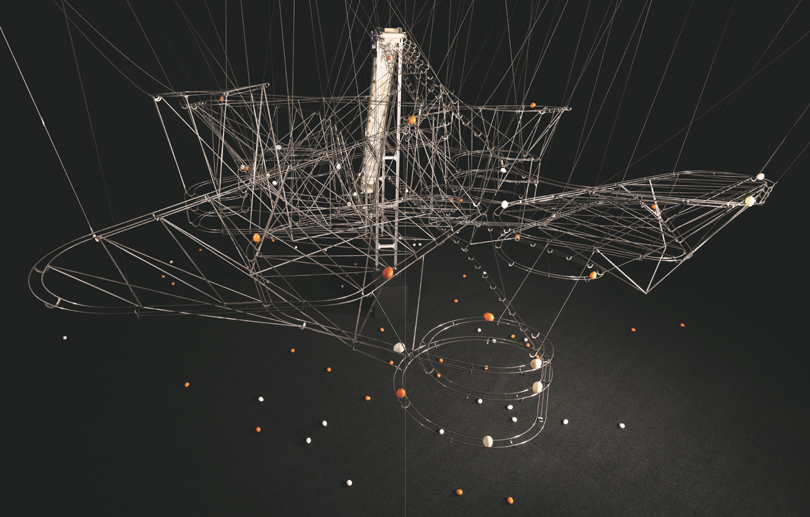 Lee Changwoon 〈One Way Trip〉 stainless steel, power unit, egg replica, egg carton dimensions variable 2014. Image Provided by Art In Culture ⓒ Artist
---
Lee Changwoon
Lee Changwoon creates moving sculptures. The artist uses the nature of machines, which repeats movements irrelevant to its will, as a metaphor for the repeating everyday life and experience of individuals. "The artist reflects his subjective interpretation of the movements of individuals and society in his work. The mechanical movement in his work is the aspect of life we experience every day." (Hwang Seomi)
---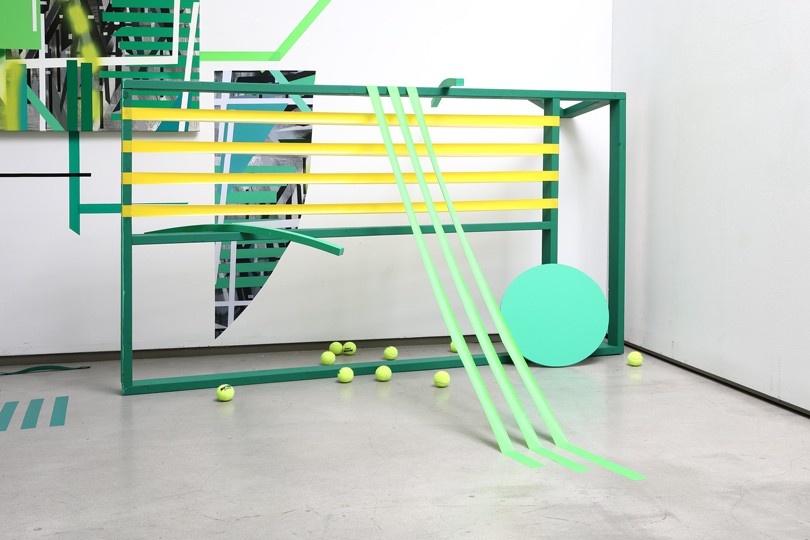 Kim Jinhwee 〈Attempted Space 1〉 mixed materials dimensions variable 2020. Image Provided by Art In Culture ⓒ Artist
---
Kim Jinhwee
Kim Jinhwee explores the boundaries between painting and sculpture, and form and formless. Lines that stretch out from paintings invade the floor, flat surfaces are installed as objets, and screens become space itself. "My work is an intersection of both ends. I am the history of rebellion, rejecting to converge into one identity."
---
Jeong Jaebeom 〈Tower of Double Joy〉 bricks collected from reconstruction sites dimensions variable 2020. Image Provided by Art In Culture ⓒ Artist
---
Jeong Jaebeom
Jeong Jaebeom was a furniture designer who left his job to study in Israel. Based on his experience living in Israel's kibbutz (collective community), the artist has pursued work related to individuals, society, and communities. He recently gathered stones in the foot of Mt. Jirisan, twisting the fiction in the 'energy' of nature.
---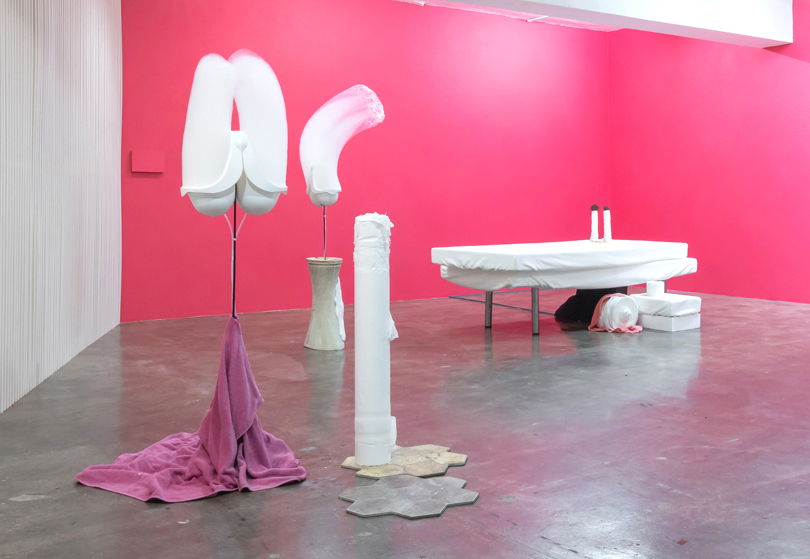 Woojin Jeon 〈Fountain〉(Left), urinal, shampoo, water, air pump, installation view of Solo exhibition "After Sauna", Gallery175, Seoul, Korea, 2019. Photo provided by Art In Culture ⓒ Woojin Jeon.
---
Woojin Jeon
Woojin Jeon is an artist who works in installation, performance and drawing. He is inspired by places such as public baths and beauty salon where multiple sensory and appearance of bare skin intertwined. The psychological issues in his work relate to taboo, fetishism, sexuality and the political context of hygiene. His solo exhibitions, After Sauna (2019) and Dual Channel Waxing Salon (2020) draw the paradox between anxiety and fetishism towards dirtiness and disturb our senses which are dominated by the polished institutional system.
---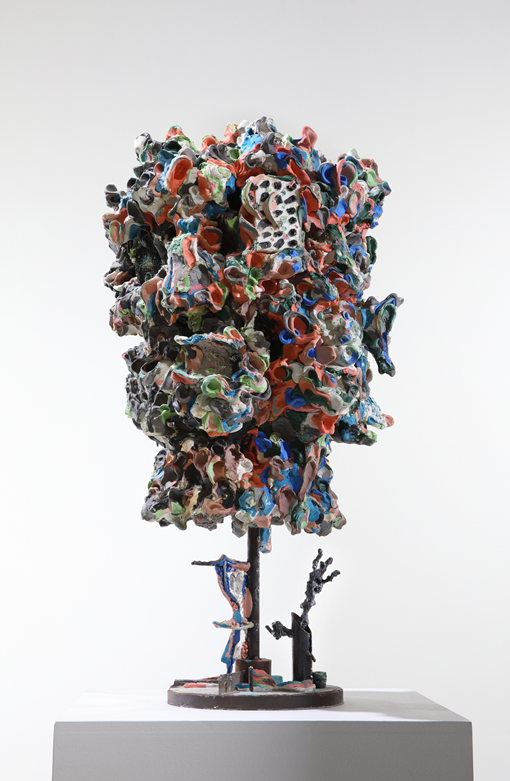 Kwak Intan 〈Seizure〉 resin, putty, cement, steel, iso pink, urethane foam, and fragments from previous sculptures 40×40×73cm 2020. Image Provided by Art In Culture ⓒ Artist
---
Kwak Intan
Kwak Intan expresses his reality as a sculptor referring to the history of painting and sculpture. Certain parts of past arts that each exist in different times and spaces, high resolution images and videos of sculptures are brought together today, reintegrated into unique shape and form.
---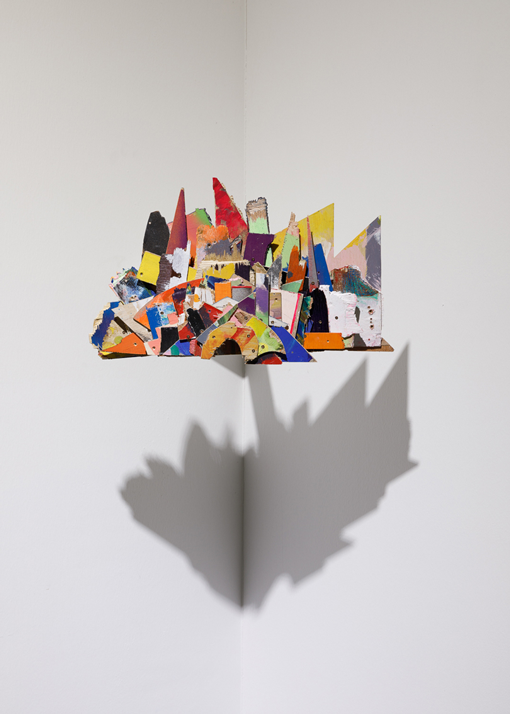 Ha Jiwon 〈Island〉 mixed materials on wood 37.5×22cm 2020. Image Provided by Art In Culture ⓒ Artist
---
Ha Jiwon
Ha Jiwon creates sculptures by deconstructing the artist's own previously made paintings. Wood and fabric that were once canvas and art pieces are reborn into solid structures by endlessly reshaping flat surfaces. The artist is recently working on creating wood pieces of various colors and round shapes. "My act of deconstructing flat surfaces and reassembling them into three-dimensional structures and installations, and then deconstructing them again is a denial of the visual outcome that is undelivered due to inner conflict."
---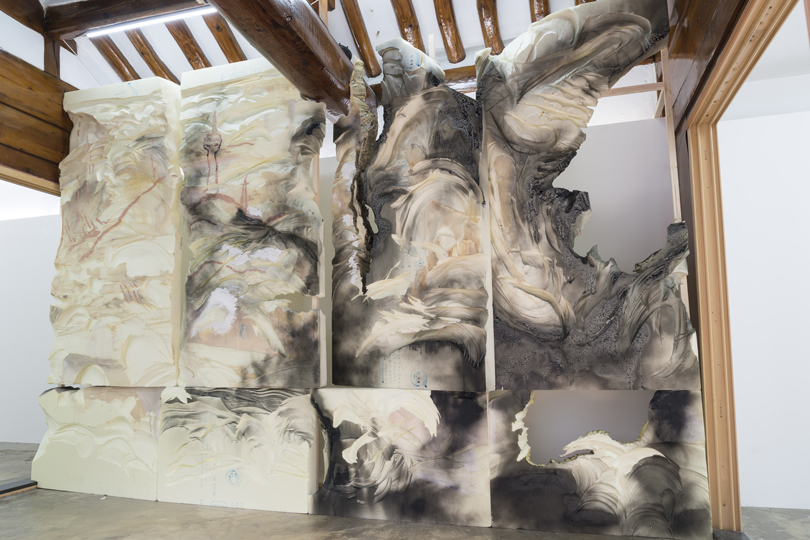 Jung Eugene 〈Cave Painting〉 mixed materials including gold foam 360×240×70cm 2018. Image Provided by Art In Culture ⓒ Artist
---
Jung Eugene
Jung Eugene creates the scenes of ruins made by mass media. The spectacle of people who vanished and the rubbles remaining after disasters searches for the image archetype between reality and fiction. In videos of actual physical and economic disasters, the artist borrows the voices of people who narrowly survived and live on after a disaster. Jung tightly strains the gap between images of disaster flowing in our times and the actual existence.
---
※ This article was originally published on the FEB 2021 issue of Art In Culture and is provided by the Korea Art Management Service under a content provision agreement with the magazine.
---
Related articles
Meta-Painting, the Never Ending 'Flat Surface Mission' : Newcomers 77, The Young Powers of Korean Art Selected by Nine Art Experts
Hashtag Culture, the 'Virtual Hierarchy' of Real and Fake : Newcomers 77, The Young Powers of Korean Art Selected by Nine Art Experts
'Real' Rightness, A Drama of Resistance and Solidarity : Newcomers 77, The Young Powers of Korean Art Selected by Nine Art Experts
Micro-Narrative, A Sea of Micro Stories : Newcomers 77, The Young Powers of Korean Art Selected by Nine Art Experts
---