Features / Focus
Micro-Narrative, A Sea of Micro Stories : Newcomers 77, The Young Powers of Korean Art Selected by Nine Art Experts
posted 10 May 2021

---
Artists of 'young power' who will drive the art world of tomorrow have been selected. They are the so-called, 'Newcomers 77'. Nine art experts participated in this Special Feature as nominators. They are all 'young players' in their 30s and 40s, all active in the Korean art scene today. Art In Culture proposed three requirements for nominations: (1) ages younger than 39, (2) held more than one solo exhibition, and (3) exclude participating artists of 'Contemporary Artists' of Art In Culture March 2018 edition. Here, a total of 77 next-generation artists have gathered. The composition of the newcomers are as follows. 47 women (teams), 29 men, and one mixed-gender team, showing an overwhelming share of women artists. The 'women's power' that hit the art world of Korea is strong. In terms of age, 50 artists were born in the 1980s and 25 in the 1990s. It is a collective of the digital natives, Generation Y. Distinction in region is also notable. Artists based in the metropolitan area of Korea focus on exploring contemporary media, while regional artists voice out social statements or personal desires.
We categorized the work of Newcomers 77 around five keywords. It is a work of art criticism against the keywords of contemporary art, an on-ground exhibition that sums up the landscape of 'the young and the new'.
---
Nominators
Kwon Soonwoo (CEO of Tastehouse), Kwon Hyukgue (independent curator), Nam Woong (art critic), Lee Dongmin (curator of Daegu Art Museum), Lee Sun (curator of Gwangju Lee Kang Ha Art Museum), Chung Hyun (professor at University of Seoul), Choi Sooyeon (CEO of P21), Hong Leeji (curator of National Museum of Modern and Contemporary Art, Korea), Hwang Seomi (curator of Busan Museum of Art)
---
Micro-Narrative, A Sea of Micro Stories
---
Micro-narrative is a contemporary storytelling method that exposes the 'fiction of the strong.' By throwing a small stone of small, micro-narrative into the race, class, and social system that look seemingly strong and stable, they create small cracks in the false macro-narrative. It does not come in the form of a fierce group movement, but in the form of battles raged by countless individuals. Women and queers honestly express their secret desires, plainly exposing parts of the body that were regarded rebellious to discuss the topic of gender equality. It is an act of trying to shine a spotlight in the blind spots by bringing prejudices and discriminations against minorities to the surface. 'Daily life' is also a valid keyword today. Artists release their thoughts on sensations felt in ordinary everyday life, melancholy emotions, and ontological questions through the language of art. Some release their pain and the sufferings of their family. Others confess their experience in their struggle against illness through aesthetics of healing or rewrite the hardships of living with a family member with disability into a narrative of the weak. The secretive, private stories of individuals ripple into social issues.
---

An Chorong 〈Home Decor Collection, before Sunset from Dew〉 adhesive sheet, digital print 2020. Image provided by Art in Culture.
---
An Chorong
An Chorong is interested in the environment that makes up photography. The artist brings in the format of decorative pictures for interior design, pictures in restaurant menus, and touristy brochures and postcards into the gallery. It is an attempt to break away from the typical photo exhibition. "Panoramic photograph of groups of works displayed in the gallery, instead of individual images, or photos of viewers enjoying An's work demonstrate the artist's intention." (Chung Hyun)
---
Yi Minji 〈Sight-lag, 64°02′26.03′′N 16°10′55.62′′W〉digital pigment print 65×50cm 2017 Image provided by Art in Culture.
---
Yi Minji
Yi Minji explores the boundary between 'what is seen' captured in photographs and 'what is unseen' outside the frame. "Before Yi goes out with a camera, she searches for the location on screen and form a first impression. (…) When different images and different perspectives have different sight lags, the hierarchy of online and offline, and reality and image is turned upside down." (Park Jisoo)
---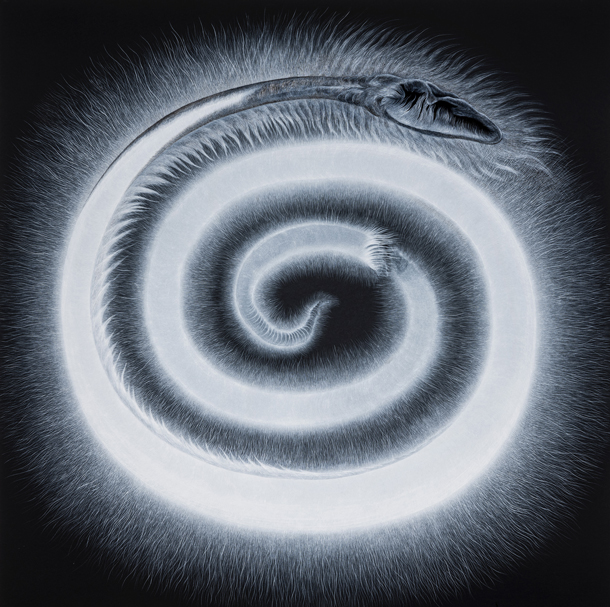 Kim Seola 〈Nine Dark Openings, Broken Sound〉 )> ink on paper 150×150cm 2020 Image provided by Art in Culture.
---
Kim Seola
Kim Seola captures existing things that are invisible to our eyes such as dust, mold, insect, microorganism, and single-celled organism. The artist enlarges microscopic organisms to discuss the loss and extinction of existence. "Kim gives shape to the very delicate and imperfect being remaining in the space left by everyone with fine and even meticulous stroke of the brush." (Lee Sun)
---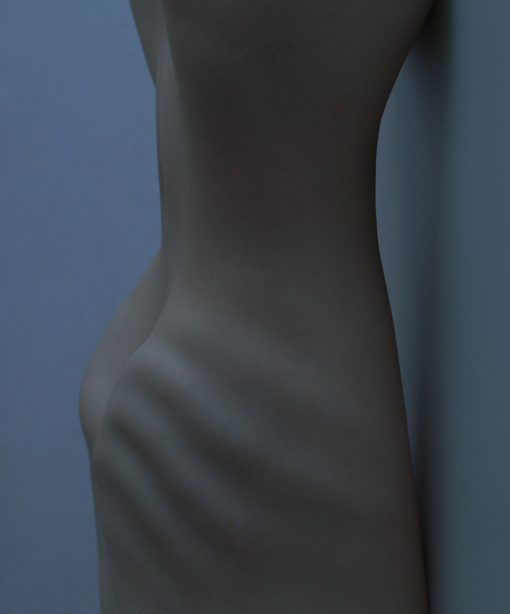 Lee Okto 〈What We Came Through 02〉 photography. Image provided by Art in Culture.
---
Lee Okto
Lee Okto photographs herself and people around her in unique dreamlike color. The series is Lee's new work in the COVID-19 era created by thinking of what leaves scars even after full recovery. "When we cannot observe each other's expression, do we more clearly sense our expression, or imagine or guess our expression even if it is our own. The vision of twisting the arm as much as possible to touch for the bumps along the back keeps coming to mind."
---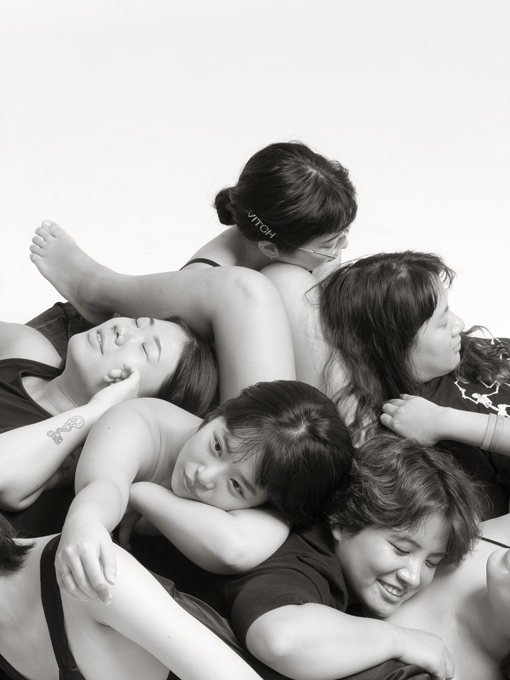 Hwang Yezoi 〈Between the Body and the Body〉 digital pigment print . 150×112.5cm 2019 Image provided by Art in Culture.
---
Hwang Yezoi
Hwang Yezoi captures the female body and bisexual identity in her snapshots. is a piece that fights against the social perception of the female body. "My body was never, not once, my own. It had to be not too big, too small, too heavy, too light, too wide, too narrow, too thin, or too thick." The artist's photographs embrace the surrounding, the external, the outside, and youth, building a solidarity that breaks away from the system we are familiar with.
---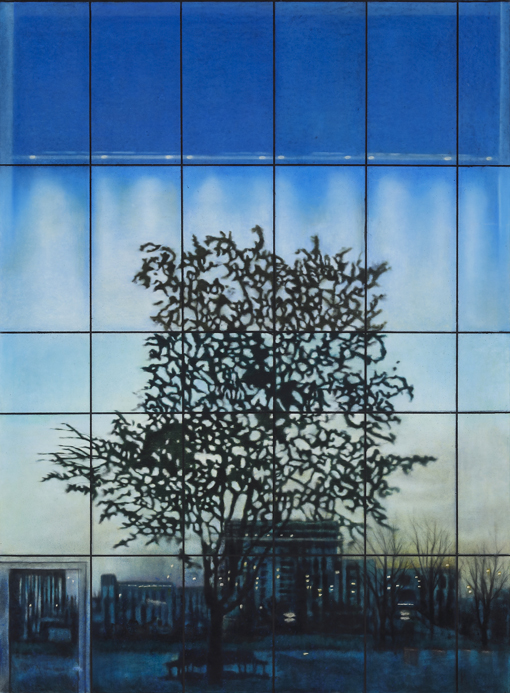 Lee Sungkyung 〈Other Shadows 1-9〉 color, charcoal on paper 190×140cm 2020 Image provided by Art in Culture.
---
Lee Sungkyung
Blue night, silent forest, low-hanging moon, dim shadows…. Lee Sungkyung's landscape has a lyrical tone that seems like it is brimming with colors of low chroma. The artist recently worked on reproducing the wavering landscape reflected on the city's glass buildings with charcoal. "To draw the blanket of darkness, I add color to hanji and add shadows with dust like charcoal."
---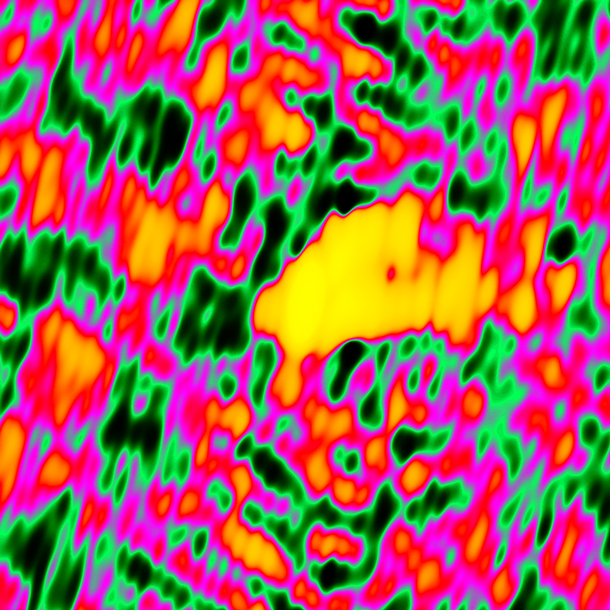 Lee Euirock 〈M87〉 light panel 90×90cm 2020 © K. Hada Image provided by Art in Culture.
---
Lee Euirock
Lee Euirock uses space radio telescopes and observational astronomy as entryway to his work. The artist focuses on the time, effort, and attitude in converting the world we cannot see and cannot go to although we know of its existence into visual images. The grueling process of capturing uncharted waters poses ontological question to the creator and contemporary images.
---
Eom Jeongwon 〈Escapeeeee〉 single-channel video 20 minutes, 2018 Image provided by Art in Culture.
---
Eom Jeongwon
Eom Jeongwon creates performances that make herself the instrument and media installations. Recently, she has focused on bringing her desire to understand the truth of something into her work. "When the shape of the subject we are looking at is unclear, when that subject is different from what we have understood, we imagine the truth about the subject based on the scope of personal experience. Object in the darkness, blurry photo, object far away, space, death, future…."
---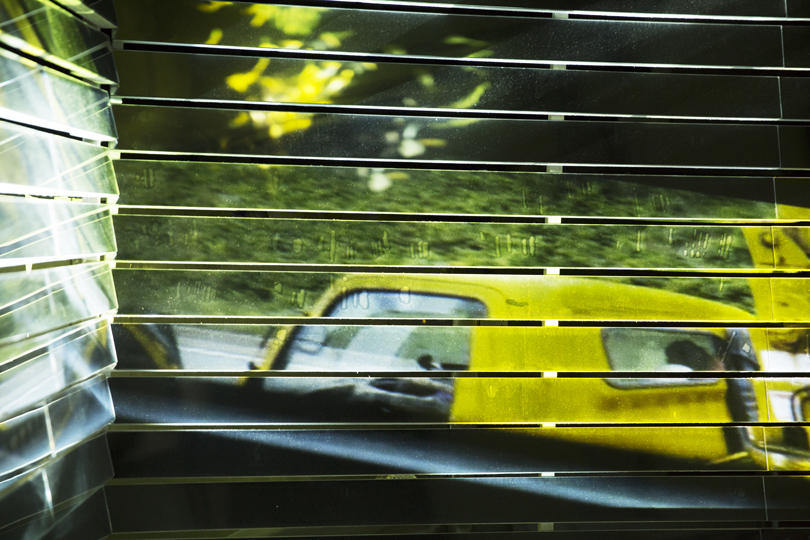 Bark Sehee 〈Space in Between_Bus〉 digital pigment prin 80×120cm 2016 Image provided by Art in Culture.
---
Bark Sehee
Bark Sehee photographs 'non-places'. Transfer zones, borders, windows, curtains, and the gaps between a place and a place, or a space and a space. The artist explores new free will at the middle ground, which is not clearly defined. "The middle ground that does not belong to anywhere, or the broad concept of middle ground where it belongs to everywhere. This is the situation of individuals, or broadly, the lives of everyone."
---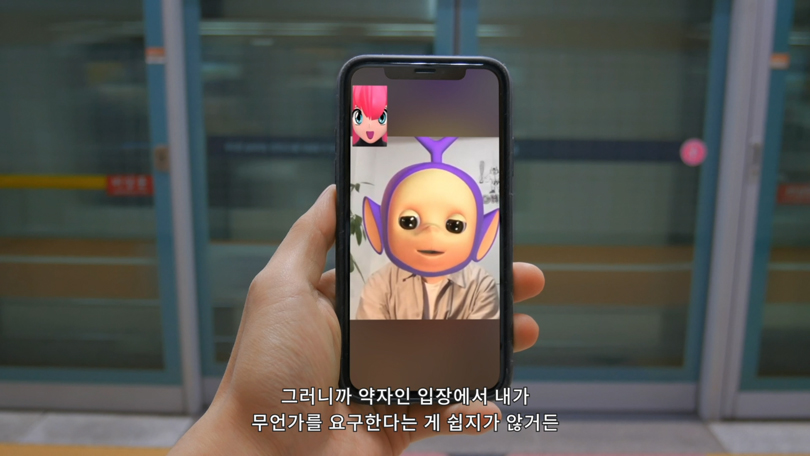 Hong Minki 〈Coming and Going, the Path to Marriage 〉 )> single-channel video 40 minutes 30 seconds 2021 Image provided by Art in Culture.
---
Hong Minki
Hong Minki is an openly gay artist. He actively talks of living as a queer in Korean society. is a simulation game-type documentary of the system's limitations queers of marriageable age face in Korea. The work shines a spotlight on the life of endless missions and having to seek answers even after coming out.
---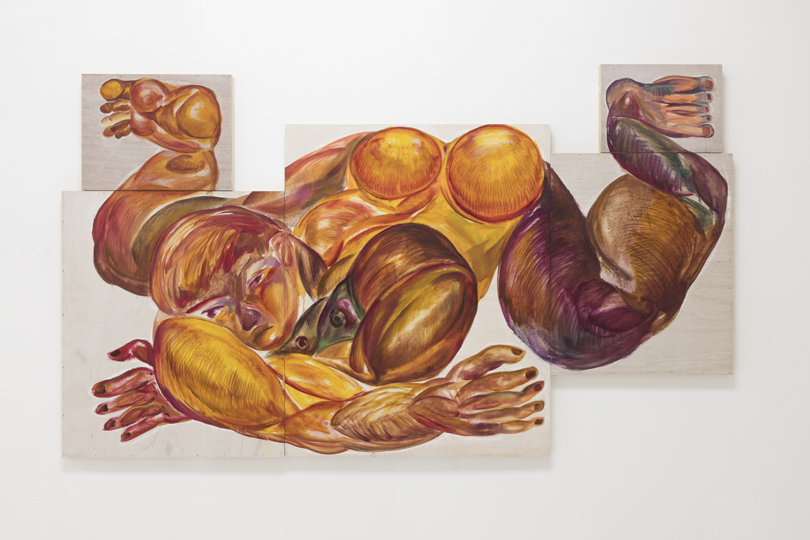 Lim Changkon 〈Empty Man 〉 oil on panel 46.5×76cm 2019 Image provided by Art in Culture.
---
Lim Changkon
Lim Changkon draws several panels filled with queer gestures and installs them dynamically. "I draw people. I see something red. I draw something empty. I see ugly body. I crush the body inside a trap. The body becomes distorted and divided. It opens its anus widely or boasts its red bottom."
---
Yang Seungwook 〈Baby Dolls〉 inkjet print 90×135cm 2015 Image provided by Art in Culture.
---
Yang Seungwook
Yang Seungwook captures toy hoarder, gay subculture, and animal companions. Toys from unknown sources are mostly second-hand products that have been passed on by someone. Toys are faced together in semi-sexual positions, or they fill up shabby and dark spaces like gay DVD "Bang" (DVD rooms). "The artist now hands out the toys collected for each exhibition. What kind of photography shall unfold in the transition from collecting to giving?" (Nam Woong)
---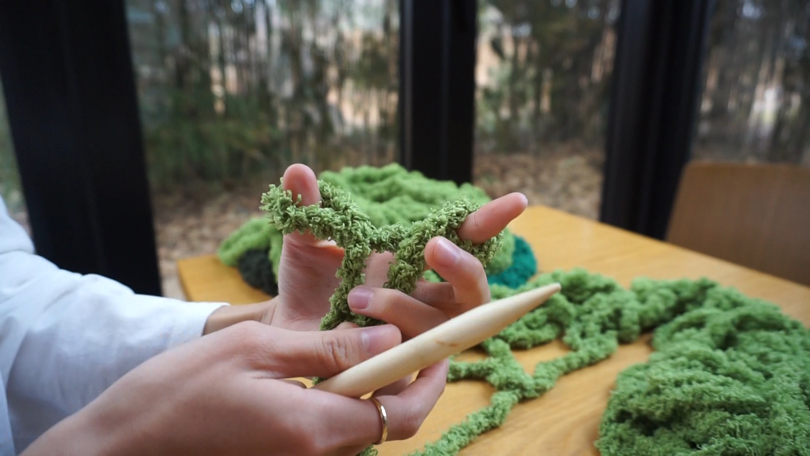 Kim Jayi 〈How to Knit〉 single-channel video 16 minutes 12 seconds 2017 Image provided by Art in Culture.
---
Kim Jayi
Kim Jayi contemplates on the language of rest and relaxation. The artist collects ways of resting and relaxing shared by herself and others through research and visualizes the aesthetics of contemporary rest. "In a society of speed and competition, we need 'rest'. Cancer came to me as I lived my life without taking a break, and I have since then listened to the signs my body and mind send me."
---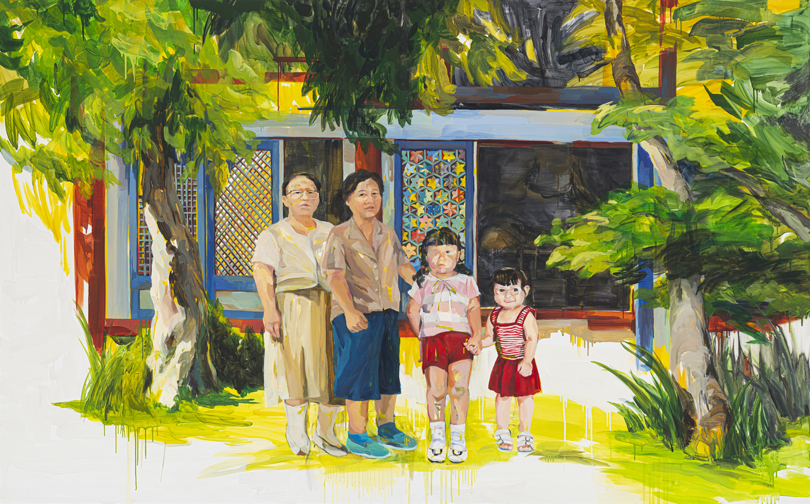 Moon Jiyoung 〈For What the Woman Prays Ⅴ〉 162.2×260.6cm oil on canvas 2020 Image provided by Art in Culture.
---
Moon Jiyoung
Moon Jiyoung features her sister with disabilities and her desperate mother in her paintings. The artist talks about the being of the 'ordinary' through the narrative of the socially vulnerable, the act of praying, and religious commitment. "Just for the reason of having had a child with disability, my mother blamed herself her whole life, and while she always only barely slept due to care work, she felt guilty of not being able to contribute to the family. And she said, all she can do is pray, and said she hangs onto praying because it is the only thing she can do. But in her prayers, she'd forget to pray for herself."
---
Related articles
Neo-sculpture, Conflicting Materials : Newcomers 77, The Young Powers of Korean Art Selected by Nine Art Experts
Meta-Painting, the Never Ending 'Flat Surface Mission' : Newcomers 77, The Young Powers of Korean Art Selected by Nine Art Experts
Hashtag Culture, the 'Virtual Hierarchy' of Real and Fake : Newcomers 77, The Young Powers of Korean Art Selected by Nine Art Experts
'Real' Rightness, A Drama of Resistance and Solidarity : Newcomers 77, The Young Powers of Korean Art Selected by Nine Art Experts
---
※ This article was originally published on the FEB 2021 issue of Art in Culture and is provided by the Korea Art Management Service under a content provision agreement with the magazine.