Features / Focus
TheArtro's Guide to Busan: What to see at Busan during ART BUSAN 2021
posted 13 May 2021

---
TheArtro introduces exhibitions and events at Busan art museums, galleries, and complex cultural spaces that can be enjoyed with the opening of ART BUSAN 2021 in May.
---
Art Busan & Design 2020. Image Provided by Art Busan
---
On May 14, Art Busan 2021 will be held in Busan, the second largest city in Korea and, as the fourth largest container port in the world, one of Asia's representative marine cities. Along with the participation of such Korean galleries as Gallery Hyundai, Arario Gallery, and PKM Gallery, this year's event is marked by the participation of famous international galleries including Esther Schipper, Peres Projects, and Commonwealth and Council, indicating the event's contribution to Busan's rise as the center of the Asian and global art markets.
---
Busan, often called the Miami of Korea due to its beautiful beaches, regularly hosts art events that represent Korea as well as those in Seoul, fostering a rich art scene. While many biennales across the globe were canceled last year due to the COVID-19 pandemic, the Busan Biennale 2020 was held successfully against all odds. Local strength and support has allowed for Busan to possess such a solid art scene. Art spaces such as Alternative Space Bandi (now closed), Openspace Bae, and Space Dot drive local art discourse, and over 50 commercial galleries including Johyun Gallery, Gallery Lee & Bae, Soul Art Space, Art SoHyang, and Gallery Serene Space have kept the Busan art scene active and growing. In addition, Seoul-based galleries such as Kukje Gallery and Gana Art opened Busan locations, prompting art lovers from all over Korea to gather in Busan. Sea Art Festival (to be held in October 2021), which is hosted biennially with the Busan Biennale, is held at various beaches in Busan and has become an outstanding public art event unique to the city. Meanwhile, exhibition spaces with a more youthful sensibility such as Gallerie ERD, Youngju Mansion, and Objecthood continue to open and are expected to add even richer layers to the local scene.
---
ART BUSAN 2021
55, APEC-ro, Haeundae-gu, BEXCO, Exhibition Center 1, all halls
---
---
Last year, when art fairs all over the world cancelled their in-person events and shifted to OVR, Art Busan 2020 successfully ran simultaneous OVR and offline events—a first in Asia. This year, Art Busan 2021 (May 14–16) will execute a similar strategy to satisfy both participating galleries and visiting collectors. In this year's fair, 110 galleries are confirmed to participate—92 domestic institutions and 18 international ones including newcomers Esther Schipper and Commonwealth and Council. Others such as Pilar Corrias and neugerriemschneider will not participate in the fair, but will still meet with Korean collectors through special exhibitions on Philippe Parreno and Olafur Eliasson, respectively. As last year, Art Busan 2021 plans to simultaneously manage OVR that will allow viewers to see various submitted artworks and price information without having to visit Busan.
---
Busan Museum of Art
58, APEC-ro, Haeundae-gu
---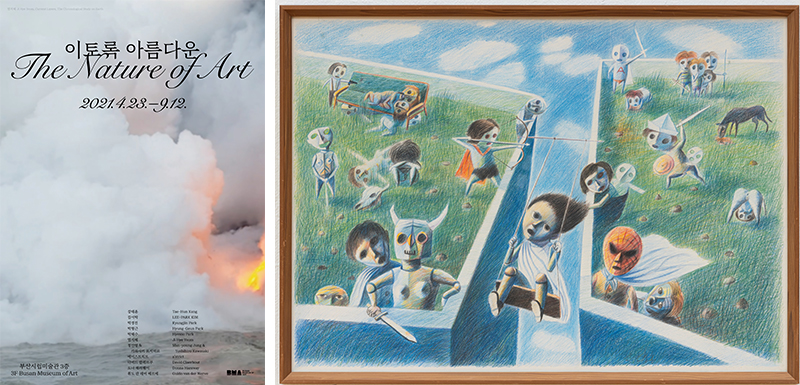 Left Poster of 《The Nature of Art》 Right Ahn Changhong, 〈위험한 놀이〉, 1983, pastel and crayon on paer, 105×73cm. Image Provided by Busan Museum of Art
---
The Busan Museum of Art, which is located near the Art Busan venue BEXCO, presents regular exhibitions on art history research and its collection. As for its feature exhibitions, 《The Nature of Art》 (Apr. 23–Sep. 12), which focuses on art's calming characteristics, and 《Greatness of Everyday: Reversing the Narratives》 (Mar. 31–Aug. 22), which revisits Korean figurative art of the 1980s, are currently ongoing. 《Greatness of Everyday》, in particular, sheds new light on the historical significance of figurative art in Korean art history through Korean figurative artworks from between the mid-1970s and mid-1980s.
---
Museum of Contemporary Art Busan
1191, Nardongnam-ro, Saha-gu
---

Left Exhibition view of 《Susatinable Museum: Art and Environment》 Right Exhibition view of 《Timewalker the timetravel corporation》. Both Image Provided by MoCA Busan
---
The Museum of Contemporary Art Busan(MOCA Busan), which maintains a main focus on nature, new media, and humanity, stages discussions about art and environment through two current exhibitions. 《Sustainable Museum: Art and Environment》 (May 4–Sep. 22) takes a speculative approach to museum sustainability (rather than a more realistic one) by examining the environmental effects of various museum activities and exhibitions that require large amounts of resources. 《Timewalker the timetravel corporation》 (Apr. 23–Aug. 29) is a multimedia exhibition that experiments with alternatives to the dominant monolith of exhibition environments. It takes an escape room game format, which invites visitors to experience and engage with the exhibition as participants, in order to convey the importance and relevance of the presented environmental issues and ultimately prompt responsible action.
---
Johyun Gallery
171, Dalmaji-gil 65beon-gil
---
Byung Hoon Choi, 〈Afterimage of beginning 021-552〉, 2021, basalt, natural stone. 3,420×800×600mm. Image Courtesy Johyun Gallery
---
Johyun Gallery, an institution representative of Busan located on Dalmaji Hill, will hold an exhibition of work by artist Byung Hoon Choi, who is unparalleled in the field of art furniture in Korea, from May 14 through July 4. Choi was the first Korean artist to have work acquired by the Vitra Design Museum and works mainly with wood and stone to express respect for nature through simple forms. He made headlines when three of his sculptures were permanently installed at the Museum of Fine Arts, Houston, in November 2020.
---
Kukje Gallery Busan
20, Gurak-ro 123beon-gil, Suyeong-gu
---
Left Ahn Kyuchul, 〈2/3 Society II〉, 2021, Leather, rubber, and magnet, Dimensions variable, Courtesy of the artist and Kukje Gallery Photo: Ahn Chunho Right 〈2/3 Society II〉, 2021, Pencil on paper, Courtesy of the artist and Kukje Gallery.
---
Kukje Gallery's Busan location presents 《The Other Side of Things》 (May 13–Jul. 4), an exhibition of work by artist Ahn Kyuchul. This exhibition is an occasion for Ahn to greet viewers as artist again after retiring from his long career as a teacher. Focusing his artistic journey and processes of change over the past three decades, it displays works from the artist's first solo exhibit to his latest works, many restored and developed. The title 'The Other Side of Things' communicates the artist's idea that truth does not exist out in the open, but rather is hidden on the "other side." Over 40 objects, paintings, and drawings, all founded on this idea, tell the story of Ahn's artistic career.
---
Hyundai Motorstudio Busan
20, Gurak-ro 123beon-gil, Suyeong-gu
---
Hyundai Motorstudio Busan. Image Provided by Hyundai Motor Company
---
Hyundai Motorstudio Busan, which is Hyundai's sixth Motorstudio following those in Seoul, Goyang, Hanam, Beijing, and Moscow, opened in the F1963 cultural complex in Suyeong-gu in 2021. Its inaugural design exhibition 《Reflections in Motion》 (Apr. 8–Jun. 27), which is composed of a total of six sections, presents concept cars (in lieu of mass-produced vehicles) that demonstrate Hyundai's design philosophy with such names as 45, Prophecy, and Heritage Series—Pony. In addition, with a focus on design elements such as light, color, and material, the exhibition allows visitors to feel design's ability to enrich daily life. Curator Somi Simwas recently recognized as a finalist in the design category of the 2021 Hyundai Blue Prize, bringing attention and expectation to Hyundai's future plans to foster design professionals in Korea.
---
---
Must-See Art Spaces in Busan
Haeundae-gu
Busan Museum of Art
Johyun Gallery
Gana Art
Art SoHyang
Gallery Lee & Bae
Soul Art Space
Gallery Serene Space
Gallery Date
GoEun Museum of Photography
BMW Photospace
Gallery ERD
---
Suyeong-gu
F1963(Kukje Gallery Busan, Hyundai Motorstudio Busan)
Objecthood
---
Jung-gu
Open Space Bae
totatoga
Youngju Mansion
---
Saha-gu
Museum of Contemporary Art Busan
Jiwon Lee
Jiwon Lee is editor of TheArtro. She studied Art Theory and Curatorial Studies ; Worked as a curatorial team member at Gyeonggi Museum of Modern Art, Art Space Pool and many other Contemporary Art Institutions. ; and authored, inter alia, "A Study of Hae-gue Yang's Work on 'Community' and 'Historical Reference.'" and "How Contemporary Art Remembers History"