---
Seewon Hyun(curator at AVP lab)
---
1. Production of paintings
Juri Lee "produces" paintings. The artist nails her "point of view" vertically on the historical verb "to paint" and its discourse. Here, on one axis, is an aspect of technology brough by smartphones, iPads, and other media. Here also is the gaze of the contemporary artist Juri Lee, who is very pragmatic when it comes to painting, image production, and an artist's utopia. Equipped with her two devices—technology and point of view—the artist takes painting beyond the system of images. To be precise, Juri Lee is producing "images" rather than paintings. Moving away from assigning excessive meaning and misunderstanding painting, the artist reveals her clear position on reality and potential for dialogue and sets off on a path to acquire them by facing variable and ever-changing images head-on. Lee began producing two-dimensional paintings in the late 2000s and stated that she considers herself a "producer of images." Creating a new hierarchy of producers, consumers, experiencers, and spectators within a contemporary image database, Lee actively questions the value of images.
How is Lee's work active? Ironically, it stems from moving forward "independently and together" by supporting her active nature while leaning on other people, various technologies, and contexts. As she twists the enormous database and methods of selection and intervention from various angles, the artist considers her position on paintings that examine today's production, fabrication, and distribution of images. I see this as an action and practice of working with others in contemporary society. She demonstrated this through production, as she used and shared a self-produced "program" for production of paintings/images, and through the process she used to organize her work and exhibition. Considering the exhibition as a system that determines the relationship between accumulated data and the space onto which to print the outcome, she worked with Ahn Sungseok and Hong Jinhwon on artwork, Ko Woo on music, and Jang Seoyun on text.
---
The key to discovering and sustaining her process of action/practice was an image simulator program titled Sunset Valley (2018).1 Juri Lee asked, "Can traditional media catch up with real-time production and distribution of images today?" In Lee's hand is a strange program of data and tools installed on a sleek iPad.2 However, it is a monstrous device with infinite information values, and it is impossible to predict precisely what it will process (the artist's past works) and what it will become. The selection of images created by Sunset Valley is comprised of choices that seem valid and complete, but the "random" selection by the program yields result values that are "unique and made up of independent combinations." As individual pieces are extracted from a mass and they are anchored in reality, form materializes.
---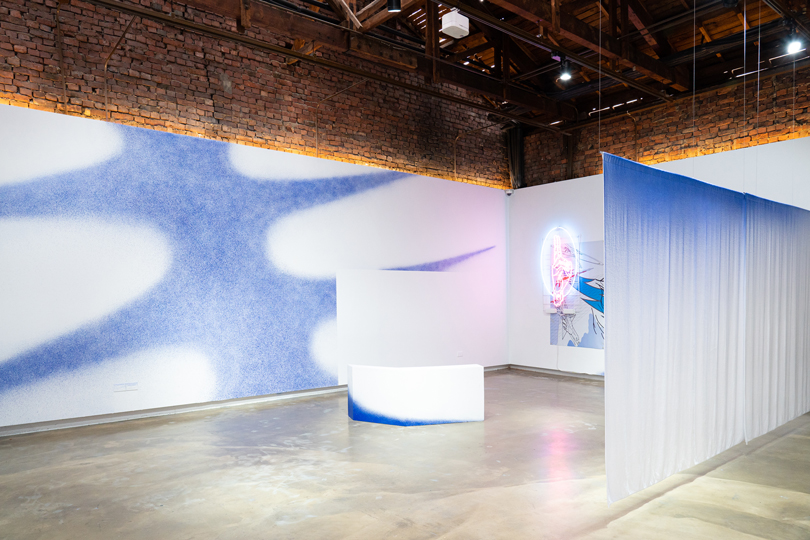 《Repackage》 (SeMA Storage, 2020) Exhibition view. Image provided by MMCA Goyang Residency.
---
2. Result value of form
The use of the term "result value" instead of result hints at another system that sees Juri Lee's work in action. In 2020, this manifests in an "exhibition as a system." In Repackage, a solo exhibition held at SeMA Storage (August 7 to September 6, 2020), Lee revived a series of past exhibitions through the input value of "repackage." Might "repackage" be an alibi? The artist is likely interested in the question of whether a part of her inner world that she had presented in black in the past (a certain color and form that crosses the screen) can work as a driver of another work of art, and the problem of what is overlapped and activated when A adheres to B, a real space in the present. In other words, Lee is concerned with multiple realities of a driver as an engine, a dissonance, an enabler, a companion, or a traitor.
---
The multiple materials, which the artist calls "exhibition data" encompass not only exhibited works, but also spaces, other contexts, and conditions. What the viewer sees in the Repackage exhibition is, of course, data from her past exhibitions. The six past exhibitions, which remain as data rather than as traces or archives, are frozen physical entities that live in a virtual space in the same time as they always have. Using the six past exhibitions, solo exhibitions and group exhibitions combined, as her material, Lee rearranges these exhibitions and invokes them as coordinates on the Z-axis. The X-axis contains works displayed in past exhibitions, and the Y-axis includes other materials that gives new form to past works. Second, the lightning symbol on the floor of the exhibition space is a caption that shows the past exhibition where each work had been. The lightning symbol is intriguing because it reveals that the distinct characteristics of each work viewed (mural, painting, lighting) are not derived from a single source, in a way that various religions awakened certain beliefs using their own distinct language, for example, shouting "red sun."
---
3. Mass and individual
In Juri Lee's work, painting is a system and the movement that unravels or ties it together. In this exhibition, the artist's works encounter a series of exhibitions. Here, the exhibition is not a "show" wherein art is displayed and concluded within an art institution, but it is a collection accumulated somewhere as a tangible and intangible database. After several years, the artist shares the accumulated materials with herself and collaborators and begins the production process created by the sharing system.
---
In "Marking, Scoring, Storing, and Speculating (On Time)," David Joselit seeks to answer the question of what distinguishes contemporary painting. David Joselit considers the rough outline of the early 20th-century Western painting history, spanning Paul Cézanne, Marcel Duchamp, and Jackson Pollock, and the image network. Joselit contrasts Maurice Merlot Ponty's writing on Cézanne, in which he linked painting and "doubt," with Duchamp's speculation, and links the brushstrokes of Pollock and Robert Rauschenberg with becoming-picture. After numerous couplings, he arrives at the conclusion that art today go through positive conflicts, friction, and relationships beyond itself, rather than within the canvas. Leslit's final statement is that contemporary painting "scores time." Translating this article, I was intrigued by the fact that the author linked painting with time, rather than photography and video, which are media specifically designed to deal with time. I came to understand the act of "scoring" best when I was swimming. As I made my laps between one end of the pool to the other and counted the numbers out loud, "one, two, three," numbers that every child knows, I felt my body moving and my eyes working, and I felt as though I was spending time that was tangible and explicit. Juri Lee's painting, image, manufacturing, and experience is like that time. She is not a giant whale swimming across the painting surface alone. She crisscrosses the vast sea of data and seeks ways for the pieces to connect with and converse with other contemporary entities. She is an honest manufacturer and an artist with a tool for dialogue of images that do not speculate.
---
1)We must hear more from the author about the program. "Deconstructing my two-dimensional composition method, certain rules are found, and Sunset Valley Simulater is a program based on these rules. This program is a tool for image production and is itself art." (Juri Lee, 2018)
2)Artist's statement, "The Status of Contemporary Korean Art-Special Conversation on Today's Media with Kim Si-won, Moon Isaac, Min-ha Park, Juri Lee," Quarterly Audiovisual No. 2 (2018): 47.
---
※ This content was first published in 『2020 MMCA Residency Goyang: A Collection of Critical Reviews』, and re-published here with the consent of MMCA Goyang Residency
---

Seewon Hyun
Working as an independent curator, she plans exhibitions and writes on images and art.