---
Taking in the sight of the colorful matter hanging on the walls, I find myself trying to recall how this new narrative and its opening act pick up where the previous narrative left off. Shin Meekyoung's solo exhibition 《Abstract Matters》 is new (though not entirely unfamiliar) territory for the artist. The flat, non-uniform sculptures of varying size, shape, and color, each bearing a distinct surface, seem to assert a collective identity, as if forming a larger whole. They signal a new turn, foreshadowed in the final scene of Shin's 2018 show 《The Abyss of Time》, in the artist's exploration of sculptural matter and its surfaces.
---
Exhibition View 2021. CR Collective. Image courtesy of the Artist. Image provided by Public Art.
---
Traces of Matter
---
Shin Meekyoung is known for her use of soap as a medium with which she recreates everything from classical sculptures of the human form to cultural and historical relics, both interrogating and intervening in the (historical, cultural, and physical) modes of existence of such works over time. In this way, she seeks to engage, as a contemporary artist, in a referential renewal of sculptural art. Across her body of work—including 〈Translation Series〉, 〈Weathering Project〉, 〈Ghost Series〉, 〈Painting Series〉, 〈Toilet Project〉, 〈Architecture Project〉, and the series 〈A Petrified Time〉—Shin's experimental use of soap to reframe the questions of time and location that arise in discussions of sculpture has challenged existing perceptions of "sculptural thought" as well as the art world's long captivity to conventions in sculptural mediums. This "soap copy" methodology invites us to rethink our perceptions of sculptures as deriving their value from being original or imbued with certain qualities of transcendence or autonomy. Meanwhile, other explorations into the conditions that allow for the remaking of architecture, paintings, or craftwork into sculpture have offered clues as to how the scope of sculpture as a category, continually reinforced from its classical beginnings, can be redefined.
---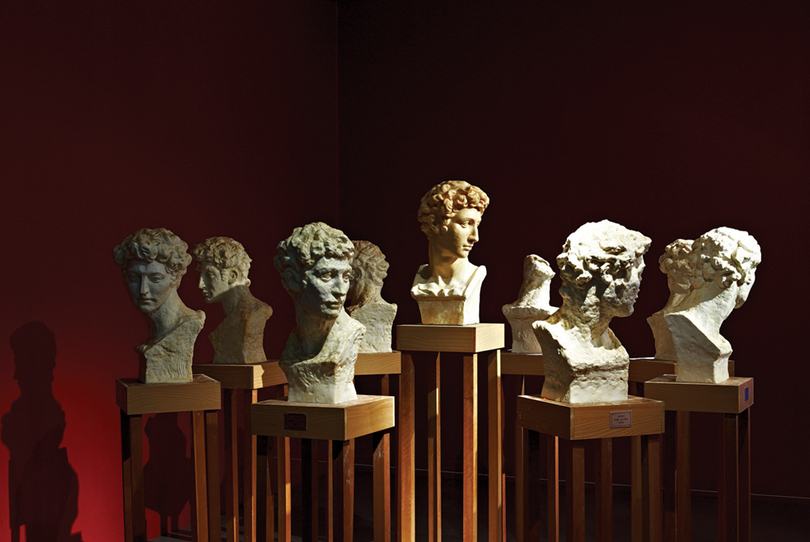 From Translation—Narrative Archive, part of Toilet Project, 2013, MMCA Gwacheon. Image courtesy of the Artist. Image provided by Public Art.
---
In her choice of soap, specifically, and her use of soap in works that appropriate characteristics classically associated with sculpture—such as the stoic, unchanging appearance of a sculpture after countless brushes with potential destruction—Shin shows viewers how the material qualities of soap as sculptural matter both overlay and come into conflict with hierarchies of sculptural form. Indeed, she engages in this referential exercise in most of her work, including 〈Translation Series〉, 〈Ghost Series〉, 〈Weathering Project〉, and 〈Toilet Project〉. Reproducing the sculptural form of historically symbolic works using soap, with soap having no significance beyond serving as a stand-in for conventional sculptural materials, Shim's very process redefines soap sculpture as a new kind of sculptural form. Consider 《The Abyss of Time》, in which she shifts her focus away from the usual aim of sculpture as an effort by a performer/sculptor to translate or imitate a subject—explored at length in her previous works—to develop the idea that soap is no longer a mere sculptural material. In this work, she posits that soap has broken free from the sculptural form or at least free from subordination to it, becoming the substance of sculptural thought itself. In other words, the matter of sculpture becomes the representation of the form of sculpture, or what's left of it.
---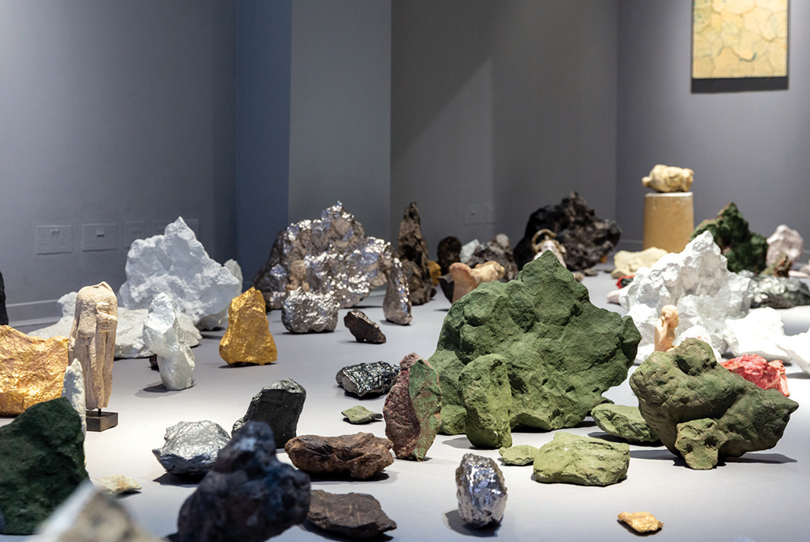 Weather, part of Megalith Series, 2019, installation, variable dimensions, Barakat Gallery, London. Image courtesy of the Artist, Image provided by Public Art.
---
Other examples of this can be seen in 〈A Petrified Time〉 (2006), Toilet Project〉 (2013), and 〈Weathering Project (2018). In these works, soap reproductions of iconic sculptural works and relics, Shin strips away all significance associated with the form or shape of the sculpture, leaving nothing but soap in a state of gradual erosion and alteration. But again, Shin suggests, this is enough to substantially constitute sculptural thought and its considerations of volume, texture, contours, surfaces, gravity, and significance. Indeed, she uses the physical properties of soap to create a physical representation of the weathering and disappearance of the sculptural form. In producing and positioning the sculptural matter, or what remains of it, as a response to the actual disappearance of the sculptural form, Shin creates a concrete occasion to rethink and redraw of the scope of sculpture. Finally, in 〈A Disembodied Soul〉 (2018), made not with soap but with a different material of unclear physical properties, Shin hints at a sculptural matter removed from form and body—in other words, abstract matter.
---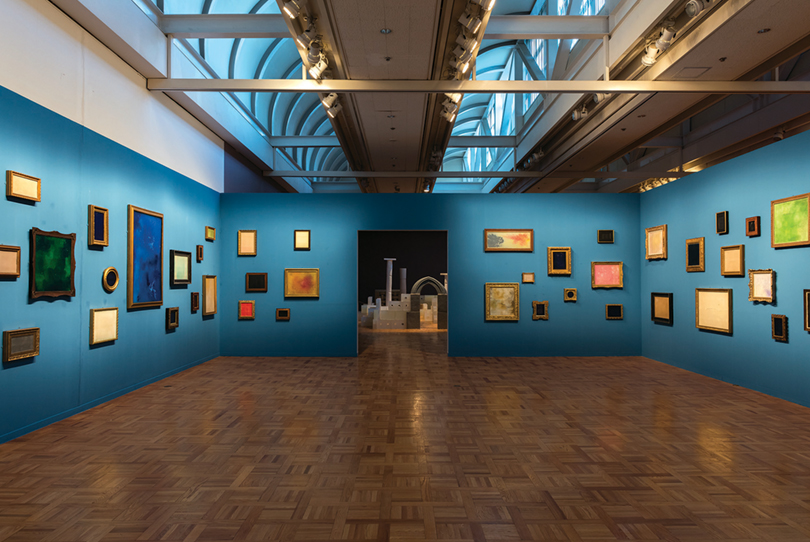 From Ancient Future, part of Painting Series, 2018–2019, Wooyang Museum of Contemporary Art. Image courtesy of the Artist. Image provided by Public Art.
---
Sculptural Matter
---
《Abstract Matters》, which was held at CR Collective, marks a turn for Shin in its reversal of the hierarchy of form and matter she so meticulously established in her earlier works. Whereas she previously subordinated sculptural material to sculptural form through detailed modeling that aimed to engage in sculptural thought and explore the nature of the sculptural form, here there is no reference to the sculptural form at all, not even in concession to sculptural conventions as in some of her past works. It is clear that the artist intends to work with contemporary sculptural materials on their own and, as a sculptor, build on her previous series of experiments and sculptural accomplishments in new ways.
---
This latest exhibition was expected by many to be a retrospective that would span from Shin's early works such as 《The Abyss of Time》 to immersive projects like 〈Ruinscape〉 (2018), but in a surprising departure from her continued recent work that references and reimagines the sculptural form, Shin chose to turn her attention to the matter used to create these forms and their material and abstract qualities. In 〈Ruinscape〉, Shin evokes an ancient historical site, juxtaposing this scene with sculptural forms imbued with potential historical significance. The materiality of soap is emphasized to show the process by which a historical relic attains such significance or legitimacy, with the work ultimately serving as a representation of how sculptural forms made of soap are prone to fracturing, erosion, and fragmentation, leading to the creation of new planes in the sculpture as well as other traces of change. Beginning with works from the 〈Written in Soap〉 (2012) series, which resemble the surfaces of abstract paintings, and continuing on to〈 A Petrified Time: Mirror〉 (2013) and 〈Ruinscape: Wall〉 (2018), the artist creates flat forms to exemplify planes that can be found in sculpture as well as the uniqueness of the sculptural matter's qualities.
---
So, whereas Shin's previous sculptural forms demonstrated her discovery of a compromise between form (artifact) and matter (soap), the twist in 《Abstract Matters》 is that she establishes sculptural matter as something both material and abstract, using Jesmonite (a material used in contemporary sculpture) in place of soap, but not simply to copy (a sculptural act) but rather to engage in sculptural practice. Shin takes old sheets of rubber, Styrofoam, and glass that have been used for various purposes but are now piled in her studio, to create prototypes—that is, molds—for casting Jesmonite. Her sudden shift from soap to Jesmonite, following her use of casting tape in Disembodied Soul, is likely the result of having discovered that Jesmonite is an optimal material for her casting method.
---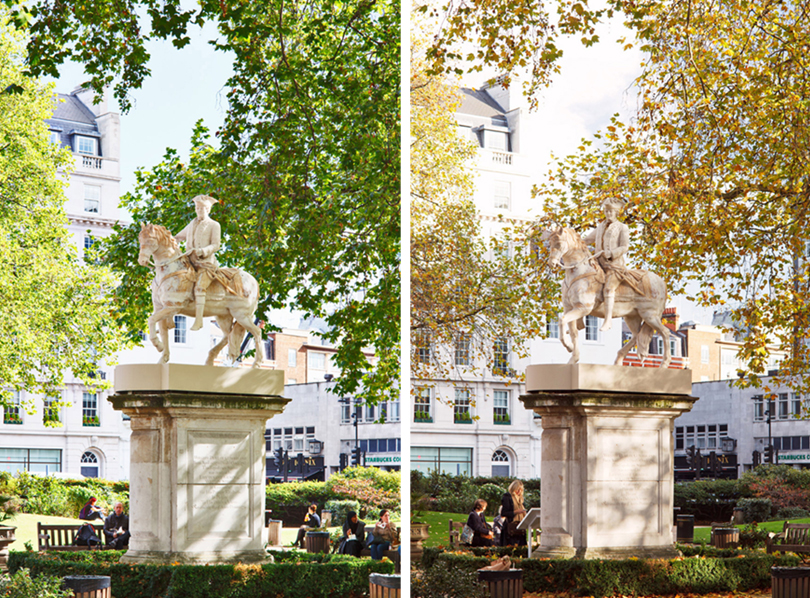 Written in Soap: A Plinth Project, 2012–2016, soap, 3 x 1.7 x 2 m, Cavendish Square, London. Image Courtesy of the Artist. Image provided by Public Art.
---
In her repeated use of soap as a sculptural material, Shin has paradoxically expressed the imperfection of the materials and tools with which sculptural imitation and translation are performed—clearly evident in the qualities of soap—as if pointing to the fact that sculpture is subjected to continued degradation over repeated copying and casting. In the series 《Abstract Matters》 (2020–2021), on the other hand, Shin inverts this dynamic, using (unflawed) sculptural material in a self-referential reimagining to transform the already degraded surface of an object into the surface of a sculpture. In this way, she has moved from imitating the sculptural act to engaging in sculptural practice, (re-)creating a new sculptural form—that is, a form of new surfaces marked by a new material state.
---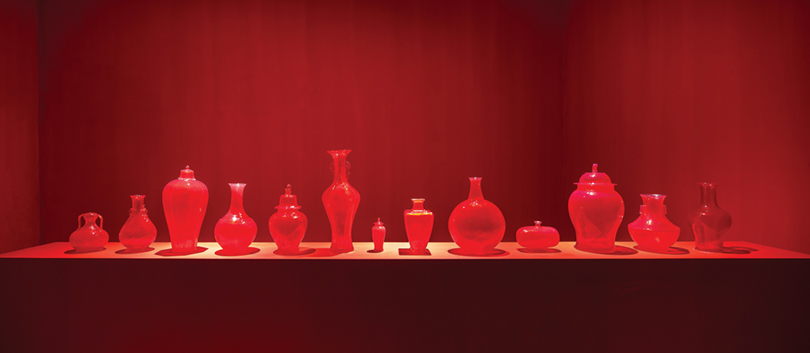 A Cabinet of Curiosities, 2015–2016, part of Ghost Series—Red, 2017–2013, variable dimensions, Hakgojae Shanghai. Image courtesy of the Artist. Image provided by Public Art.
---
Returning to the non-uniform abstract planes of 《Abstract Matters》, it is perhaps more appropriate to call these planes "surfaces." This series of surfaces gives viewers the impression of being sculptural because each flat, two-dimensional view hints at each surface, implicit in their form, being "the surface of something"—the very thing used to cast it. Offering an abstract yet clear look into Shin's process of casting, 《Abstract Matters》 builds on the artist's past experiments to physically render layers of time as well as its materiality, further reinforcing such efforts with a new sculptural understanding of space and surfaces. In other words, 《Abstract Matters》 effectively signals a departure from the conventional scope of sculpture as referring to three-dimensional objects that occupy space by presenting the physical embodiment of Shin's thoughts on time shaped over the process of such departure. However, it is at the same time that Shin performs a return to the understanding of the surfaces of the abstract sculptural form, brought to light by sculptural matter, and to the sense of the space such surfaces measure. .
---
Shin Mee Kyoung Shin Meekyoung graduated from Seoul National University with a degree in sculpture before going on to study sculpture at Slade School of Fine Art and ceramics and glass at the Royal College of Art. She has held countless solo shows both in Korea (i.e. at Sungkok Art Museum, Seoul National University Museum of Art, Kukje Gallery, Space K, Arko Art Center, and CR Collective) and at leading international institutions in the UK, China, Belgium, and more. Her works are featured in the collections of the National Museum of Modern and Contemporary Art, Korea (MMCA); Leeum, Samsung Museum of Art; the Museum of Fine Arts, Houston (US); the Princessehof National Museum of Ceramics (Netherlands); and Bristol Museum & Art Gallery (UK).
---
※ This article, originally published in the Public Art, is provided by the Korea Art Management Service under a content provision agreement with the magazine.
---