---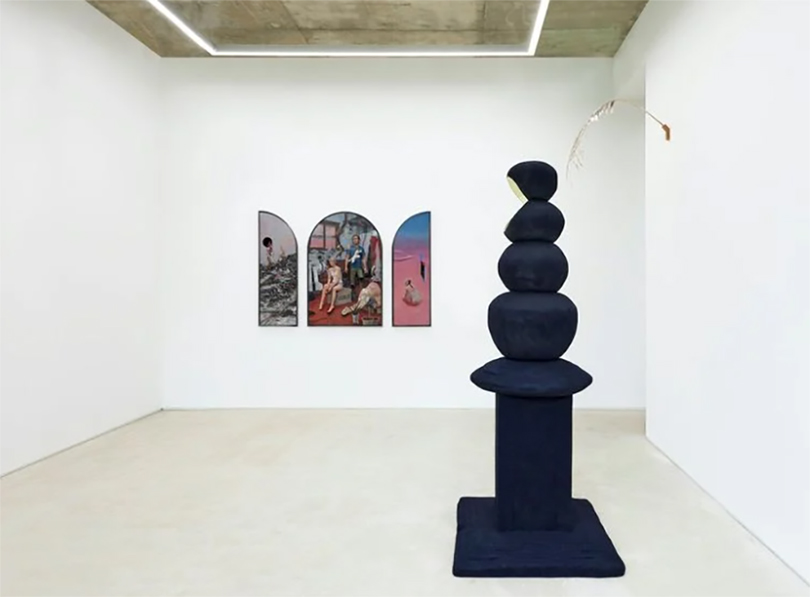 Exhibition view: Gunwoo Shin, ⟨蝕⟩ (Sik), GALLERY2, Seoul (7 October–6 November 2021). Courtesy GALLERY2.
---
From 15 to 17 October 2021, the 20th edition of Kiaf Seoul returns to COEX Hall with online viewing rooms. Elsewhere in Seoul, galleries and museums present the latest examples of contemporary art from artists both working in Korea and abroad. See below to find out more about a selection of exhibitions coinciding with Kiaf.
---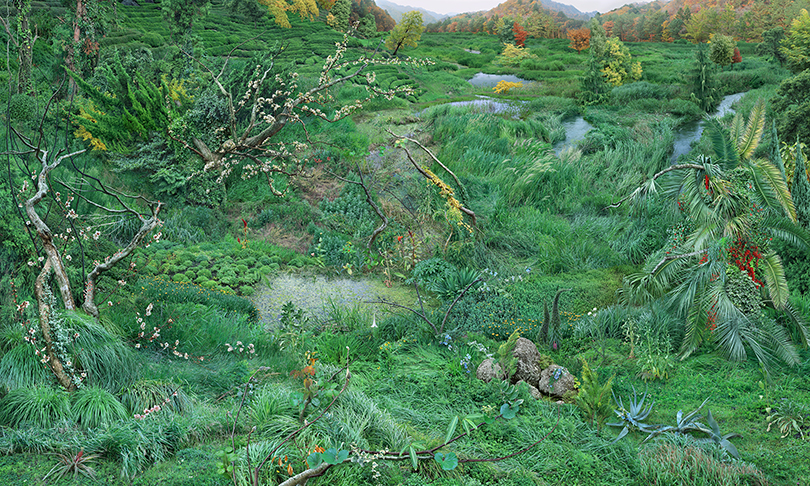 Won Seoung Won, Ordinary Network (2021). C-print. 172 x 287 cm. Courtesy Arario Gallery.
---
Won Seung Won: The Inaudible Audible
Arario Gallery, 84 Bukchon-ro 5-gil, Samcheong-dong, Jongno-gu
5 October–13 November 2021
---
Currently on view at Arario Gallery are recent photographs and drawings by Won Seung Won, who collages imaginary landscapes on Photoshop.
---
Trees, a major protagonist in Won's works, serve as a stand-in for people and their relationships with one another. Take the cluster in Cultivated Childhood (2021), for example, in which trees resemble small individuals gathering for a meeting.
---
In Weighty Chandelier (2021), an assortment of tropical tree leaves, candles, and crystals form an enormous chandelier, becoming a single entity separate from its green surroundings.
---
Musquiqui Chihying, THE LIGHTING (2021). Exhibition view: Museum of Contemporary Art Taipei (27 July–19 September 2021). Courtesy the artist.
---
Transposition and Interweaving Poetic Code
Artsonje Center, 87 Yulgok-ro 3-gil, Samcheong-dong, Jongno-gu
14 October–12 December 2021
---
At Artsonje Center, two concurrent group exhibitions examine the web of ideas and conversations surrounding the human body.
---
Curated by Haeju Kim, Transposition concentrates on the process of generation, exploring the human body through themes of ethnicity, gender, violence, and technology in the works of artists including COOL Magazine, Eusung Lee, and Wung Kyu Park
---
In the same building is Interweaving Poetic Code, initially shown at the Centre for Heritage, Arts and Textile inHong Kong earlier this year (1 May–18 July 2021). Considering the relationship between textile-making and computer programming, the exhibition is the result of a two-year project led by artist Taeyoon Choi and collaborators including Christine Sun Kim, Rebirth Garments, and Aarati Akkapeddi.
---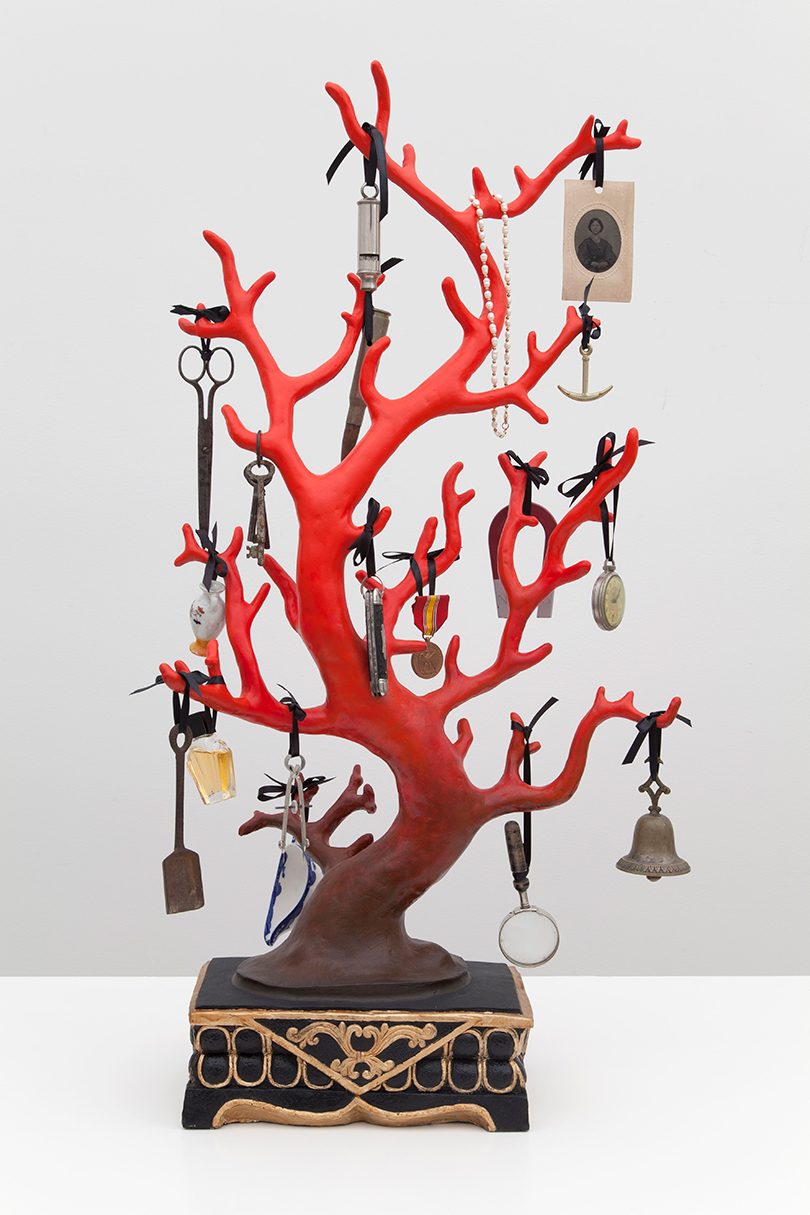 Mark Dion, Blood Coral (2019). Cast resin and assorted items on wooden crate. 207 x 67.3 x 43.2 cm. Courtesy Barakat Contemporary
---
Mark Dion: Sea Life of South Korea and Other Curious Tales
Barakat Contemporary, 36 Samcheong-ro 7-gil, Samcheong-dong, Jongno-gu
8 September–7 November 2021
---
In Sea Life of South Korea and Other Curious Tales, Mark Dion's first solo exhibition in Korea, the amateur ecologist, biologist, and collector of urban and natural specimens is showing both new and existing works with a particular focus on marine life.
---
Among them is Cabinet of Marine Debris (2021), featuring plastic bottles and pieces that Dion gathered from the south and west seaside of Korea, and Blood Coral (2019), an assortment of discarded objects—from a magnifying glass and a pair of scissors to medals—that hang from the arms of resin coral.
---
Appealing as it may look, the work confronts the decreasing number of coral reefs due to global warming.
---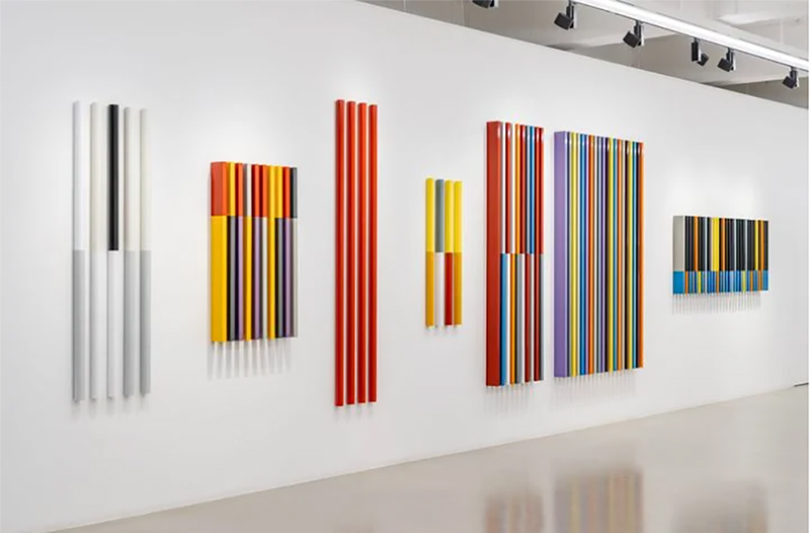 Exhibition view: Liam Gillick, The Knot of Which I Speak Cannot be Knotted, Gallery Baton, Seoul (1 October–5 November 2021). Courtesy Gallery Baton.
---
Liam Gillick: The Knot of Which I Speak Cannot be Knotted
Gallery Baton, 116 Dokseodang-ro, Hannam-dong, Yongsan-gu
1 October–5 November 2021
---
Hypothetical institutes of automation are at the centre ofThe Knot of Which I Speak Cannot be Knotted, the artist's second solo exhibition with Gallery Baton that explores the aesthetics of production.
---
Presented on opposing walls of the exhibition space are texts, arranged into circles: The Institute of the Regulation of Automation, The Institute of the Automation of Regulation, and The Institute for the Automation of Automation—a linguistic play that alludes to the various organisations that make up society.
---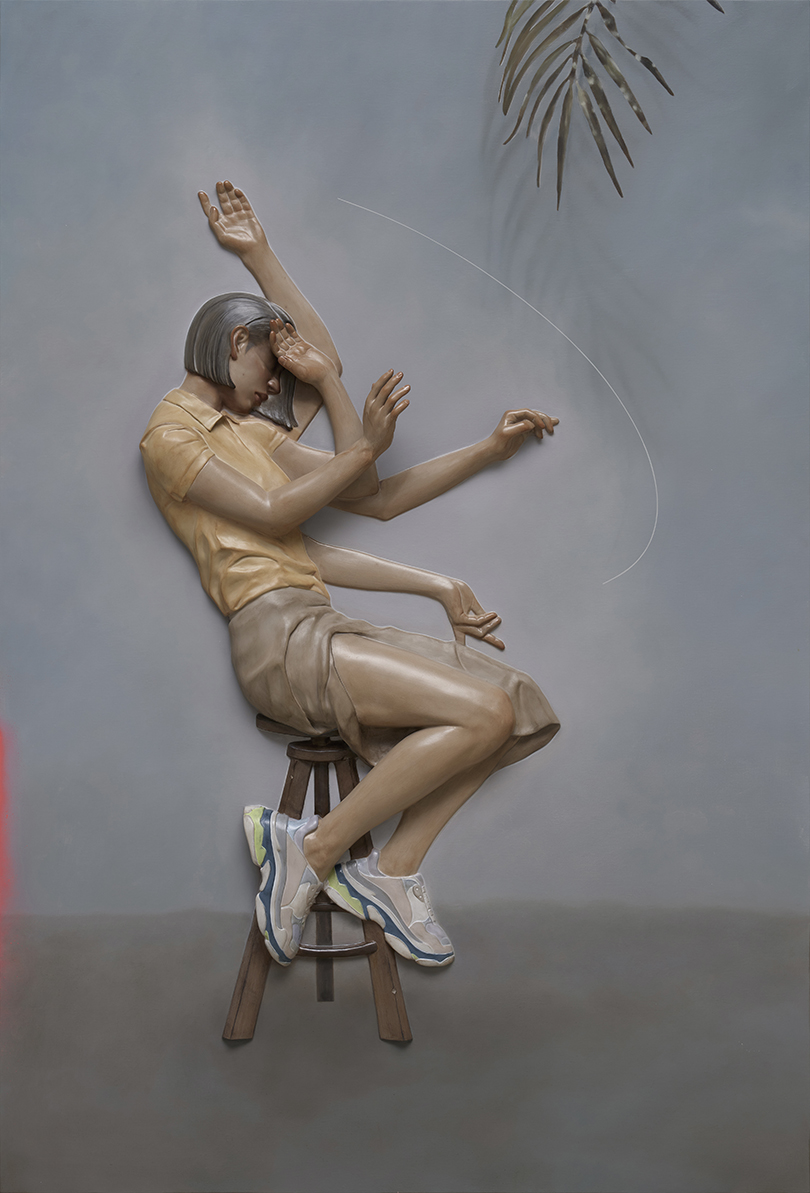 Gunwoo Shin, Thousand Hands (2021). Oil painted resin on canvas. 140 x 95 cm. Courtesy GALLERY2.
---
Gunwoo Shin: ⟨蝕⟩ (Sik)
GALLERY2, 204 Pyeongchang-gil Jongno-gu
7 October–6 November 2021
---
Shin's current solo exhibition at GALLERY2 focuses on the concept of sik (蝕), a Sino-Korean character that means 'to eat into, erode, encroach upon, or eclipse'. In his works, many of which feature mythological and religious iconography, sik is manifested in figures who have reached or seek enlightenment.
---
In the relief-sculpture painting Thousand Hands (2021), for example, a seated figure resembles a modern-day Guanyin with multiple arms, representing the compassion of all Buddhas.
---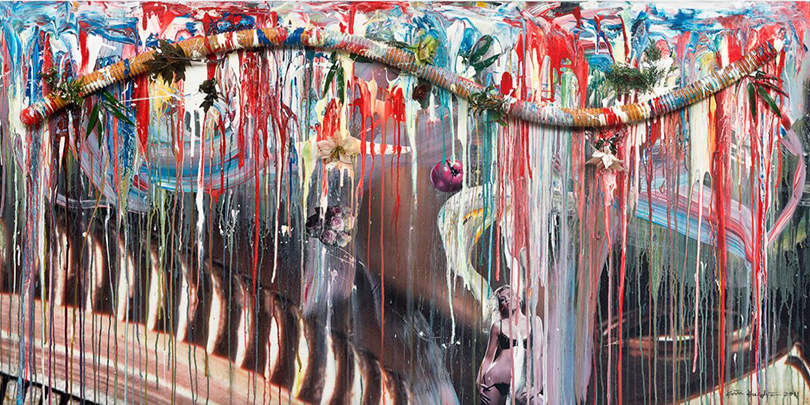 Kim Kulim, Yin and Yang 12-S. 28 (2012). Mixed media on canvas. 130.3 x 162.2 x 11.2 cm. Courtesy Gana Art.
---
Kim Kulim: Yin and Yang
Gana Art, 97 Pyeongchang-dong, Jongno-gu
17 September–17 October 2021
---
Active since the 1950s, Kim Kulim is credited with pioneering performance, happenings, mail art, land art, and installation art in Korea.
---
Kim's experimental film The Meaning of 1/24 Second (1969), made with Kim Chae Seop, wheels through 24 image frames in one second without yielding any suggestions for a narrative, emphasising his longstanding concern for concept, process, and time.
---
Kim's current exhibition at Gana Art revolves around the 'Yin and Yang' series, which he began in the late 1980s in an exploration of the opposing and philosophical concept of Yin and Yang. Often part-painting and part-object, the 'Yin and Yang' works impart the artist's belief that all things in this world are composite of various different materials.
---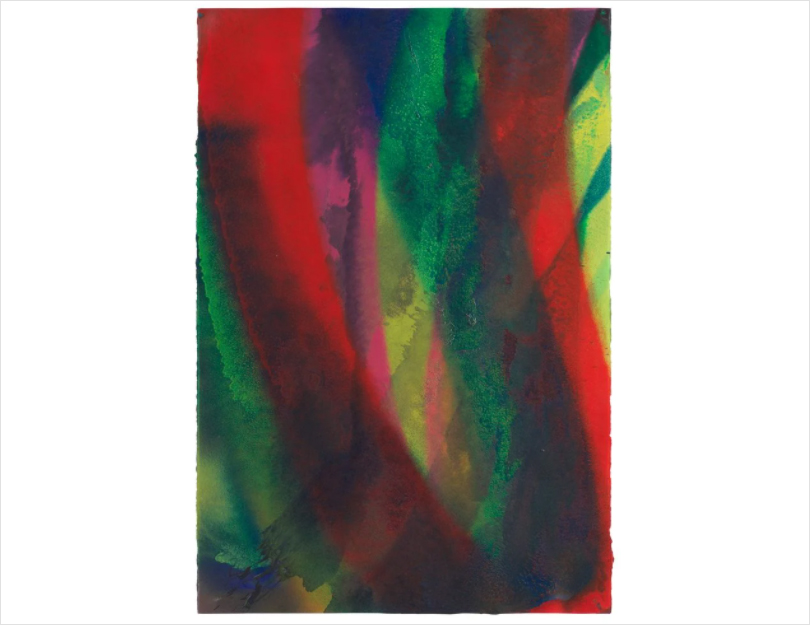 Katharina Grosse, o.T. (2020). Acrylic on paper. 101 x 67 cm. Courtesy König Galerie.
---
Katharina Grosse: From the Foam's Fudge Edge**
König Galerie, 412 Apgujeong-ro. Cheongdam-dong, Gangnam-gu
13 October–21 November 2021
---
Katharina Grosse uses spray guns to apply paint to various surfaces, including canvas, walls, drapes of fabric, buildings, and land itself, creating terrains of suspended, painted fabrics.
---
*OnMumbling Mud*, her 2019 solo exhibition at the chi K11 art space in Guangzhou, she talked to Ocula Magazine about her interest in borders as zones that 'overlap, intertwine, and are compelled within a narrow space to engage in competition'.
---
At König Seoul, which opened its doors this April, Grosse examines the liminal spaces at a more intimate scale. Mostly untitled, the recent works on paper were painted while the surface was still wet. Something recognisable may begin to emerge in these flurries of colour, but they are equally quick to disappear, perpetually occupying border-spaces.
---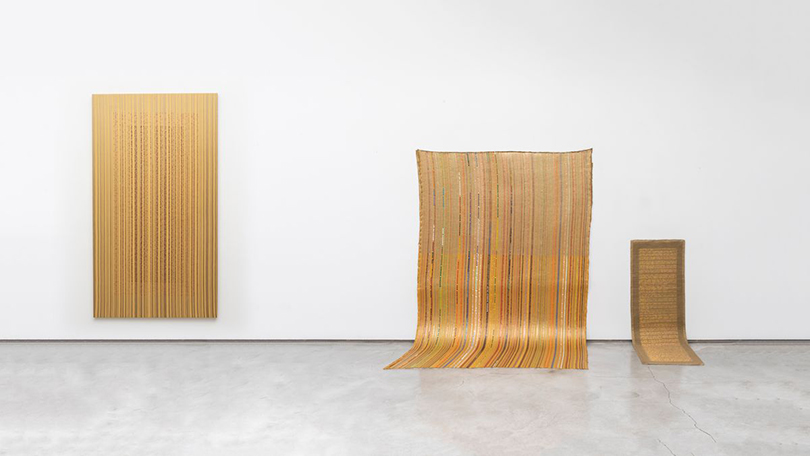 Exhibition view: Juhae Yang, g.gallery, Seoul (4 September–12 October 2019). Courtesy g.gallery.
---
Juhae Yang and Suyon Huh: Navigators
g.gallery, B1, 748 Samseong-ro, Cheongdam-dong, Gangnam-gu
12 October–10 November 2021
---
At g.gallery, the joint exhibition Navigators considers recent works by two artists who navigate the tides and swells of the art world. The older of the two is Juhae Yang, a pioneer of installation art in Korea, and the other Suyon Huh, an emerging artist whose paperpaste-based works challenge our preconceptions of the world.
---
Yang is showing her coloured spot paintings from 2019, a practice that developed during her studies in France in the 1980s, while Suyon Huh's paintings and sculptures are characterised by their rough textures resulting from her use of paperpaste made with plastic, paper waste, and aluminium.
---
Using art to navigate their surroundings, Yang's coloured spots were developed as an alphabetic system to aid communication when she was still unfamiliar with the French language, while Suyon Huh uses abstraction to allude to conflicting and contradictory understandings of the world.
---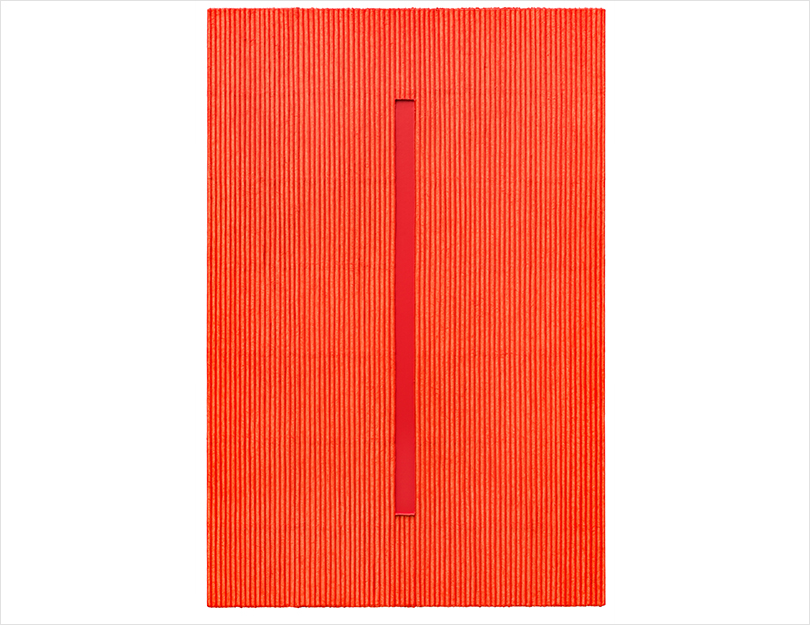 Park Seo-Bo, Ecriture (描法) No. 080821 (2008). Mixed media with Korean hanji paper on canvas. 195 x 130 cm. Courtesy the artist and Kukje Gallery. Photo: Park Seo-Bo.
---
Park Seo-Bo
Kukje Gallery K1, 54 Samcheong-ro, Jongno-gu
15 September–31 November 2021
---
At Kukje Gallery, Park Seo-Bo presents recent works from his ongoing 'Ecriture' series. Initiated in the 1960s, the 'Ecriture' paintings are famously made by the artist repetitively incising marks into wet hanji or Korean paper and paint using such tools as pens, stylus, rulers, and sticks.
---
While Park's early 'Ecriture' works emphasise the traces of his hand, recording evidence of his labour and time, the later works at Kukje Gallery show his newfound commitment to colour and texture.
---
The resulting paintings are contemplative and surprisingly sculptural, in which dried edges of pushed paper and paint cast striking shadows. As the artist told Ocula Magazine in 2018, he believes that 'just looking at a certain kind of painting should stabilise the audience and restore them to peace'.
---
Julian Opie, Deer 3 (2020). Auto paint on aluminium with metal base. 103 x 132 x 2.5 cm. Courtesy the artist and Kukje Gallery.
---
Julian Opie
Kukje Gallery K2, 54 Samcheong-ro, Jongno-gu
7 October–28 November 2021
---
Also on view at Kukje Gallery is Julian Opie's largest solo exhibition with the gallery, spanning K2 and K3 into the garden. Comprising 31 recent paintings and sculptures, it continues his long-term study of the production and perception of images.
---
Among the artist's common subjects are pedestrians in profile portrayed in a flat, graphic style, as seen in animated LED films and back-lit paintings such as Winter night 2 and Nighttime 1 and aluminium sculptures including Two bags fur hood (all 2021).
---
Beyond urban dwellers, Opie depicts animals in this show, including the aluminium sculpture Deer 3 (2020) and light painting of Rooster 3 (2021), while K3 and the garden zooms in on urban architectures.
---
※ This article was originally published in OCULA, and reposted under authority of OCULA
---
---
Sherry Paik
Editorial Assistant, [Ocula]