---
TheArtro has drawn up three feature articles on Korea's rich cultural infrastructure to shed light on Korea's changing art scene. A variety of attractive spaces, art galleries, and museums are scattered throughout Seoul and host diverse art events. Yet new exhibition venues and art projects are comparatively less known and the art content is mainly focused on the exhibitions of large-scale public or private art museums and international art events. Thus, to exemplify the growing diversity of Korea's art scene, TheArtro presents three serialized articles under the select keywords "public art", "space" and "artwork." The first article, "Publict Art," introduces public art around Korea. It covers public art projects aimed at creating cultural spaces in cities and a wide variety of public art that people can encounter in everyday life. The second article, "New Spaces," features leading art sites in the nation's major cities—Seoul, Busan, Daegu, and Gwangju—to highlight the many art spaces that have newly emerged or remain unknown. Finally, to shed light on diverse urban aspects, the third article, "Cities in Artworks," examines the works of artists who explore the theme of "city." Together, these three articles seek to promote not only the relatively unknown aspects of Korea to the world, but aim to also enhance the global recognition and understanding of the nation's burgeoning art scene. These three articles can serve as a guide to Korea's cultural attraction for art lovers and visual arts enthusiasts visiting Korea from all over the world.
---
The second article focuses on the leading Korean cities for art. In addition to well-known national, public, and private art museums, new exhibition spaces have emerged. The cities featured here—Seoul, Busan, Daegu, and Gwangju—offer diverse sights and host a variety of international art events including biennales and art fairs. These spaces reflect each metropolis's unique culture, historical context and quirks of its location. This article features the spaces that illustrate the unique traits of each city's art area, and the events and exhibitions held there.
---
Art Spaces(1) SEOUL
Untitled & Titled Spaces
---
Seoul is one of the most spirited cities in the world. As we all know, Seoul is more than Korea's capital city: it is where nearly all infrastructure is concentrated, a home and playground for artists, and a place of opportunity where novelty is constantly pursued. This is perhaps why Seoul's central hub of galleries, museums, and alternative and new spaces has been attracting remarkable attention from people in the domestic and overseas art scenes. As Asia's position in the art world grows more and more substantial, and especially as cities that previously served as bridgeheads between the Eastern and Western art markets like Hong Kong and Shanghai face new restrictions, the world's attention now seems to be shifting towards Seoul. With domestic and overseas interest now gathering in Seoul, it is time to focus on the city's newly emerging spaces and their ventures.
---
Among Seoul's newly emerging spaces, let us first look at the so-called "newborn spaces," a term used nowadays to collectively refer to facilities that share the general direction of an "alternative space." However, today's newborn spaces are quite different in nature from the alternative spaces that forged a movement in the art scene some 20 years ago.
Alternative spaces were conceived around the late 1960s, as a movement of "alternative culture" arose in the United States in an attempt to overturn the institutionalized establishment; the same time, the art scene began to pay active attention to anti-institutional and non-mainstream practices. Alternative spaces generally were non-profit exhibition spaces that formed a vehement reaction against the museum- and commercial gallery-oriented art scene at the time. In Korea, popular culture and consumer culture proliferated in the 1990s until the unprecedented economic crisis of 1997, when criticism of the excessively downsized art market's recession and the art institution centered on national and public museums. The growth of this criticism motivated the search for alternative spaces and cultures. Korea's first-generation alternative spaces such as SSamzie Space , Alt Space Loop, Project Space Sarubia, and Alternative Space Pool opened their doors to young and emerging artists who struggled to achieve breakthroughs, settling in as a major stream in the art scene by creating opportunities for these artists to shine. Today, however, these alternative spaces have become another set of "established" exhibition spaces while newly emerging independent exhibition spaces are ironically defining their identities by not defining themselves to begin with. We call these spaces "newborn spaces" as they are literally new but also clearly distinguished from the existing "alternative spaces" in terms of trajectory. Rather than proposing alternatives to the art world, the people behind these newborn spaces make them places of opportunity to freely engage in projects and exhibitions as they see fit. As such, among commercial galleries and national, public, and private museums, newborn spaces are laying a unique and independent course in the Korean art world.
---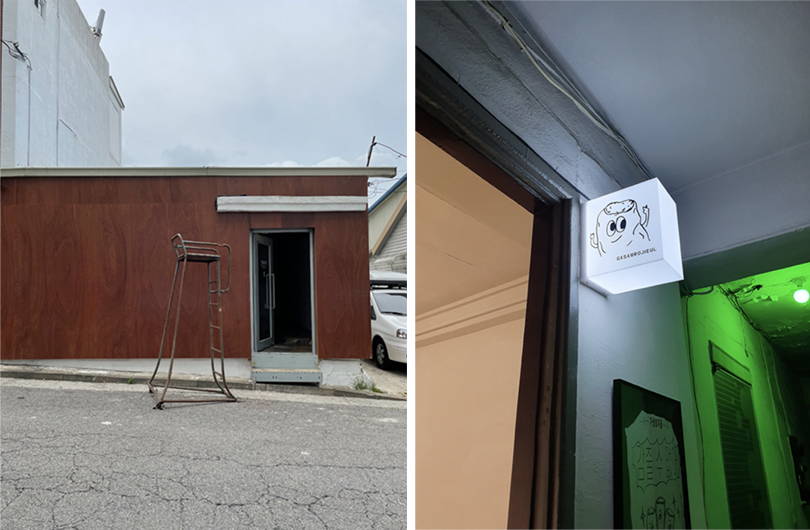 [LEFT] Sahng-Up Gallery(Yong San). Image provided by Sahng-Up Gallery. [RIGHT] Gasamrojieul Exterior view.
---
1st: Center of Seoul City
In Jongno-gu, a district in the heart of Seoul that encompasses Euljiro-dong, Seochon Village, Bukchon Village, and Insa-dong, large and small galleries including the National Museum of Modern and Contemporary Art, Korea (MMCA Seoul) have long held their ground. After Project Space Sarubiasettled down in the area, followed by Audio Visual Pavilion and Artspace Boan1942 in 2013, Jongno-gu became largely populated by experimental exhibition spaces that propose an escape from the "white cube." Among the newborn spaces in Jongno-gu, those in Euljiro have made full use of the neighborhood's 2015 urban regeneration project as well as the local network of active young artists to present works and exhibitions that speak to their generation. Which ones are most worth a visit? The first is ArtSpace Hyeong, which opened inside the Ihwa Building in March 2017 as "an experimental space open to all." With the mission of introducing and promoting rising artists, ArtSpace Hyeong joined hands with Shift in October 2019 to overcome the common shortcoming of these kinds of spaces—a short lifespan—to open another space called Dorok. Sharing one building, ArtSpace Hyeong is a non-profit exhibition space while Shift operates a general gallery and Dorok attracts traffic as a café, and this organic relationship has led to smooth sailing for all.
---

[LEFT] ArtSpace Hyeong, 《New Filler》, Artists: Kim Hanna&Youninsun, Photo by Kim Yeon-je. [RIGHT] 《I am Living in the Opened Land》 Exhibition view, Photo by : Choi Cheol-lin. Image provided by ArtSpace Hyeong.
---
Sahng-Up Gallery, founded by curator Kim Myeongjin in 2017, is also located in Euljiro, though in an easily overlookable spot where one might not expect to find an exhibition space. The gallery presents exhibitions that emphasize the role of the neighborhood and the social and industrial roles of artistic activities. Euljiro is frequented by artists to purchase raw materials or seek technical help, but for a neighborhood lined with engineers, there aren't many exhibition spaces nestled in it. Sahng-Up Gallery, located in this artist-friendly environment, operates around about 10 exclusively signed artists. It also opened a branch in Mullae-dong in 2019 and another in Cheongpa-dong, Yongsan-gu, in July 2021 with the opening exhibition 《then ( )》.
---

Sahng-Up Gallery(Yong San), 《then( )》 Exhibition view. Image provided by Sahng-Up Gallery.
---
Through these three locations, the gallery aims to establish itself as a comprehensive space dedicated to experimenting, supporting artists, and generating artistic and cultural discourses. Over the past five years, a number of other new artist-and-curator-oriented exhibition spaces have opened, including: Gasamrojieul, a name-free art space that holds exhibitions under the premise of anonymity and pseudonyms; Space Cadalogs, which just took its first step this year with the exhibition 《Cracker》, spotlighting artist Park Gwangsoo ; out-sight, which seeks to push the boundaries and explore the possibilities of the present, future, and reality; d/p (discrete paradise), a curator-run space located on the fourth floor of Nagwon Instrument Arcade; and Gallery N/A, a small shop-gallery opened by photographers Park Jinwoo and Oh Jinhyeok .
---

[LEFT] d/p Exterior view. Photo by Kim Han-sol. [RIGHT] Exhibition view of 《CAST》, Lee Byungho, Lim Nosik, Curated by Hur Hojeong. 2021. Image provieded by d/p.
---
In summary, Jongno-gu, and Euljiro in particular, are symbolic of Korea's industrial era, but in another sense have insisted on their historical appearance to become a paragon of a declined urban neighborhood. The city of Seoul has put a lot of effort into attracting visitors to the area while maintaining its historicity by implementing projects such as the 2015 urban regeneration project and the Dasi Sewoon project around Sewoon Plaza. As a result, Euljiro has gained its current reputation as a "hipster town" and become part of a radius of activity of young people in their 20s and 30s, who had long been scarce in the area. For members of the younger generation who seek new and diverse experiences, Euljiro has ultimately become an optimal place for a compositive experience—a neighborhood where the past and the present coexist and scenes of livelihood blend with peculiar artist-created episodes.
---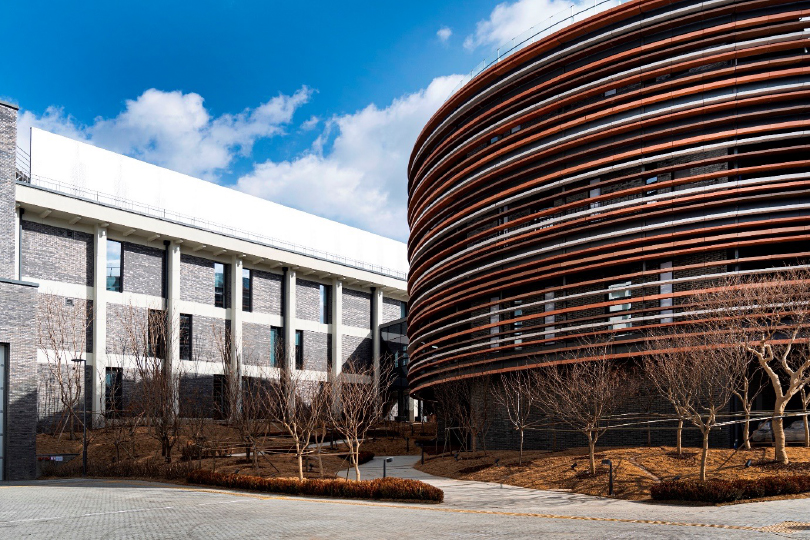 The Seoul Museum of Craft Art. Image provided by SMoCA.
---
2nd: Projects of Seoul City
Jongno-gu is not the only area where new and interesting spaces are clustered. In Pyeongchang-dong, a large-scale "art and culture complex" construction project has been in progress since 2014, with Art Archives, Seoul , about to open its doors within the complex. The city of Seoul has acquired some 48,000 archival artworks and materials—tantamount to 19 collections—since 2017, and Art Archives, Seoul, is the result of the city's steps to sequentially convert the archives into a database and display them. Scheduled to open in December 2021, this space intends to break down the history of Korean visual arts into periods, genres, and other categories to survey the need for research on the historical value and credibility of the materials. The Seoul Museum of Craft Art, which opened last July at the old Poongmoon Girls' High School site, is also noteworthy. As Korea's first museum dedicated to craft art, the museum offers an experience of craft's technical, practical, artistic, and cultural values. Characterized by easy-access, open-style architecture with no wall fencing, the museum houses a collection of some 20,000 traditional and modern works and archival materials.
As a district of Seoul also heavily populated with various administrative agencies, Jongno-gu's role as an art hub is paramount. Once its whole infrastructure—including the galleries in Samcheong-dong, the MMCA, the Seoul Museum of Art (SeMA), various private galleries, and the new museum projects currently underway—is complete, an even wider spectrum of art will be available to enjoy in this area.
---

SAGA 《Kim Jewon : Melting earth, memories welled up》 Exhibition view.
---
3rd: Seongbuk, Seoul
Leaving Jongno-gu, what kinds of spaces can be found in Seoul's other districts? As of today, SAGA and WESS in Seongbuk-gu are prominent, as well as This is not a church, an exhibition space in the renovated Myeongseong Church building. SAGA, run by Ulsan Art Museum curator Kang Yoojin , independent curator Kwon Taehyun , and Amado Art Space's chief curator Park Sunghwan , is evolving into a "storage facility of age-old stories," as implied by its name. Naturally focused on small and large narratives, SAGA examines how individuals and history intersect to form allegories. It recently featured artist Kim Jewon in the exhibition 《Melting earth, memories welled up》 from September 16 to October 10, 2021, establishing a narrative out of landscapes that sense and document history with "home" as a motif. Through this narrative, which penetrated the identity of the space, SAGA drew attention to how individual artists belong to or fail to belong to society, as well as their relationships with others.
---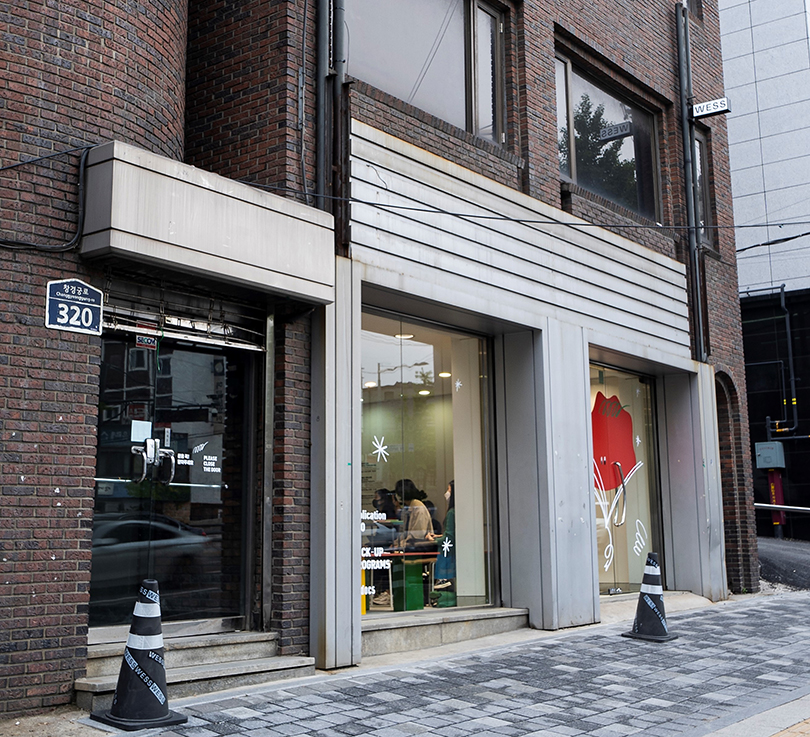 WESS Exterior view.
---
WESS, started by prolific independent curators Jang Hyejung and Song Goeun and co-curated by Kim Junghyun, Kim Sungwoo, Kim Sunok, Kwon Hyukgue, Maeng Jeeyoung, Park Suzy, Shin Jihyun, Lee Sunghui, and Choi Heeseung , opened near Hansung University Station in October 2019. Holding group and solo exhibitions in turn, this exciting space examines the subjects of each curator's recent focus. After the two-year trial period the curators initially decided upon, they fortunately all agreed to continue operating the space, so more exhibitions are on the way. As many curators are involved, WESS can be defined as a space that demonstrates the power of collective thought, showcasing unlimited genres of artwork—including video, installation, painting, sculpture, and performance—to advocate for the spirit of "separately but together."
---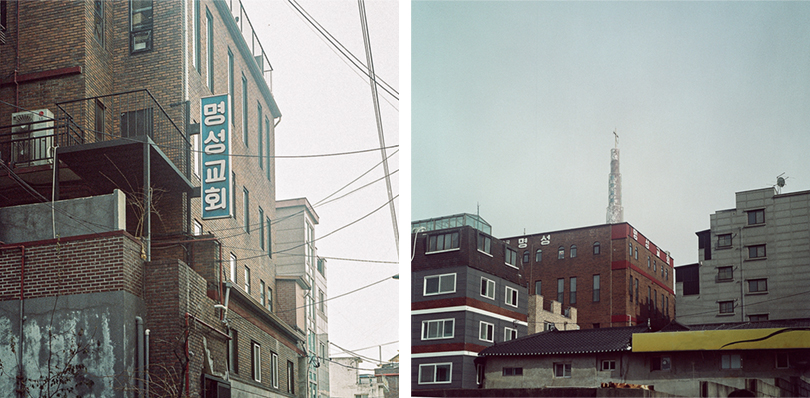 This is not a church Exterior view, Image provided by This is not a church
---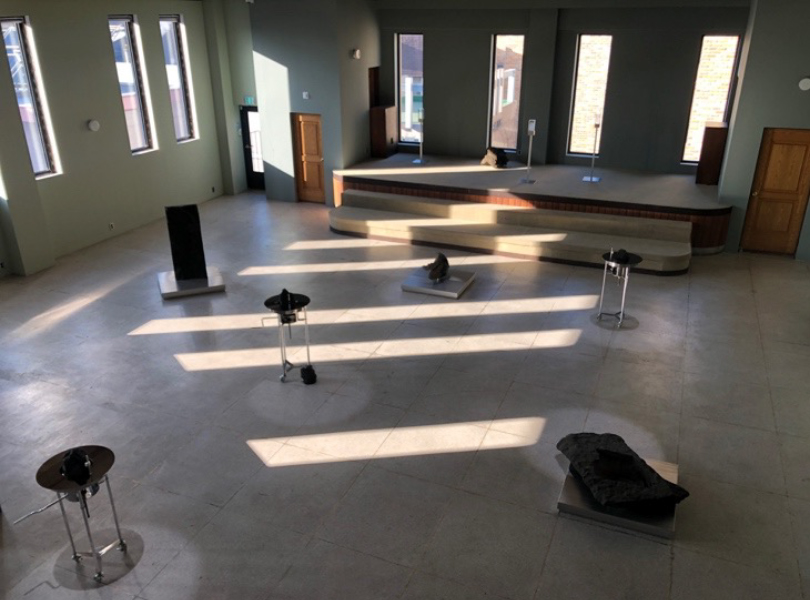 《The Realness of Stone》 Exhibition view, 2020. Image provided by This is not a church
---
On the other hand, This is not a church, which has been at the center of the Seoul art scene's attention since opening in August 2020, is a renovated space that retains key features of its former body Myeongseong Church. And as declared by the artist group Our Labor (Lee Chunghyung , Lee Yeseung, and Chung Kihun ) in charge of the space, it focuses on the idea of "community"—considered the original mission of a church. With recognizable characteristics of the old church intact, it piques local residents' curiosity about the happenings inside and casually invites visitors to encounter its spread-out exhibitions. Inside the space, which is no longer a chapel, visitors experience a fluid expansion of thought and are made to realize that appreciating contemporary art is ultimately like holding a service or a ceremony in its name. As described, Seongbuk-gu is among the districts at the center of the art scene's attention. With the emergence of similar spaces between Hyehwa Station and Hansung University Station over the past three years or so, the area is gradually stealing the attention once fixed on Jongno-gu and the Hongik University area.
---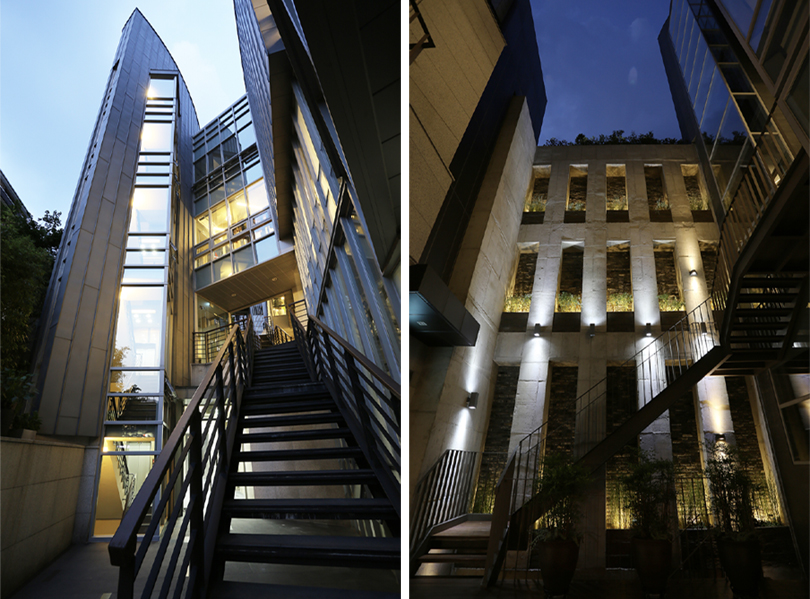 Thaddaeus Ropac.
---
4th: Yongsan, Seoul
Let's go on to explore Yongsan-gu. This district, where esteemed overseas galleries and established domestic exhibition spaces from Pace Gallery Seoul and Gallery Baton to Various Small Fires (VSF) and Thaddaeus Ropac are clustered, is also home not only to the aforementioned Sahng-Up Gallery but also museums and galleries run by large corporates—namely the Leeum, Samsung Museum of Art (Leeum), the Amorepacific Museum of Art, and Storage by Hyundai Card. Diverse forms of newborn spaces are also proliferating in the area. As mentioned upfront, Seoul is closely watched by artists and art lovers around the globe these days. With museums and commercial galleries like the Leeum, Storage by Hyundai Card, Gallery SP, P21, Pace Gallery Seoul, Gallery Baton, Foundry Seoul, Thaddaeus Ropac, and VSF nestled along each side of Hannam-daero, and the numerous newborn spaces adding unique color in between, the area is taking on a distinctive artistic characteristic.
---

the Leeum, Samsung Museum of Art (Leeum).
《Human—7 Questions》 EXhibition view.
---
Yongsan-gu has seen business go bleak and visits die down recently due to COVID-19; however, good news comes with the reopening of the Leeum. The museum, which had operated practically without business after director Hong Rahee's resignation in 2017, closed down completely in February 2020 due to the spread of the pandemic. Over the course of approximately a year and seven months, the museum was refurbished under the leadership of Lee Seohyun, the second daughter of late Samsung chairman Lee Kunhee and head of the Leeum's new operation committee, and is now open again, announcing its glamorous revival with an opening exhibition spanning a comprehensive list of works from the ancient to contemporary periods. The expansive collections of artworks donated to various institutions after Chairman Lee's passing and premiered in special exhibitions at museums around Korea have enjoyed a public spotlight. And with the Leeum open once again, art lovers should make sure to check out 《Human—7 Questions》 and the exhibition of the museum's collection to see how it has been updated.
---

**[LEFT]**The 8th Amado Exhibition Award ≪Shadowland≫ exhibition view. [RIGHT] The 8th ≪ the Amado Annualnale≫ Exhibition view, 2021. Image provided by Amado Art Space
---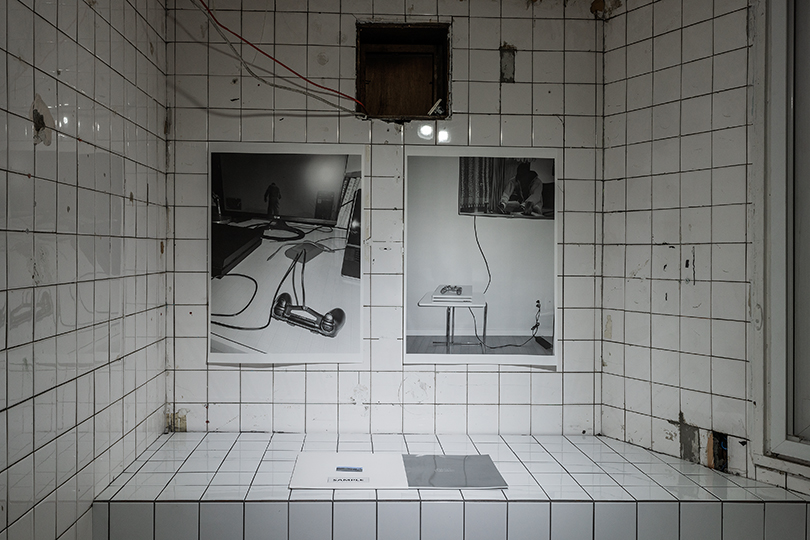 The 8th Amado Photography Award ≪192 Shot of Los Santos and Blaine County≫ Image provided by Amado Art Space
---
Other art spaces worth a visit in Yongsan-gu include Amado Art Space, to begin with. A kind of community space opened in June 2013 to vitalize critique on artistic processes and discourse, the space allows curators and artists of various generations to intermingle. Hosting annual exhibitions and contests such as the Amado Annualnale, Amado Photography Award, and Amado Exhibition Award, the space highlights the roles of curators and creators in fostering art mediators.
---
Among additional spaces attracting attention in this area, Offerscent opened on Usadan-ro in 2019 and presented the group exhibition 《Ddang!》, featuring Korean, Japanese, and German artists Shin Changyong, OLTA, Woo Hannah, Ito Hisaya, Joo Jaehwan, and Tim Löhde. Keen on the cultural, religious, and racial mix specific to the neighborhood of Itaewon, Offerscent marked its first step as a cultural and art project complex. It later organized a collaborative exhibition with young mediators, including curator and researcher collective Yellow Pen Club and curatorial collective Not Good Korean, to test the space's possibilities. The space can also be rented to host events such as exhibitions, plays, workshops, and meetings when there are no ongoing in-house feature exhibitions.
---
Windmill, run by artists Moon Boram, Jung Myungwoo, and Cho Ikjung, is dedicated to performance. As a "playground" and "lab" where artists can develop their individual identities, the space is a platform for collaboration that hosts various shows, performances, studies, and workshops. Through these events, it has established a network of people involved in different art fields and designed a blueprint for their mutual growth as reliable and supportive colleagues. Their very first event 《Windmill Screening Vol.1 Stand By》, held in February 2021 and featuring Kim Nuiyeon & Jeon Yongwan , Kim Chanwoo & Choe Yoonsuk , Nam Hwayeon , Ro Hyeree, Moon Boram, Yoo Jiyoung , Lee Yanghee , Jung Myungwoo , Cho Ikjung, Choi Yun , and Hong Minki , explored a hodgepodge of conflict and reconciliation, boundaries and boundlessness, by highlighting the disparate stances of performers, performance documenters, and audiences. From September 10 to 26, it presented 《Side-Walk》 by Son Hyunseon, Yoon Jiyoung, Lee Eunhee, and Chang Seoyoun g, examining the potential of the human body, which both relates to and distinguishes itself from others.
---
《This is not a story about OO》(2022.02.04-02.18), Curated by Lee Hyo jung, Image provided by Villa Hamilton
---
Then, there is a space whose exhibition on non-fungible tokens (NFT) took the art world by storm this year: Villa Hamilton. The exhibition 《NFT Villa》, co-curated by artist Hong Haksoon and Yoo Jinsang , director of Villa Hamilton and a professor of intermedia art at Kaywon University of Art & Design, and co-developed by some 86 artists around Korea amassed through Kakao Open Chat and the social audio app Clubhouse, served as an opportunity to canvass people's possible responses to the new art ecosystem.
---
Home to Seoul's internationally renowned galleries, museums, and many large-scale cultural complexes, Yongsan-gu is already actively featuring Korean and overseas artists. For this reason, the spaces that have thrown their hat into the ring in this district often hold exhibitions that meld the diverse cultures Yongsan-gu is known for or deal with more subdivided genres and themes.
---
As rapidly as Korea has achieved modernization and industrialization, Korean art and the domestic art scene continues to transform to boost cultural experience. Commercial galleries, new national and public museums, and private museums, not to mention the countless "newborn spaces" that prove that any place can be a place of exhibition, may differ in character, but their ultimate goal is to activate and vitalize the Korean art scene starting in Seoul, the heart of the country. Looking at the network formed by these establishments, which are all headed in different directions yet complement each other's strengths and weaknesses, we are reminded of Korean contemporary art's limitless potential for growth.
---
Related articles
[Art in City] Public Art(1) Borderlessness in Public Art
[Art in City] Public Art(2) Public Art in Seoul - How Well Do You Know Them?
[Art in City] Art Spaces(2) Busan - Is Busan Really Culturally Alienated?
[Art in City] Art Spaces(3) A Guide to Daegu's Exhibition Venues: Latest Edition
[Art in City] Art Spaces(4) Gwangju's Cultural Topography Meets Its Urban History
Jeong Song
Noblesse editor