Features / Focus
[Art in City] Art Spaces(2) Busan - Is Busan Really Culturally Alienated?
posted 25 Feb 2022

---
TheArtro has drawn up three feature articles on Korea's rich cultural infrastructure to shed light on Korea's changing art scene. A variety of attractive spaces, art galleries, and museums are scattered throughout Seoul and host diverse art events. Yet new exhibition venues and art projects are comparatively less known and the art content is mainly focused on the exhibitions of large-scale public or private art museums and international art events. Thus, to exemplify the growing diversity of Korea's art scene, TheArtro presents three serialized articles under the select keywords "public art", "space" and "artwork." The first article, "Publict Art," introduces public art around Korea. It covers public art projects aimed at creating cultural spaces in cities and a wide variety of public art that people can encounter in everyday life. The second article, "New Spaces," features leading art sites in the nation's major cities—Seoul, Busan, Daegu, and Gwangju—to highlight the many art spaces that have newly emerged or remain unknown. Finally, to shed light on diverse urban aspects, the third article, "Cities in Artworks," examines the works of artists who explore the theme of "city." Together, these three articles seek to promote not only the relatively unknown aspects of Korea to the world, but aim to also enhance the global recognition and understanding of the nation's burgeoning art scene. These three articles can serve as a guide to Korea's cultural attraction for art lovers and visual arts enthusiasts visiting Korea from all over the world.
---
The second article focuses on the leading Korean cities for art. In addition to well-known national, public, and private art museums, new exhibition spaces have emerged. The cities featured here—Seoul, Busan, Daegu, and Gwangju—offer diverse sights and host a variety of international art events including biennales and art fairs. These spaces reflect each metropolis's unique culture, historical context and quirks of its location. This article features the spaces that illustrate the unique traits of each city's art area, and the events and exhibitions held there.
---
Art Spaces(2) BUSAN
Is Busan Really Culturally Alienated?
---
Busan's art landscape can be classified largely into four categories. First, there are public art museums, of which Busan has two: the Busan Museum of Art, which opened in 1998 in Haeundae, the heart of East Busan, and the Museum of Contemporary Art Busan, which opened in 2018 on the pristine Eulsukdo Island in West Busan. Although there is no major distinction between the two, the Museum of Contemporary Art Busan focuses on new media exhibitions and serves as the main venue for the Busan Biennale, a modern art festival. The second category is art fairs. Three or four are held annually, the main events being Art Busan and the Busan Annual Market of Art (BAMA). Art Busan was hosted by BEXCO for about three years before forming its own legal entity; over the past 10 years, it has grown and gained recognition as an independent organization. Initially organized by local galleries, BAMA is hosted by the Galleries Association of Busan and has been growing rapidly since the recent establishment of an organizing body. The Busan Fine Arts Association also hosts an art fair, which, along with others in the area, is a topic for another article.
The third category is the Busan Biennale, now in its 20th year. It was not until 2002 that event was first held under the name Busan Biennale. According to history, before 2002, there was the Busan Youth Biennale, which was launched in 1981. Stories related to the Busan Youth Biennale have been relayed by later generations of artists. It is different from other biennales in that it is hosted by the Busan Biennale Organizing Committee, which organizes the Sea Art Festival and a modern art festival in alternate years. The latter is the widely known Busan Biennale.
---

[LEFT] 2021 Art Busan [RIGHT] 2021 Busan Annual Market of Art(BAMA) ⓒ BAMA
---
Busan is indisputably the representative port city of Korea. All art-related visitors to Busan will inevitably say, ""Let's go to the sea," at some point during their stay. The sea symbolizes Busan. The Sea Art Festival, hosted by the Busan Biennale Organizing Committee, is an iconic festival with a history of over 30 years—much longer than that of the Busan Biennale. The Busan Biennale Organizing Committee hosts both festivals in alternate years. The most recent Sea Art Festival was held successfully in October 2021 on Ilgwang Beach by a small fishing village in Gijang-gun. With a young Indian curator in her 20s as the festival's first-ever foreign artistic director, the event presented many possibilities and issues for consideration. Let's briefly go back in time. In 1981, young local artists founded the Busan Youth Biennale, Korea's first biennale, which was succeeded by the Sea Art Festival in 1987. The festival continued for over 10 years on Gwangalli and Haeundae Beaches before taking the back seat when the geographical expansion of Haeundae New Town spawned numerous other events. The festival relocated to Songdo and Dadaepo Beaches in West Busan and again to the tip of East Busan in 2021. Its content and format are bound to change over the years, but the Sea Art Festival maintains its sense of place rooted in the sea.
---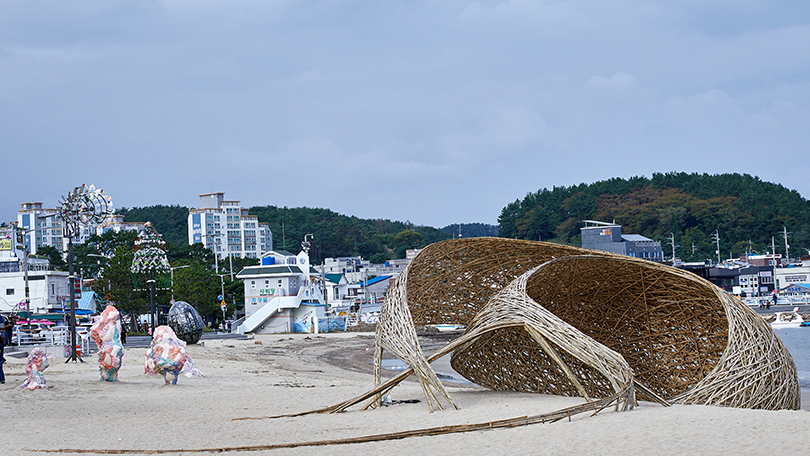 2021 Sea Art Festival ⓒ Busan Biennale
---
Similar to Korea's overall art scene, starting in the 2000s, Busan's art sector began to develop devices to accommodate contemporary art as the zeitgeist demanded. In fact, the launch of the Pusan International Contemporary Art Festival (PICAF) in 1998 led to the Busan Biennale as we know it today. When Alternative Space Seom opened around this time, locals began to use the term "alternative space" to refer to new art facilities. Renamed Non-Profit Art Space Bandee (hereafter, just "Bandee"), it engaged in diverse experiments for 18 years before closing for good in the autumn of 2011. But this is a story that should be discussed in another column, so I will leave it here. Openspace Bae is a creative collective that has been operating since around 2000. The first in the region to offer a residency program, it is still active in the old downtown area. Including Space Heem, many facilities that have the characteristics of alternative spaces are emerging in Busan, along with places that are a little different from what other regions would call "new spaces." There have been many discussions on the role of alternative spaces in the art scene in Korea. Naturally, methods practiced in Seoul take on a different color in Busan. Here's a summary of the establishments in Busan that focus on the visual arts.
---

Carin Gallery. Image provided by Carin Gallery.
---

Gallery Artsoop exhibition views. Image provided by gallery Artsoop.
---
1. Haeundae: The Home Base for Commercial Galleries?
Even today, art spaces regularly appear and disappear in the Haeundae region. This area is famous as the location of the Busan Museum of Art and Space Lee Ufan, but it is also the cradle of commercial art galleries. During its heyday, over 50 galleries were active in the area; today, about 20 galleries are still operating. It would not be far-fetched to say that most of Busan's commercial galleries relocated to the New Town area when its development began, unable to resist the flow of capital. Clustered around Busan's Dalmajigogae Pass are the long-standing Johyun Gallery, Gallery Joy,Gallery Mac, and Gallery Idm. Recently, Gallery Carin, located in Merciel, is also taking an active step forward with its new name.
Layered, a multipurpose facility, can also be found on Dalmajigogae Pass, and over the hill lies Cheongsapo, a base forGallery ArtSoop that regularly hosts exhibitions of local artists. Rather than seeking out experimental projects, Gallery ArtSoop contributes to the Busan art scene by introducing and selling artworks. Mostly focusing on monochrome art, DATE Gallery has been open for a while near Haeundae Beach. Numerous small-scale commercial galleries also call this area home, including Yoojin Gallery, Art Gallery U and Gallery Fine, which has introduced the most local artists compared to other galleries during its long history. The Goeun Museum of Photography and BMW Photo Space are also based in this area. These two photography-focused galleries have been sponsored by a foundation for years.
---
DATE Gallery exhibition view. Imgage provided by DATE Gallery.
---

[LEFT] Goeun Museum of Photography [Right] Goeun Museum of Photography, 《2022 The Map is Not The Territory》 exhibition view. Image provided by Goeun Museum of photography
---
2.Back to Old Downtown
Around 10 years ago, growing initiative to revive art spaces in the old downtown area gave rise to Totatoga: A space of creation (hereafter, just "Totatoga"). The art community is still in operation today, with its unique feature of providing artists with up to three years of assistance for studio rental fees. Until 2019, Totatoga rented empty building spaces within a one-kilometer distance from its location and provided them to artists. Since then, the project has grown in size, facilitating more close-knit activities in one building. This change came about as the natural result of gentrification, which affected their effort to revive the old downtown. Totatoga runs and uses Space Dot, Totatoga Gallery, and Changui Shop, where it exhibits the works of its artists-in-residence and rents exhibition space to artists from other regions at low rates. As the main home base for the Old Town Artists Cooperative, Changui Shop aims to expand the scope of visual arts through everyday practices. It is particularly popular among new artists, though its lack of expert curators to assist the artists is a drawback.
---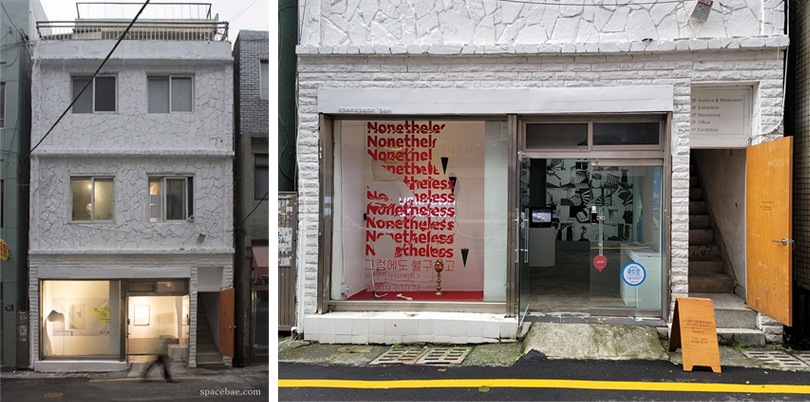 Open Spacebae. Image provided by Open Spacebae.
---
Located directly opposite Totatoga is a four-story building in which Openspace Bae has been operating diverse programs since 2019. Openspace Bae receives many visitors from the field of art through the network it has built in and outside of Korea. The first floor of the Yeseon Building is similar to Openspace Bae's annex, housing Hello, Artist, an experimental space for debut exhibitions or projects for which artists have failed to receive government funding.
---
Open Spacebae Exhibition view. Image provided by Open Spacebae.
---
Sanbok Road, another symbol of Busan's streets, also flourishes with art. One corner of an old public housing complex here is home to Youngjumansion, an artist-run base for women artists who study the latest key concepts in contemporary art. Recently, Yeongdo Island has been emerging as a popular location as well. The massive 9,900-square-meter P.ARK Cafe & Bakery houses a basement-level gallery, while Retro Deokcheon relocated from Deokcheon-dong to Namhang-dong last year. Driven by a group of young artists and curators, the gallery organizes exhibitions in collaboration with artists in the nearby Gimhae and Changwon regions. The group has five keywords on its agenda: "art," "education," "culture," "youth," and "space."
GGTI, meaning "the very end" in Busan dialect, also hosts project exhibitions. Visitors can experience experimental exhibitions that make use of the characteristics of the venue. Another region to keep in mind is the Busan Port area. With the North Port development project gaining speed, the Busan Opera House and various cultural clusters will move into this region. Expectations are high for North Port since it is only about a 10-minute walk from old downtown.
---
F1963. Hyundai Motor Studio. Image provided by F1963.
---
3.Mangmidan-gil: Old But New
Mangmidan-gil Street stands at the center of attention these days. The nation-wide famous F1963 began by using the former Kiswire wire factory as an exhibition hall for the Busan Biennale.F1963 is made up various exhibition spaces, including Seokchon Hall, which hosts Busan Cultural Foundation events, Kukje Gallery Busan, and Hyundai Motorstudio. This rugged space in which time seems to have stopped captures the unique vibes of the port city. With its diverse themed exhibitions, the massive Seokchon Hall attracts young artists in particular. F1963 is a rare cultural facility in Busan that hosts various humanities lectures and concerts. Cultural and commercial spots such as a Yes24 bookstore and restaurants are also found there.
About a 10-minute walk away from the complex lies Suyeong Paldo Traditional Market, where Space Heem is located. Having opened with the exhibition Roof Association in 2014, Space Heem focuses on the social functions of art and artists who look at invisible things from critical perspectives. The gallery sets clear themes for its exhibitions and academic seminars. Approaching its 10th year, it sets a model example for non-profit art spaces in Korea and continues to receive attention from many artists. Today, Space Heem members are key organizers of the Busan International Video Art Festival, which used to be run by Busan's first alternative space, Bandee. They deserve to be commended for continuing to hold the video art festival despite local difficulties.
---

[LEFT] F1963 Kukje Gallery(Busan). [RIGHT] F1963. Image provided by F1963.
---
The Center of Contemporary Art was founded through the ambitious collaborative effort of four women artists to renovate an old house. This artist-run center specializes in design and fine arts, and is open to visitors from Thursday to Saturday only. During the rest of the week, the artists who run the space focus on personal work and life. Located in Mangmi-dong, the center has enjoyed the increasing popularity of Mangmidan-gil Street over the past few years. The neighborhood is lined with old houses that have been transformed into independent bookstores, boutiques, cafés, multicultural facilities, and community restaurants, resulting in a new cultural district with retro vibes. Art Lab, Exhibition Space Young Young, Easel Gallery, and other small galleries that offer rental space have emerged in the area over recent years. In particular, a container building measuring over 100 meters in length was built beneath an overpass along the urban expressway. Named B-con Ground, the facility houses various community spaces, including a creative workshop for people with disabilities. Located near Gwangalli Beach, Mangmi-dong maintains the unique ambience of the small streets of the past. However, it expects to see more changes ahead.
---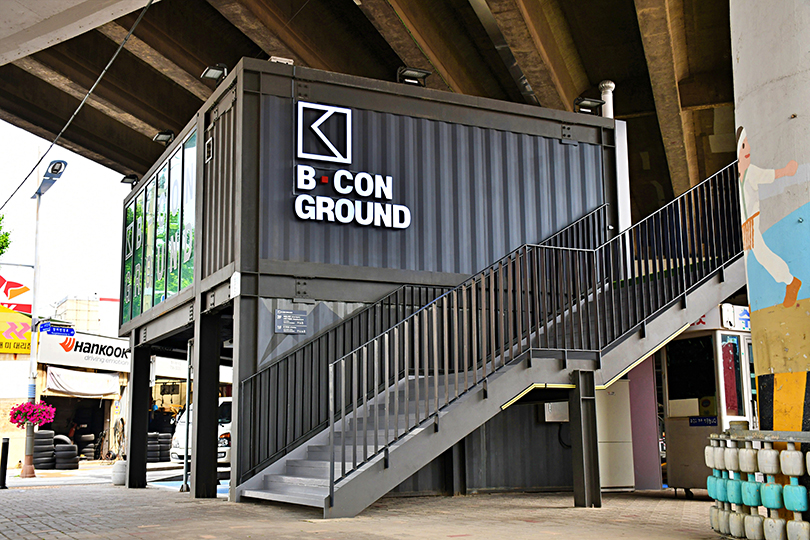 B-con Ground. Image provided by B-con Ground.
---

B-con Ground. Image provided by B-con Ground.
---
Closing
This article divides Busan's art landscape into three regions. Now, Busan must balance out development in the western region, which is run-down compared to East Busan. It has been almost five years since the Museum of Contemporary Art Busan opened on Eulsukdo Island, which is in the western region. Not far from the museum is Hongti Art Center, run by the Busan Cultural Foundation. However, private galleries and exhibition spaces are still hesitating to come into West Busan, most likely due to the age-old perception of the region in the cultural industry. In contrast, young artists are seeking out West Busan, which offers the creative outlets and workspaces they need at more affordable rates.
---
To conclude, the center of Busan's art scene, as mentioned before, moved from its birthplace in the old downtown area to Haeundae New Town in the midst of modernization. Over the past 20 years, various spaces have emerged in Haeundae and the New Town area. The latest trends show that small establishments run by young artists are on the rise in the Korean visual arts scene, which is no longer headed in a single direction. This suggests that young artists pursue creative freedom and a liberal exhibition culture; Busan is no exception. Compared to other cities, Busan is open to new ideas, which is why artists from Gyeongsangnam-do and even the Seoul Capital Area can easily enter and adapt to Busan's art scene. Galleries and exhibition spaces are now moving away from the "white cube" approach to exhibition space. It's nothing new that we can predict that opportunities for art presentation and community activities will establish a base in the new realm of digital space as the metaverse era arrives..
---
Related articles
[Art in City] Public Art(1) Borderlessness in Public Art
[Art in City] Public Art(2) Public Art in Seoul - How Well Do You Know Them?
[Art in City] Art Spaces(1) Seoul - Untitled & Titled Spaces
[Art in City] Art Spaces(3) A Guide to Daegu's Exhibition Venues: Latest Edition
[Art in City] Art Spaces(4) Gwangju's Cultural Topography Meets Its Urban History
Seo Sang-ho
Director, Daily Culture Team, Busan Cultural Foundation