Features / Focus
[Art in City] Art Spaces(3) A Guide to Daegu's Exhibition Venues: Latest Edition
posted 04 Mar 2022

---
TheArtro has drawn up three feature articles on Korea's rich cultural infrastructure to shed light on Korea's changing art scene. A variety of attractive spaces, art galleries, and museums are scattered throughout Seoul and host diverse art events. Yet new exhibition venues and art projects are comparatively less known and the art content is mainly focused on the exhibitions of large-scale public or private art museums and international art events. Thus, to exemplify the growing diversity of Korea's art scene, TheArtro presents three serialized articles under the select keywords "public art", "space" and "artwork." The first article, "Publict Art," introduces public art around Korea. It covers public art projects aimed at creating cultural spaces in cities and a wide variety of public art that people can encounter in everyday life. The second article, "New Spaces," features leading art sites in the nation's major cities—Seoul, Busan, Daegu, and Gwangju—to highlight the many art spaces that have newly emerged or remain unknown. Finally, to shed light on diverse urban aspects, the third article, "Cities in Artworks," examines the works of artists who explore the theme of "city." Together, these three articles seek to promote not only the relatively unknown aspects of Korea to the world, but aim to also enhance the global recognition and understanding of the nation's burgeoning art scene. These three articles can serve as a guide to Korea's cultural attraction for art lovers and visual arts enthusiasts visiting Korea from all over the world.
---
The second article focuses on the leading Korean cities for art. In addition to well-known national, public, and private art museums, new exhibition spaces have emerged. The cities featured here—Seoul, Busan, Daegu, and Gwangju—offer diverse sights and host a variety of international art events including biennales and art fairs. These spaces reflect each metropolis's unique culture, historical context and quirks of its location. This article features the spaces that illustrate the unique traits of each city's art area, and the events and exhibitions held there.
---
A Guide to Daegu's Exhibition Venues: Latest Edition
---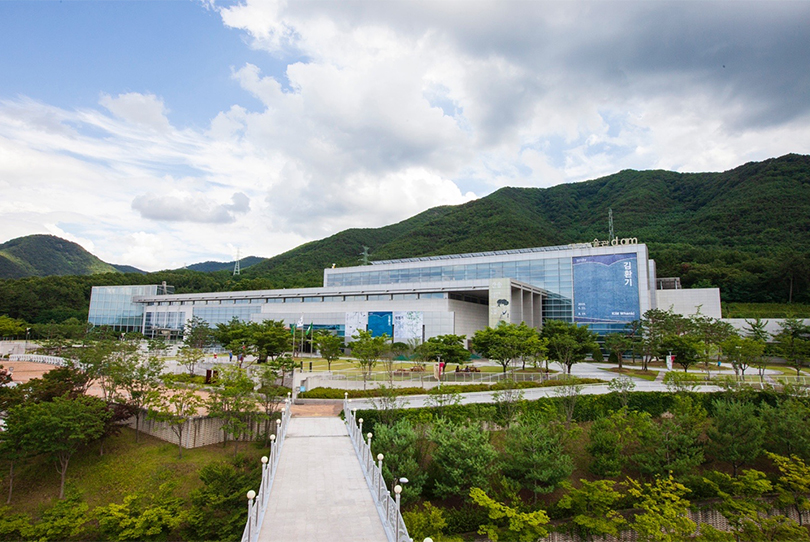 Daegu Art Museum. ⓒDaegu Art Museum
---
Cities thrum with life. Within them, diverse human relationships interlock with places, turning like cogs in a wheel. We cannot know everything that goes on in huge cities. They are like intricately designed mechanical systems or ecosystems that coexist and evolve with the organisms within. Metaphorically, we can understand new, planned cities as machines, and cities with long histories as organically evolved natural ecosystems. Of course, in reality all urban areas lie somewhere between the two; Daegu is closer to the latter. Located in the center of the inner Yeongnam region, Daegu has gradually grown in size and influence over time. As the city has formed and changed without a consistent plan, the same can be said of its art.
---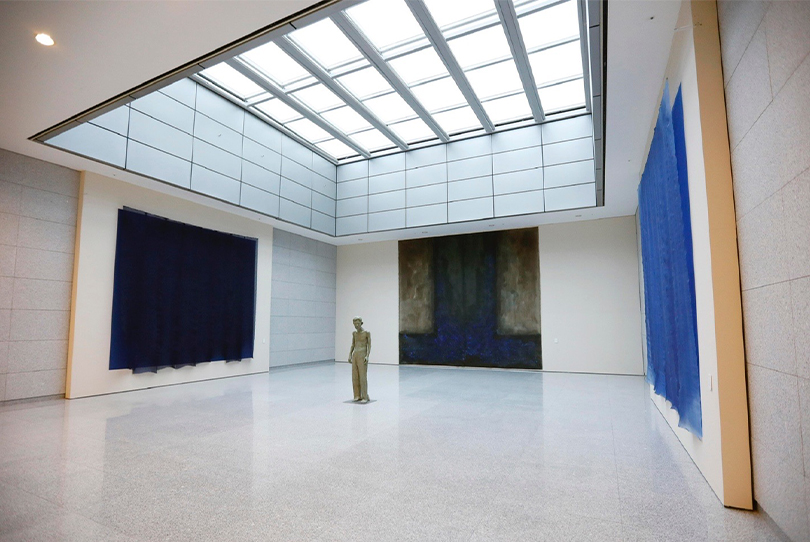 Interior view of Daegu Art Museum. ⓒDaegu Art museum
---
What first comes to mind when people think of Daegu? Maybe its location in the hottest region on the Korean Peninsula; its political and economic contexts in modern and contemporary history; or its few local delicacies that have spread nationwide. Some might think of Dongseongno Street and other famous sites, while sports fans might think of the teams based in the city. Then, what about art aficionados? They might think of Daegu-born artists like Lee In-sung or art events and exhibition spaces in the city. TheDaegu Art Museum, a latecomer to the art scene compared to museums in other major cities, sits at the center of the cluster of famous galleries on Bongsan Culture Street and in Daebong-dong. Before the Daegu Art Museum opened, the Daegu Arts Center used to be in charge of all large exhibitions held in the city. The center is still very active in the scene today. To the north of the Geumhogang River, in a region that the locals call Gangbuk, the Daegu Health College Indang Museum hosts major feature exhibitions and draws in visitors from across the country. The Daegu Art Museum hosts the Lee In-sung Art Prize and a corresponding exhibition every year. In a city with a long-established art economy, the Daegu Art Fair is a notable annual market. Additionally, the Daegu Photo Biennale returns to the Daegu Arts Center and other parts of the city every other year.
---
2021 Daegu Art Fair. Image provided by Daegu Art Fair
---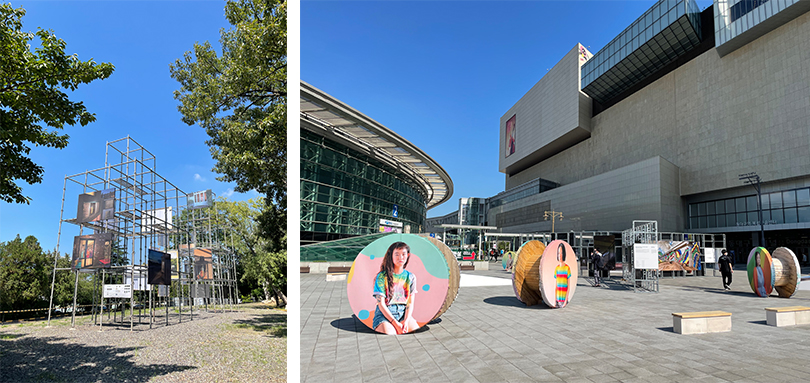 2021 Daegu Photo Biennale.
---
Taking a step back from the pressure of introducing the current status of all the visual arts that Daegu offers, this report focuses on the new exhibition venue that has emerged in Daegu's art scene, rich in terms of quality and quantity. I hope this information proves to be useful: it could even serve as a guide on what to see and what to skip. Haven't we all blamed the person who'd sung the praises of a restaurant or café that turned out to be disappointing? I certainly have and still do. Every time it happens, I blame the biased platforms or media that entice people with ungrounded claims and reports of popularity. But this is like shaking my fist at the sky. Eventually I reproach myself for my own gullibility and undiscerning eye. Famous places have more or less fixed reviews, but cases vary for places that are just beginning to gain popularity. Those places with assorted reviews and even somewhat vague identities might have a certain glow about them simply because they are new. It takes time to see their true colors.
Depending on the perspective one takes, let's say that over time, these places will reveal their true nature, and the good places will remain while the other ones disappear. The disappearance of the unworthy spaces would, too, be a consequence of the verdicts artists and visitors gave based on their experience. We decide for ourselves what's good and what's not good. I mentioned that new places have a glow. Whether it's a restaurant or a café, a new establishment has a pleasant and appealing quality. If a place will soon disappear from the map, for some people that alone is a good enough reason to visit it. But it's good to have some kind of reference so that we can get the most out of an exhibition in relation to the time and money we put into it. We know why it is necessary to have a canon of aesthetic standards.
---

Daegu Shinsegae Galelry. ⓒDaegu Shinsegae Department Store
---
Before the Art Tour
As a half-outsider now, I often find myself observing the city that I have long loved and its art with unfamiliarity. There are many routes to Daegu. Topographically a basin but open to roads in all four directions, Daegu is accessible via various modes of transportation including car, train, bus, and plane. Unless you are driving, there is a good chance that you will arrive in Daegu via Dong-gu, where, over the past few years, three bus terminals have combined into a single complex connected to Dongdaegu Station. With the addition of the nearby airport and Daegu Metro Line 1, which cuts across the city, it is easy to see how the Dongdaegu Station area serves as a gateway to Daegu. The Shinsegae Department Store is located on the premises as well, attracting tourists as well as locals. Shinsegae Gallery has been in business since the department store first opened. Galleries affiliated with department stores operate using a management system that differs from regular galleries. Unlike Japanese department store galleries whose main focus is on trading artworks, those in Korea tend to serve the role of an in-store cultural lounge in addition to an artwork dealer.
---
Daegu's Hyundai Department Store and Lotte Department Store actively run galleries in Jung-gu, whereDebec Plaza Gallery has long been standing guard over Daegu's art sector. In comparison, Shinsegae Gallery uses its network with other branches across Korea to hold traveling exhibitions, evenly sprinkling in special exhibitions that highlight local characteristics. For art aficionados who plan to take the train or bus to Daegu and don't know where to start, whether you begin your journey downtown or on the outskirts of the city where the Daegu Art Museum is located, Shinsegae Gallery is a convenient first or last destination.
---
Daegu's No. 1 Art Spot
Now for the main art tour. The area that boasts the highest density of art exhibition spaces in Daegu is Bongsan Culture Street. Similar to Insa-dong in Seoul, the street stretches north and south across from Dongseongno Street, the commercial center of Daegu. The street emerged naturally as a destination in the 1980s, lined with small and large galleries, workshops, and framing stores. The Bongsan Cultural Center, run by the Jung-gu District Office, is better suited for art exhibitions than other public cultural centers. Its two exhibition programs A Spot of Recollections and Glass Box showcase works by emerging artists and established artists representative of Korea. The art scene has long regarded this street, where exhibition spaces have continuously appeared and disappeared for almost 40 years, as the art center of Daegu.
---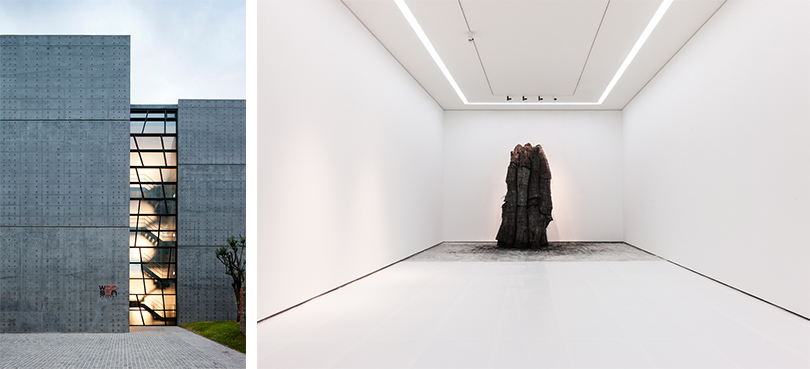 [LEFT] Exterior view of Wooson Gallery. [RIGHT] Wooson Gallery 《Lee Bae》, Photo by Park MyungRae, Image provided by Wooson Gallery.
---
The spotlight on Bongsan Culture Street began to diminish in the 2000s with the establishment of large galleries in the nearby Daebong-dong area. However, this changed when Wooson Gallerymoved in, hosting a series of exhibitions by world-renowned artists that brought art lovers across the country back to Bongsan Culture Street. The street is currently undergoing another transformation with the recent opening of many trendy coffee shops and restaurants. Its revitalization as an agglomeration beyond a street is not dependent on a number of large facilities, such as the Bongsan Cultural Center or Wooson Gallery, but on its long-established commercial galleries, which have a greater collective influence than any other art cluster in the country. But people who visit the street simply because they love art do not need to know all these details. All they have to do is enjoy and explore the art, exhibition spaces, and popular spots on Bongsan Culture Street, which conveniently connects to Dongseongno Street, the largest commercial area in Korea.
---
Contemporary Art Cluster
Let's up the level of difficulty. By this, I am not referring to the ease or difficulty of understanding a certain artwork. Some exhibition venues may be more difficult to visit than those in large buildings or on cultural streets because they are scattered around the city. Urban characteristics do not only manifest as clusters. Oftentimes, a city's traits pierce through the boundaries of communities and spread out to other places. Let's call this a "spatial breakthrough." This phenomenon occurs because a cluster of similar places may face as many disadvantages as it does advantages. For example, high rent, a lack of facilities for public use, and hostility toward newcomers could push some to move away from clusters. Whatever the reason, what's good for one is probably good for others as well. This is why similar establishments often end up opening near each other. Perhaps it's only natural that a growing number of exhibition venues moved into Suseong-gu, which is known for commercial-residential complexes and Suseongmot Lake. It is also conveniently situated between Daegu's secondary central business district and a satellite city. Located in the shopping center of a high-rise apartment complex,021 Gallery is emblematic of the new exhibition spaces that have opened in the area.
In the geography of art in Daegu, spatial breakthroughs have occurred in parts of Daebong-dong and Icheon-dong, located next to Bongsan Culture Street. Art spaces can be found in the area that stretches from Bongsan Culture Street to Debec Plaza, Bangcheon Market, and Kim Gwangseok-gil Street, as well as in the area from Geondeulbawi Rock to Antiquities Street and Camp Henry. Before, these areas formed a smaller triangle in which Gallery Shilla, Leeahn Gallery, and Gallery Bundovied to lead the art trends of the time. Many new facilities have recently sprung up here. Places such as Eul Gallery and Gallery CnK, which seem undifferentiated from galleries in Seoul in the most critical sense, can also be seen as closing the gap between the Seoul and Daegu art scenes from another point of view. Another place that catches the eye is Art Space Lumos, which specializes in photo exhibitions. Not yet five years old in a city that hosts a photo biennale, it has already received a lot of attention, focusing on exhibitions as well as archive management and displays. During the Daegu Photo Biennale, Art Space Lumos becomes the busiest place in the city along with Daegu Arts Center, the biennale's official main venue. Even when the biennale is not on, you will see why Daegu is the city of photography when you visit Art Space Lumos.
---

Art Space Lumos. ⓒArt Space Lumos
---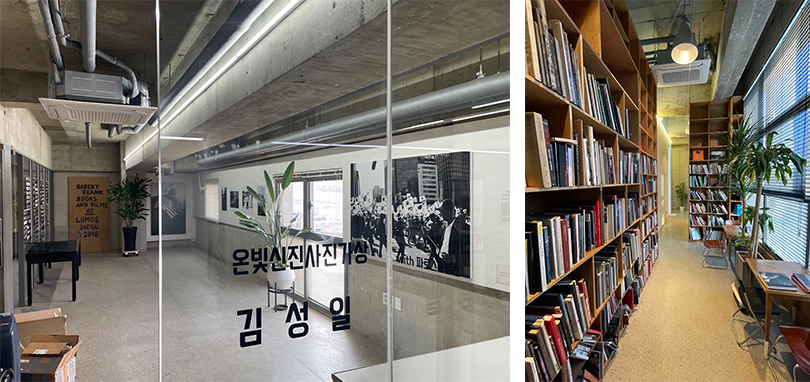 Art Space Lumos ⓒArt Space Lumos
---
Exterior and Interior view of Goodspace. Image provided by Goodspace.
---
Meanwhile, traces of the Bangcheon Market revival project that began 10 years ago still remain on the other side of the district. Numerous exhibition venues are operating here, including the art journal publisher and exhibition space Bangcheonyega, which has remodeled an old hanok into a gallery, Moon 101, and Gallery Toma. Among the venues, Goodspace takes an interesting approach to its operations. While most of the galleries in the area have a bustling, friendly ambience, Goodspace, standing on a corner, has a controlled, sophisticated atmosphere. From the start, the gallery has never had commercial objectives, nor does it have the characteristics of an alternative space. If visiting Daebong-dong, it would be interesting to visit and compare Art Space Lumos and Goodspace: the large and the small.
---
**Urban Regeneration and Art **
There are commonalities between urban regeneration policies, which are driven by administrative systems, and art, which belongs to a system of its own. Urban regeneration, which happens abstractly over the concrete blueprint of urban design, can be understood through the technical metaphor of repairing the old parts of a machine, or the ecological metaphor of preserving a biome dominated by alien species. Like other cities, Daegu has converted many old or no longer functioning places into art zones. Instead of forming clusters, these exhibition spaces are scattered across the city and may be obscure even to locals, especially those uninterested in art. But two places have become well known in a relatively short period of time : Daegu Art Factoryand Suchang Youth Mansion in Suchang-dong, Jung-gu. Used as a tobacco factory and its employee dorms respectively, the two places have been remodeled into art spaces, but they haven't been able to present artworks as dynamically as initially planned. This is normal, not a failure. Transforming a large space often requires complicated administrative procedures and large funds, so the projects are often government-led. The Hyangchon Cultural Center and the Daegu Modern History Museum, remodeled bank buildings from the Japanese occupation era, are now popular tourist destinations. Gyo-dong and Bukseongno, respectively similar to Seoul's Euljiro and Mullae-dong, attract outsiders who are familiar with Daegu. Maker's Factory Moru is a must-visit gallery that infuses contemporary art exhibitions with the legacy of Bukseong Industrial Tool Street. Another form of urban regeneration is demonstrated by Artlab Beomeo, which turned the subway passageway that connects to 021 Gallery into an exhibition and residency space.
---

Maker's Factory Moru. Image provided by Maker's Factory Moru.
---

Art Space Purl Online artshop pop-up store, 2021, 2016. Image provided by Art Space Purl
---
There are also many examples of abandoned schools that have been converted into art spaces, such as the Daegu art studios that offer the Gachang and Dalcheon residency programs. Though not an abandoned school, the Samsung Creative Campus also brings in many visitors from outside the city to its art zone. The PnC Gallery Warehouse, located in a partially remodeled noodle factory that is still in operation, has been open for five years right next to Seodaegu Express Bus Terminal. Many of the venues that used to be called "alternative spaces" but are now changing their titles to "non-profit exhibition spaces" also started out in remodeled, existing buildings. Unlike the cases introduced earlier, several of these non-profit venues have converted private property through personal means. Daegu has numerous commercial galleries, but only a few non-profit exhibition spaces. Still, Art Space Pearl, Nonprofit Art Spaces Ssac, and Space Dokrip are active near the city center. They are must-visit places for those who intend to set more than one foot in the arts.
---

Gallery Franc ⓒGallery Franc
---
Nonspecific Exhibition Spaces
After completing your art tour in the city, it's time to head to the outskirts. Moving southeast, you will arrive in Gachang and Cheongdo, famous among local artists for the Gachang residency program and numerous art studios. Naturally, many galleries are based here, including the recently opened Gallery Franc. The gallery displays abstract Dansaekhwa (Korean monochrome) paintings, currently highly valued in the art market, through a reservation-only policy. Art collectors in particular should visit this gallery at least once. Not far from Gachang Art Studio, Art Library awaits anyone who loves art. The only library in Korea to specialize in art, the library was restored by the owner after a fire destroyed much of its original location in the city center, and the collection there. One cannot help but root for this indomitable place. Next, let's move west to Dasa-eup, where the Dalseong Daegu Contemporary Art Festival is held every year. Not far from here, Dalcheon Art Studio launched its residency program in 2021. Gallery Hyewon also settled down in the area, having moved from Bongsan Culture Street, and hosts exhibitions with Martensite.
Complex cultural spaces are a nationwide trend—galleries are merging with cafés, and cafés are hosting exhibitions. These spaces began to emerge four or five years ago, following a trend started in Seongsu-dong, Seoul. In Daegu, about 10 such cultural spaces have appeared in the Palgongsan area alone. Tumtree Project, particularly popular among architects, has been in business by Suseongmot Lake since the onset of the trend. Back in the city center, many rundown buildings have been converted into such facilities as well. Located beneath Apsan Mountain in Nam-gu, Number the Stars purchased and remodeled a bank training institute; Mounhowazhang in Gyo-dong converted a public bath into a complex cultural space; and Billy Works in Buk-gu remodeled a factory and a church. All of these places do more than just hang pictures on the walls and call it an exhibition. Another nationwide trend is for such complex cultural spaces to work with curation agencies to enhance their exhibitions. It is too early to say how long these facilities will retain their popularity and whether they are earnest about the arts, but they are clearly contributing to the diversity of exhibition spaces. To twist the movie title Eat Pray Love, just "eat, drink, and see."
---

Art Library ⓒArt Library
---
Tasks Ahead
Not all parts of a city grow equally. Art exhibitions are the same. At times, they may seem to follow a general trend, but it's fascinating and certainly fun to discover new spaces in unexpected places. These spaces also raise questions. What will they show to viewers? How well will they provide opportunities to artists to create and exhibit their works, and will the compensation be sufficient for both artists and venues? Going a step further, there is also the question of whether these new spaces will be able to self-generate art discourses and contribute to the dynamics of a city. All of the places that have risen and fallen before have clearly mulled over this task, and new spaces have already jumped into the discussion.
---
Related articles
[Art in City] Public Art(1) Borderlessness in Public Art
[Art in City] Public Art(2) Public Art in Seoul - How Well Do You Know Them?
[Art in City] Art Spaces(1) Seoul - Untitled & Titled Spaces
[Art in City] Art Spaces(2) Busan - Is Busan Really Culturally Alienated?
[Art in City] Art Spaces(4) Gwangju's Cultural Topography Meets Its Urban History
[Art in City] The City as a Remote Control "Go Straight There Without Transferring"
Yun Gyu-hong
art director, Openspace Bae