---
The works of artist-craftsmen Richard Tuttle and Choong Sup Lim met at Pace Gallery Seoul. Born in 1941 and having devoted their entire lives to art, the two artists have taken different courses in their practices, yet this rare encounter at Pace seems inevitable, even pre-destined. Their spirits are connected through art to that extent. The two artists began their artistic careers in the 1960s in New York and South Korea, respectively, and Choong Sup Lim's move to New York in 1973 anticipated their future encounter.
---
After holding his first solo exhibition in 1965 at Betty Parsons Gallery in New York, Tuttle gained recognition for his distinctively "minimal" aesthetic. Though his solo exhibition at the Whitney Museum of Art in 1975 was received as overly simplistic, it is essential to note that Tuttle has not simply jumped on the bandwagon of American art, nor has he sacrificed his philosophy of art for "-isms." Meanwhile, Choong Sup Lim, who explored installation in Korea in the 1960s and participated in the Angajumang group exhibitions, quickly absorbed contemporaneous multimedia trends in New York, where he moved in search of what he called "newness." In 1979, Lim was selected for a special exhibition by Robert Pincus-Witten. Since then, he wrote a new page in the history of Korean installation art by exhibiting large-scale installations in New York galleries, which notably included Sandra Gering. The historical mark of his oeuvre was underscored in the retrospective, Lim Choong Sup, the Moon, and Wolincheonji, held at the National Museum of Modern and Contemporary Art in Korea in 2012.
---
I call Tuttle and Lim "artist-craftsmen" because they both are philosophers as they are artists, and because the crafting techniques they employ with their own hands form distinctive characteristics of their artwork. Their work bears resonance to the term post-Minimalism, which breaks away from the rigidity of Minimalism. Like calm waves in a storm, they challenged tradition in the turbulent sixties, when new artistic movements and art forms such as Conceptual Art, Minimalism, Video, Land Art, and Performance were emerging. Their shared interests in relief-type objects, which combine the characteristics of drawing, painting, and sculpture, reveal the essence of Lim's and Tuttle's work; in these objects, we see the flexibility with which they both wove in and out of the boundaries of artistic mediums. While works of their Minimalist contemporaries demanded a certain distance between the work and the audience's body in the exhibition space, Tuttle's and Lim's meticulously crafted objects, attached to or leaned against the wall, require the audience to walk up to the works and examine them in detail. The viewer becomes immersed in the work's structure, texture, and space. In turn, both Lim and Tuttle opened another dimension of interactivity in installation art.
---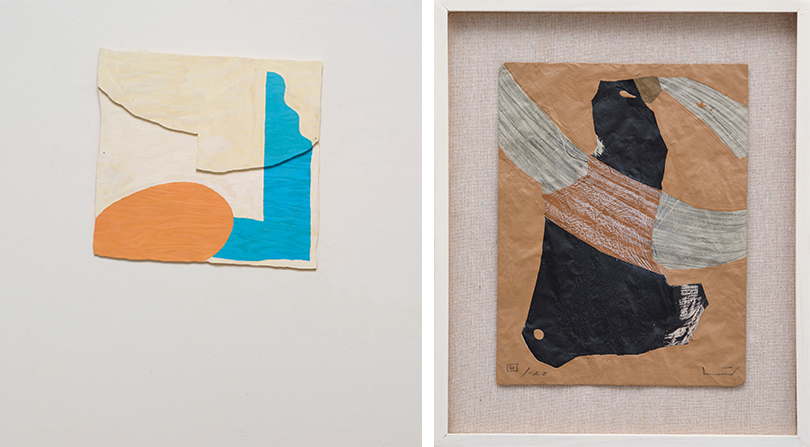 [LEFT] Richard Tuttle New York, New Mexico #5, 1998 acrylic on fir plywood, 57 cm x 53.5 Photography by Kerry Ryan McFate © Richard Tuttle, courtesy Pace Gallery [RIGHT] Choong Sup Lim Untitled(回, circuit), 2014 Acrylic, oil, canvas, U.V.L.S gel, 39 × 32.5 × 4 cm, framed Photography by Sang tae Kim © Choong Sup Lim, courtesy Pace Gallery
---
Their works bear similarity in that they express each artist's thought with a labor-intensive touch reminiscent of Cubist collage, Dadaist assemblage, and Russian Constructivism. And yet, their approaches to materials and properties fundamentally differ —through this aspect, we see the distinctive lives and philosophies of the two artists. Although Tuttle's process of creating works is quite intuitive, he has unique thoughts on the structural spaces within the works, as well the relationship and interpretation of those spaces. His object-based work for which he cuts paper or plywood, paints acrylic, and draws with a pen, relies on the senses and the immediacy of space, light, line, color, form, size, and surface. Although Turtle occasionally uses readymade objects, his routine choice is to cut and paste raw materials that have never been used, and thus had no prior shape. The material's primitiveness meets Tuttle's intuition and becomes rhetorical. Resounding poetry—which Tuttle also writes—Tuttle's relief works are like poems that pursue thoughts difficult to express through abstract, ambiguous, and precise language structures.
---
[LEFT] Richard Tuttle Erato (love poetry), 2019 fir plywood, pine lattice stripping, wood glue, nails, spray paints, oil marker, 66.4 × 57.8 × 7.6 cm Photography by Christine Ann Jones © Richard Tuttle, courtesy Pace Gallery [RIGHT] Richard Tuttle Tuesday, 2019 fir plywood, pine lattice stripping, wood glue, nails, spray paints, 77.5 × 66 × 5.1 Photography by Christine Ann Jones © Richard Tuttle, courtesy Pace Gallery
---
Lim's body of work is vast and varying in scope, spanning canvas, drawing, photography, object, assemblage, kinetic, video, and large-scale multimedia installation. Among them, his object work can be divided into free-form canvas (in which shapes freely crafted, then covered in canvas) and assemblage work (which combines found objects). His free-form canvas is a sculptural relief that demands the practiced hand of a craftsman. It can be called an "elaborate specific-object" —a post-Minimalist form of Donald Judd's "specific-object." Choong Sup Lim is at once like Baudelaire's Flâneur, who walks the streets of New York City and picks up discarded objects like Benjamin's ragpicker, and one who recognizes Proust's memories of objects. His attitude toward reconstructing and assembling found objects is that of an anthropologist. Within trivial plastic objects used by others, Lim recognizes the history and needs of humankind and the accumulated time of scientific and technological progress. Like magic, everyday objects are reborn into fossilized forms that hold eons. He is Benjamin's storyteller, weaving memories through craftsmanship. Activating his identity as a diaspora artist, Lim also digs into unforgettable memories of Korea, and he incorporates his Korean identity into his work. At the center of contemporary art, Lim has stood for his art world without any compromises. Korean aesthetics such as Korean thought, architecture, traditional materials, and clothes are firmly grounded within his works.
---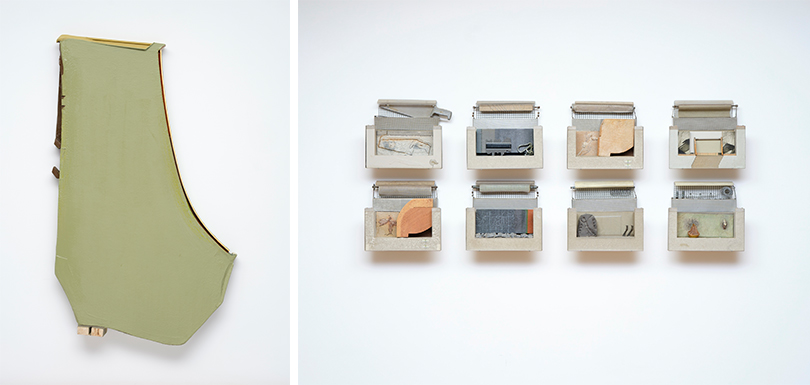 [LEFT] Choong Sup Lim Untitled(쌍), 2014 acrylic, rice paper and U.V.L.S gel on shaped canvas 163.5 × 95 × 7 cm Photography by Sang tae Kim © Choong Sup Lim, courtesy Pace Gallery [RIGHT] Choong Sup Lim Scape @ Fossil 1-8, 2008 acrylic, found objects, mixed media, and U.V.L.S. gel 45.7 × 47 × 15.2 cm Photography by Sang tae Kim © Choong Sup Lim, courtesy Pace Gallery
---
Tuttle and Lim have pursued their respective artistic methods for nearly 50 years, as if running parallel to one another. Tuttle dedicated a short poem titled Placid Reminder for this exhibition, to express respect toward fellow artist Lim.
---
His dedication
sharing, hard work
combine in spirit
and mind generosity
---
The poem's title suggests that Lim's works subtly and calmly remind us of something… Its words seemingly sing that Lim dedicated himself to art without giving in to any circumstances, generously devoting labor and time to give fullness to his audience, and that his work is a sincere expression of his spirit. Tuttle's poem conveys a sense of respect and bond, which only fellow artists who have walked a single path all their lives can feel. "Artists are like the universe, and when one artist looks at another, they understand each other deeply in the larger context of the essence," said Tuttle. The two artists are bricoleurs of the 21st century, to use the terminology of Claude Lévi-Strauss. Their works, created by combining each artist's intuition and dexterity with everyday materials, contain the contemporary world while recalling the classical processes and sense of artmaking.
---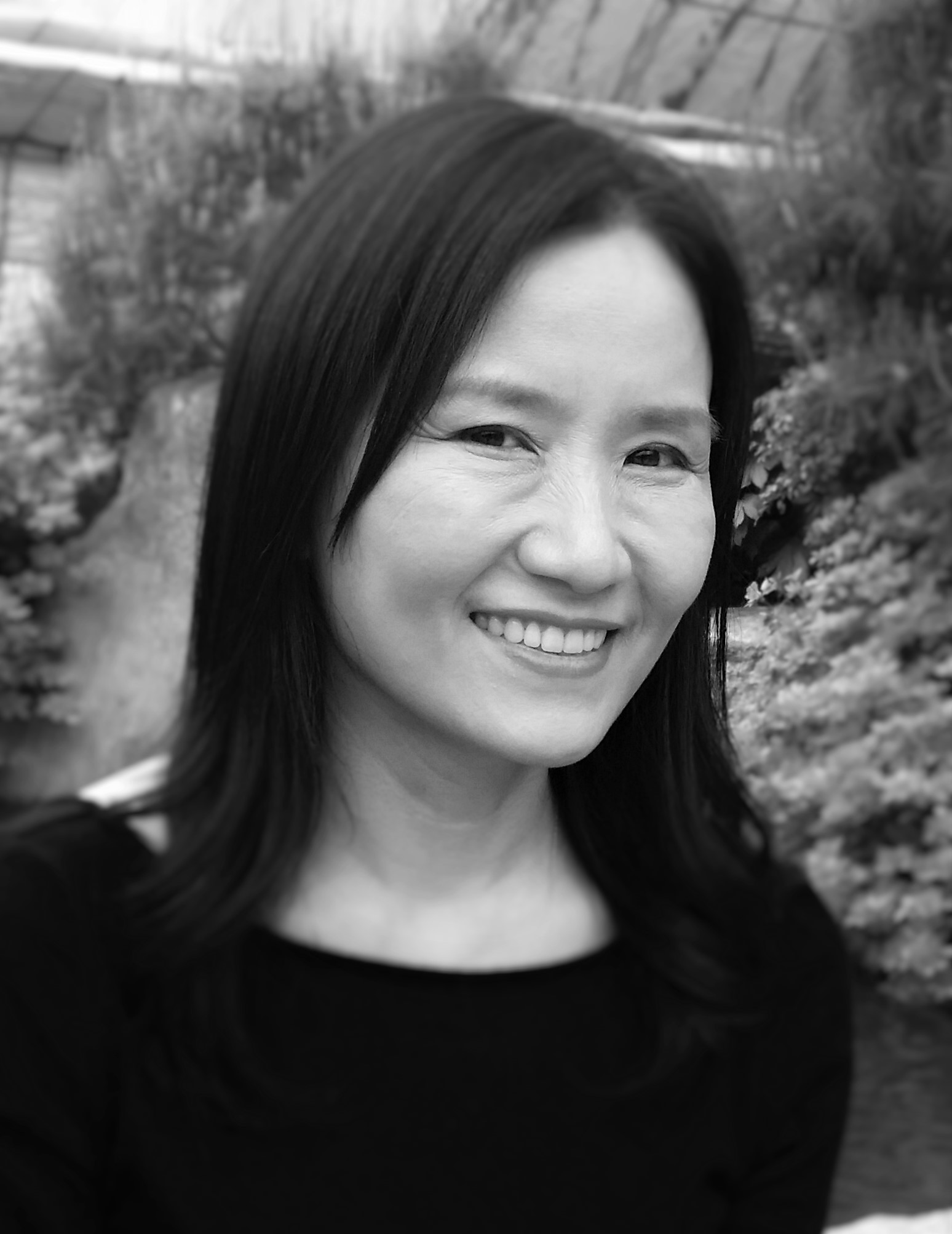 LEE Phil / Art Historian and Critic
She is an assistant professor at the Graduate School of Fine Art at Hongik University. She holds a Ph.D. in Art History from the University of Chicago. Her essays include: "Jung Kang-Ja: A Pioneer of Korean Experimental Art of the 1960s and 1970s"(Routledge, 2021) and "Jungjin Lee: The Trans-territorial Photographic Tableaux" (Spector Books, 2018). She is an editor of Dansaekhwa 1960s-2010s: Primary Documents on Korean Abstract Painting (MCST&CAMS, 2017).