---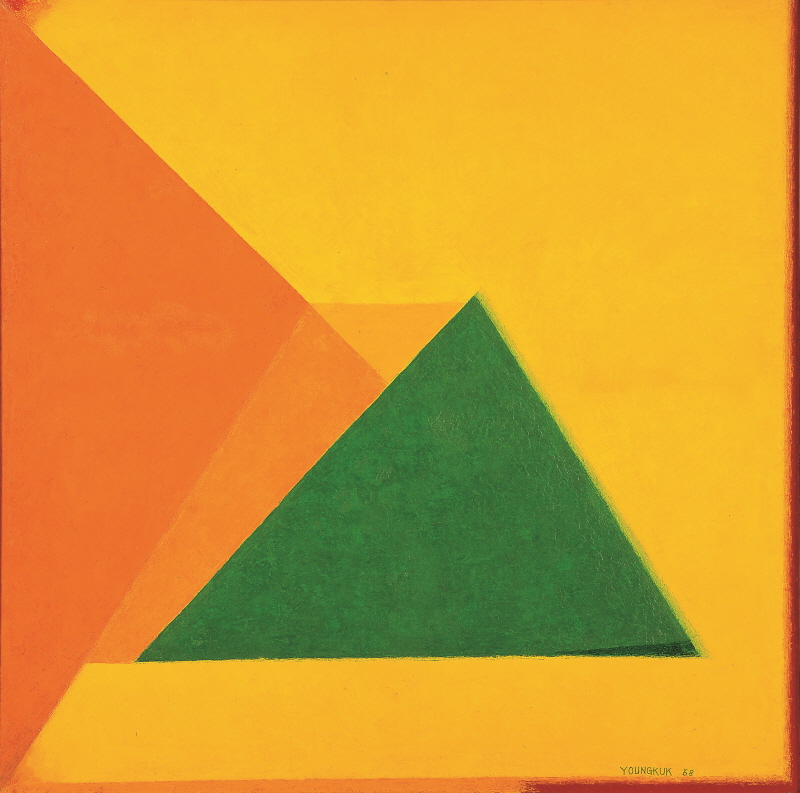 〈Work〉, 1968, Oil on canvas, 130×130cm. Image provided by Kukje Gallery, Courtesy of Yoo Youngkuk Art Foundation
---
Yoo Youngkuk's painting, Different from Dansaekhwa's "Color"
---
"He is an artist without myth, far from the troubled stereotypes of artists that we usually imagine, such as a schizophrenic genius or an eccentric. Nothing is known about him other than that he has worked stubbornly as a professional painter. It seems he did not have a typical artists' checkered past, but he must have gone through some turmoil, now nicely levelled off to leave him such a 'good painter"1)
---
In such respects, Yoo Youngkuk is different from other contemporary painters known for their anecdotes of misfortune or mythical narratives of deeply personal journeys, such as Lee Jung-seob, Whanki Kim, Park Su-geun, and Lee Inseoung. According to the researcher Lee Ihn-bum, Yoo Youngkuk is one of the few artists who have trod the usually torturous path of an artist but with the great fortune of seemingly accepting painting as simply a profession.
---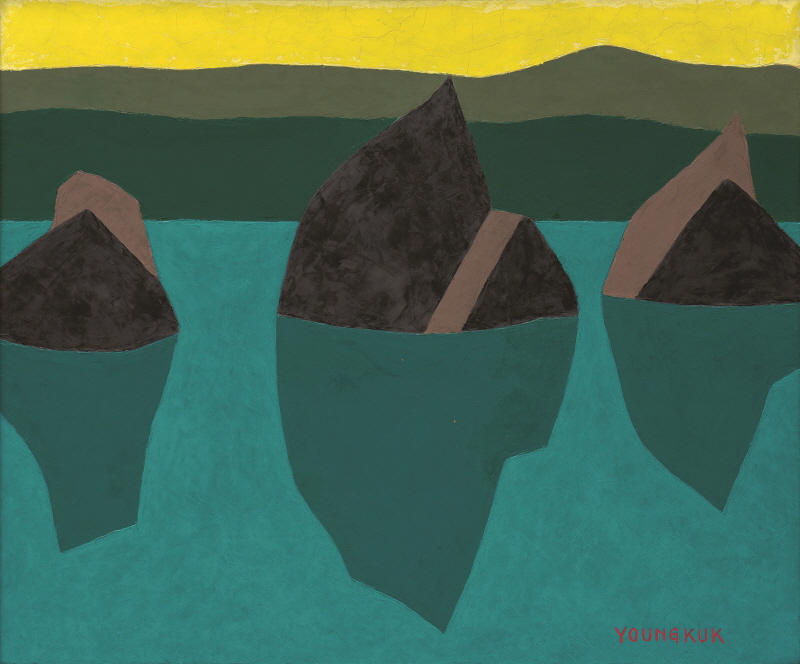 〈Work〉, 1992, Oil on canvas, 60×73cm. Image provided by Kukje Gallery, Courtesy of Yoo Youngkuk Art Foundation
---
In Yoo Youngkuk's artistic world, there is nothing to guide our understanding and interpretation other than the "artwork" itself. Perhaps that is why the exhibition 《Colors of Yoo Youngkuk》, which commemorates the 20th anniversary of Yoo's death, does not present any of Yoo's correspondence with his acquaintances, not does it include essays by the artist, or even any objects he has cherished.
---
As the title suggests, however, the exhibition highlights the simple forms of "colors" that firmly occupy the entire surface of Yoo's paintings. What is more interesting is that Yoo's artistic oeuvre as presented in this exhibition contrasts with the collective tendencies of Dansaekhwa artists, who have come to symbolise the identity of Korean art. This fact makes it imperative to return to the aesthetic uniqueness and formativeness of Yoo's intense color screens, as he pioneered the use of unfamiliar "fine arts" and abstract art, which were introduced during the Japanese colonial period.
---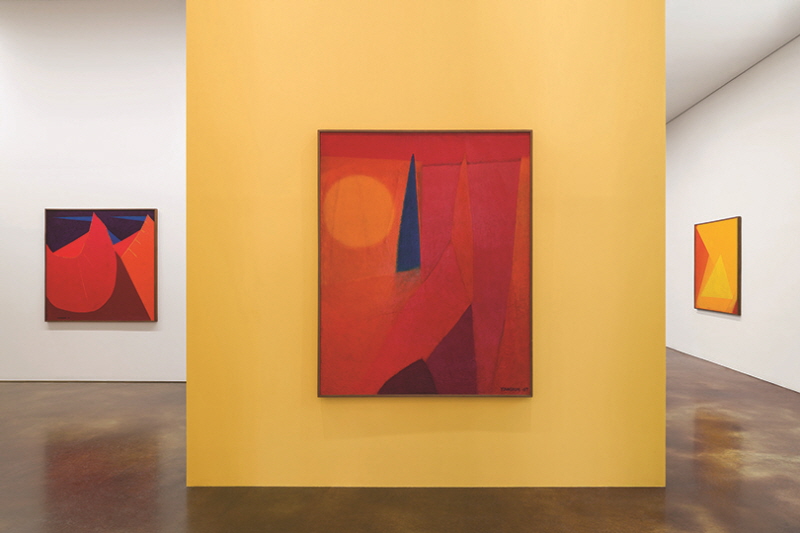 Kukje Gallery K2, Installation view of the 20th Memorial Exhibition of Yoo Youngkuk, Colors of Yoo Yooungkuk. Image provided by Kukje Gallery.
---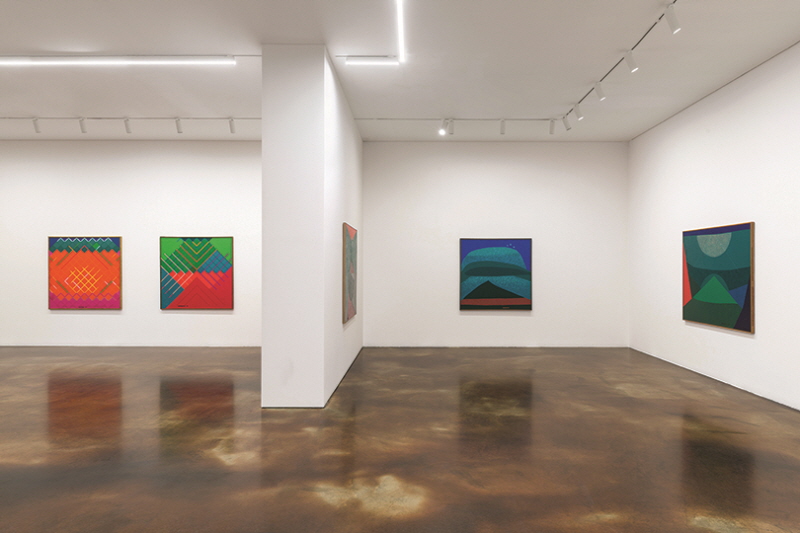 Kukje Gallery K2, Installation view of the 20th Memorial Exhibition of Yoo Youngkuk, Colors of Yoo Yooungkuk. Image provided by Kukje Gallery.
---
What the exhibition shows us
---
The exhibition in the Kukje Gallery (K1, K2, K3) is comprised of 70 iconic paintings and 22 drawings from each period of Yoo's life, as well as experimental photography forming part of his abstract works, his surrealist techniques and attempts, and finally the artist's archive. A large number of the pieces come from the private collections of his bereaved family, and are being introduced to the public for the first time. Previous special exhibitions of the artist, such as 《Yoo Youngkuk's Color Abstraction》 (Kukje Gallery, 2018) and 《Yoo Youngkuk, Absolute and Freedom》 (National Museum of Modern and Contemporary Art, Deoksugung, 2016) did not include these pieces
---
The exhibition《 Colors of Yoo Youngkuk》 affirms the aesthetic status of his color by surveying his historical artistic legacy. It highlights works that display the essence of the artist's distilled formal aesthetic, such as his signature motifs of "mountains" and nature, which are portrayed with vibrant primary colors in meticulously calculated geometric compositions.
---
The K1 space focuses on the artist's representative and early works, and provides a concise overview of Yoo's experimentation with color and formal language. The exhibition focuses on works created between the 1950s and early to mid-1960s, in which the artist transformed natural elements into abstract shapes and emphasized simple forms and the matière (texture) of oil paint.
---
The K2 space includes paintings from the 1970s to the 1990s: the mid- to later period of Yoo's career. During this time the artist dedicated himself to exploring basic formal elements—the dot, line, side, shape, and color— as combined with the rhythms of color and composition, which his original work transforms into imagery. The second floor of the K2 space is occupied with the powerful and primal voice that emanates both a narrative and a balanced energy. This space is composed of the series of Gyeongju photographs taken in 1942, as well as multiple drawings and an archive of the artist's activities. Many of these peaceful and lyrical paintings shed light on his remarkable life. They were created towards the end of the artist's struggle with illness, during which Yoo was teetering on the brink of death and used a cardiac pacemaker. Like an afterimage of his own life, they serve as a metaphor for perfect equilibrium.
---
The K3 space showcases works produced from the mid- to late 1960s and early 1970s, during which time the artist focused solely on his practice and avoided participation in any artistic groups or associations. Yoo's restrained emotions and emergent commitment to a purely formal compositional approach are embodied by the surface of his paintings, magnifying the nonrepresentational forms of nature with line, plane, and color, and with special attention paid to green, blue, and ultramarine.
---
As is widely known, mountains are Yoo's signature motif. While this image was originally inspired by nature, it can also be understood as being derived from the composition of color fields, combined with the austere, powerful and simple shapes of a triangle, circle and curve. The representational form, expression and function of nature manifest as "mountain" in an exquisitely liberating representation in Yoo's work. At the same time, the preconceived notions of Yoo's work as limited to cold, intellectual, and rigorous abstract art disappear. Like Arp, who adored the anonymity of abstract art, "color" in Yoo's paintings successfully preserves the anonymity of abstraction while maintaining appropriate tension.
---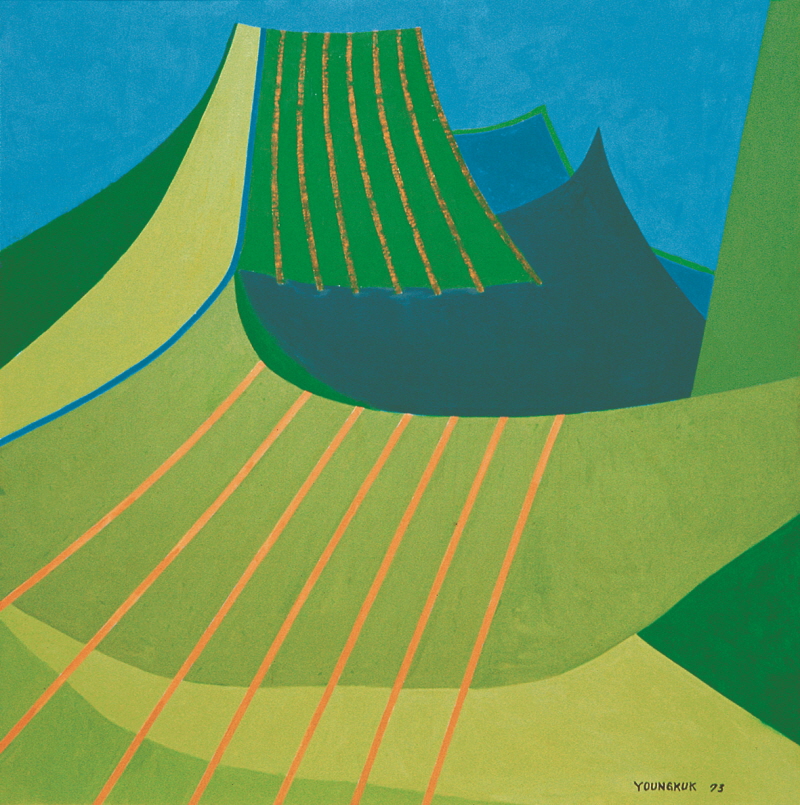 〈Mountain〉,1973, Oil on canvas, 135×135cm. Image provided by Kukje Gallery, Courtesy of Yoo Youngkuk Art Foundation
---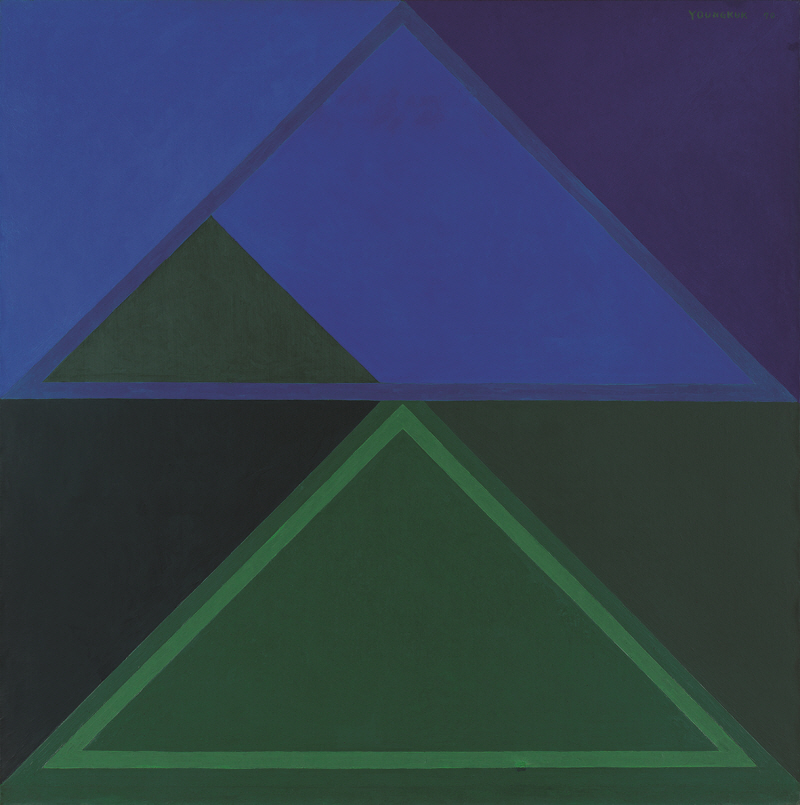 〈Mountain〉, 1970, Oil on canvas, 136×136cm. Image provided by Kukje Gallery, Courtesy of Yoo Youngkuk Art Foundation
---
Photograph, Abstract Paintings and Yoo Youngkuk's "Color"'
---
As the exhibition explains, Yoo was born in Uljin, in 1916, amidst the turbulence and expanding imperialism of the Western colonial powers. He first encountered abstract art when he was admitted into the Tokyo Institute of Culture (Tokyo Bunka Gakuen), the cultural center of Imperial Japan. There, he quickly discovered and acquainted himself with some of the most contemporary avant-garde art movements of the 20th century—namely surrealism and abstraction. He became deeply involved with Japanese abstract artists, including Masanari Murai and Saburo Hasegawa, who were operating at the forefront of the avant-garde scene, as well as avant-garde groups including the Association of Free Artists, the Independent Art Association, and the Neo Beaux-Arts Group.
---
Although Imperial Japan reinforced the empire's military policies and suppressed avant-garde groups at the outbreak of the Asia-Pacific War, Yoo did not cease his artistic activity. He instead embarked upon a surrealistic series of photographic collages, featuring self-portraits and images of Buddha statues from Gyeongju Namsan. While contemplating a new artistic technique as well as ways to broaden his means of expression, Yoo entered the Oriental Photographer's School. There he developed a new formal vocabulary through the use of photography, establishing a unique language of natural abstraction centering on basic formal elements of dot, line, plane, shape, and color.
---
Yoo returned to Korea in 1943 and led several Korean avant-garde art groups, such as the Neo Realism Group (Sinsasilpa, 1948), Modern Art Association (1957), Contemporary Artists exhibit (1958), and New Figures Group (Sin Sang-hoe, 1962). In 1963, Yoo participated in the Korean pavilion at the Biennial de São Paulo with other artists including Whanki Kim. After his solo exhibition in 1964, Yoo entirely ceased all group activities and affiliations and instead devoted himself to his studio practice, resulting in the vast body of drawings and large-scale abstract paintings created during this period.
---
One critical aspect of this biography is the point at which Yoo's use of "color" becomes increasingly important. Yoo focused on experimenting with space and forms while attending the Tokyo Institute of Culture, as is reflected in his relief work, titled Relief Objects. One might assume that, after perceiving the monochromatic characteristics in his photographic work, Yoo began to explore his own abstract world, enjoying the tension between vibrant abstract color and the nuanced representation of nature.
---
Yoo's photo collage works are not very numerous. A small number of high-quality photos may have offered one of the many occasions for the artist to explore colors liberated from objects. Upon return to Korea, Yoo immersed himself in life for a while, and consequently his oeuvre started to include the use of clear lines, surfaces and color, all of which were reminiscent of nature, including image of 'mountain', 'sea', 'sea grass', 'tiled roof', 'sun', 'moon', etc. These created an illusion of movement as well as form of abstraction. In these cases, Yoo's use of color is arbitrary and unnatural. It is possible that, following his surrealistic photography work, Yoo discovered the possibility that the domains of shapes and background could become almost indistinguishable in his abstract paintings.
---
The exhibition Colors of Yoo Youngkuk highlights the "color" that the artist's paintings have brought to the forefront, while tension, confrontation, and sensual balance between color, space, and form are exquisitely harmonized across the surface. His color and formative senses are sophisticatedly internalized, which calls our attention to his important position in the landscape of contemporary art. While leaving the exhibition hall and writing about the exhibition, I am deeply convinced that it is now time for a very detailed and comprehensive study of Yoo Youngkuk's "color" as well as his artistic world.
---
1) 1) Lee Ihn-bum, Yoo Youngkuk and the Early Abstract, Korea Institute of Arts, Korea National University of Arts, 2000, p.10. Originally quoted from Kang Seok-Kyung, 'Painter Yoo Youngkuk', Working Artists, Yeolhwadang, 1986, p.105.
---
※ ※ This article is included in the July 2022 issue of Public Art, and is published by the Korea Arts Management Service under a content agreement with Public Art.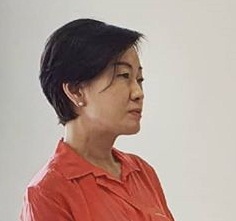 Ju-weon KIM
Ju-weon KIM is the Chief Curator at the Daejeon Museum of Art. Kim previously served as the Chief Curator at the Daegu Art Museum and the Yoo Youngkuk Foundation. Kim was also a visiting fellow at the Center for Contemporary Art (CCA) in Kitakyushu, Japan. She has organised both exhibitions and research projects focusing upon how Western modernism and the avant-garde are transformed, composed, and communicated in non-Western countries like Korea and Japan.