---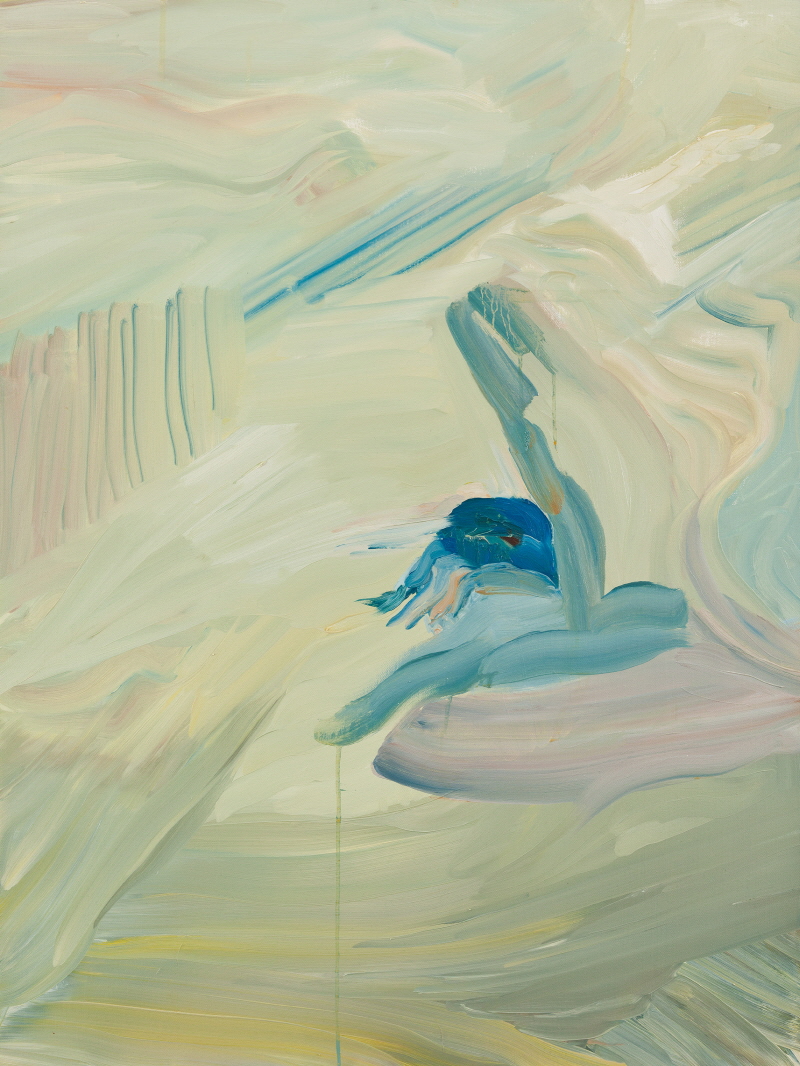 Untitled (Glacier Landscape Series), 2013, Oil on canvas, 90.9×72.7cm. Image provided by Incheon Art Platform.
---
When faced with a painting, we as the spectator, attempt to ascertain its subject. The moment we begin 'guessing', we truly begin a search for an 'answer'. That is the moment when the attempt to understand the painting turns viewing art into a boring act. When I saw KIM Hana's work for the first time, I hastily began the process of 'guessing'. I saw the painting and its title, and then deduced it portrayed a human figure sitting on a 'a glacier'. I later got a chance to witness KIM's experimental works, which differ from her 'usual' pictorial choices. In one such work, she creates a frame for her canvas that only supports the upper part of the image while the bottom half hangs without support. In other work, KIM layered canvases to obscure the painting, hanging it in the corner of a room. Upon seeing this aspect of her practice, I began to wonder if it is useful to approach or identify her art as painting?
---
KIM's work is difficult to read as traditional painting. It is difficult to identify what is painted in a single glance, and at the same time, it seems incorrect to categorize it as 'abstract' (which arguably starts with a quality of spirituality) to assign an easy and accessible identifier to the work. It even gives a sense of primitiveness. The unplaceable character of KIM's work encourages viewers to remain guessing. Where does this sense of foreignness and heterogeneity originate from? And how should her works be read? This article is an attempt to unravel the clues I have amassed from observing KIM's works.
---
Brown, Blue, Ceiling, Shipping #3, 2020, Oil and collage on canvas, 72.7×90.9cm, 90.9×72.7cm. Image provided by Incheon Art Platform.
---
Touching Senses
---
Colors, dyeing, glue, wools, fibers, fabric, minerals, jewels, stones, sands, water, ocean, glacier, waves, foam, light, shining, mirage: these are the materials and states I have found in KIM's works. I have sourced these from titles, artist's notes, and the paintings themselves. It can be said that these are captured by the artist's eyes. What is interesting is the common feature these materials and states share. They are recognizable by their texture rather than figure and by their sense rather than their concepts. Many originate from images that seem to contain an entirely different atmosphere from the sensibility of the here and now. These variables include now-covered mountains, a souvenir postcard, an image of a glacier never visited before, and a landscape of a foreign region near an African beach. These atmospheres introduce viewers to a world of strange senses. The senses arise from a specific object or landscape replaced by (non) visible figures in KIM's works. This tendency pushes towards more fundamental and transcending sites such as the sky, land, and ocean– a development visible in her exhibition Brown, Blue, Ceiling, Shipping held in the Window Gallery, Incheon Art Platform, 2020. These objects are ever-changing without having determined figures, and are expressed in terms that exist in the present world. They can be understood by the artist's attitude, which senses the discovered materials and states by their textures, not by their figures. KIM aims at re-figuring the senses she has captured from these materials and states with her own methodologies, for example through spilling, solidifying, and covering. In the end, this is the artist's attempt to capture something irrepresentable on a canvas. It would therefore be reasonable to claim that her work reaches towards 'incorporeality'.
---
Brown, Blue, Ceiling, Shipping #2, 2020, Oil on canvas without frame, 75.7×93.9cm. Image provided by Incheon Art Platform.
---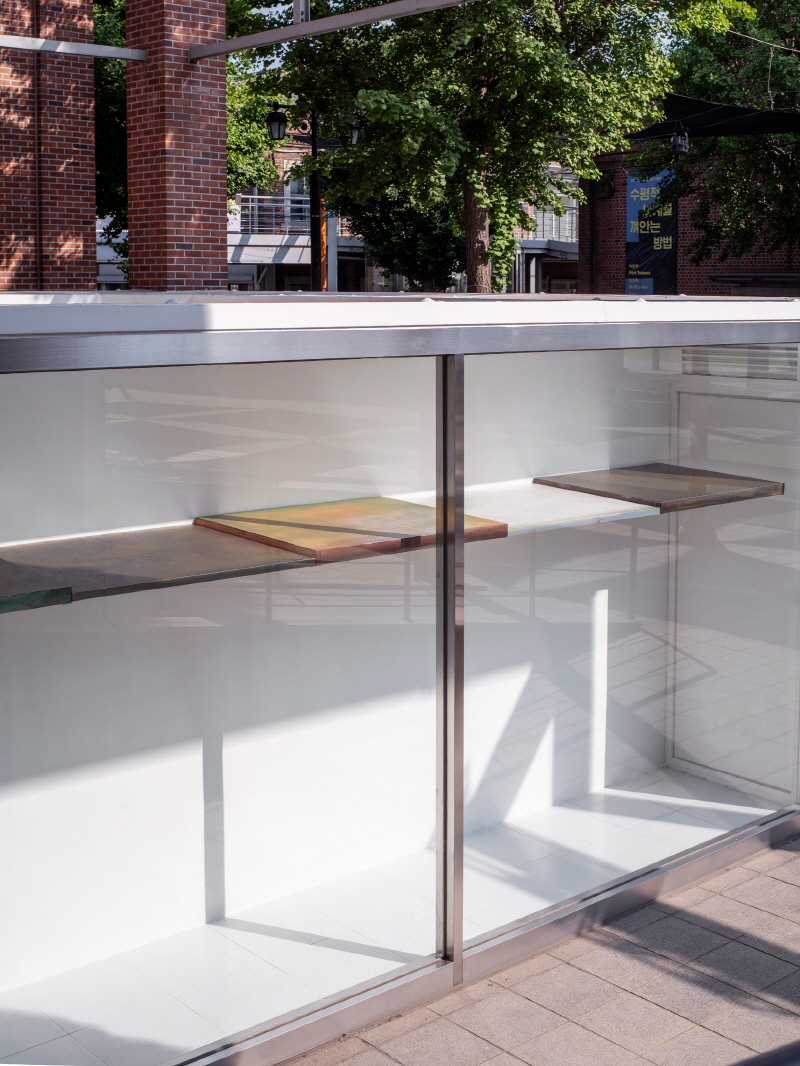 Brown, Blue, Ceiling, Shipping #1, 2020, Oil on canvas, 72.7×454.5cm. Image provided by Incheon Art Platform.
---
Her seemingly abstract early works gradually transform to focus more on the condition of painting as an exploration of materiality. These works correlate painting with space rather than merely producing an image. Along with canvases and frames, the artist experiments with paper, copper plate, wood, glass, leather, and mirror as supports for her oil paintings. KIM also provokes the audience to go up and down the stairs in the exhibition space, actively engaging them in observing the environment surrounding the paintings. This is especially the case in Brown, Blue, Ceiling, Shipping and in the corresponding exhibition where the artist required the audience to change their point of view via the height changes of Korean-style house floors (Painting and Sculpture, Audio Visual Pavilion, Seoul, 2018). It would be more appropriate to say that her paintings are 'placed' rather than 'hung'. When paintings normally hung on the wall are placed in an unexpected position, the audience is hyper aware of this change. The artist, therefore, engenders in the audience an 'unfamiliar sensation'.
---
In this sense, her solo exhibition Beau Travail, held in SongEun Art Space in 2019 is worthy of attention. The title of this exhibition and the adjacently-named series Beau Travail shows the artist's adherence to the unique attributes of painting. Hana still provokes the audience to understand her paintings within their context. Through these, the artist, once again, shows a recurrent habit of inviting the audience to question whether they are indeed looking at painting. But her series of artistic choices, like presenting a canvas itself as a sculptural material with images spilling out of its frame (Beau Travail 4, 2019), presenting a collaged canvas glued to a painting (Beau Travail 1, 2019), or surrounding (non) visible layers to be only revealed by the active intervention of lights (Beau Travail 7, 2019) proves her continuing interest in the situation of painting rather than painting as a pictorial gesture.
---
Something beautiful is Always Bizarre (Le beau est toujours bizarre)
---
When the unique texture reveals itself on a differentiated support structure, her hands stop, and the work is complete. In the Glacier Landscape series KIM utilizes processes of paint running, covering, and pooling on a canvas. In the Little Souvenir series, the artist erases figures and covers the pearl-colored oil pastels. In Beau Travail, as in all her works, KIM implements a practice of overlaying. Rather than leaving the traces of a brush, the artist has used paints to cover up the two-dimensional plane, letting the trajectory of this 'overlay' exist as one material. Just as a glacier melts and then flows, or as the wave repeats the movement of growing in size and then crashing, the paint in Hana's work flows and pools on its material support. The audience's eyes move along with the flow. This dynamic movement penetrates Hana's works while priming the audience to instinctively engage in these movements.
---
The act of spilling, blurring, and pouring presupposes a certain contingency. Can the properties of KIM's work that have been called 'abstract', really be seen as experiential (in opposition to spiritual and reasonable), or direct and material? Moreover, can her practice be seen as an attempt to re-appropriate the meaning of the abstract painting, the oldest medium, and the absolute two-dimensional plane? KIM's work, as a pictorial attempt to reveal certain strangeness, attracts the bizarre and unfamiliar. Just as Joseph-François BAUDELAIRE (1759–1827) once said, "Le beau est toujours bizarre" ("beauty is always bizzare"). KIM's work emanates a bizarreness that spurs viewers to always reach towards a beautiful world.
---
※ This content was first published in 『2020 Incheon Art Platform Residency Program Catalogue』, and re-published here with the consent of Incheon Art Platform
Jihyun Shin
SHIN Jihyun majored in art theory in undergraduate and graduate programs and is currently active as an independent curator. Having worked on exhibitions including 《Post-Pictures》(Gallery 175, Seoul, 2015), 《3×3: Painting and Sculpture》(Audio Visual Pavillion, Seoul, 2018), 《10Pictures》(WESS, Seoul, 2020), CHUN Meyung-eun's solo exhibition 《Floor》(SeMA Storage, Seoul, 2019), and ROH Eunjoo's solo exhibition 《Walking-Aside》(Space Willing N Dealing, Seoul, 2019). SHIN explores the sustainability of traditional media within the era of new media in her curation and writing.