Features / Report
KiaF, Korea's Best Art Market, Expanding to Asia, and to the World!
posted 01 Sep 2022

---
KIAF aspires to become a new hub in the Asian art market, and in fact this exciting event is only a month away. This year 164 galleries from 17 countries will participate, and the event garners great attention for its partnership with FRIEZE SEOUL. This article analyses the trajectory of KiaF's 20-year-history, which developed alongside the growth of the Korean art market. What are the challenges that KiaF is facing and what strategies are being used to overcome them?
---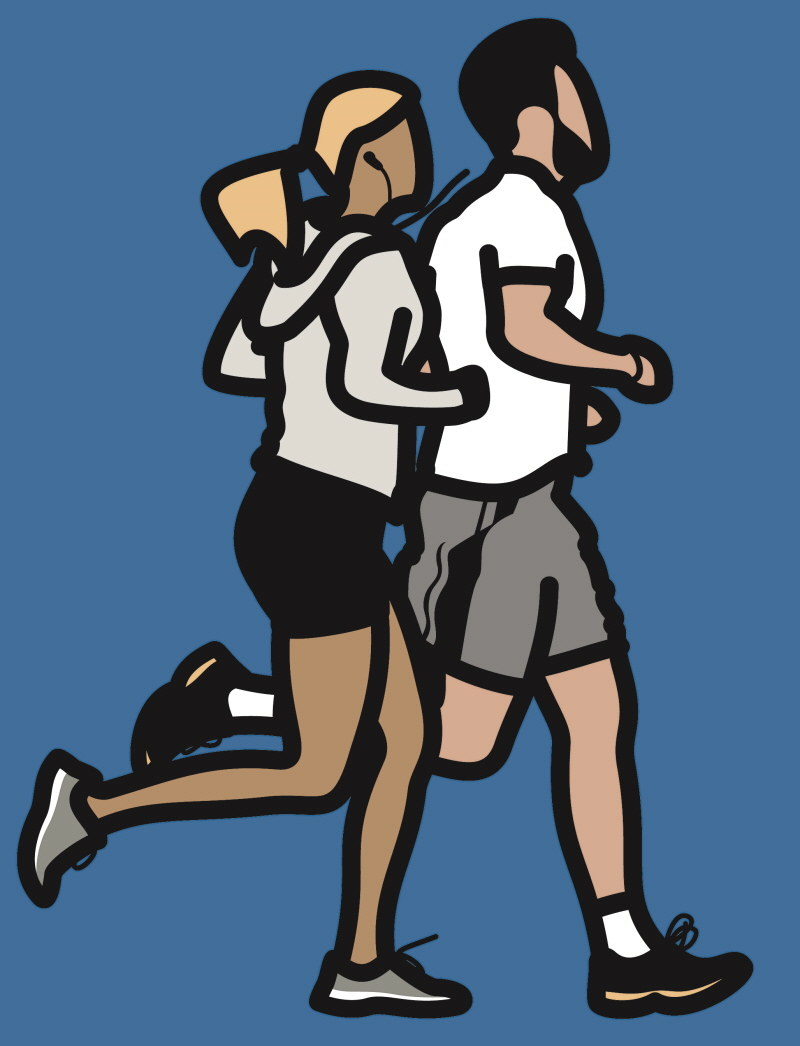 Julian Opie, Flight attendant and solicitor, 2015, vinyl on wooden stretcher, 222.7×174cm
Julian Opie is an exclusively represented by the Kukje Gallery, and delineates the shapes of people, architecture and animals with simplified lines.
Image Provided by Art in Culture
---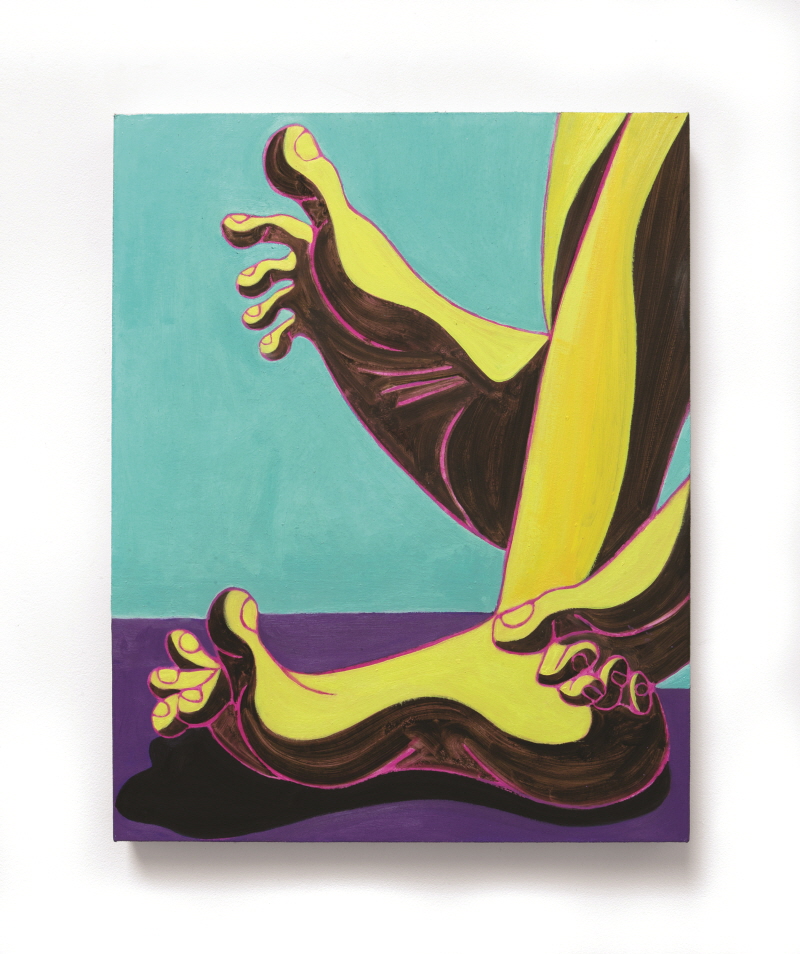 Mark Yang, Triplet, 2021, oil on canvas, 61×48.3cm
Mark Yang examines multiple facets of masculinity, In 2020, Yang had a solo exhibition at the KiaF VSF Seoul booth.
Image Provided by Art in Culture
---
KIAF, organised by the Galleries Association of Korea, is the first and largest international art fair in Korea. Launched in 2002, KIAF established itself with the goals of introducing of Korea art to the world and revitalising the art market by global exchange. KIAF Seoul's predecessor was the Seoul International Art Festival, held in 1996. At that time, it was still a year before Korea's art market would be ready to fully open internationally and allow foreign galleries to enter the domestic market. Accordingly, the Seoul International Art Festival was organised as a pre-emptive intervention to minimize the impact upon the Korean art market and enhance its international competitiveness. The event was re-launched as KiaF (the Korean International Art Fair) at BEXCO, Busan, on the occasion of the 2002 Busan Asian Games. In 2003, KIAF moved its venue to COEX in Seoul, where it remains until the present day. Initially, KIAF faced the enormous task of 'internationalisation', with an urgent call to attract overseas galleries to the international art fair. Overseas galleries requesting to join the fair became a symbolic way for Korea's domestic market to prove its marketability. KIAF also actively promoted its own artists, who became known internationally. In the 1990s artists such as Nam June Paik, Lee Bul, Ko Younghoon, Kim Hong Joo, Do Ho Suh, Cho Duck Hyun, Kimsooja, and Sang Nam Lee were already in the spotlight, while Ham Sup, Chun Kwang Young, Jung Kwang Ho, Ham Jin, Kim Dong-Yoo, Kyoung Tack Hong were receiving a positive response at international art fairs and auctions. The showcasing of blue-chip artists confirmed the potential of both KiaF and the Korean art market to overseas galleries.
---
As it continued to expand, the scale of the art market became an effective incentive. At that time, domestic galleries used a fixed price system in order to improve the opaque distribution structure. An auction, first established in 1998, achieved sales of over 90 billion KRW in 2002, thus proving and solidifying its profitability. KIAF recorded 700 million KRW in sales in its first year, which continued to double every year until 2007. KIAF therefore was seen as a wide horizon of financial possibility, with great potential for overseas galleries. Curation and planning were integral for the KIAF to become the representative art fair in Korea, because the fair cannot simply be a sales platform, but must also analyse the nature and development of contemporary art and diagnose its potential. Thus the theme and composition of the exhibition were of great importance. KIAF organised the special exhibition series, "Light of the East" in 2002 and 2003, featuring contemporary artists from Korea, China and Japan, in order to focus on the new directions of East Asian art. The special exhibition explored the artistic merits as well as the locality of East Asian art, which was relatively under-researched at the time. The special digital art exhibitions in 2004 and 2005 featured contemporary media artworks, and thus examined the wide diversity of contemporary art trends. The special exhibitions in 2007 and 2008 were particularly significant, as they shed light on domestic artists. "Something Mr. C. Can't Have" (2007) introduced up-and-coming young artists, while "The Garden of the Moon" (2008) focused upon mid-career artists. This included not only blue-chip artists, but a broad range of Korean artists working in many different directions. KiaF's goal to globalise Korean art thus came to fruition. Since then, KIAF has expanded to include special exhibitions addressing various genres and discourses, such as sculpture, abstraction, performance art, and interactive art.
---
Between 2002 and 2007 KiaF was establishing itself as a new international art fair and achieving quantitative growth, which was followed by a period of qualitative growth. The art market experienced an enormous boom in 2007 as economic recovery led to the growth of national liquidity. When the global economy was facing an upturn, with gross national income exceeding 20,000 dollars and the KOSPI at 2,000 points, a trickle-down effect led to growing demands for culture. Many invested in art works, which sparked a boom in the market. The range of collectors widened as ordinary office workers entered the art market. The total number of successful bids at major auctions was KRW 194.4 billion, an increase of 239% compared to 2006, while the auction price index rose by 52% as compared to the previous year. During the same year, the size of the art market was estimated at around 400 billion KRW. In 2007, KIAF doubled in size from the previous year, and grew into a mega art fair with a total transaction value of over 17.5 billion KRW.
---
The installation view of the 2018 KiaF
Image Provided by Art in Culture
---
The Oscillating Art Market, Downturn and Rebound.
---
Unfortunately, the boom only lasted less than a year, as the financial crisis launched by the subprime mortgage crisis spread globally. Governments weakened the liquidity of funds through austerity policies, and the art market, which had relied on this increase in liquidity for their boom in sales, experienced stagnation and decline. This affected the KIAF as well, and in 2008 there 4,000 fewer visitors and KRW 3.5 billion in lost sales compared to the previous year. Amidst this crisis, KIAF shifted its strategy toward strengthening its own internal stability rather than trying to address the volume of declining sales. Firstly, KIAF adjusted the number of participating galleries by raising the screening standards. The number of participating galleries had previously increased to 218 in 2008 during the economic boom, but now levelled off to an average of 170, which lasted until 2022. More specifically, 168 galleries were exhibited in 2009, which was 50 fewer than the previous year. This was slightly increased to 192 in 2012, but the number was adjusted again to only 183 in 2013. In 2017, the judging process was so strict that only 167 galleries participated. At the same time, many leading international art galleries joined KiaF, including world-class galleries such as: Pace Gallery, David Zwirner Gallery in New York, Perrotin in Paris, Tang Contemporary Art in Beijing, and Whitestone Gallery in Hong Kong. The number of galleries participating in KIAF this year was 164, which indicates that this strict screening is still in place.
---
The introduction of a "guest country of honor" also contributed to improving KIAF's quality. The guest country of honor was a program to support the booth, stay and curation of participating galleries from the selected country, and operated from 2007 to 2017. France, Spain, Switzerland, India, the UK, Australia, Latin America, Germany, Japan, and Taiwan all participated. The guest country of honor thus helped increase the diversity of the art fair and revitalize exchanges with the overseas art scene. These measures led to great fruition, and by 2014 KIAF recorded an all-time high of 88,000 visitors and 23 billion KRW in sales. Compared to the previous boom in 2007, visitors actually increased by 35% and sales by 31%. Overseas galleries helped to draw global attention, with 22 countries participating - an increase of 7 over the previous year. This is due not only to the qualitative improvements within KIAF itself, but also to the rebound of the art market with the heightened popularity of Dansaekhwa (Korean Monochrome Painting). Practiced by seminal artists such as Chung Sang-Hwa, Park Seo-Bo, Yun Hyong-keun, Ha Chong-hyun, and Chung Chang-Sup, Dansaekhwa was highlighted by the National Museum of Modern and Contemporary Art after 2012. It was brought into the international limelight by being showcased at Frieze, FIAC, Venice Biennale, and Art Basel, and this popularity led to KiaF's greatest sales record to date.
---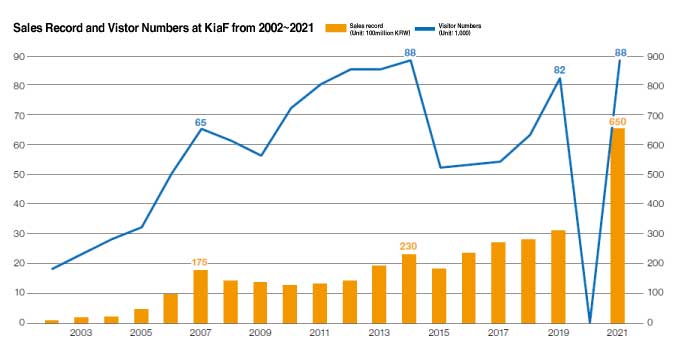 Sales record and visitor numbers at KIAF from 2002 to 2021.
Graph of sales and visitor volume for 20 years since KiaF's launch in 2002. The rapid growths in 2007, 2014, and 2021 are notable. In 2020, an online viewing room was held due to Covid-19. The total number of online visitors was 36,708 but the sales amount was not disclosed.
Image Provided by Art in Culture
---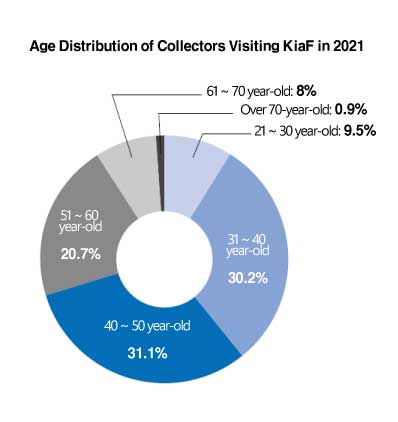 The age of collectors visiting KiaF in 2021 was recorded. The MZ generation – those under the age of 40 - emerged as an important new group of collectors and accounted for 52.8% of visits.
Image Provided by Art in Culture
---
The Covid-19 pandemic in 2019 led to another economic crisis, but the art market nonetheless experienced a resurgence. A national stimulus policy actually increased the monetary supply, and liquid funds flowed into the art market as real estate regulations were tightened. Along with trends around pleasure consumption and pent-up demand, the artworks were viewed as both alternative investments and luxury goods. The art market now attracted not only office worker collectors, but also people in their twenties: the MZ generation collector. In 2019, KIAF recorded 82,000 visitors and 31 billion KRW in sales, which was close to the record set in 2014. In 2020, KIAF was only held online as a precautionary health measure, with 36,000 visitors counted.
---
In 2021 KiaF achieved an all-time record, surpassing the peaks of 2007 and 2014. 95,000 visitors attended the event, with sales reaching 65 billion KRW - nearly three times that of 2014. There are increased expectations for this year's KiaF, not only because it will be held concurrently with Frieze Seoul, but also because the popularity has continued to grow and solidify after the positive results of the 2021 fair. It will also include a wide range of high quality educational programs, special exhibitions and campaigns, all of which have been organised to attract responses both from collectors and the wider public. Public lectures have been customized to meet public interest, and address the current state of the culture and art industry, the post-digital era, as well as the art metaverse. The docent program also helps the MZ generation to focus on the appreciation and appraisal of art work before making a purchase. In all of these ways, KIAF has sought to create a self-sustaining art market environment with a stable, long-term vision, rather than being swayed by overheated speculation and yearly sales.
---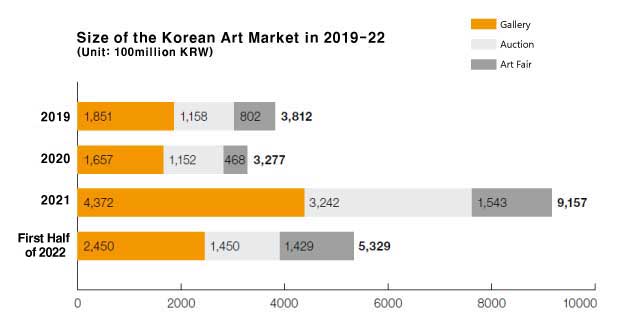 Statistics on the size of the art market over the last 4 years. It is estimated to reach about 532.9 billion KRW by the first half of 2022. It is expected to exceed 1 trillion KRW for the first time this year, including the second half of 2022.
Image Provided by Art in Culture
---
Towards Asia's No.1 Art Market
---
This year's KiaF is attracting even more attention as it is held concurrently with Frieze Seoul. The number of participating galleries has increased rapidly, although stricter screening reduced the number of booths from the previous year. KIAF has focused not only upon the marketability of presented artworks, but also upon the capabilities of the galleries themselves, including curating the exhibition and the discovery and support of new artists. Kukje, Gana art, Keumsan, Jason Haam, PKM, Hakgojae, Hyundai, etc., are all participating from Korea, while Esther Schiffer, Perrotin, Peres Project, and Whitestone are joining from overseas. A newly launched KIAF PLUS (September 1-5, SETEC) will showcase emerging galleries and NFF art. A special emphasis is placed on the solo section as 16 booths, including BAIK ART, Lee & Bae, G.O.P, Make Room (USA), and SH Gallery (Japan), will organise solo exhibitions representing a single artist.
---
The 20-year history of KIAF can be seen as divided into two halves. During the first it promoted quantitative growth and secured its status as an international art fair, while during the second it fostered qualitative innovation despite market turmoil and stagnation. Compared to other art fairs at home and abroad, KiaF's most distinctive feature is the balance it has struck between commercial and public interest. KIAF aspires to become 'A Museum of the Market'. While attracting blue-chip artists and leading galleries, it has also organised various programs to continuously illuminate emerging artists and expand the base of art culture itself. In conjunction with the booth exhibitions, the special exhibitions have introduced every aspect of Korea's modern and contemporary art, and provided an important platform for new discourses. These measures and foresight have allowed KIAF to emerge as the leader of the Korean art market. Although the national exit strategy from the pandemic has included tightening financial policies in order to weaken liquidity, KIAF's cultural status remains pivotal enough to accommodate the current optimism for this year's fair.
---
This article, originally published in the August 2022 issue of Art in Culture, is provided by the Korea Art Management Service under a content provision agreement with the magazine.
Jaeyeon Cho
Art Critic, Journalist of Art in Culture. He is a critic who aims to deepen toward the difficult, even after the end of loss and barbarism. He writes while trembling, depending on the idea that reform will be radicalized into lyricism and that anger will come forward as lamentation. He won first place with the article "Quietly Continuing Quarrel" (2019) in the 3rd criticism competition held by GRAVITY EFFECT, an art criticism magazine, and worked as a theorist in HART LAB Residency (2021).