People / Interview
Stimulation: A Talk with Hyun See-won, an Independent Art Curator
posted 29 Oct 2012
Stimulation : A Talk with Hyun See-won, an Independent Art CuratorTheArtro have prepared for a new section with interview relays, in order to learn the activities and the aspects of the art people. These interview relays are flowineg connected from people to people, Jung Yong-guk --> Lee Dae-bum --> Hyun See-won, and the role of the interviewer and the interviewee switches by succeeding one another. This comer should select interview targets taking any presumable situations of the following interviews into account.
For the following figure will be chosen according to the previous interviewee's personal connections and interests in art world, the next interviewee is completely out of our anticipation. Let's catch up the genuine conversations among the interviewers and interviewees in their close associations.
Hyun See-won / Independent Curator Graduated Korean National University of Arts with a thesis about Korean contemporary art. Having published Walking Magazine with her friends since the spring of 2006, she worked as a reporter in the esc team of the Hankyoreh Newspaper. She has written diverse articles since then, including her book Design: Opposite Poles (Haggojae, 2010). Hyun also organized art exhibitions such as Cheonsu Mart 2nd Floor (National Theater Company of Korea 2011 / Festival "Bom" 2012) and Be Awakened, You Command Group (2010), as well as some projects like Writing band (2012, www.writingband.net). sonvadak25@hanmail.net
Lee Dae-bum (as 'Lee' below): I remember our first meeting in 2005. It was an encounter not long after both of us had become art reporters in spite of our major, Korean Literature in colleges. There was a common problem that we share together in our conversation at that time. I have had a vague hope that you would have figured it out somewhere in your later activities, so have observed your activities attentively all the time.
Hyun See-won (as 'Hyun' below): I haven't organized many art exhibitions so far, and thus cringe, to say frankly, to get interviewed as a curator. In a recent interview, I found it difficult to answer simply to a question about the 'alternative' or 'future' of an independent art curator's activities.
Lee: The question is thrown out on the surface already, whereas its solution becomes more ambiguous. Isn't it probably because we look at it with existing frames? Perhaps, an innovative frame on art exhibitions might be what is urgently needed for now.
Hyun: Yes, I agree. It looks questionable even if a 'new' space with an advocacy of alternative.
Lee: It is true that the emergence of alternative spaces in 1998 shook the value of exiting system, in Ssamji Space, Project Space Sarubia, Alternative Space Loop, and Alternative Space Pool to name a few. But I believe that this kind of era is over now. Rather, I regard a new groping more important at this point to admit the post-era of alternative spaces. While working as an independent curator, I encountered a critical situation at a certain point, and have been exhausted to look for a solution with established frames of art exhibition. Rather, I happened to think that I could achieve more when freed from the pre-existing concepts of exhibition. The recent project of roundabout is its process as well as an output. It was the [Walking Magazine] what became a motor point for such a change. Having meditated on this matter, I thought that the realization of it had priority over a hesitation with a mere observation of its realization.
Hyun: In case of the [Walking Magazine] initially published in 2006, during my college life with my friends, I did not feel much burdened with the sense of responsibility. In the meantime, each of our stances was different. Even though it was not a big project, I thought that the [Walking Magazine] could have become an art exhibition at that time. We shared a lot of opinions while working on it; my two friends mentioned the [Walking Magazine] as a sort of hobby, not a profession. It has never been a pastime for me because the [Walking Magazine] was a paperwork on which I have published the art works of the artists I like. I considered the Walking Magazine as a 'blank paper' to open an art exhibition out of the existing system of art world. Another important point is that it provided me a great freedom and stimulation that I could write articles. The three members of the [Walking Magazine] became impetus and touchstone one another while we share our ideas and proof read the writings of each member.
[Walking Magazine] Vol.5, Cover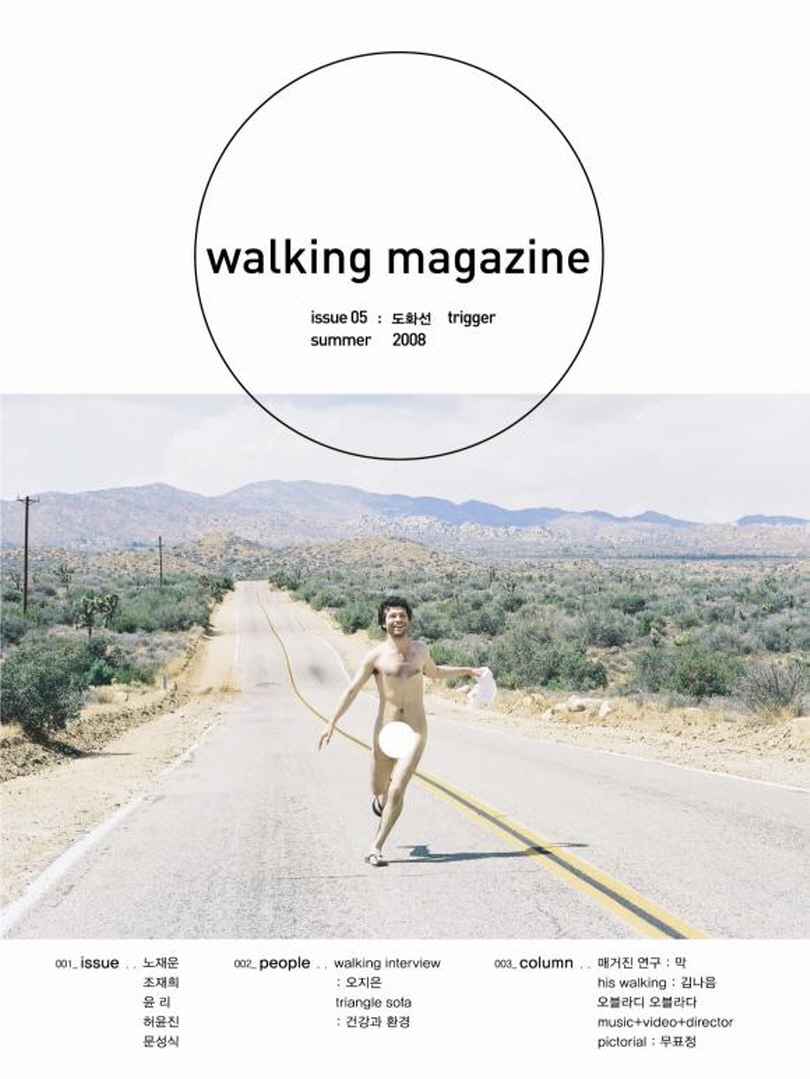 [Walking Magazine] Vol.6, Cover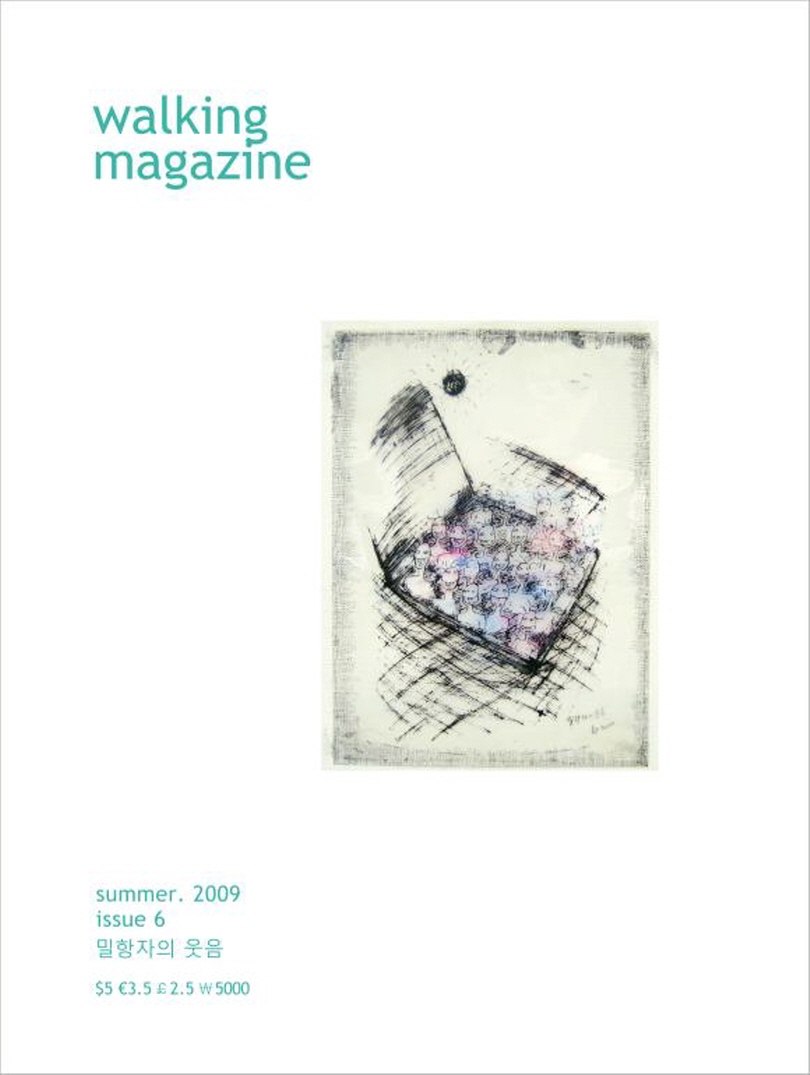 Lee: I remember that the [Walking Magazine] was submitted in the form of art exhibition at the Gagallery in 2008. Was there a transition of the Walking Magazine's character when it was changed from its book format to an exhibition space?
Hyun: I really loved the works of the artists who participated in the [Walking Magazine]. They proceeded new works for the [Walking Magazine]'s pages during the short time allowed to them. I think this process was a precious project for me in this reason. But a friend of mine, who worked for the magazine with me, threw a question whether we worked only with the alumni of our university. This matter came out of the surface through an exhibition of the year 2008. Another problem appeared that the half interest by an art exhibition was lost in the process of bringing the works intactly from the magazine; a new format was needed to organize an exhibition. Resultantly, I could not find such an excitement at the《Walking Magazine Walks》exhibition as what we enjoyed while making the magazines on the paper form.
Lee: I found a large gap between the exhibition and the paper work. I thought whether you had taken it too easy instead of discovering the individual properties of the paper and the physical space. After all, I reached a conclusion that an would be something more in an exhibition than to put the images of art works on the publication. So I was thoroughly troubled about which direction I should put my aim toward if I would happen to work in such a format. To add one more thing, I felt a sympathy about the contents related with a 'friend.' I also have organized exhibitions with those who shared critical minds with me. They are still working with me, but I gained a criticism from outside that I do all the things only with my friends. There must be a hardship in that process. What do you think about this matter at the present time since a few years have passed after the Walking Magazine exhibition?
Hyun: For now, most of all, the word 'friend' looks inadequate. Those who walk with are irreplaceable beings to me. I believe that they own a lot for me to learn. I learn the working process and the attitudes on life from them. Probably, they are close but scary people. They are those who should criticize more sharply. I recall that I once thought and wrote on a note not to make exhibitions with friendship or ones like a party with friends. Now I believe that there coexist strength and weakness to organize an exhibition with my acquaintances, though.
Lee: The matter is whether there is a 'harsh criticism,' not a 'friend' itself. As I observe, you have been enthusiastic, as a curator, with no fear to meet others including artists. I learned that there have been stimulations through mutual 'harsh criticisms' in that process.
Hyun: Well, in a certain point of view, I do not seem to have many friends. My personality makes me concentrate on a single person at a time. If I possess a driving force, it might be that I always run to what is curious. In case of Ju Jaewhan, I was charmed by his personality but, more fundamentally, I have kept him in my mind since I wanted to make an exhibition about 'laughter.' Nevertheless, not all artists commune with me even though I have curiosity and question them. There are often some artists standing parallel with me at a certain moment. In case of Ju Jaewhan, he persistently inspires me. Numerous artists still remain curious to me.
Lee: Once in a while, I enjoyed imagining what popped up in my head, not meeting with artists in person. But recently I have taken a role of a 'interlocutor' among artists. I try to listen to them, to go in their lives, and to learn from them. I have more artists who bring me curiosity to talk with than before. If the [Walking Magazine] was a research on the curiosity toward artists, I'd say that your 『Design: Opposite Poles published in 2010 is a research on the curiosity facing in the world. The Design: Opposite Poles』brought me a pleasure to find a newness of Hyun See-won beyond the identifying established Hyun See-won. Reading your wrtings in the book, I was charmed by the method to figure out your curiosity that the curator Hyun is interested in small things of life and does research to ensure its internal stability. What I saw was rather a construction of meanings in the minute parts of the world than the aspects on 'design.' Observing this, I thought Hyun See-won curator has a strong attachment to the surroundings of life. I also thought previously that you were interested in visual images rather than art, but at that time, happened to observe the outputs produced by the real practices with your own feet, not merely in the dimension of an idea.『The Design: Opposite Poles』 was a discovery of Hyun See-won.
Hyun: In the early winter in 2010, I used to go to swim and yoga early in the morning. The articles in 『the Design: Opposite Poles』are written with what I saw while walking in the morning at that time. It was like a world in Shin Sinae's song, "Sesangeun Yojigyung (The World is So Strange)." The world looked so burden when seen from a distance. All the things seen while I was walking looked so fresh. What astonishes me in another way is that, at the present time in 2012, I became to reach a point where I'm simultaneously interested but lost interests in the tiny things I saw at that time. I do not seem to have much affections on objects, but be whimsical. Some objects came up to me all at once like in a scene of a movie: such as exit sign, the fluorescent-colored uniforms of street cleaners, a red mailbox, and so on. So I decided in those days, "I need to know them right now."
Lee: It seems that the important side spot lies not on the 'design' but on 'opposite poles' in the 『Design: Opposite Poles.』 Creating a new significance by the stimulations of each other in positioning on 'vs' relationship between two heterogenous objects, this looks enchanting in the Design: Opposite Poles.
Hyun: That's correct. I still have to learn more about the 'design.' My interest was 'opposite poles' as a matter of fact. I am persistently interested in 'vs' even until now. I feel interested in a symmetrical structure, in other words, a circulation in which oneself becomes the other and the real becomes false. To shift positions is truly a classical topic, but I am interested in a twofold, opposing world, and the things deriving from it.
Lee: I cannot miss the story about the Cheonsu Mart 2nd Floor in 2011. The Cheonsu Mart 2nd Floor was a new experience to me. Observing a person, Hyun See-won, who accesses to the same place in a different way, I learned that the active approach allows us to discover a new system.
Hyun: In those days, I wanted to share with people by letting them know an old painter whose name is Cho Sunglin whom I met at the second floor of the Cheonsu Mart across the Art Sonje. Moreover, numerous thoughts popped up in my head like a question how it would have looked like when the exhibition became staged in real. I enjoyed a sort of chemical responses through the co-works with exhibition commentators, Park Gil-jong and Whang Ho-gyung. During the exhibitions held twice in 2011 and in 2012, every member seemed to have wandered in their roles. Whang Ho-gyung changed a role from a docent to an actor for the performance, whereas I reached an ambivalent status as a project planner but not a planner at the same time. The artist Park Gil-jong also seemed quite changed in various aspects to see his added devices in 2012; he equipped only for the paintings of Cho Sung-lin in 2011. Now I am preparing for the publication of a small book about the Cheonsu Mart 2nd Floor, but hesitate to embark daringly on it. I think that Cho Sunglin's 'paintings' as a strong image should hold the central place in it.
Lee: To ask a question as a curator myself, I realized during the process of 'roundabout' exhibition project that we seem to enlarge some parts of the artists and only look into them more than we usually think. The problem was that artists do not have people to talk with, during a rest period between a solo exhibition and another solo exhibition, which is a time for a self-examination and a further research for artists. I think it is a period when a new 'language' is needed to face artists.
Hyun: This can be a different story, but contemplating on what writing means to me, there is a moment among many stages that writing gives me a pleasure. I take pains with which viewpoints of the works of artists I should write. It is too difficult to write an article finely with my own viewpoints. As an art curator, I intend to write articles after observing the works in a close distance. If there exists a merit of writing as a curator, it would be a playful 'composition' to arrange the contents here and there in an article.
Writingband_2012_Hong Eunju, Kim Hyungjae Website design_'move' exhibition 'on the spot' project, The National Museum of Contemporary Art-1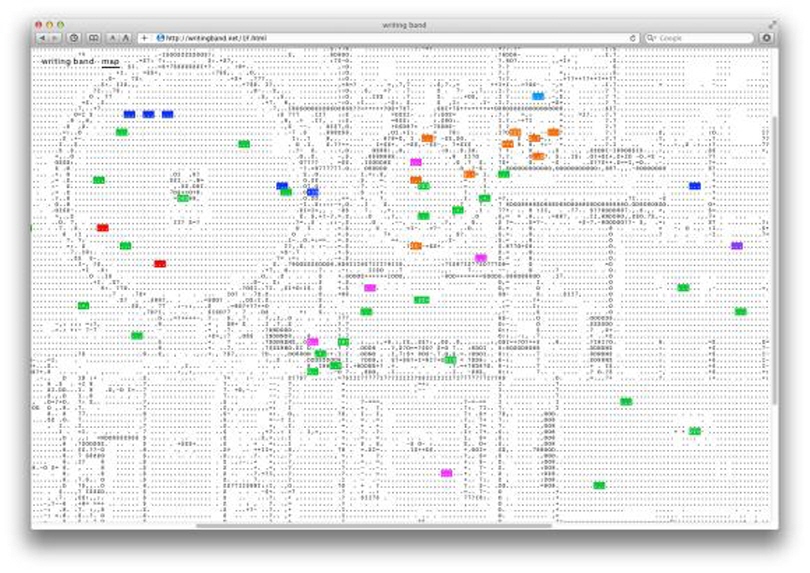 Writingband_2012_Hong Eunju, Kim Hyungjae Website design_'move' exhibition 'on the spot' project, The National Museum of Contemporary Art-2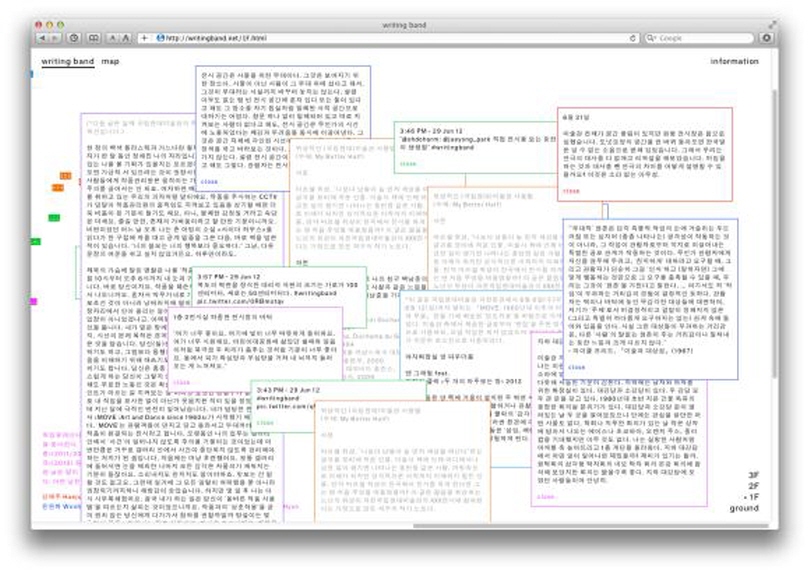 Lee: I couldn't agree with you more about the playful 'composition' of art works when writing.
Hyun: In the level of writing articles, I wish to meet with artists and write closely about their art pieces. I have had questions while meeting with these artists and writing on them. These questions sometimes become isolated after I organize exhibitions or write articles in seeking for the answers. Now I wish it stops. I really hope to think over and over again about the art works of the artists whom I wrote about or organized for exhibitions last summer.
Lee: I personally wish that the questions would expand rather to find their answers. No output seems to have produced in the exhibition formats after Be Awakened, You Command Group.
Hyun: I am thinking about various subjects that I wish to bring in art exhibitions. But right now, I haven't found an inevitable reason to solve them with some works of few artists. If there's no limit in choosing art works as well as in time and space, I could reorganize those subjects interestingly. It would be nice if diverse art works and visual images from various periods are gathered in a single place. But an exhibition to show some corresponding works from a small number of artists under a certain subject would not be interesting even to these artists.
"Be Awakened, You Command Group"_Space Hamilton_2010.07.09 - 2010.07.23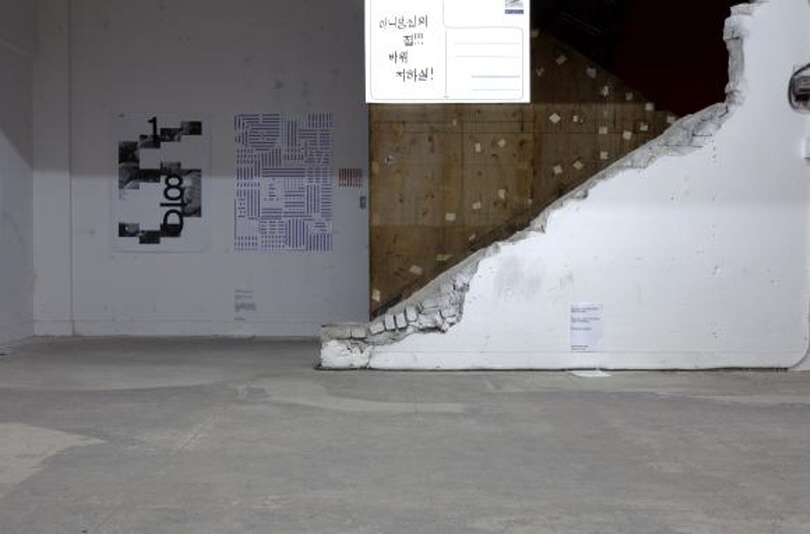 Lee: When organizing an art exhibition with a specific topic to settle it, wouldn't it be the limitation that art works and visual images of all times and places gather in a single place? Therefore, I am personally considering a new form of paper exhibition, called "roundabout gallery," which is on the drawing board yet.
Hyun: I am full of curiosity because I still do not know much. So I intend to focus on watching here and now.
Lee: We seem to walk along a same, but disparate path each other, which is preferably stimulating to me. I solve my problems by others' activities, or receive a new directing point to settle them. Personally, I would like to be a good spectator for you. And please be a good viewer for me, too. Thank you for sharing your precious time.

Lee Daebum / Art critic
Born in 1974 in Seoul, Lee Daebum is currently working as an art critic and independent curator while exchanging with diverse people through 'roundabout'. 'roundabout' is a social project whose outcomes have been the publications of Annotations Without Texts((2010) and 30 Minutes(2012) and the exhibition entitled 강동주: 정전(2012 at 256 Nooha-dong, Jongro-gu, Seoul). Currently, he is conceiving a new project regarding the films in which actor Seong-ki Ahn has taken part. He co-wrote Beyond the Political: The Three Decade of The Hyunsil and Baleon (Hyunsilbook).​