---
In Suhyung Song's studio there were a range of paintings with diverse forms and themes, and so it did not look like they were painted by a single artist. On one hand, there were portraits showing forms painted with simple strokes of a brush and paint on the ground showing the texture of the canvas as it is. On the other hand, there were landscapes filling the canvas with a variety of different thickly layered colors. As is seen in her artworks, Song is not interested in establishing a specific formal methodology. Her attitude rails against a common denominator, approaching 'the artist's own formal world.' Song says she wants to paint in a way she can never predict.
---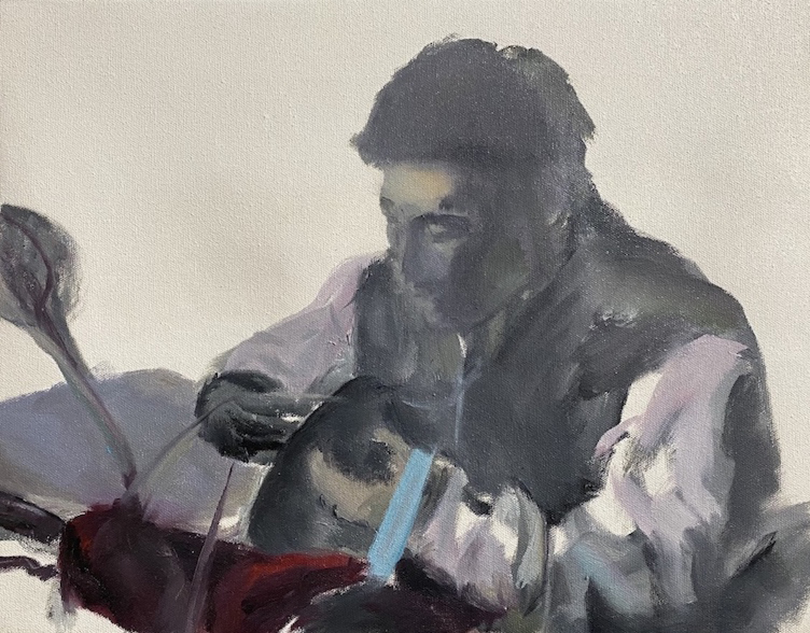 picture, 2020, oil on canvas, 41x32cm
Image provided by artist
Courtesy of the artist
---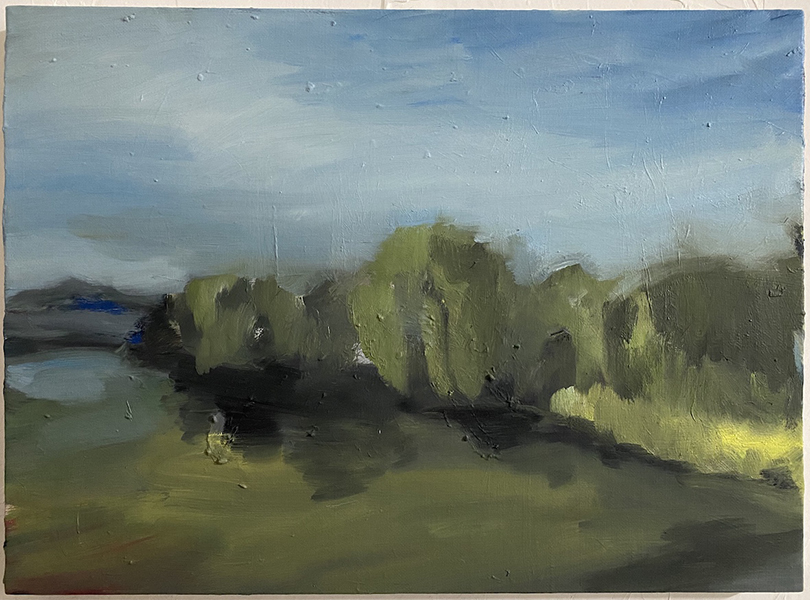 Banpo, 2020, oil on canvas, 41x32cm
Image provided by artist
Courtesy of the artist
---
For Song, who has doubts about painting different objects in a similar manner, painting is not a way of transcribing an object onto the canvas through skillful hand gestures obtained through longtime training. The verb 'to paint' for her does not begin at the moment she strokes with a brush onto a canvas but embraces a much more extensive and difficult process of finding a proper way to paint the object, while facing the substances surrounding painting and the thinking of an object. However, the first thing that arises is the question of whether or not a proper form appropriate for an object is possible. In bringing images onto a two-dimensional plane, it is not possible to eliminate our learned visual system. Furthermore, the historical thickness of painting cannot be ignored, either. In that sense, a proper one to one representation may not exist.
---
That is why modernists in the past chose to avoid representation itself. It was the only way to make painting its own. They eliminated the illusion and representation reminiscent of another kind of object and entered the world of abstraction. But the proper form that Song thinks of is totally different from the directions of modernist painting, even if the notion that painting is something in itself can be understood in a similar context. For Song, a proper form is neither the embodiment of the absolute spirit of the artist, nor the autonomy of painting itself. What is more important for her is to create a circumstance in which the arrangement of materials composing a painting and the movements, including the smallest elements such as strokes of a brush, are not converted into the means of a superior notion, remaining autonomous in themselves.
---
Such an attitude towards painting seems classical at a glance, but there is definitely something different going on here. The attitude of not converting little elements that compose the picture plane into metaphysical notions looks like an attempt to find an ethic in forms. In this regard, every element of painting in itself becomes an end, not a means. Song prevents painting itself from being degraded to become an instrumental substance that expresses an object, and keeps the arrangement of materials, which composes a painting to become recognizable. Such a formal exploration is the essence of her work. Now let's look at the recent works of Song.
---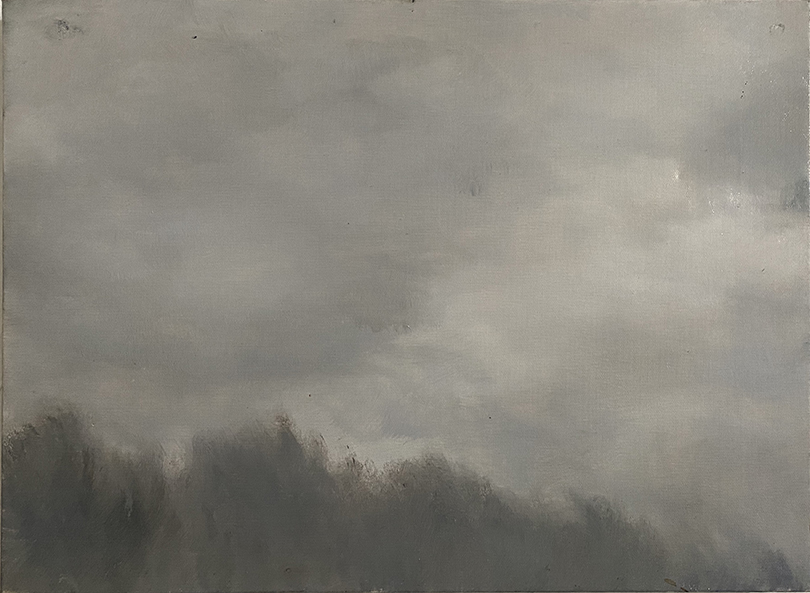 before the storm, 2012, oil on canvas, 41x32cm
Image provided by artist
Courtesy of the artist
---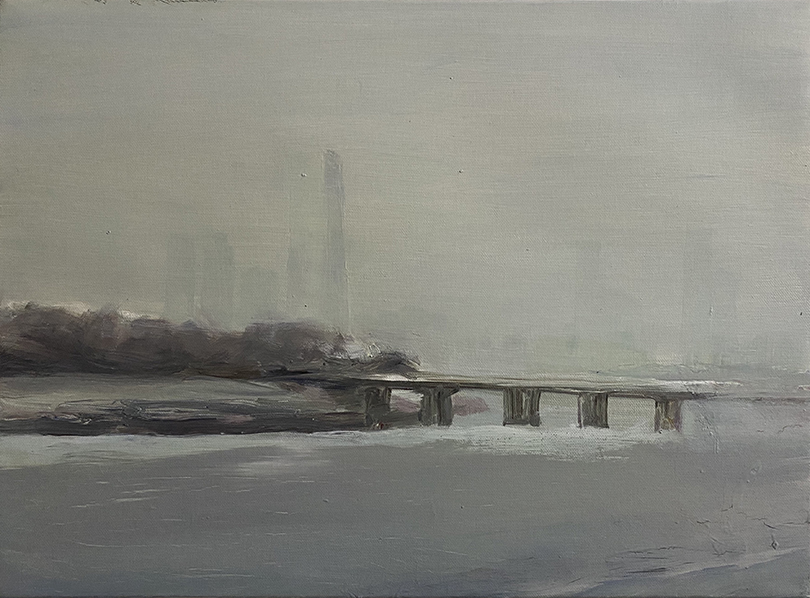 river, 2020, oil on canvas, 45x33cm
Image provided by artist
Courtesy of the artist
---
Suhyung Song has been working on the little landscape series. In landscape paintings, it is often necessary to color relatively wide areas. The problem is that it is required to make artificial strokes of a brush several times to form an area. The artist explores painting as a materialistic constellation in which even a small stroke does not melt into a means for another form and is positioned as a form in its particularity, while having its autonomy. She digs into the landscape for this reason paradoxically; the possibility of the moment where every single stroke of creating an area appears sensuously exists there. Her formal exploration is often founded on such a contradictory situation or a kind of impossibility. Song's other series dealing with the subject of boxing is also notable in this sense.
---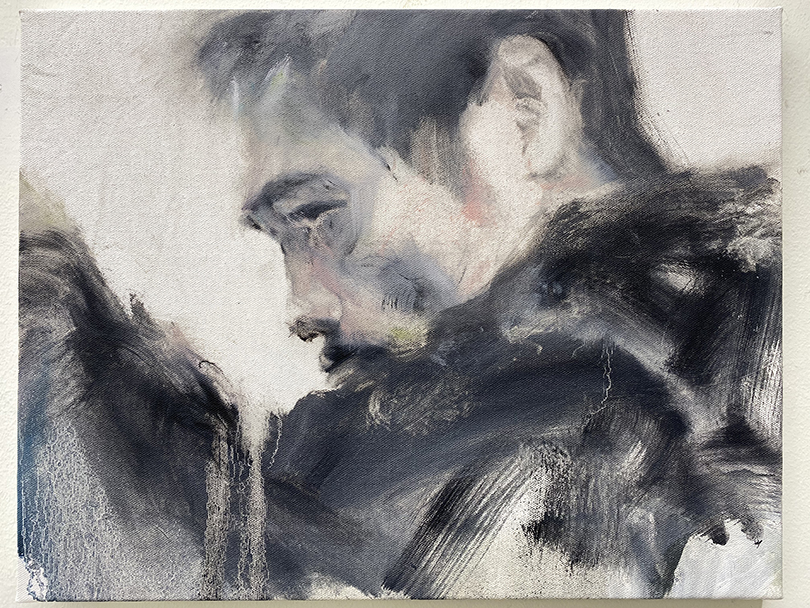 Champ2, 2021, oil on canvas, 41x32cm
Image provided by artist
Courtesy of the artist
---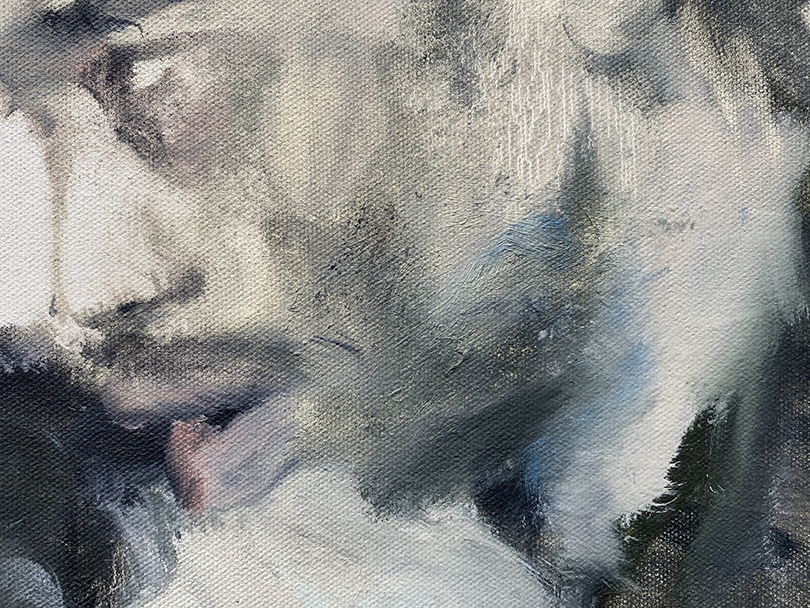 Champ1-close up, 2021, oil on canvas, 41x32cm
Image provided by artist
Courtesy of the artist
---
In sports, explosive power and powerful rules work at the same time. In that regard, sports are also a form that confines physicality and complicated affects to certain limits, like panting. In particular, boxing has a point of contact with painting unexpectedly because it has a square ring. Since sports like boxing have a form with a powerful energy already, it becomes difficult to find a way to represent it in a proper manner again, which is a problem. To praise the spirit of sports or to transfer its sublimity into painting is meaningless in Song's methodology. So the problem becomes more complicated. But in this case too, the artist chooses to take the bull by the horns rather than to avoid it altogether. She continues to deal with such themes in her painting. Song paints the same image several times using various techniques, or sometimes portrays similar scenes from a different angle. A boxer permeating the canvas, a lumpy boxer, a solid, soft and sharp one… All these are of a totally different materiality and the images are positioned again every time. Song's way of not establishing a certain formal consistency works more dramatically through these repetitions. It also seems like a kind of physical, mental as well as materialistic training is needed to overcome these impossibilities. There are things that are revealed only through repetition.
---
Painting is fundamentally an exploration of the reified notion of the image. To paint is basically to capture a notion with material, and the material composed of fabric stretched across a frame with paints on it can be placed between the notion and material, with an image. Painting is about grasping the notion with endless possibility and turning it into a fixed state. The possibility of image and the incompetence and limitation of painting, a materialistic form, overlap with each other. In this context, Song is not vaguely addicted to the possibility of painting, but goes forward while finding and stepping on its ground that is formal and materialistic. To be precise, through the things that painting cannot do and through its contradiction and paradox. Suhyung Song delves into the potential of painting through what painting cannot do.
---
※ This content was first published in 『2021 SeMA Nanji Residency Program Catalogue』, and re-published here with the consent of SeMA Nanji Residency.
Taehyun Kwon
Taehyun Kwon writes critiques and curates various art projects. He explores how to think of the most common events as practices of art. Kwon continues research with the view of identifying the political as the aesthetic.