---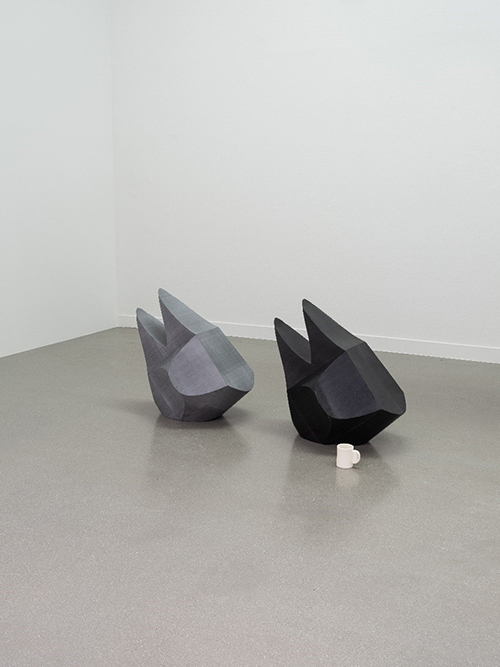 Slanted Face 1,2, 2019, Printed on paper, 51x52x70cm (each). Courtesy of the artist.
---
Paper is thin and fragile. To make it stand on its own, the hands of the maker need to make a design sketch. The layout should identify which sides should face the floor, which surface is to be connected with which, and how to distribute the weight evenly. A series of physical conditions shapes a series of questions, turning pieces of paper into a human-like form. It keeps its balance by spreading its arms from side to side while keeping its feet tight on the ground or curling up on the floor to counter gravity like the human body. Yet unlike a living body, its inside is empty. As paper-bodies are produced a number of times — the maker extends her delightful imagination, picturing her sculpture series Paper Body, Paper Face on an epic-scale of a soap opera —, certain elements stand out as recurring figures. Graceful lines descending to a pointy corner that gives rise to curved surfaces… They are not only pleasant to make and look at, but also serve as a breakthrough against the unavoidable laws of physics. As paper-sculptures pile up their forms become simpler and effortless. Since the exhibition Young Korean Artists 2019: Liquid Glass Sea (2019.6.15.-9.15, National Museum of Modern and Contemporary Art, Gwacheon) they have achieved a solid yet elegant presence.
---

First Fact- Cups, 2019-2021, PLA filament (poly lactic acid), approx. 10x10x15cm. Courtesy of the artist.
---
Somehow mugs came along in the course of this development. Since 2019, they have reappeared from time to time in the gallery. They have always been within the artist's reach, witnessing how paper takes the shape of a body. The Hands draw patterns on paper, cut it, and assembled them into forms. The same Hands reached out and lifted a mug for a sip. Paper-sculptures and mugs are on intimate terms with one another, thanks to the shared touch of the Hands. However, you need a good reason to bring a mug to the gallery. It needs to be born again as a sculpture. The Hands decided to print the cups from a 3D printer. To be precise, the Hands placed an order for 3D-printed mugs. This choice is quite unexpected of the Hands. The sculptor's Hands that used to work by themselves for hours at a time acknowledge the need for the cups to be "filtered sculpturally," yet seemingly abandoned their own involvement. In other words, according to the Hands, an object and a sculpture are clearly different, and the former requires a process in order to become a sculpture. A question lingers: how is 3D painting a sculpture-rendering process?
---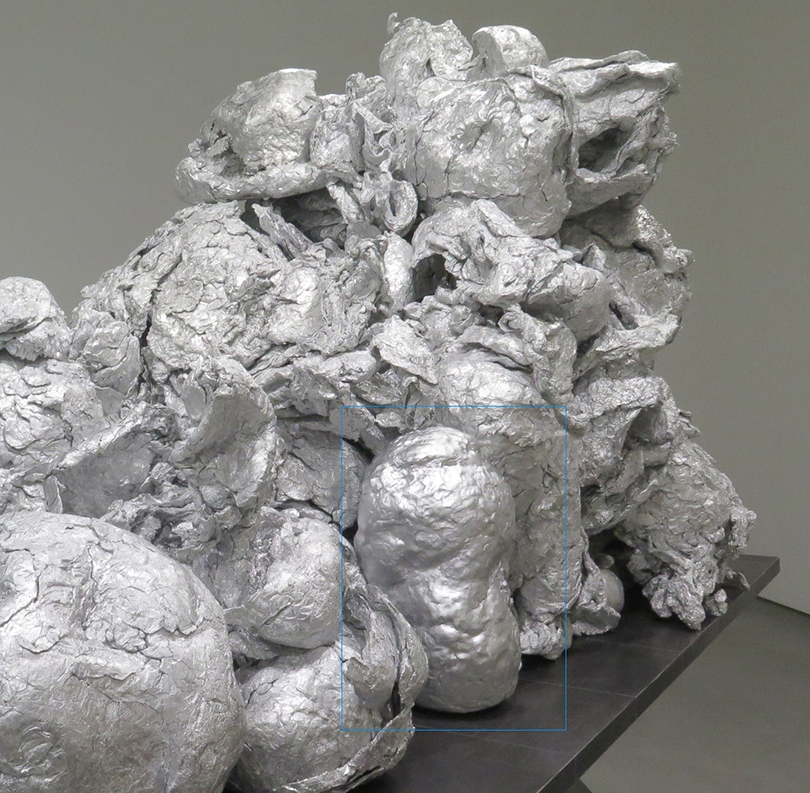 A piece of clay made with fake aluminum spray (the blue line in the picture). Courtesy of the artist.
---
A 3D-printed mug is a sculptural translation of the object, meaning it is a fake mug. It looks like one and even functions as one, but it is merely a shell or an abstracted form of it. To be a sculpture is to be removed from the presence and essence of an object, but still taking its form that makes it what it is. This brings to account for the basis of the sculpture-ness of the paper-body: it is processed form, standing solely on its skin. We can now abandon the dominating alibi that grounds the value of sculpture – Hands (of the artist) made it. Furthermore, the Hands print out the texture of stone or iron plate on paper, or at times spray the aluminum-like material on the lumps of clay so the skin performs material. This eventually develops into an inside joke among a decidedly small group of the Hands and the sculptor herself. "This one wears the skin of a rock, but is with featherlight arms and legs… That one over there lies beside the aluminum foil lumps, but it's actually much heavier sand… No one would know…"
---
(Left) A pattern for making paper-sculpture (Right) A scanned copy of a pattern. Courtesy of the artist.
---

(Left) Models of Paper Body, Paper Face – Grey Face from 3D modeling program (Right) A drawing for woodwork. Courtesy of the artist.
---
As the paper-sculptures generate detectable patterns in shapes, the artist turns it into a 3D model by scanning the Hand-drawn paper patterns. This very step of datafication establishes a twofold sculptural process that captures only the form by eliminating the mass of a sculpture, which had already gone through such abstraction. The Hands especially enjoy using the Boolean tool. Boolean is a function from a 3D modeling program that seamlessly combines multiple layers and removes overlapping areas based on the calculation of union, intersection and difference of sets. This operation is similar to the work of a sculptor who uncovers form from matter by cutting, folding and putting together pieces of paper. The Hands that cut fabric and make clothes by backstitching as a hobby finds the Boolean tool's operations to be fairly physical. Hand-cut elements and design are converted into data, and then, modeled via a software. Here we have, a figure, as an output of this sculptural process. All that is left is to choose a medium and print it out.
---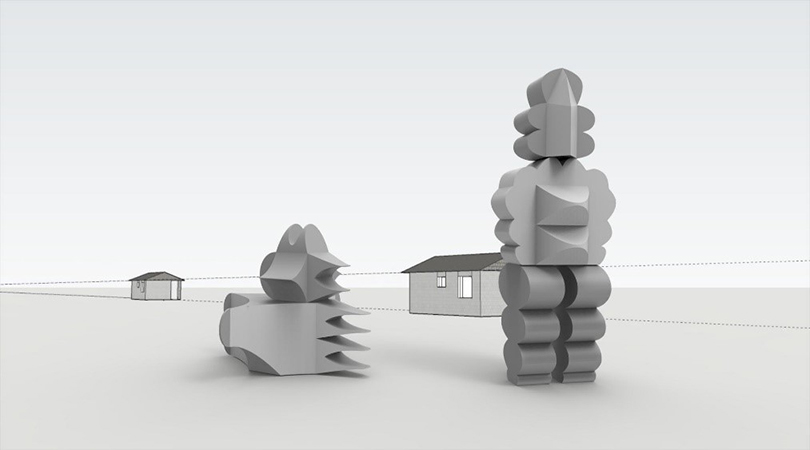 Virtual paper-piece/sculpture rendered from 3D modeling program. Courtesy of the artist.
---
Whereas the hands of a carpenter or a blacksmith are considered somewhat similar to those of a sculptor, a 3D printer was largely viewed as a magic wand. This machine captivated makers across the board as it promised to summon anything on their demand as long as you have data to input. The trick, however, was quite simple. The process of accumulating layers from the bottom with heated thermoplastic filament is similar to that of pouring resin into castings. Although it is far from a classical technique of defining a form from matter, like carving stone to uncover certain figures, a 3D printer is another kind of hand performing a sculptural process, the same course of events led by the Hands that incorporated the language of modeling. The Hands have high hopes and dreams for the estranged lumps of various materials, removed from them by the printing process. We may not know what these expectations entail until they finally present themselves. The mystery owes to the inevitable noise that occurs during the production process, which involves close interaction between the properties of paper and the intuition and habit of the Hands, as well as disparate materials to be used for printing. We need more samples to read the noise. Anyhow, the Hands attach random nicknames or implications to the pieces, without distinguishing between hand-made paper-sculptures and sculptural objects produced from the twofold process of designing and printing. Call them by their names, one by one, and you will hear a convincing sentence. Put the sentences together, then you will have a plausible paragraph and some more. Perhaps we will reach a sculptural story. The story may fall short of a proper plot, but it will be about the surface of life1). It will stand on its own without the support of the narrative.
---
[Footnote]
---
1) "This is a representation, a fake reality, and an outcome of a 3D printer. It looks a bit off, quirky even. I sense the dryness and emptiness because it demonstrates the surface of life, drawing parallel to the supporting body." (May 26, 2021, excerpt from a letter from the Hands or Sueyon Hwang)
---
※ This content was first published in 『2021 SeMA Nanji Residency Program Catalogue』, and re-published here with the consent of SeMA Nanji Residency.
Jiwon Yu
Jiwon Yu studied Aesthetics and works as a curator, critic, translator, and project manager. Jiwon Yu has curated Defense: Boma x Chang Dahae(d/p, 2020), Gravity Shower(N/A, 2021), DEAD END: Archival Journeys(YPC SPACE, 2022), ADOPT ADAPT(Hall 1, 2022). And also planned research projects (Not) Your Typical Narcissist(2018~2021), Material Study(2021~).