People / Interview
Patrick Lee: Top-Notch Market, an 'Exciting' Encounter with Seoul
posted 11 Oct 2022

---
Patrick Lee has been appointed Director of the first ever Frieze Seoul. The Korean-American has built up a solid career over the past 15 years in the Korean art scene, both as a Partner and Director of ONE AND J Gallery, as well as the Executive Director of Hyundai Gallery. The global art scene is now pivoting towards South Korea. What is Frieze Seoul's strategy for success?
---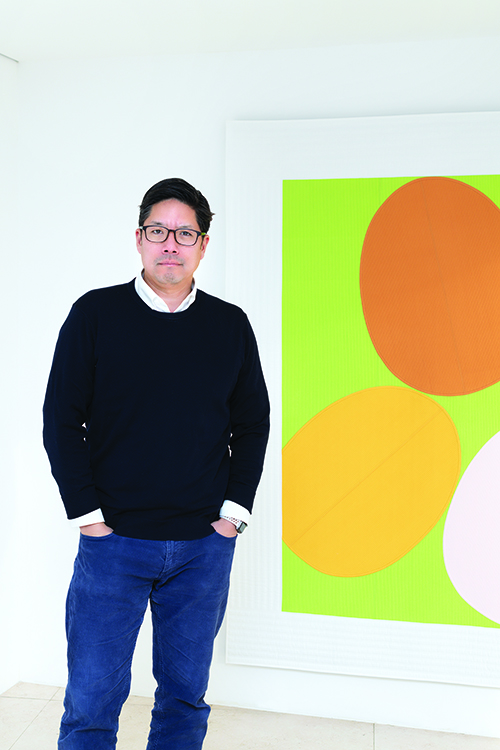 Patrick Lee, the First Director of Frieze Seoul. Image courtesy of Art in Culture.
---
Art: You were appointed as the director of Freeze Seoul in October 2021 and have been in charge of the event since December. How did you first get in touch with Frieze?
---
Patrick: I've become acquainted with many of Frieze's people over the years. When I was working at ONE AND J Gallery, I had the opportunity to experience the focus and the frame sections of Frieze, and I remember how the gallery's statues changed just due to the fact that it participated in Frieze. Also, Hyundai Gallery continued to participate in the Frieze while I was working there, and most recently the gallery considered the possibility of joining the Committee of Frieze Seoul. Such process naturally led to a conversation with Frieze about the art fair in Seoul.
---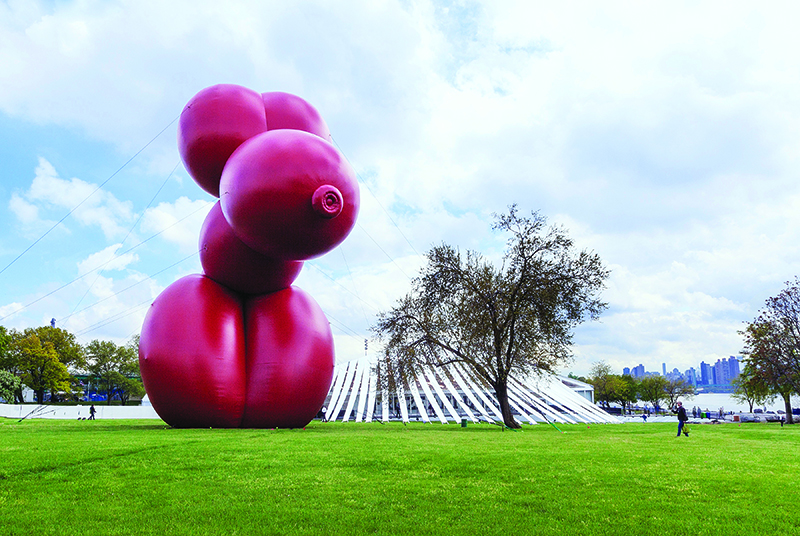 A view of an outdoor Sculpture Park at Frieze New York in 2013. Paul McCarthy's giant sculpture, Balloon Dog (2013) overlooks the park and the art fair's tent stands behind it. Frieze is ranked in the world's top 3 art fairs, together with Art Basel and FIAC. Initially founded in 1999 as a contemporary art magazine, the Frieze art fair was first held in 2003 in London. Frieze LA takes place every February; Frieze New York every May; and Frieze London every October. Image courtesy of Art in Culture.
---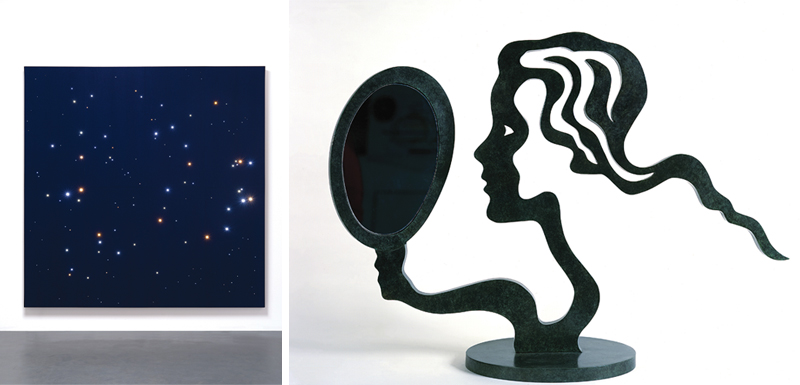 (LEFT) Angela Bulloch, Night Sky: Cepheus & Cygnus Square, LED Installation, felt, aluminum, cables, 266.4x266.4x5cm, 2022. Presented by Esther Schipper. Angela Bulloch is recognized as part of the yBa (young British artists) group. The night sky, expressed in LED installation, explores the birth of the universe. Image courtesy of Art in Culture.
(RIGHT) Roy Lichtenstein, Woman with Mirror, patinated bronze and mirror, 99x28x71cm, 1996. Presented by the Castelli Gallery. Roy Lichtenstein is a true master of pop art. The Castelli Gallery New York presented Lichtenstein's 1980-90s' works during the Frieze Masters Section. Image courtesy of Art in Culture.
---
A new city and a new community
---
A: Tell us about the process of preparing the event over the last 10 months.
---
P: The London Frieze team are experts, and have operated art fairs in four cities over the past 20 years. Although our Korean team might be small, we are supported by a bigger and agile network. The time differences between the cities meant that we often had to work overtime, but our talented Seoul team feel great pride and responsibility for this work. Frieze Seoul has been in preparation since last December. The main tasks were discussing with galleries and reviewing applications. However, it also takes a lot of time to launch a new fair in a new country and to curate a Frieze Week program. Good things and bad things come together... Our team is doing our best. As this is the first instalment, I hope it bears meaningful results.
---
A: This event is Freeze's first launch in Asia. It will be both exciting but at the same time a burden for the director, especially with all the global attention. Tell us how you feel.
---
P: Frieze has enjoyed a great reputation over the years. Launching a new art fair is indeed not an ordinary thing but, above all, there's a lot of expectations surrounding this exciting combination of Frieze's fame and the city of Seoul. Seoul has great artistic potential and a rich culture, and it is very fitting for it to become a 'hub of Asia'. Above all, we are focused on a long-term vision.
---
A: Frieze Seoul can be best compared to Art Basel Hong. What is the differentiation strategy of Frieze Seoul compared to other art fairs in Asia?
---
P: There are thousands of art fairs around the world. Among them, the most interesting event is an art fair that targets a specific audience. This is why Art Basel and Frieze are recognised as the best fairs. Frieze started from a magazine by the same name, which has led the art publication market. This magazine focused on critical discourses around how their art fair has developed and has grown into an organic relationship with the host city. Artists, gallerists and curators from all over the world responded to this. The strength of Frieze is the network it has built up over the years. Participating galleries and audiences are most excited about the work they will encounter at the art fair, as well as the potential to meet new people and build new connections with communities.
Frieze has also been very successful in working with the city hosting the fair. In particular, it puts lots of effort into engaging with, promoting and supporting local organizations during the event. It is very exciting to see that many people coming to Seoul refer to the history of Frieze as a resource. It would be great if Seoul could establish itself as an important platform for Asian art by utilizing the networks that Frieze has built. The best fair facilitates communication among various groups, as well as building and sustaining relationships among them. I hope that Frieze Seoul will serve as such an example.
---
A: There are mixed reviews on Frieze Seoul. On the one hand, there's an optimism that expects Seoul will emerge as the center of the Asian market. But on the other hand, a more pessimist perspective warns of potential ramifications that collectors might flock to the overseas galleries, which will be a blow to Korean galleries. What is your opinion on each of these two positions?
---
P: There is a great art scene in Korea. A strong art community has been established, including talented artists, an art-loving public, attractive collectors and curators, fine art institutions, and historic biennales. In addition, art collecting is growing rapidly. These are all vital ingredients for a self-sufficient mechanism: the artist builds a reputation with the support of fine art institutions, which helps global curators - particularly who are interested in the Korean art scene - to continue their critical discourse, and the collectors grow steadily. This culture is a solid foundation for developing Korea into a representative market in Asia.
My experience of working in galleries of different styles suggests that collectors are never only enthusiastic about overseas galleries. Given the level of art in Korea, galleries should be convinced that more opportunities are open to the artists they represent. The exhibitions of Korean avant-garde artists to be held at overseas institutions, such as the Guggenheim Museum in New York and the Los Angeles County Museum of Art (LACMA), prove this. As more and more people become interested in what is happening in Korea, these opportunities will continue to arise. I understand the concern that the collectors' pool owned by the Korean galleries will be narrowed to some extent, but I think that it will also create an opportunity to attract a broader range of collectors to focus on Korean artists. Not only from a collecting point of view, but also from a curating and critic point of view.
---
A: The global economic situation is not very promising, and is facing rising inflation and interest rates. The Korean art market is also under the threat of recession. How do you predict the outcome of the event?
---
P: Selling the artwork is, of course, important. However, I'd judge the success of the art fair by the networks connected here. The evaluation of the art fair depends on the level of the audience and the growth potential of the fair. Art people, working in various fields, are completely preoccupied with attending Frieze. Because they know that they'll discover great artworks and interact with various people here. Of course, the gallery's main goals are to secure new customers and achieve commercial success, but they also feel the need to build long-term relationships. If Frieze Seoul can lead to such a good circular economy, this will be regarded as a positive result.
---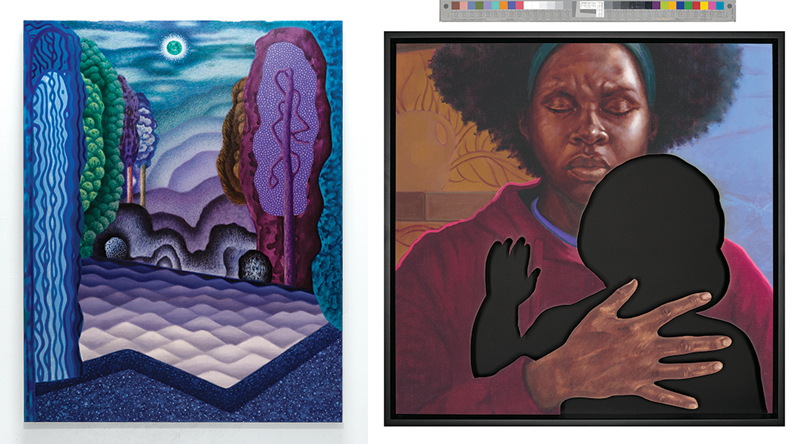 (LEFT) Amanda Baldwin, Flooded Neptune, oil on canvas, 160x127cm, 2022. Presented by Jason Haam. Amanda Baldwin transposes ordinary still-life and natural images into geometrical figures. Everyday landscapes are transformed into a surreal atmosphere through the artist's hands. Image courtesy of Art in Culture.
(RIGHT) Titus Kaphar, Analogous Colors, archival inject on aluminum panel, 56x56cm, 2021. Presented by Two Palms. Titus Kaphar brings African American history to the canvas. The artist explores and wrestles with personal identity issue using techniques like cutting, erasing and editing icons. Image courtesy of Art in Culture.
---
Towards the 'Circular Economy' of the Art Scene
---
A: The event garners great attention for its partnership with KIAF. KIAF can be a cooperative partner but is also your most comparable competitor in the market.
---
P: I am very happy to host the fair alongside KIAF. KIAF has a different history and maintains a unique identity from Frieze. Although the two fairs operate independently, they are held simultaneously in the same place, allowing the audience to visit a wider range of galleries and artworks. It is hoped that this simultaneous co-hosting will provide the opportunity for new discoveries by the audience visiting both fairs. Thus, I don't see KIAF as a competitor. We are actively and positively talking to each other and sharing programs and practices. I learn a lot from KIAF's resources and knowhow. Frieze is very proud to collaborate with KIAF, and we prioritise this symbiosis in our locality.
---
A: Frieze Seoul hosts various events such as the main exhibition, Masters, Focus Asia, and Frieze Week, just to name a few. Please give us tips on which keywords to pay attention to for each exhibition. In particular, would you recommend any event that should not be missed?
---
P: Focus Asia sheds light on the emerging artists and galleries in Asia, and is curated by two curators, Chris Lew and Hyejung Jang. The curators investigated the resources of Asia-based galleries and will present them at the fair. Frieze Masters, led by Nathan Clements-Gillespie, will be held concurrently with Frieze London. This section will bring together the highlights of each participating galleries, which cover various works from ancient to contemporary masters. Finally, the galleries participating in the main section were selected based on the consistency of each program and their contributions to contemporary art discourses. I would recommend taking time to visit all the booths. I am sure that they are all full of inspiration.
---
A: The Korean art market expanded little by little since 2016-17 when Perrotin, Pace Gallery, and Lehmann Maupin opened their Seoul branches. Why do you think that leading international galleries are flocking to Korea?
---
P: The Korean art scene already has all the conditions to create a strong art community. The large Western 'tycoon' galleries have also gained their present reputations through the development of their own networks over the years. Several complex factors affected these international galleries in choosing Seoul. Korea has a long and rich history of collecting, but its core collectors have developed, expanded and diversified at a fairly rapid pace over the past decade specifically. Koreans have a sophisticated appreciation for art and culture, and are interested in sharing opinions and experiences through constant learning and research. The opportunity to be exposed to this audience is very important, and the growing pool of collectors is also very attractive. Young people are also joining the community of collectors. Some are second or third generation collectors, whose parents were keen collectors, while others are complete newcomers. As such, it is well known that Koreans have a high level of perception and appreciation of art and culture.
I also see many different perspectives regarding tax issues. Of course I agree that economic structure is important, but laws are always subject to change. Considering the circumstances of other popular art markets, I think tax laws may come into force one day. However, it's a time-consuming problem, and it's not urgent right now. In other words, the reason why global galleries and art fairs are gathering in Seoul cannot be limited only to tax structure, nor the absence of tariffs on art imports. Seoul has other important advantages in terms of logistics and proximity to other Asian regions. There is particularly easy access to nearby cities such as Tokyo, Taipei, Shanghai, Beijing, Hong Kong and Singapore. Korea's infrastructure is also so outstanding that anyone living or visiting Seoul praises its efficiency. Despite the division between the North and South, South Korea is a socially and politically stable democratic country. In combination, all of these aspects make Seoul very attractive to major international galleries.
---
A: How do you diagnose the trend of the contemporary art market? You are welcome to mention a specific author, genre, or medium.
---
P: This is a very interesting time for the movement of contemporary art. I enjoy watching the emergence of communication channels, or exploring different artistic practices while interacting with local experts. Discovering traditional art institutions and collaborating with contemporary artists is equally pleasing. I hope that contemporary art can find new audiences in these places. The rise of BIPOC (referring to Black, Indigenous, and other People of Color) discourses in contemporary art can be witnessed in this year's Venice Biennale, which focused on female artists, as well as the Kassel Documenta's appointment of 'Ruangrupa' as artistic director. This trend is creating new history in art and culture.
---
A: Now I want to hear your story. You started your career as a director and partner of ONE AND J Gallery, and a director of Hyundai Gallery. What was your role in each gallery specifically? How did you start working in art?
---
P: ONE AND J Gallery is not a large-scale gallery, so there were a lot of tasks from A to Z. This included all the basic tasks - from supporting artists, holding exhibitions, communicating with curators and collectors, finding new artists and going to art fairs – and all of these must also be advertised and promoted all over the world. It was a very intensive but valuable experience. I met most of the people whom I know in the art scene today during my time at ONE AND J Gallery. Meanwhile, at Hyundai Gallery I was tasked with strategic business, and raising the collection to a higher level by focusing on internal programs. I enjoyed working with established artists in person, and it was rewarding to be able to help expose their artworks to major international institutions.
Being a gallerist has been my dream job since I was at university. As a child, thanks to my parents and especially my father, I was exposed to various art and culture. I was influenced by my father, who was a doctor, and who loved the arts, from opera, classical music, and architecture to design. I did a stint in the law and finance field, but nurtured myself with art catalogues, researching and visiting exhibitions. I then had an opportunity to work with a gallery and, thanks to my wife, I was able to embark on two years of adventure. At that time we had a two-year-old baby, so I am very grateful to my wife for believing in me.
---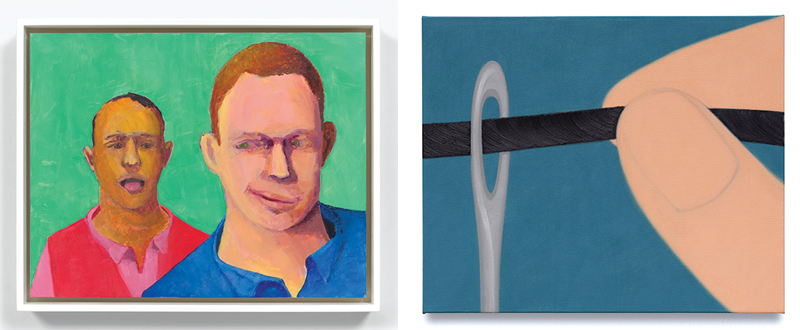 (LEFT) Steve Locke, Cruisers #6, egg tempera and oil emulsion on Clayboard, 27.94x35.56cm, 2021. Represented by Alexander Gray Associates. Steve Locke's work address the sexuality and desire of queers. Image courtesy of Art in Culture.
(RIGHT) Henni Alftan, Needle, oil on canvas, 50x61cm, 2022. Presented by Karma. Henni Alftan captures the ordinary moment with a voyeuristic observing gaze, creating a scene like a movie still or a play. Image courtesy of Art in Culture.
---
Korea's Soft Power: Infrastructure of Art and Culture
---
A: You have experienced the Korean art scene for the past 15 years as a Korean-American. How do you evaluate the contemporary Korean art scene?
---
P: A lot has changed in the art world over the past 15 years. Several factors have contributed to the global recognition of Korean contemporary art as it is now. It is a blessing to be able to witness Korea's multifaceted approach and success in the global art scene. There has been a huge wave of artists, from those who were active in the 1990s to up-and-coming promising young artists. They all interact with various people in the art world, including internationally renowned institutions, curators, collectors, gallerists, and artists. Among them are Kimsooja, Do Ho SUH, CHOI Jeong-hwa, Ik-Joong KANG, Nikki S. LEE, MOON Kyungwon & JEON Joonho, Haegue YANG, Anicka YI and Minouk LIM. Recently Suki Seokyeong KANG, Kang Seung LEE, Christine Sun KIM, Gala PORRAS-KIM and Mire LEE joined, while QUAC Insik, LEE Seung-taek, LEE Seung Jio and PARK Hyun-ki from the post-war generation have led Korea's experimental avant-garde art. There are also many Korean and international curators who have supported Korean contemporary art. They have expanded their horizons to discover the activities of Korean artists and artists of Korean descent and those in the diaspora, and have opened a communication channel to discuss the world of art. Among them are Sunjung KIM, Clara KIM, Sook-Kyung LEE, Christine Y. KIM, Doryun CHONG, Eungie JOO, Hyunjin KIM, Eleanor S. HYUN and Kyung AN.
---
There are many great art museums in Korea. Some of them are generating critical discourses and are constantly setting new standards. In particular, Art Sonje Center is well known for presenting many excellent exhibitions, while many other public and private art institutions are also fulfilling their roles. Interesting non-profit organizations run alternative spaces, and artist-run spaces have also been established throughout, so we can find the best art and culture in Korea. The legacies left by Alternative Space LOOP, Art Space Pool, Project Space SARUBIA, Insa Art Space, Audio Visual Pavilion, Hapjungjigu and Ssamzie Space have influenced many others, even after the spaces closed down. The three most important biennales are Gwangju, Busan and Seoul, and continue to call attention to Korea. Finally, galleries and collectors are contemplating new standards for relationships with artists, archives and writings, as well as the art system itself. Galleries that play a significant role in world-class art fairs include Tina Kim Gallery, Commonwealth and Council, and VSF, based both in Korea and the US.
---
A: You seem to have a deeper understanding of the past and present of Korean art than anyone else. That is the reason why we are more than excited to see Frieze Seoul.
---
P: What is happening in Korea today did not happen overnight. I remember the first time I visited Korea and was moved by the art scene here. Today's history is the result of decades of hard work led by pioneering artists like Nam June PAIK, curators, institutions, and collectors who have supported galleries, exhibition spaces, and critical discourses. All of these have progressed simultaneously, and the resulting foundation is very strong. The individuals and institutions I have mentioned above are not merely explanatory lists. Although those collecting for investment can be blamed for overheating the market, it is also true that it created opportunities and potential for educational programs or sponsorships of arts institutions. I hope that Frieze Seoul will help to expose art to the public and increase dialogue on this horizon.
---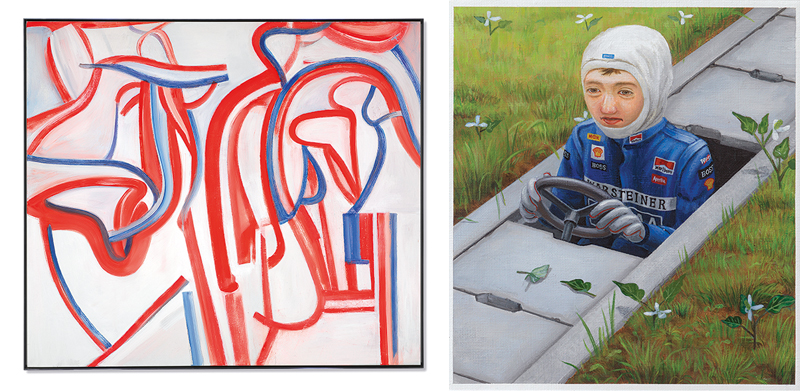 (LEFT) Willem de Kooning, Untitled XXIX, oil on canvas, 195.6x223.5cm, 1986. Presented by Skarstedt. Skarstedt showcases the work by Willem de Koong, one of the most prominent Abstract Expressionist painters. Image courtesy of Art in Culture.
(RIGHT) Tetsuya Ishida, Untitled, acrylic on canvas, 24.8x22.3cm, 2000. Presented by Gagosian. Tetsuya Ishida depicts surrealistic figures addressing the depressions and anxieties of Japan's young generations in the 1990s. Image courtesy of Art in Culture.
---
Art for Future Generation
---
A: What are the important qualities and abilities of a director who leads an art fair?
---
P: The goal for the art fair director is to increase and expose 'opportunities' for the fair. These include galleries as well as collectors, art institutions, curators, writers, artists, the general public, and the press. The best art fair directors need to be involved, to explore, to always learn, and to remain humble. My goal is to reach as many audiences as possible on behalf of those who have put their time and resources into participating in the art fair.
---
A: I would like to wrap up the interview with a final question. What is your ultimate goal?
---
P: I believe that we must live for a certain purpose. Is art important in our lives? My answer is yes. The need to express, to create, and to reflect is an original characteristic of human beings. As a member of the art world, I find it rewarding to advance the discourse of contemporary art and to support up-and-coming artists. My goal is to nurture promising people who can somehow create meaningful values and influence the future generation. In this way, I can say that I played a small part in contributing to the society and lives we live.
---
A: I cannot agree more. I hope Frieze can spread positive energy in Seoul!
---
※This manuscript is included in the September 2022 issue of Art in Culture, and is published by the Korean Arts Management Service under a content agreement with Art in Culture.

Lee Hyun / Editor, Art in Culture
Hyun Lee is working as an editor for monthly Art in Culture. Lee organized an exhibition Nocturnal Animals in the White Night (Hapjungjigu, 2016) and co-organized Deeper Layers of the Past (Artspace Boan, 2017).