People / Critic
The Code of Nam June Paik, technical imagination constructed as a human-communication device
posted 14 Oct 2022

---
Nam June Paik's symbolic codes are piled up one after another in the coming technological experiments
The dark room of the camera obscura, once used to draw objects with light, is used today as a space where media works are installed. In earlier years, the room where the video work was screened was completely blocked from light. In order to curate a media exhibition, one has to first ensure preparation of the electrical wiring for the on/off switch in a dark room. This is followed by inspection of the ceiling and walls of the space, as well as checking the power consumption of dozens of operating devices.
---
Nam June Paik's earlier TV artwork was an interactive performance emphasizing the concept of 'Random Access'. This was before real-time communication networks were widespread as they are today. At that time, television was a unilateral communication system. Bilateral communication only became possible with the advent of web-based network communication. Paik's TV art work subverts the order of this one-sided reception system, and synthesizes, manipulates, and transforms images contained in videotape into abstract forms, which are then converted into codes. There are countless intersections of high art and subculture, and slow and fast scenes. Multiple scenes are superimposed and blended at a high speed. Paik's thousands or tens of thousands of clips of conserved video footages are the stuff of research heritage. Paik's TV monitors were gradually transformed into large screens. Currently, this image can be reproduced with 3D mapping and virtual reality. Paik's technical experiments are limitless, and it seems impossible for his ideas to become feasible in reality. He plans the implementation of state-of-the-art technologies before they are released out in the world. For Paik, technology is a device to visualize the process of the deep learning of artificial intelligence data (music, performance, robot, video, laser, TV, Mongolia, Genghis Khan, shamanism, philosophy, economy, politics, social issues, etc.), which emerges by assembling and evolving numerous forms of knowledge.
---
Paik has always collaborated with experts in other fields to organize multiple layers of data systems. His orientation has always been towards a collective activity of discussing, compromising, and mediating technical imaginations together. This has never been an easy path. As technologies continued to be released that could actually realize the sketches of Paik's idea, Paik continues to work with young engineers with new technologies. As Wulf Herzogenrath noted, "Nam June Paik has always known that his studio constantly needs new collaborators." 1) As a result, unprecedented history is written, and a future that is likely to arrive but has not yet done so nonetheless shines forth intensely. Good Morning Mr. Orwell (1984), which realized a real-time web-based technology, was shared even before the Internet Information System (World Wide Web), invented by Tim Berners-Lee in 1989, was available to global users. For Paik, video art was always one step ahead of science and technology, and his highly industrialized technology did not turn out to be a failure.
---
The equipment Paik used is now classified as vintage, but his work has always utilized the most advanced technology. For Paik, technology has always been a future that never arrives. Jung-sung Lee, Paik's Korean technician added, "If Nam June Paik was alive, he would probably have continued to investigate new technologies." After robots, lasers, and artificial intelligence, Paik would most likely still be looking into a promising new technology for the future.
---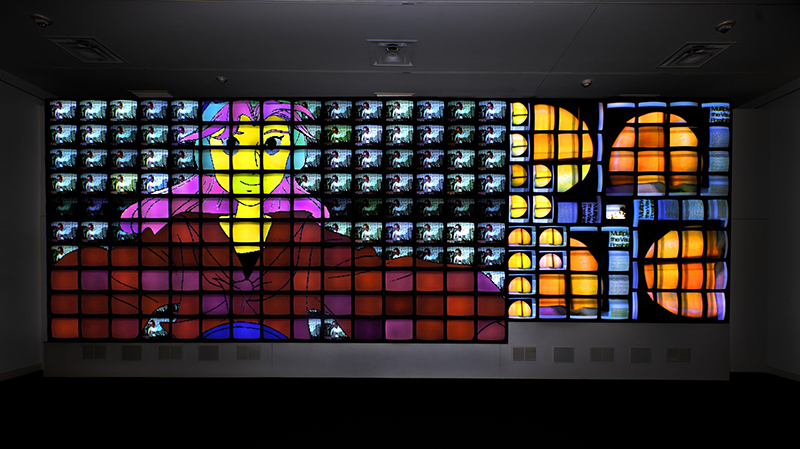 Nam June Paik, Megatron/Matrix, 1995, 335.3×1005.8×121.9cm. Collection of Smithsonian American Art Museum ⓒSmithsonian American Art. Image courtesy of Monthly Art
---
As if experiencing virtual reality, the audience in this space is suddenly overwhelmed, with a shock that paralyzes the audio-visual system. Installation work cannot be completed in the artist's limited studio space. From the moment the installation materials arrive at the exhibition space, his imagination will be transformed and built as a new reality. However, it is not possible to unfold all the technologies, so long imagined, in one limited place. One work can penetrate the whole exhibition, and the clues hidden in each work are important for understanding the whole of his work. They are segmented yet connected, and although they are scattered, they eventually form a single 'code'. Megatron was first presented at Chosun Ilbo Museum, and evolved alongside various experiments. Small animation program clips are played simultaneously across 150 TV monitors, as if they were a giant single screen. Emerging in the world via intensive technology, Megatron was continuously transformed and eventually installed at the Smithsonian American Art Museum in Washington. Sources that could not be realized in one place have been transferred to the next work. So many concepts born in Paik's technological imagination were always the elements of an unattainable future. Yet the speed of technological development and resulting connection between his work and the external situation are also important variables that feed into and complete the work. As soon as technology developed sufficiently, Paik applied the ideas he had been imagining for a long time. As a result, the audio-visual sensation of Paik's world overwhelms audiences with a shock. Paik's 1993 production, Sistine Chapel invites the audience to be surrounded by fast-paced and overlapping images. The real space, with robots, electronic-TVs, lasers, and beam projection, is completely covered with virtual digital images and transformed into Paik's digital world.
---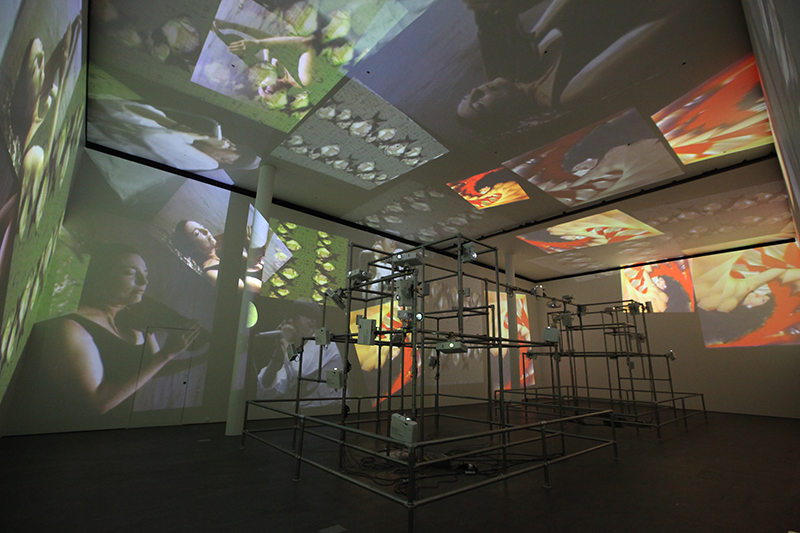 Nam June Paik, Sistine Chapel (first shown in the German Pavilion at the 1993 Venice Biennale), 1993, 2 video processors, 34-42 projectors, scaffolding frames, 4-channel video, color, sound. Collection of Ulsan Museum of Art. Installation view of "Nam June Paik, Super Baroque". Photographed by Hongsoon Park, Image courtesy of Monthly Art
---
A Laser Utopia that puts a Surreal Network into Practice
According to Edith Decker, Nam June Paik's first use of laser technology was in 1980, and in the following year he produced Laser Video Space 1 and Laser Video Space 2 in collaboration with Horst H. Baumann. As shown in Laser Video Space 2, which was exhibited at the Whitney Museum of American Art in 1982, Paik moved far beyond the realm of television. As the non-material electronic lights were projected on the ceiling and walls of the exhibition space, the audience experienced an architectural environment built with media and immersed with images of light.
---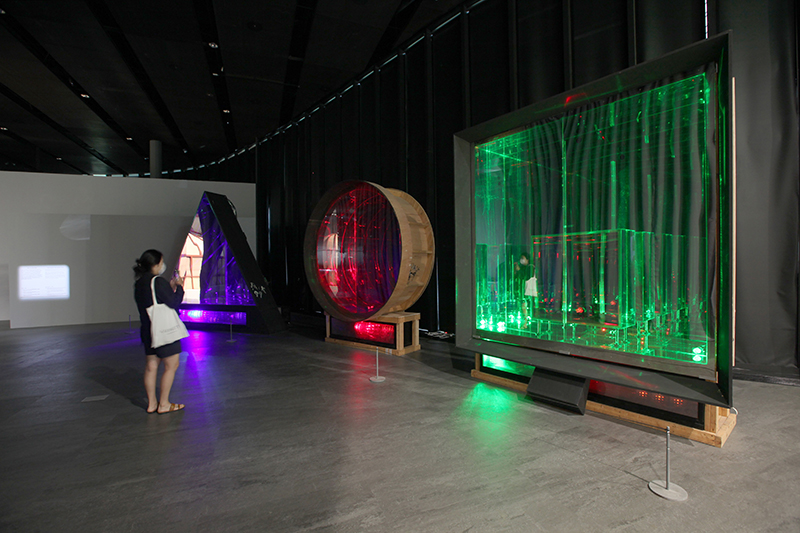 Nam June Paik, Three Elements: Circle Square Triangle, 1999. Lasers, chamber frames, mirrors, translucent plexiglass, optical instrument, prisms, motors and smoke. 325×375×122, 287×234×122, 309×246×122cm (each). Installation view of "Nam June Paik, Super Baroque". Photographed by Hongsoon Park, Image courtesy of Monthly Art
---
It has been sixteen years since Paik passed away. If he were alive, he would be exactly 90 years old this year. The Nam June Paik Art Center curated the exhibition "Nam June Paik – Super Baroque" to celebrate the 90th anniversary of the artist's birth. The work Baroque Laser from the 1995 production was installed again. In addition, Sistine Chapel (1993/2019), initially exhibited in the German Pavilion at the 1993 Venice Biennale, is being presented again. (Four video images superimposed obliquely in the German Pavilion of the Venice Biennale fill the entire walls and ceiling of the exhibition space.) The 'Baroque Laser' project, which was implemented in 1995, was planned by Klaus Bussmann, who was responsible for curating the German Pavilion at the 1993 Venice Biennale. A documentary video by Paik's technician Jung-sung Lee's showing the creation of Baroque Laser is crucial material for understanding Paik's work. Due to differences of running time and image output resolution, it is difficult to record the installation work as we experience it with our naked eyes. The sense of the body perceiving light in a dark space is also an important aspect that cannot be captured.
---
It is therefore important to conduct a complex study of the video still cuts used in Paik's work, in order to more thoroughly understand the artist's world and art. Those who are re-installing Paik's work also need to realize the videos in contemporary higher – state-of-the art – resolution. Paik used the best technical equipment available at the time, but it is now impossible to decipher the images using what are now antique, low-resolution vintage machines. When restricted to this lesser technology, even the artist's intention to overwhelm the audience's senses with a large screen and high-definition image may prove impossible. The works Baroque Laser (1995) and Sistine Chapel (1993) as documented in Jung-sung Lee' video are very clear, due to their high resolution. Paik used the best equipment for the exhibition, and the audience was indeed overwhelmed by the image. Since the images in Paik's work change at a rapid speed, audiences' initial sensory impacts are actually first experienced on the body, rather than in the image's content itself. Realizing this particularly important aspect of Paik's work is crucial for any reinstallation.
---
Paik's technical format draws upon resources such as original ideas, entropic energy, cutting-edge technology, expensive equipment, and technical engineers. As much as possible, the audience must decipher the world, coded in Paik's unique way, through the 'technoimagination' (technical imagination). There is no limit to the experimentation of art forms that can be realized in the language of technology. Paik struggled to peer through the gap between art and technology, and to then bridge this divide between the two disciplines. As technology advances, the decryption device transforms. Research on Paik is perhaps an act of decoding and encoding data, which proliferates on its own. Paik's communication code is enclosed in time and space, and these two elements have formed countlessly entanglements. Even if we acquire a technical device for decryption, the effect is merely ephemeral, as another new technology will soon emerge to take over our senses.
---
Research upon Paik is a study of not only technology, but also the notion of art that the artist imagined when using technology. This preoccupation with new technology overturns the interpretation of images, or perhaps vice versa. It is now our turn to look into the precise and delicate differences between art and technology, which Paik had been contemplating throughout his lifetime. We must become the inheritors of the trajectory of his thought. Paik was a true futurist who studied archaeology meticulously, devoted himself to technological experiments at the forefront of discovery, and used innovative technologies. As a result, his works were always something new. Paik should not be limited merely to the context of video art, television art and internet art. Today, technological situations and environments of the future continue to emerge, and remain important research elements. Just as Paik's studio always needed young engineers and technicians, research one these new perspectives is still required.
---
While Marshall McLuhan was a leading theorist of media theory in the 20th century, Paik is a thinker who opened up the world of electronic-media communication in the 21st century. Interpreting his work is like deciphering coded data (encryption). In the future, this data can also become self-replicating. This is because they are connected via the open circuit of Paik's codes.
---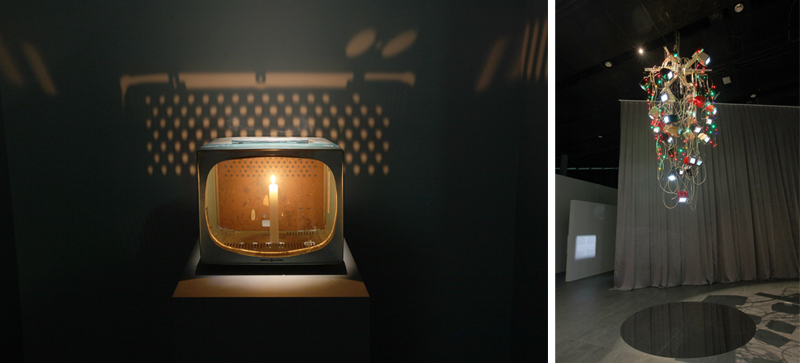 (Left) Nam June Paik, Candle TV, 1965(1969), 1 candle, 1 iron tv case, 34×36×41cm. Photographed by Hongsoon Park, Image courtesy of Monthly Art.
(Right) Nam June Paik, Video Chandelier No.1, 38 Tele Star black-and-white CRT monitors, light bulbs, cables, distributors, 1-channel video, color, silent, LD variable size. Photographed by Hongsoon Park, Image courtesy of Monthly Art.
---
Paik once said that people will recognize the factors that influence nonlinear thinking as follows. "People will see constantly flashing lights on the screen (red… wait and think, blue… go fast, green… do it at normal speed, orange… personal speed, white… no music, black… music very loud, Yellow…music slowly)" 2) The light in his video channel constantly casts this spell and faces the audience. And his soul continues to wander, like a ghost travelling through the immateriality flowing from the TV monitors of each generation to the billboards in the city.
---
[Footnote]
1) Nam June Paik Art Center Interviews: Wulf Herzogenrath, Nam June Paik Art Center, 2012, p.25
2) Nam June Paik, From Horse to Christo, Nam June Paik Art Center, 2010, p.193
---
※This manuscript is included in the September 2022 issue of Monthly Art, and is published by the Korean Arts Management Service under a content agreement with Monthly Art.
Lee Eunjoo
Lee Eunjoo received her PhD degree from Hongik University with a thesis titled "Changing Media and Contemporary Art in Korea: A Study onthe Korean Media Art (1960s-1970s)." She currently works as a curator at the National Museum of Modern and Contemporary Art, Korea, and adjunct professor at Hongik University. Her main research interests are print, photography, media art, and experimental art. Participating in the Korean Artist Digital Archive Project, she researched Kim Ku-lim, Lee Kangso, and Kang Kukjin and expanded her research to experimental art of Korea in the early 1960s and '70s. She served as the director at Art Space Gallery Jungmiso, an alternative art space, and also at Art Space Watt. She has curated various exhibitions, such as Visual Intersection.kr.nl (2009), Welcome to Media Space (2011), and TIME REALITY: disconnection, trace, oblivion (Coreana Museum of Art, 2019). She authored Post, Nam June Paik: Interview with 15 Media Artists in Korea (UP Press, 2016). Her other major publications include "A Study on Experimental Art and Media Art in 1960-1970s", "A Study of Lee Kangso's Experimental Art in the 1970s"and "Study on the Contemporary Characteristic of Printmaking in thePost Digital Media Era." She continues to curate and write about the phenomenon of genre fusion.