---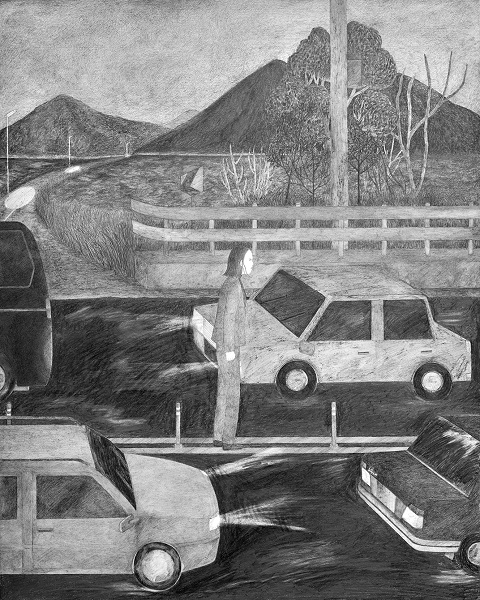 Image of body 13, 2020, pencil on paper, 70X 56cm. Image courtesy of the artist (Mackerel Safranski).
---
About ten years ago, I hung out with people whose lives I hardly knew. They would suddenly show up at my work or appear at my favorite cafe or club without notice. When we ran into each other, we pleasantly greeted each other, spent time together, and hung out, calling each other by our second names, with no need to state or define our relationship. Alcohol, music, and dance replaced sincere conversation about each other's past and memories and sharing of future plans. There were times I watched the forest at dusk, moon in the deep of the night, the sun of the dawn, and the cold dark sea turning bright with these people who were not too strange nor close. Enjoying this time was more important than asking questions in order to understand each other. Anyways, although I could not call them neither friends nor acquaintances, we clearly had some vague connection that did not necessarily mean a belonging.
---
Later on, I met quite a number of people who drew. However, they seemed to have nothing in common, and just the fact that they 'drew' could not group them together. Someone argued by drawing. Someone drew to explore the coordination needed for the act of drawing. Someone tried to remember by drawing. Someone drew the same thing over and over again. Someone laid drawings over drawings, making it hard to see inside. Someone drew at random places secretly. Someone did draw but seemed to place more value in describing what he drew instead of the drawing itself. The other day, I met another person who draws. Even though I had known about her drawing for a decade, I did not have a chance to meet her. Recently I learned that she also shared experiences with some of the people I was acquainted with ten years ago, at different times.
---
I spend time with the person who draws a couple of times. Her studio is bright with the midday sun that hints at the coming of real summer. I ask the person who draws.
---
Struggle 120, 2017, pencil on paper, 140 x 260 cm. Seoul Museum of Art collection. Image courtesy of the artist (Mackerel Safranski).
---
I - Does a story have an owner? If so, who is its owner?
---
Asking the question, I remember a film director at his guest visit. He is reprimanded by an audience for making a film of someone else's story. Of course, that scene is also a part of the film.
---
Person who draws - I don't think a narrative is owned by anyone. There is only a subject that is reached through a narrative.
---
I react with slight nods and the person who draws carries on. It must be the first time they think about this issue, although she does not speak of it.
---
Person who draws - My role is just in assisting the subject reached through the narrative to become its owner. I try not to do disservice to the subject. Although the person in the drawing is not an actual person, I worry whether the image I generated deserves the narrative in it.
---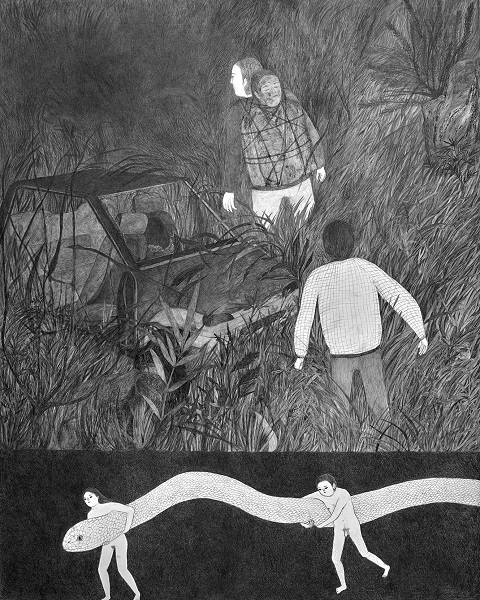 Image of body 14, 2020, pencil on paper, 70X56cm. Image courtesy of the artist (Mackerel Safranski).
---
I ask again.
---
I - You're concerned if the subject in the drawing deserves the narrative in the drawing? Up to which part do you consider it to be a body?
---
The view of the person who draws is careful and genuine like the sentences that begin with 'I believe.'
---
Person who draws - I believe the image of a body is also a body. So when I draw I wish that the subject I draw deviates from its preconceived image. Is it possible in this world to recognize one's body autonomously?
---
The choice seems open in today's world where there are many cases to refer to, but as many choices as there are, my choice is substituted by those options.
---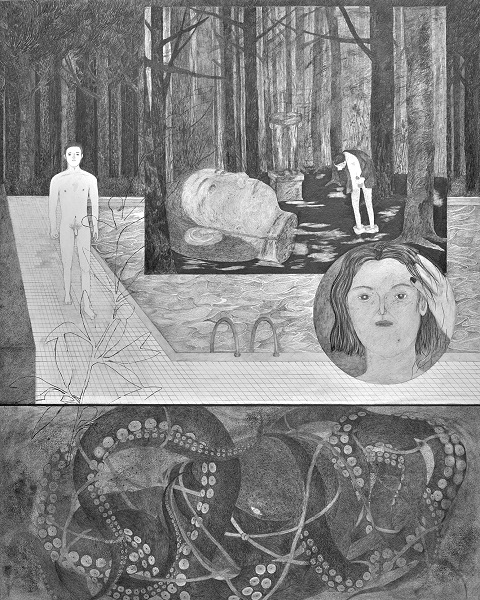 Image of body 15, 2020, pencil on paper, 70X56cm. Image courtesy of the artist (Mackerel Safranski).
---
I - You seem to be not much interested about assigning meanings when choosing a form or colors of a drawing. However, in calling it random choices, you seem to keep doubt your own choices. What is your idea about the contemporaneity of drawing that other people who draw discuss?
---
Person who draws - I don't think just having a question about the contemporaneity of drawing leads to creating one. To be able to work on contemporaneity, I should be able to harmonize with the appropriate materials, but it did not suit me.
---
The person who draws recently uses the materials she is not accustomed to. I can roughly imagine the tough time she must have had in order to be familiar with these materials.
---
The person who draws - It does feel like I am drawing with a pencil, because I get the response as I intended. When I put oil paint on a canvas, it feels like building it. The picture keeps moving and turns into something different from what I thought. In the past, I thought I would build on the meaning by drawing. Then, as I was organizing an image in a drawing, I thought I was devaluing the meanings. Now I even doubt the production of the image itself.
---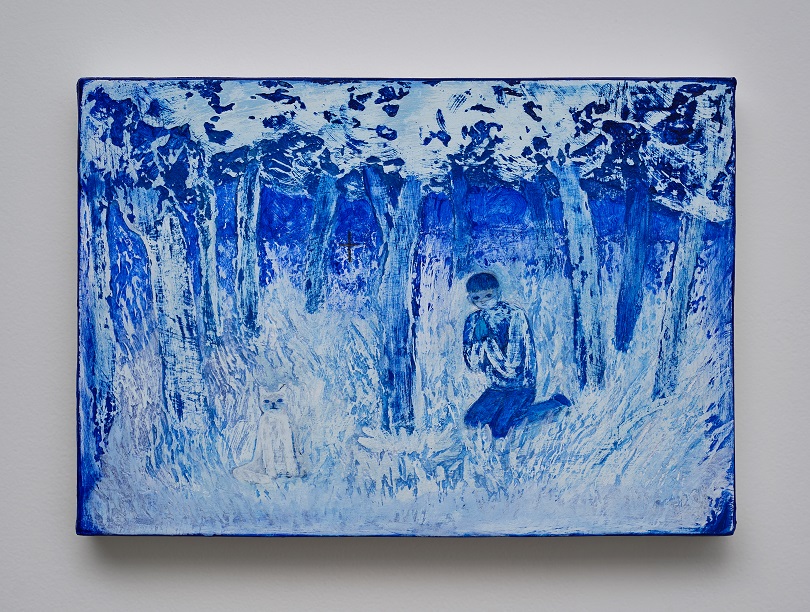 Pale moon 6, 2021, acrylic mixed medium on canvas, 15.8x22.7cm. collector collection. Image courtesy of the artist (Mackerel Safranski).
---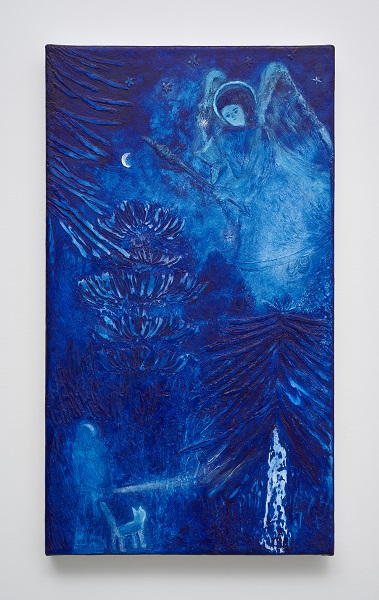 Pale moon 8, 2021, acrylic mixed medium on canvas, 25.8x16cm. collector collection. Image courtesy of the artist (Mackerel Safranski).
---
I - Do you have an urge for doing something important in your life?
---
I asked a question that was pretty awkward towards someone I barely knew. A person who adheres to her own pace of life must have something more important than an immediate response from the public.
---
Person who draws - I am not sure if art is important to me, but drawing is important in general. I have a vague notion that I will be able to draw something that I've been dreaming of if I keep drawing. That is what is important.
---
As stated in her opinion, if a story does not have one owner, narrating a story in the past tense becomes close to a story appropriating an owner. However, narrating it in present tense does not mean it possesses an owner. Yet, it indicates that the story is not yet finished and a new master may emerge at any time in the future.
---
※ This content was first published in 『2021 SeMA Nanji Residency Program Catalogue』, and re-published here with the consent of SeMA Nanji Residency.
Suzy Park
An independent curator based in Seoul, Suzy Park manages AGENCY RARY, a curatorial agency and co-operates WESS, a project and space jointly operated by 11 curators based in Seoul. She specialized in economics and aesthetics. Previously, she was interested in the praxis aspect of friendship, love, religion, and queerness as political and aesthetic allegories of contemporary art. Recently, she has been thinking about the possibility of the state of art itself that does not lean on questions outside of art.