---
The interviews led by Daehyung Lee, the Artistic Director of the project Dialogue, were conducted with the directors of 9 galleries selected as outstanding galleries in Dialogue, a project presented as a part of a report on the achievements of the Grant for Artist Management program. The course of the directors' life, concerns about promoting Korean art, future strategies for entering the global market and the directors' anecdotes with their artists were discussed in the interviews.
---
The Artistic Director of the project Dialogue, Daehyung Lee, values the social role of art in the era of the 4th industrial revolution in the 21st century (critically essential). Lee is expanding the scope of contemporary curation to the environment, community, technology, and the future. Daehyung Lee directed Korean Pavilion in 2017 Venice Biennale and he led the success of CONNECT, BTS – a global public art project exhibited in five cities including Seoul, New York, London, Berlin and Buenos Aires. Lee organized Korea Research Fellow, a research network of 10 domestic and 10 overseas curators from 2018 to 2021 and has also served as a judge for the 40 UNDER 40 of the London art magazine, APOLLO in 2022.
---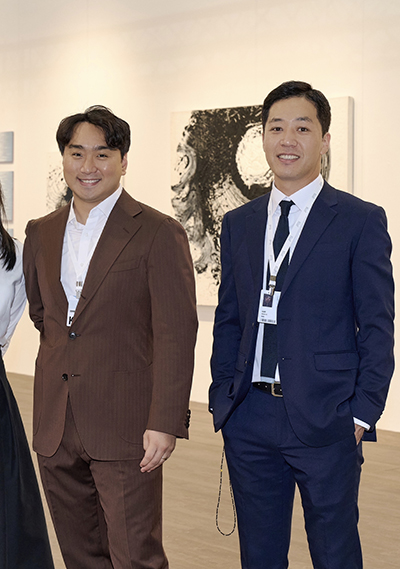 (Left)BHAK CEO Bryan Bhak, (Right) BHAK director Lee Kichan
---
Q. The names of BHAK's artists participating in Dialogue are rather unique. Bo Kim, JIHI, and 'G-sim' Seyeon all sound like nicknames. Do you have special standards for selecting young artists?
---
It is important for an artist to be in sync with his/her works. I have conversations with artists about the direction of their work to see if the artist's identity and their artworks' identity are truly connected and generate stories. Of course, various circumstances may cause change, but if the change fails to draw a true sense of agreement because it does not originate from intense self-reflection and experience, we can say that the artist is not in sync with his/her work.
---
Q. Synchronization sounds like it can stop artists from creating art in diverse ways. Could you elaborate with a detailed example?
---
The range of human emotions can change and expand within the social context where various stimuli are apparent. It can also be masked to a greater degree. For example, 'G-sim' Seyeon looks wild, but he is, in fact, delicate and introverted. This introversion is perhaps the least of the efforts he makes to control a massive energy that exists somewhere in his mind and thinking. 'G-sim' Seyeon's work shows the moment an intrinsic image erupts. We could argue that his work points out the foolishness witnessed in our society, where we don't think deeply about the present but rather regret the past and yearn for tomorrow. Explosion is a word that describes the raw state of the moment that clearly demonstrates the present.
---
Q. BHAK will be celebrating its 30th anniversary soon. What vision do you have in mind, reflecting on the past three decades? Is there anything unique to share in terms of the artists you choose or your communication strategy?
---
BHAK currently works with a group of senior artists and another of young artists. We are looking to add more established artists beginning next year. We also plan to greatly strengthen our digital communication capability. We launched our digital communication program for the purpose of internal empowerment during the pandemic when we couldn't travel overseas. We didn't simply keep this at the B2C level and have been expanding it to cover even the B2B area through various partnerships. The gallery will also establish a bridgehead targeting global art hubs and entry into global markets, with Bryan Bhak (Jonghyunk Bhak, 1993), our expert in the Americas, and myself (Lee Kichan, 1984) spearheading the effort.
---
Q. It is surprising that the gallery is looking to expand the established artist group. What positive outcome do you expect of it?
---
In today's world, we must reach beyond the promotion of artworks—an overall promotion of the artist is critical. During KIAF and Frieze, I organized a private party of collectors and artists in their 30s and 40s with artists in their 50s and 60s invited as guests. These seasoned artists' confident, in-depth, and relaxed delivery of messages on their work rooted in their rich experience was more than sufficient to transcend generations and attract young collectors. More importantly, I don't think Korean art can be discussed without research on established artists who constitute the backbone of Korean art history.
---
Q. We are starting to see an influx of renowned galleries from abroad to Korea. These major galleries have hired in-house editors and are serious about their publication business too. Galleries are no longer simply selling art in the market; discovering and promoting artists' ideas and philosophies have become galleries' key responsibilites. What effort has BHAK been making to that end?
---
We have been focusing more on video series than publication. Video is the optimal medium to reach beyond regions and borders and communicate with a greater audience. It is also our way of green practice to reduce unnecessary use of paper and create a sustainable and eco-friendly future.
---