---
The interviews led by Daehyung Lee, the Artistic Director of the project Dialogue, were conducted with the directors of 9 galleries selected as outstanding galleries in Dialogue, a project presented as a part of a report on the achievements of the Grant for Artist Management program. The course of the directors' life, concerns about promoting Korean art, future strategies for entering the global market and the directors' anecdotes with their artists were discussed in the interviews.
---
The Artistic Director of the project Dialogue, Daehyung Lee, values the social role of art in the era of the 4th industrial revolution in the 21st century (critically essential). Lee is expanding the scope of contemporary curation to the environment, community, technology, and the future. Daehyung Lee directed Korean Pavilion in 2017 Venice Biennale and he led the success of CONNECT, BTS – a global public art project exhibited in five cities including Seoul, New York, London, Berlin and Buenos Aires. Lee organized Korea Research Fellow, a research network of 10 domestic and 10 overseas curators from 2018 to 2021 and has also served as a judge for the 40 UNDER 40 of the London art magazine, APOLLO in 2022.
---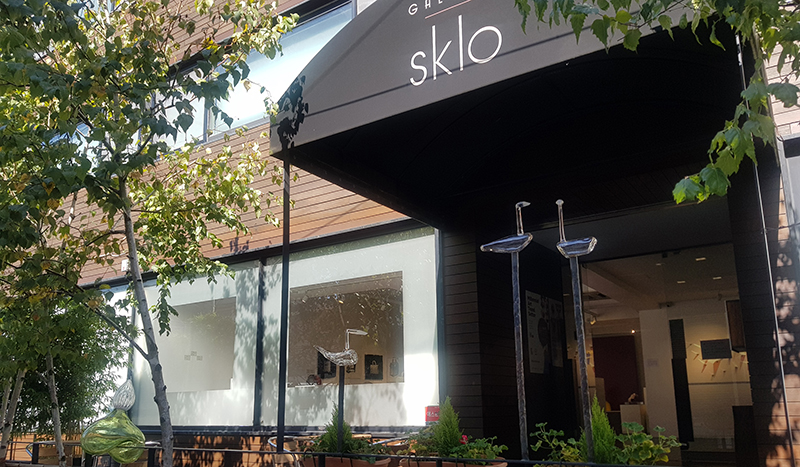 Gallery Sklo
---
Gallery Sklo director Hyojung KIM
---
Q. It has been 20 years already since you started a gallery specializing in glass art. Over the years, you have discovered many artists in Korea and abroad. Did you experience any difficulties along the way?
---
I became interested in glass art during my six years in the United States and I started collecting upon using glass art in my interior design projects. I ended up opening a gallery in 2003, and the gallery will be celebrating its 20th anniversary next year. So much has changed in the past 20 years, but there is a principle that remained unchanged over all those years. It is the principle that I must go and meet the artist myself, even if that means having to travel internationally, if I want to exhibit his/her work. Thanks to these efforts, I have not experienced a lot of difficulty in securing artists for exhibitions, but there was a lot of challenge with regard to shipping costs and handlers, given the nature of glass art, which is bulky, heavy, and fragile. In the first few years after the gallery opened, it was hard to find contemporary glass artists in Korea who could share the gallery's vision and walk with us. Since I started out as a collector when I was abroad, I decided to start with special exhibitions of overseas artists from the Czech Republic, Italy, France, Germany, the United States, and Japan.
---
Q. It looks like it's not easy for glass art to make it into people's collections because it has the downside of being vulnerable to external shock. How did you overcome this psychological pushback against glass as an art material in the market?
---
Glass sculptures change in the way they look with different lighting and time. It looks as though they sit still, but they go through constant transformation with the passage of time throghout the day. They physically occupy space, but at the same time, they create a new and different space. This can be achieved by glass art alone, and not by any other material. Meanings and stories emerge in the space as refractions and dispersion of light intersect. This is the irresistable charm of glass that has enticed me for the past two decades. We know that glass is brittle and not an easy material to work with; hence "nevertheless" is the most important keyword for glass art collectors. In the United States and Europe, there are aficionados of glass art that even glass art collectors and galleries specializing in glass art exist. Gallery Sklo started to participate in KIAF since 2005 in the effort to introduce glass art as a genre of contemporary art. I think this year's KIAF and Frieze were opportunities to have the art we introduce be recognized not as glass craft, but as contemporary art using glass. It might be because I started out as a collector, but every time I see another person become a glass art collector, I'm thrilled and I become more confident.
---
Q. Each and every artist you represent is brilliant. Could you introduce some of the most representative artists?
---
I met the best of artists around the world who work with glass. To name a few, there are Toshio Iezumi whose works are part of the collection at LACMA and the 21st Century Museum of Contemporary Art in Japan, and Bruno Romanelli, whose work was acquired by the Victoria and Albert Museum. There are also Korean artists, including Sungwon Park, Sangmin Lee, Jiyong Lee, and emerging artists Namdoo Kim and Hyesook Choi. Gallery Sklo works with ten some artists. One thing I still consider an honor as a gallerist is that I was invited to curate Sungwon Park's glass sculpture exhibition, which occupied all galleries at Nam-Seoul Museum of Art (annex of SeMA) in 2016 as an art director, despite the fact that glass was underappreciated in Korea.
---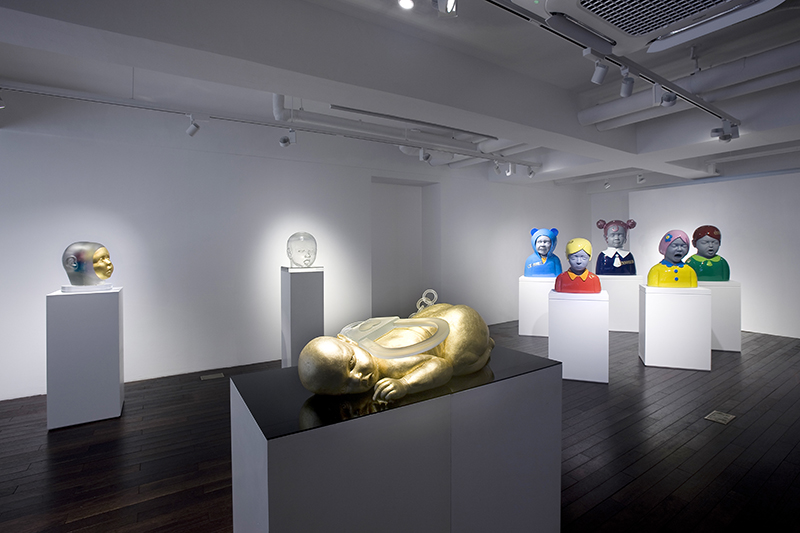 Namdoo KIM : Revealing the Invisible, Image provided by Gallery Sklo
---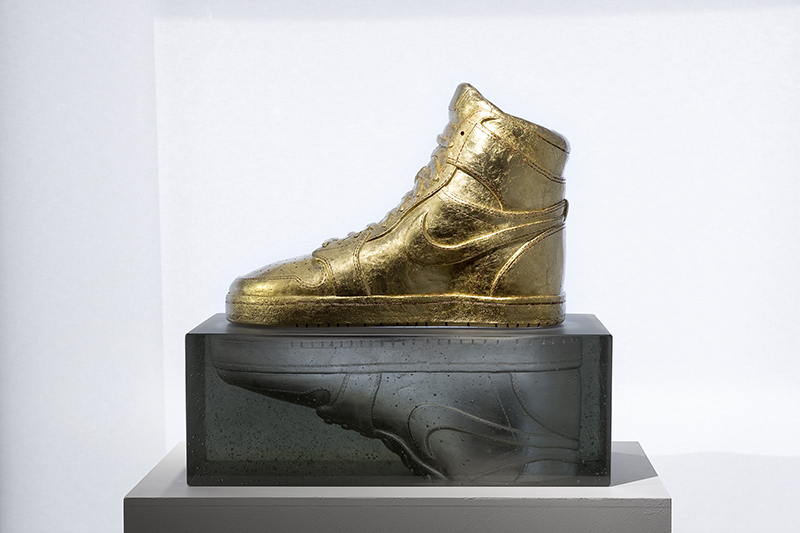 Namdoo KIM,〈Air Walk〉, 2021, Cast glass, Ceramic, Gold leaf, Stainless Steel, 62 x 64 x 30, Image provided by Gallery Sklo
---
Namdoo KIM,〈Homo-Predatus〉, 2021, Ceramic, Automotive paint, Gold leaf, Silver leaf, 62 x 58 x 90, Image provided by Gallery Sklo
---
Q. To freely make art with glass, there must be a need to build infrastructure such as furnace, and nurture talents who can use them. What's the situation like in Korea?
---
Unfortunately, there aren't enough furnaces in Korea that guarantee the quality of the resulting glasswork. Adriano Berengo, who is my long-time friend and a world-famous glass art curator based in Venice, Italy, uses Glasstress, a collateral exhibition program of the Venice Biennale, to collaborate beyond genres and borders with various artists around the world, such as Ai Weiwei, Louise Bourgeois, Daniel Buren, Olafur Eliasson, Random International, Tokujin Yoshioka, and Michael Joo, which allows them to access top-class furnaces and glass studios. As for Korea, there are glass art programs in universities, but due to limitations in infrastructure, it is still not easy to try out experimental glass art.
---
Q. Korea now has a museum devoted to craft art. I think that means that there will be much more to do for Sklo, which is leading glass art in the country. What activities are needed to expand the foundation of glass art, both at home and abroad?
---
I think diversity in cultural consumption is the yardstick for determining whether a country is a culturally advanced. Gallery Sklo is preparing to participate in Collect, an art fair in the U.K. I envy galleries there because I heard that key figures from British museums and foundations are interested in glass art and will be attending the art fair in person. Thanks to experimental trials of making art that borders craft and fine art, we are starting to see a lot of collaboration that transcends the borders of glass art, craft, design, contemporary art, and architecture. Gagosian supported the Anselm Kiefer exhibition at Palazzo Ducale, currently ongoing, alongside the Venice Biennale. I hope that museums, art foundations, galleries, and artists can collaborate on a mid-to-long term timeline likewise. The success of Murano, Italy and Toyama, Japan as cities renowned for glass is the fruit of continued investment.
---