---
The interviews led by Daehyung Lee, the Artistic Director of the project Dialogue, were conducted with the directors of 9 galleries selected as outstanding galleries in Dialogue, a project presented as a part of a report on the achievements of the Grant for Artist Management program. The course of the directors' life, concerns about promoting Korean art, future strategies for entering the global market and the directors' anecdotes with their artists were discussed in the interviews.
---
The Artistic Director of the project Dialogue, Daehyung Lee, values the social role of art in the era of the 4th industrial revolution in the 21st century (critically essential). Lee is expanding the scope of contemporary curation to the environment, community, technology, and the future. Daehyung Lee directed Korean Pavilion in 2017 Venice Biennale and he led the success of CONNECT, BTS – a global public art project exhibited in five cities including Seoul, New York, London, Berlin and Buenos Aires. Lee organized Korea Research Fellow, a research network of 10 domestic and 10 overseas curators from 2018 to 2021 and has also served as a judge for the 40 UNDER 40 of the London art magazine, APOLLO in 2022.
---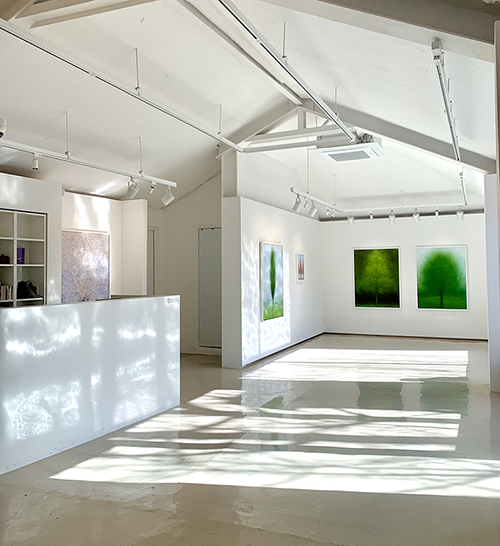 art B project
---
art B project director Garak Bae
---
Q. Which artists is art B project interested in? What are your artist and artwork selection criteria?
---
We are more interested in artists than their works. They need to be able to explain their work well. In many cases, art is reflective of the person who made it, and that sometimes makes the work look nicer. On the other hand, there are cases where we met with the artist because his/her work was great but they weren't able to explain their work with confidence. An artist who does not have confidence in his/her own work can't make art that resonates with people.
---
Q. It is important for artists to be able to explain their works, and likewise, galleries should be able to introduce their artists well. What kind of global strategie for artist promotion are there and which do you use?
---
art B project mainly works with young artists in the seventh to tenth year of their careers and established artists who now need to be recognized more widely around the world. So we engage in a lot of different activites to promote them, among which is digital communication. Rather than utilizing our own online channel, we actively use global platforms like Artsy. Of course, we do the basics of optimizing Google search in English to promote our artists as well as the gallery. An analysis of Artsy data shows that we get the most interest from London and Paris, and New York and Boston in the case of the United States, though this varies slightly by artist. We use this data strategically to decide where we should start from in terms of our global entry and gradual expansion and which artist we should prioritize in our promotion plan.
---
Q. There are cases in which galleries promote one artist in unison. This sometimes serves as a standard for selecting artworks that reaches beyond borders and wins agreement and sympathy from more people. Collectors are now more eager to research and share information to find artists and artworks that will create a sensation in the global market, not just in Korea. How will art B project respond to these collectors and the market that is becoming smarter?
---
We are preparing for local and global collaborations. We are currently devising a local cooperative model to use in Seoul, Daejeon, and Busan, and a global cooperative model for collaboration with partners overseas in London, Paris, Berlin, and New York. A truly great gallery is one that has a story and program that works, regardless of how small or how remote the gallery is. We have been thinking about how to strengthen our symbolic value, and the conclusion we drew was to establish a basic principle that we must first establish "facts" that everyone in the art community can accept and relate to. The exclusive, I-can-do-it-alone attitude does not help in establishing objective facts. To that end, we are considering the possibility of working with the media. Our first step would be to encourage and back up continued growth of young artists that the media is focusing on through various supporting programs at the gallery. Of course, we can't leave out research to expand our communication and ties with experts like independent curators, museum curators, and art critics who create symbolic values. As Sarah Thornton, writer and columnist of The Economist, wrote in her book Seven Days in the Art World, cooperation will work only if we constantly think about our place in the ecosystem, and that will also be helpful to the artists we work with.
---
Q. In art B project's terms, what is the art of today and what role must it serve?
---
Being in this industry makes us think a lot about the role of art and what we can do. I believe that one of the roles of art is "to remind" people—in other words, have them recall and recognize things that they had forgotten about. In the era of uncertainty, the urgent task of art is to save the humanity's identity of "being human." To me, art is like a "guide" that is always by my side and helps me be a better person with dreams for a more fascinating life.
---