---
The interviews led by Daehyung Lee, the Artistic Director of the project Dialogue, were conducted with the directors of 9 galleries selected as outstanding galleries in Dialogue, a project presented as a part of a report on the achievements of the Grant for Artist Management program. The course of the directors' life, concerns about promoting Korean art, future strategies for entering the global market and the directors' anecdotes with their artists were discussed in the interviews.
---
The Artistic Director of the project Dialogue, Daehyung Lee, values the social role of art in the era of the 4th industrial revolution in the 21st century (critically essential). Lee is expanding the scope of contemporary curation to the environment, community, technology, and the future. Daehyung Lee directed Korean Pavilion in 2017 Venice Biennale and he led the success of CONNECT, BTS – a global public art project exhibited in five cities including Seoul, New York, London, Berlin and Buenos Aires. Lee organized Korea Research Fellow, a research network of 10 domestic and 10 overseas curators from 2018 to 2021 and has also served as a judge for the 40 UNDER 40 of the London art magazine, APOLLO in 2022.
---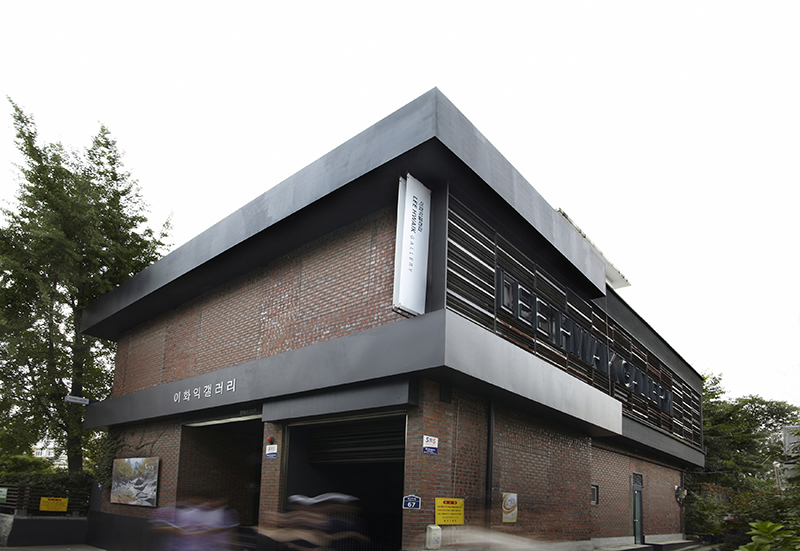 LEEHWAIK GALLERY
---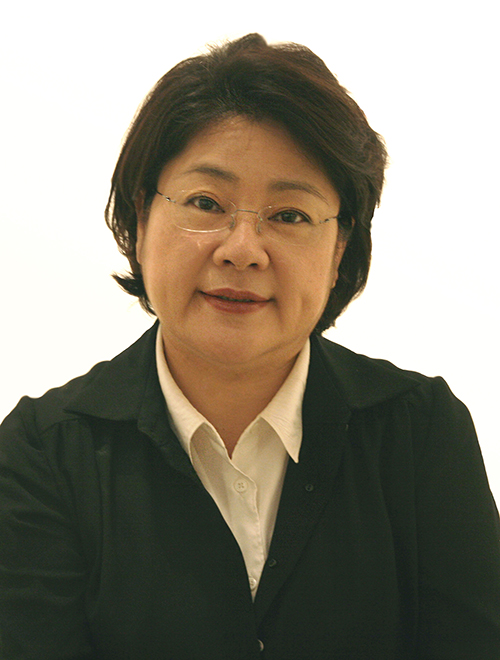 LEEHWAIK GALLERY director Hwa Ik Lee
---
Q. It has been over 20 years already since you started discovering young Korean artists and promoting them globally. There have been many trends and temptations that swept the art market in Korea, such as Chinese art, Southeast Asian art, German photography, and British YBAs since 2001, which is when you opened the gallery. Nevertheless, you weren't swayed and only worked towards Korean art's globalization. We would like to hear about your vision and philosophy going forward, upon reflecting on your past two decades.
---
I aspire to be the Bang Si-Hyuk (founder and chairman of HYBE, the company managing BTS) of the art world. (laugh) Given that I was once a curator at the National Museum of Modern and Contemporary Art, I wish to be at the frontline of promoting Korean artists to the world. Awareness and evaluation in the art market is important, but we must be able to discover artists who can be recorded and remembered in world art history and support them so they can grow and have the chance to be evaluated. The role of the gallery, which must respond flexibly in various situations in such a process and provide unwavering support in the mid-to-long run, is critical.
---
Q. You're fairly ahead of the game in terms of when you select your artists. We can confirm from your attitude and agility in artist discovery that you have a curatorial background. Did you experience any difficulties in the early days?
---
I was in my early 40s when I opened the Lee Hwaik Gallery in 2001, so there was a lot of exchange with artists in their 30s and 40s, with whom I could share contemporary values. My experience of working as the director of Gallery Hyundai before opening my own gallery is a great asset. At the time, Gallery Hyundai provided a lot of help in developing various ideas on artist promotion with a good amount of balance between commercial and non-commerical programs. 20 years ago, when I started the gallery, was a time when the gallery industry was in its cooling period after the Asian financial crisis, even being called an industry in decline. It was not the best time to open a gallery and colleagues already in the gallery business tried to stop me, but I started the gallery with the mindset that I just need to bear three years. What was three years became ten years, and ten years became 20 years. Duck-Yong Kim, Dong-Yoo Kim, and Yeong-Geol Choi that I worked with then all became established, leading artists.
---
Q. You led the institutional launch of the Leading Galleries' Grant for Artist Management Program.
---
When I was serving as the president of the Galleries Association of Korea, I set forth various ideas to strengthen the global competitiveness of Korean art through a number of seminars. As a result, we were able to launch the Grant for Artist Management Program institutionally. A gallery's identity and competitiveness are determined by the artists they work with, just as a museum's identity is determined by its collection. I was able to expand my interaction with young artists, starting with Doo-Jin Ahn and Young-seok Cha.
---
Q. The growth of the contemporary art market in the past year is notable, as expectations about Frieze Seoul heightened and the uncertainty of investment in risk-free assets increased since the pandemic. How should galleries and artists position themselves in this positive environment of the market?
---
Boom isn't always a good thing, and likewise, recession isn't always a bad thing. During booms, even financial products such as funds flow into the art market, so the risk of the bandwagon effect among artists' works increases. On the other hand, recessions can serve as a standard for determining good artists. Galleries should be able to wait for artists, and artists should be able to remain and wait for their art worlds to mature and develop so they establish their meanings. The art of waiting is an absolutely needed.
---
Q. You have been constantly introducing Korean artists at international art fairs such as Art Miami, LA Art Show, Abu Dhabi Art, Art Stage Singapore, Scope Basel, Art London, and Art Central Hong Kong. What is the global strategy of the Lee Hwaik Gallery?
---
We have participated in a range of different art fairs in Europe, the Americas, and Asia in the last 20 years, but since 2012, we have been focusing on the art fair in Abu Dhabi in the Middle East. There will only be greater cultural diversity in the area, on the occasion of the Qatar World Cup, and UAE is positive about Korea. Also, the Middle East is considered a part of Asia in a broad sense. Therefore, there is a great sense of identification with the culture and arts of Korea. There is also the need to continuously introduce Korean art in the Abu Dhabi art market, where the Guggenheim Museum is scheduled to open in the near future. We have already drawn tremendous attention by presenting works by Shin Sangho, Heo Dal-Jae, and Duck-Yong Kim.
---
Q. Please briefly share about Meeyoung Kim, Doo-Jin Ahn, and Young-Seok Cha, who are part of Dialogue.
---
Ahn Doo-Jin, who I've been following since his exhibition at the Ilmin Museum of Art ten years ago, creates different variations of meanings in painting by working across the border of painting and installation art. Young-Seok Cha, who is known for his drawings, presents delicate, fine, and high quality works that result from the tremendous amount of time that goes into creating them. Meeyoung Kim is not afraid to try bold experiments of combining oriental painting techniques and Western art materials. These artists demonstrate the essential power of analog painting that cannot be compromised in today's environment often defined by technology such as the metaverse, AI, and 3D printing. Humans are analog, so art, which will stay with us forever, must not lose its analog value.
---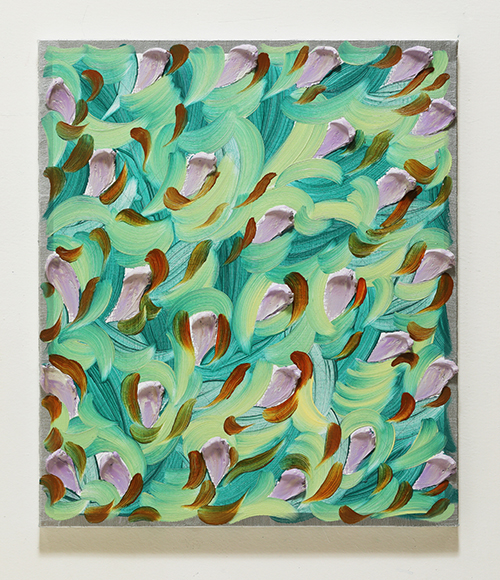 KIM Meeyoung,〈Dawn Walk〉, 2022, Oil on canvas, 53x45.5cm, Image provided by LEEHWAIK GALLERY
---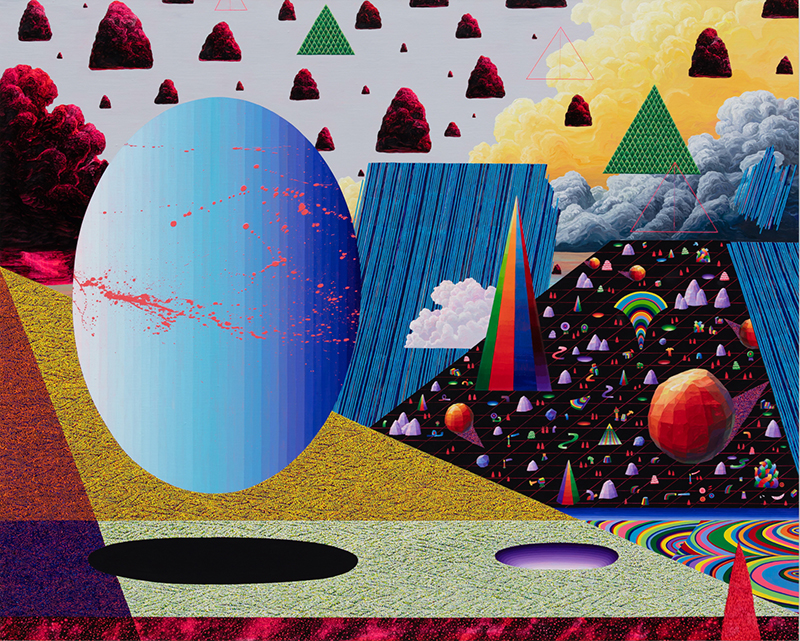 AHN Doo-Jin,〈(Splash) – (Landscape over landscape)-( )〉, 2022, Acrylic & Oil on canvas, 130x160cm, Image provided by LEEHWAIK GALLERY
---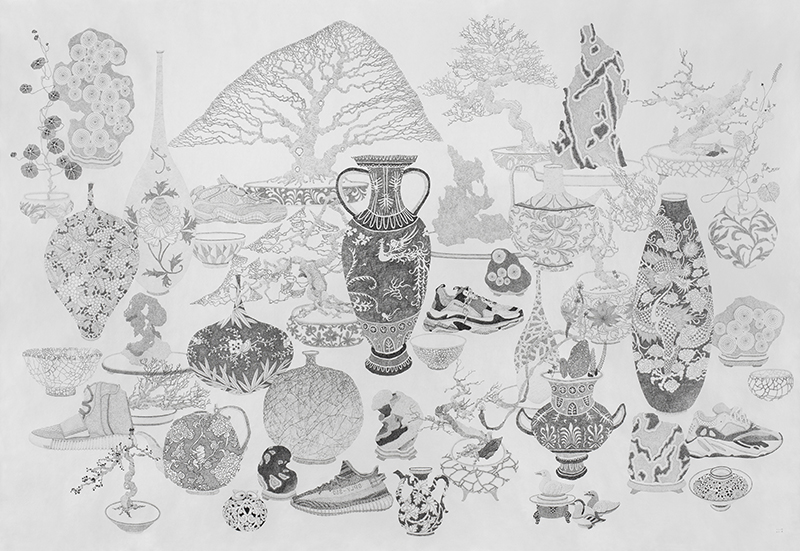 CHA Young-Seok,〈An Elegant Endeavour_139〉, 2018, Pencil on Korean mulberry paper, 137x200cm, Image provided by LEEHWAIK GALLERY
---