Features / Focus
Video works Occupy Exhibition spaces – Reading between the Mirror and the Screen
posted 23 Dec 2022

---
Is the genre division between art and film still valid? Nowadays, audiences enjoy any interesting video work, whether it be in a museum or a theatre. They are not bound by the classification used by professional video artists or filmmakers, nor by the spatial characteristics of white cubes or black boxes. "FILM_Text and Image," an MMCA film and video program that is presented at the National Museum of Modern and Contemporary Art's Seoul venue, recently introduced the cinematic works of Theresa Hak Kyung Cha, Susan Sontag, etc. The 9th annual exhibition of the Buk-Seoul Museum of Art (SeMA), "Title Match" invited Im Heung-soon and Omer Fast, both of whom are working as video artists and film directors. 2022 Jeonju International Film Festival also featured a special section "Borderless Storyteller", showcasing works by eight artists including Kim Heecheon and Moojin Brothers, which was published as a book by the same title.
---
The ARTRO is featuring the "Video Works Occupy Exhibition Spaces" series of articles. This series features a written piece titled "Reading between the Mirror and the Screen", by Kim Mijung, who curated "Media Punk: Belief, Hope & Love" in 2019 at the ARKO Art Center, followed by introductions of four artists (or collectives): Kim Woong Yong, Ryu Hansol, Park Sunho and 업체eobchae. We hope this feature article will serve as an opportunity to reflect upon the video images that cross these genres and spaces today.
---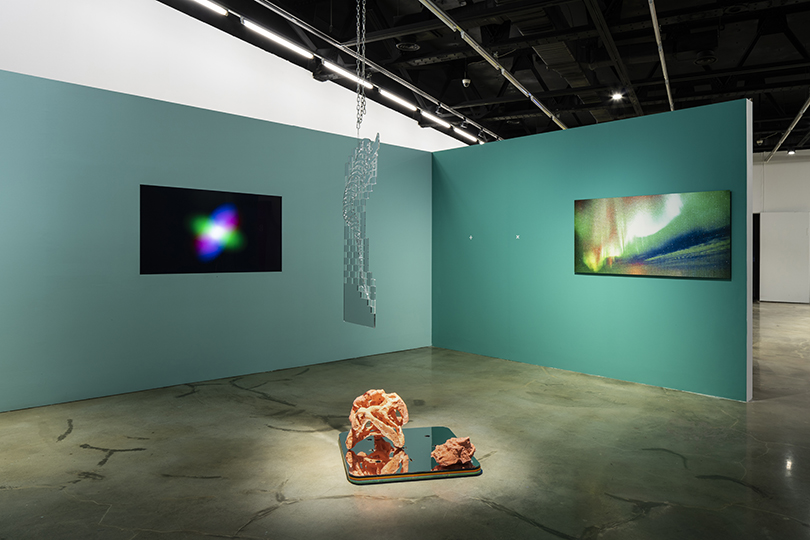 Exhibition view of "Media Punk". Roh Jae-Oon, Universal Cinema, 2019, interface. Photo: Hong Cheolki. Image provided by the ARKO Art Center.
---
While preparing for this article, I was reminded of an exhibition I curated in 2019 at the ARKO Art Center, titled, "Media Punk: Belief, Hope & Love"(hereafter "Media Punk", 2019.9.10~10.27). To briefly summarize the exhibition's intentions: it questioned how to view the contemporary phenomenon that anyone can be the subject of edited images, which produce and disseminate visual images. Although encountering various visual media and related images in our everyday lives and exhibition spaces might be taken for granted, I would nonetheless like to bring this discussion to the fore. Ever since storytelling daily narratives gained momentum through video, we have been faced with an accelerating expansion of video images as content. Due to the structure of the market, these images are absorbed immediately. Even though textual information is being replaced by video images, I assume that there is a reason why video works are still difficult for audiences in the exhibition – likely due to the way the narrative is spoken. Hence, the exhibition explored the conflicting point where non-linear narratives and opaque images meet.
---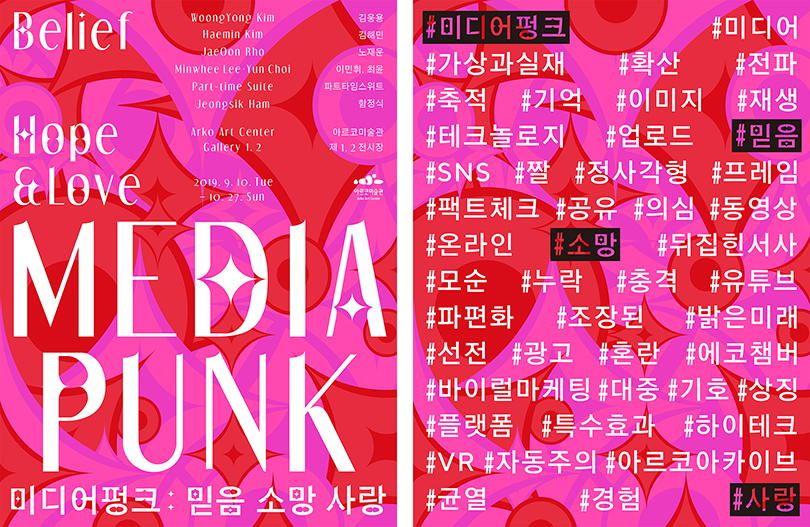 "Media Punk: Belief, Hope & Love"(2019) Poster image. Image provided by the ARKO Art Center.
---
"Curatorial Talk: Talk about Media Art exhibitions in 2019", exhibition related program of"Media Punk". Image provided by the ARKO Art Center.
---
This exhibition allows us to revisit images, a problem that has been continuously raised in contemporary art. To this end, it relied on related programs to make up for those many discussion points that it could not yet address. One such program was a conversation with curators. At the time, I discovered that at least one exhibition was planned that addresses the digital media environment, and I was keen to talk to the curators.1) In the pre-meeting, I inquired about the media exhibitions in 2019, why similar words were repeated, and how to view the works in this context. However, some of the participants did not agree to answer my question, and their responses still linger with me. This may be because the questions and answers were ambiguous, but basically everyone was sceptical about what kind of exhibition should be defined as a 'media exhibition'. Many of the works showcased in the list of exhibitions were generally based on media, but instead of raising questions on the medium itself, they instead sought to reflect a cross-section of the society that has been changed through this medium. Therefore, video media acted as a mirror and, simultaneously, as an intermediary to urge the conversion of seeing and its structure. The same thing applied to "Media Punk". I came to see that there was no consideration of 'video as a medium' and that video reading, which hovered only in a limited language, was prevalent. And those are the reason why I kept thinking over the answer. Of course, I still haven't been able to find clear answers to these questions, and so I continue to search for clues in videos and their unique timeframes, which serve to connect the world inside and outside of the image.
---
Even after living through the pandemic and emerging to face a different world than it was before, video work has remained firmly established in the exhibition space. Exhibitions today go beyond a mere face-to-face encounter between the screen and the audience, and instead display media works using technologies such as VR, AR, Metaverse, and artificial intelligence. These often invoke themes surrounding questions, doubts, or expectations about the future, due to the speed of scientific and technological changes to society.2) Audiences use mobile phones or HMD (Head Mount Display) to run apps, and scan QR codes to view works outside the exhibition space, or to face the 'smart' scenery of the exhibition's physical contents. Instead of using video images exclusively through black boxes or screens, artists now naturally connect them with other media to expand their worldview. However, I would like to discuss video images, narratives, and how they work without concepts such as convergence, digital environments, and data systems, which tend to be associated with recent media. The works introduced in this article call for a form of speech only using video media itself, and make us aware of this kind of reality by blending fiction and non-fiction.
---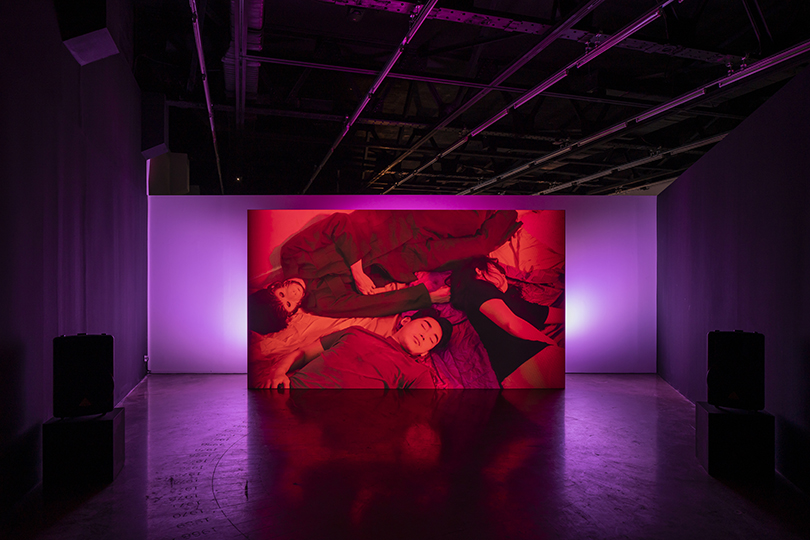 Exhibition view of "Media Punk". Kim Woong Yong, Wake, 2019, single channel video, 19m 10s. Photo: Hong Cheolki. Image provided by the ARKO Art Center.
---
Artist Kim Woong Yong shakes time and space by adding another voice and scene to a moment in the past. In "Media Punk", the artist presented Wake (2019), which addresses three events that took place in 1996, including the University Student Unification Rally, and the Gangneung Submarine Infiltration Incident. Instead of analysing the events, the work instead uses fragmented images to focus upon the perspectives of each character. As the film recording the protest scene is developed, it depicts the process of how the senses become of those who experienced the event, of those who remember it, and of those who accept it become intertwined. There are no 'facts' here to be checked, but rather only segmented images and unknown voices that intersect as if in a dream. Lights behind the screen set the stage like a play. They move according to the video images to lend dramatic effect to the narrative as an image itself, as well as to remind us of the fate of video images and film, which cannot exist without light. Such fragmented pieces emphasise the correspondence and friction existing with these elements, and eliminate any sense of time and space both inside and outside the video.
---
Ryu Hansol borrows the frames from the B-gore genre and directs bloody sadistic acts. The blood and flesh are actually composed of jelly, styrofoam, mannequins, and painting materials, which stimulate the senses of both touch and sight. Even though audiences are cognitively aware that everything in the video is a crude makeshift stand-in, we still viscerally experience the violence applied to the cut and exploding characters. At "Seoul Mediacity Biennale: One Escape at a Time"(2021), where Virgin Road (2021) was displayed, a warning was place before the work was screened. Although the brutal setting might certainly be disturbing to some, due to the characteristics of its materials, Virgin Road also invokes the sound of swallowing jelly in ASMR content, as well as the pleasure of bursting sea grapes with one's teeth. Furthermore, the 'self-marriage' of the protagonist, who splits her body into half and becomes a monster, inverts the meaning of the title Virgin Road. The fear of a damaged body and the joy of overturning one's own gaze equally compel us to see the work Virgin Road.
---
Park Sunho begins her narrative with the data she has gathered from her surroundings. The artist explains that she chose video as a medium to create an environment where the audience can connect to the experience of others.3) Pearl and The Huxtable (2018) traces the origin of an image that her mother purchased from a website selling photos. In it, a blonde woman wearing a pearl necklace is depicted on the cover of a book, as a model for product. This was found in the timeline of a website where numerous images are archived, and eventually reached Park's mother. The unknown woman and her body have been moved, altered and consumed. Women and Electronics (2021) juxtaposes the implicit sanctions, responsibilities and roles imposed on women by the prescriptive phrases published and distributed in newspapers or advertisements related to home appliances. Thus, in Park's piece the image of a woman smiling in front of home appliances is shown, while in the old media format the narrator recites, in a daunting tone: "The 21st century, where human dreams and technology meet!" This narration is not presented as an archival record of the past, but rather as an echo of the present.
---
업체eobchae, the winner of the Doosan Yonkang Artist Award in 2021, works across various categories such as web-based creation, sound, and performance. Familiar terms, such as their own cryptocurrency called 'eobchae coin', DikTok(which remind us of TikTok), Luges, and DAO(Decentralized autonomous organization) often appear in eobchae's work, and are used to critique the speed in which we propel ourselves toward the future and its expectations. The Ones Who Left On Luges (2022) depicts those who risk their lives to raise eobchae coin. It reminds us of the shadow of cryptocurrency, which today becomes mere numbers and curves rising and falling. "eoracle" (Doosan Gallery, 2022.9.21-10.19) depicts a world that seems to faithfully follow the principle of majority rule. However, it still concludes with only two possible answers, yes/no, and even the right to speak depends on the amount of 'eobchae coin' held. This piece shows that even the platforms apparently under one's own command were, in fact, actually a system within a system controlled by someone. With this cynical attitude, the artist stares at the era of acceleration embraced by the financial model.
---
The square screen, which has become part of our physical bodies, indifferently displays images of war and disaster in real time in front of our eyes. Social network platforms provide new services to edit ever shorter and more stimulating images. Artworks have come to fully reflect and copy reality like a mirror, or more often, are absorbed into the system itself. Nevertheless, the role of video art is confirmed when those narratives, driven by images and the medium of video, are closely intertwined, and come to refresh the audience. When everything wants to be seen as content, what is the role of video works in exhibition spaces? Unable to separate this from the mirrors and screens, it is now our task to find our own ways to read them.
---
[Footnote]
1) The main exhibitions I referred to at the time were as follows. "Welcome! You Are Connected!"(Suwon Museum of Art, 2019.4.2~6.30), "Vertiginous Data"(MMCA Seoul,, 2019.3.23~7.28), "Zoom Back Camera"(Curated by Park Suji, SeMA Bunker, 2019.9.6~9.25), "The Security has been Improved"(Coreana Museum of Art, 2019.4.25~7.6), etc.
2) Some of the major exhibitions in Korea worth referring to include: "Follow, Flow, Feed"(ARKO Art Center, 2020.7.09~8.23), "Diplopia"(ARKO Art Center, 2020.9.24~11.29), 2021 Tele-Picnic Project "Your Holiday"(SeMA North Seoul, 2021.9.14~11.14), "Hotel, Dystopia"(curated by Moon Hyun-Jeong, SeMA Bunker, 2022.7.20~8.7), Daejeon Art and Science Biennale "Future of Cities"(2022.8.2~2022.10.30), etc.
3) 『The Raw』(Curated by Kim Gahyeon, Kim Alter, Son Uihyeon and Jeon Hyeonji), (Exhibition catalogue, Incheon Art Platform 2022.5.3~5.29), p.118
---
Kim Mijung
Kim studied Painting and Art. Her curated exhibitions include: "Mis-Play"(Co-curator, Insa Art Space, 2014), "Today, Nobody Was There"(Art Space Pool, 2018); "MediaPunk: Belief, Hope & Love"(Arko Art Center, 2019); "Hong Lee, Hyun-Sook: Swoosh, Tsu-pu!"(2021) and "To You: Move Toward Where You Are" (2022) at the Arko Art Center; and "Monthly Insa Art Space"(2021~2022) series at the Insa Art Space. In 2017, Kim was selected to be a curator/researcher at the Arko Creative Academy. From 2018 to 2019, she worked as a member of collective Z-A, alongside artists Kim Woo-Jin and Jun Bokyung, focusing on the 'sustainability' discussion. She also participated in the MMCA Residency program at Changdong in the second half of 2018. Kim is currently working as a curator at Arko Art Center, and her main interest lies in exhibitions and artworks that capture the moment where languages slip and collide within social structures and institutions.