Features / Focus
Video works Occupy Exhibition spaces – An Interview with Park Sunho
posted 09 Jan 2023

---
Is the genre division between art and film still valid? Nowadays, audiences enjoy any interesting video work, whether it be in a museum or a theatre. They are not bound by the classification used by professional video artists or filmmakers, nor by the spatial characteristics of white cubes or black boxes. "FILM_Text and Image," an MMCA film and video program that is presented at the National Museum of Modern and Contemporary Art's Seoul venue, recently introduced the cinematic works of Theresa Hak Kyung Cha, Susan Sontag, etc. The 9th annual exhibition of the Buk-Seoul Museum of Art (SeMA), "Title Match" invited Im Heung-soon and Omer Fast, both of whom are working as video artists and film directors. 2022 Jeonju International Film Festival also featured a special section "Borderless Storyteller", showcasing works by eight artists including Kim Heecheon and Moojin Brothers, which was published as a book by the same title.
---
The ARTRO is featuring the "Video Works Occupy Exhibition Spaces" series of articles. This series features a written piece titled "Reading between the Mirror and the Screen", by Kim Mijung, who curated "Media Punk: Belief, Hope & Love" in 2019 at the ARKO Art Center, followed by introductions of four artists (or collectives): Kim Woong Yong, Ryu Hansol, Park Sunho and 업체eobchae. We hope this feature article will serve as an opportunity to reflect upon the video images that cross these genres and spaces today.
---
Park Sunho is keen to create a collection composed of private memories, information, and visual images. Using oral record, micro-history and macro-history, she intertwines personal histories and social histories, while the society, economy, and political history of a time are connected with lives of individuals and depicted in artistic form. Park likes to observe contemporary artists and continues to plan, write, and edit.
sunhopark.com
---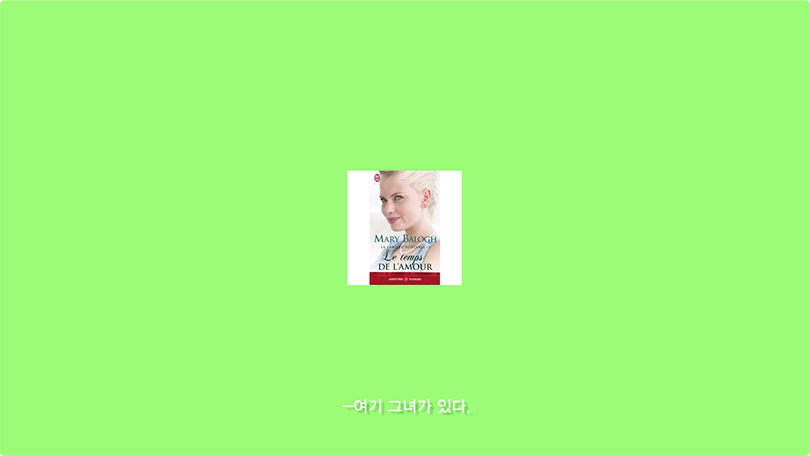 Pearl and The Huxtable, 2018, single-channel video, HD, 3min 36sec.
---
Can you introduce yourself please? We would like to hear more on the subjects that you are interested in.
I have been producing works about the intersection between the private and micro narrative of a person and the universal and macro narrative of a society. I tend to collect things that are faint or powerless, and things that are in an isolated position. Over the past couple of years, I have been working on questions about how a person's life is connected to social and cultural situations. I am also interested in the way that images, memories, and sounds work.
---
Is there any reason why you chose video images as a means for some of your works, amongst various media?
Since I begin my work from what I have seen, heard, and experienced, I try to find a way to convey things straightforwardly. I chose a video medium to organize, arrange, and present the images and materials I researched in the earlier stage of my work. However, as I worked, I felt it was important to extend beyond conveying information and share my intense feelings, situations, and experiences. Hence, I utilize the senses of sight and hearing in using video, as well as other things, but I aim to make something different than a movie.
---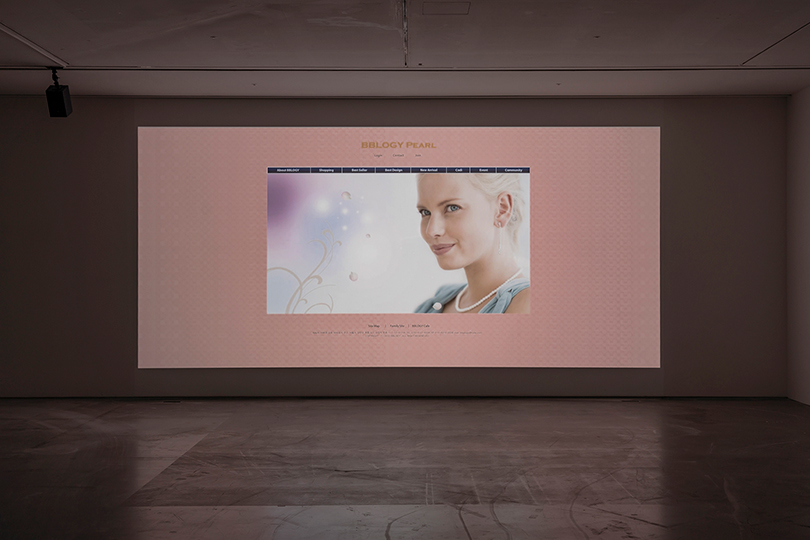 Installation view of exhibition "Doosan Art LAB 2019: Part II", Pearl and The Huxtable, 2018, single-channel video, HD, 3min 36sec. Photo provided by Doosan Art Center.
---
You address 'questions about the fixed semantic system of images' throughout your work. This seemed especially evident in your solo show "Hardcopylist"(2021). I would like to hear why you became interested in the production process and operation of images and whether it has anything to do with why you chose the video medium for your work.
I lived in Switzerland for about a year from 2014 to 2015 and was influenced by what I saw and heard there. Due to Switzerland's cultural background, where there are four official languages, and the perception of me as an Asian woman in my 20s, I have encountered situations in which I was not included in any system or people of certain identities. I realized that the fixed semantic system is actually artificial and arbitrary. And this realization extended to questions about how images work.
I paid particular attention to images produced and distributed through media in 2015. At the time, Europe was in turmoil from Paris's terrorists attack, Britain's Brexit declaration, and the Gaza-Israel conflict. Countless images were floating around in the news headlines. Thus, I came to realize that there are many images that I have never experienced yet which feel fear, and I wanted to confirm such reality via experience rather than by images.
It was during this time that I started taking field trips by low-cost airlines and trains and recording what I saw and heard with a camcorder. From then, I naturally started to make video works. I often looked at and thought about some issue from a distance rather than inside, and this formed the great interest or critical sense of my current work.
---
As you briefly mentioned earlier, many of your works start from personal memories and information you have collected. If so, what is your own standard or method of collecting memories and information?
I keep a collection of things that I have found strange or attractive. If there is any standard, it can be said that I collect 'stories and clues that keep recurring and appearing from the past to the present in my private experience.' It's nice that anything that falls into this category has a structured story as well as a personal one. These things tell a very specific story, but I think I find it interesting because it can be transformed into an abstract form.
---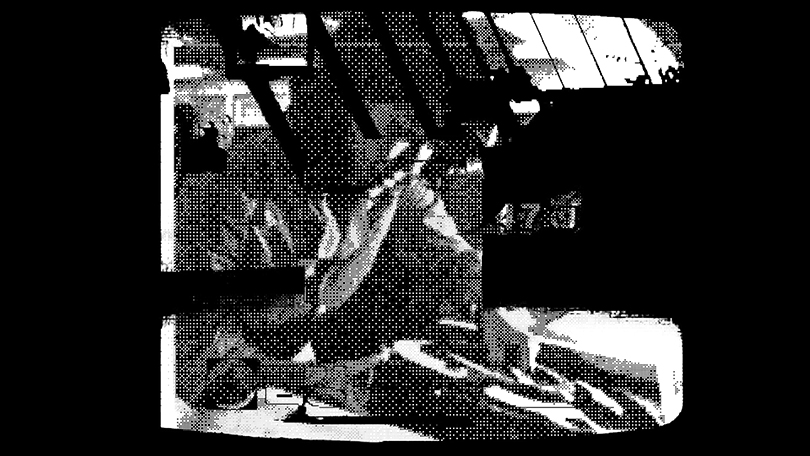 Women and Electronics, 2021, single-channel video, FHD, 5min 36sec.
---
If we see Pearl and The Huxtable (2018) or _Women and Electronics _(2021), you seem to develop your work based on various visual materials. How do you select the images that you use in your work?
I classify and select materials according to a wide variety of criteria, from materials that correspond to the conceptual and structural conditions of work, to materials that deal with visual effects, like tone and manner. The two works you mentioned were born from my curiosity about people to whom I related. For Pearl and The Huxtable, I selected data related to the present - the time of production- and of a person who lived through an era I had not lived through. While for Women and Electronics, I selected data related to the past in which the person lived.
---
According to the introduction on your website, you described yourself as a 'writer'. Could you elaborate on the specific work method, whether you make a structure in the form of text first and then create an image of your video work?
It would be better to introduce myself as "a person who writes or collects the text and then does editing." Generally, I have two ways of working: either by collecting data from various sources and composing a video, or by shooting a video continuously and editing later.
In the former case, I combine my writings from a notepad into one single document file. After some basic proofreading, I print it by making spaces between the sentences or paragraphs. After cutting the printed document into pieces, I arrange the pieces of text in different orders on a blank piece of paper. I read the sequences over several days until I feel there is some flow. Then I paste the text (as subtitles) into the video source with an editing program. I spend lot of time on this 'middle' process, during which the images constantly change.
In contrast, when I film with staff, I always prepare a storyboard so that we can determine the direction of visual development in advance by drawing out or describing the scenes. During the editing process, I add up the texts or narration if necessary. In recent works, I set up a text (sound) sequence by arranging text excerpts from research materials using an excel spreadsheet. Then I filmed it in one take and finished with very minimal editing. In this case, there is no significant variation between plan and execution.
---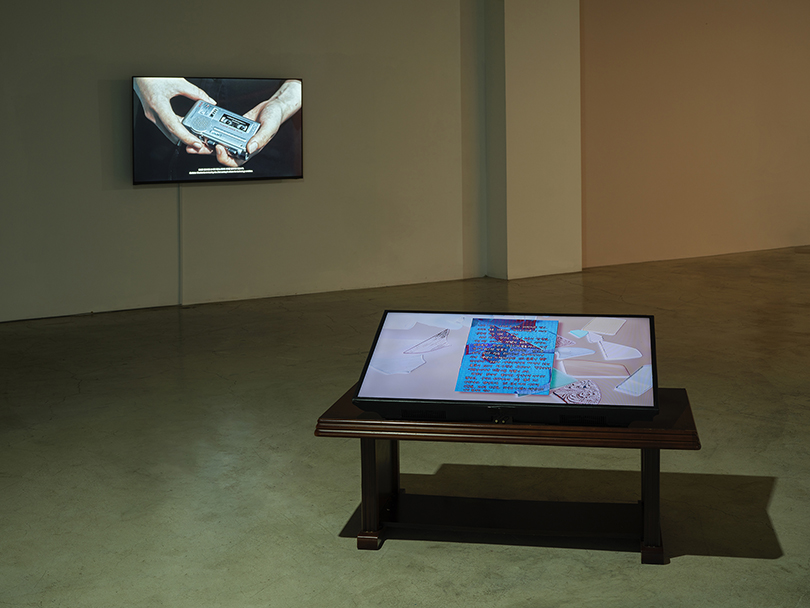 Exhibition view of "Tinkering with the Objects" (2022) (Photo: Studio GRAFFITO and Wumin Art Center.) (front) Tracing Heart, 2022, single-channel video, UHD, 12min 12sec. (back) AB Side, 2021, single-channel video, UHD, 8min 5sec.
---
No matter which way you choose to work, editing is an essential part of the production of video. A specific scene chosen by the artist is given another semantic system. If so, what is the most important point in your editing process?
It's about creating interference, as well as flow. I think the flow is the least I can do to allow the audience to access the work naturally. So, when conceiving or designing a work, I tend to pay attention to structuring and organizing the work using clear language. However, editing seems to break down what was clearly established earlier. I try to make the video accessible for the audience, while refraining from making assertive statements or assertions. This is because I don't want art to slip into merely being information or knowledge. So, I alter the use of sound (with/without sound, use of music/narration/place sounds, etc.). I try to tune and edit sounds and add effects in non-specific or non-descriptive ways during the post-editing process.
---
In the past, video works have been 'screened' in so-called black box spaces represented by movie theaters or cathode-ray tubes. Now as various video works are displayed in the 'white cube', i.e., the gallery space, the boundaries between genres are blurring. Furthermore, the spread of mobile devices and the advent of the Internet era allow video images to be viewed anywhere and everywhere. I would like to hear about what you consider or contemplate the most when presenting video work in white cube spaces.
I am considering how to overlap the time of the person making the video and the time of the person watching the video. Here, the 'maker's time' refers to time including the motive of the work, the content covered, and the production process, which is different from the duration of the work itself. Meanwhile, 'the viewer's time' is the time spent by the person who will stand in front of the work and experience it in the future. As mentioned earlier, creating an environment enabling accessing or immersion oneself in a work can be explained within the same context. I am concerned with devising and creating an appropriate format to screen the work.
---
(Left) Installation View of Exhibition "Hardcopylist", Stain-2, 2019, single-channel video, FHD, 8min 3sec. (Photo: Sunho Park) (Right) Installation View of Exhibition "Combination!: Collection and Archive", Archaeology Table, 2022, acrylic, astel, OHP film, single-channel video, AB Side (2021) installation (Photo: Chun Myungeun)
---
For example, in my solo exhibition "Hardcopylist", I made a supporting structure for displaying videos for the first time. After finishing the production, I thought that the work Stain-2, which addresses such a trivial and personal story, should be installed in a way that the viewers can look at it very slowly and indirectly, and through something else. Furthermore, I wanted to add a hard and cold impression to the work. So, a 13-inch laptop was placed inside a stainless-steel body, covered with an acrylic case.
---
I even went further in developing this format in the recent exhibition "Combination! Collection and Archive", in which I participated 2022 October. I produced Archaeology Table (2022) while contemplating how to place the single-channel video_ AB Side_ (2021) in the exhibition space. I wanted to convey to the audience an aspect of a specific time period that I researched, and to create an environment expressing this experience. I felt this process was similar to archaeological research, so I made a multi-layered table. Research materials printed on OHP film were overlapped between translucent acrylic layers to create depth between materials. Finally, I mounted a mini tablet PC on the uppermost plate with a ratio matching the scale of the filmed image, and this is where the video was played. This method reflects my concerns with dealing with video in the exhibition space.
---
Do you think there is 'a form of speech only pertinent to video', to quote Curator Kim Mijung? We would like to hear your thoughts on this.
It's a bit difficult to answer. 'A form of speech only pertinent to video' suggests that seeing and hearing may or may not coincide. I remember often reading Michel Chion's book La VOIX au CINEMA (Dongmunseon, 2005), in which his concept of 'Acousmatique' means 'listening to the sound without seeing the sound source'. There seems to be a form of speech that only video can create, and which can be both visible (i.e., image) and invisible on the screen. It seems that narrative, fiction, or other experiences arise from this flow of combination or discord. And it seems to be connected to the reason why I am immersed in creating flow and interference. I'll think about it a bit more in the future.
---
Is there any video artist (artist or team who works based on video images) in Korea whom you have particularly noticed recently? We would like to hear your recommendation.
I visited Nam Hwa-yeon's solo exhibition "Gabriel", where I felt something like the humility of a human in front of an immeasurable time. The artist also seemed to be considering ways to address time, not only in the work, but also via the implementation of the exhibition itself. It was impressive that the artist designs a very clear structure of time, while dealing with delicate and subtle flowing of sensations.
I am also recently focusing on works by artist Gim Ikhyun. Among them, I remember viewing his piece Shade and Shadow (2022) with interest. Through this work, I came to think about the keywords of 'light' and 'connection'. These two artists' works inspire me to dwell on these thoughts. I personally enjoyed this time and will continue to look at their works more closely.
---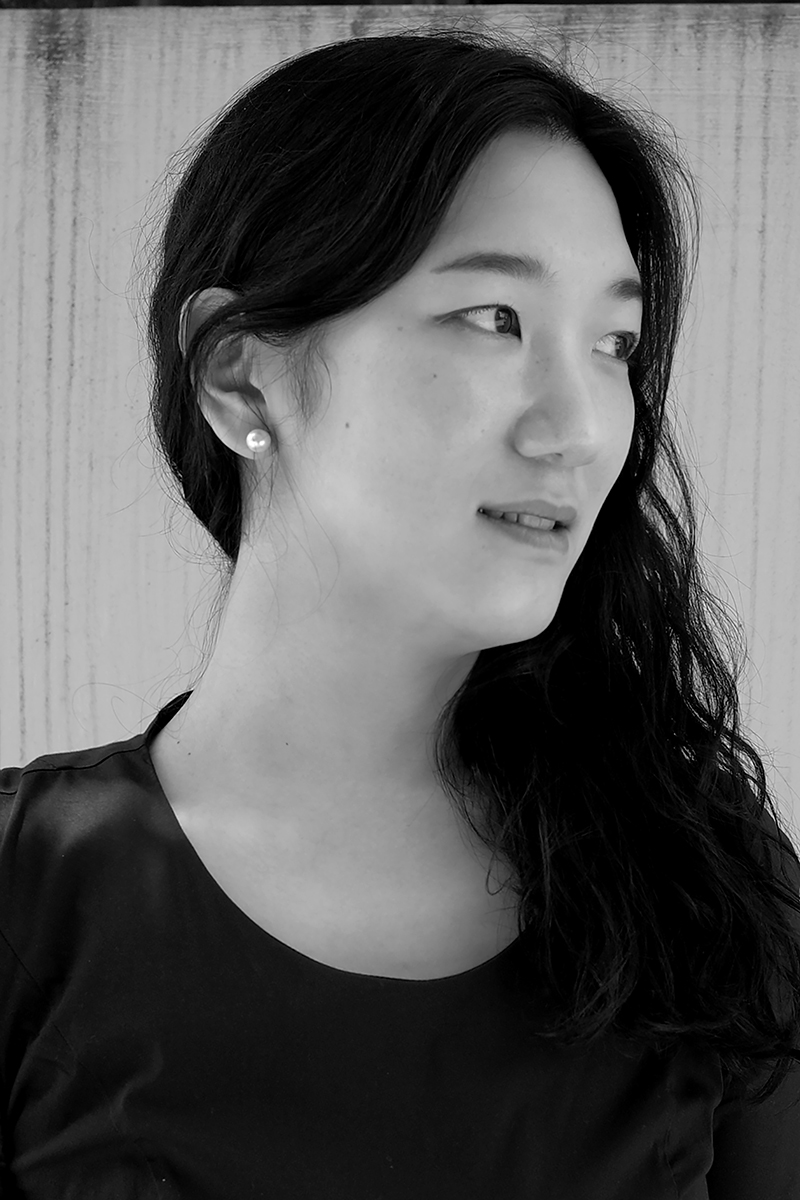 Park Sunho
Park Sunho is keen to create a collection composed of private memories, information, and visual images. Using oral record, micro-history and macro-history, she intertwines personal histories and social histories, while the society, economy, and political history of a time are connected with lives of individuals and depicted in artistic form. Park likes to observe contemporary artists and continues to plan, write, and edit.
sunhopark.com