---
In September 2022, the Korea Arts Management Service (KAMS) collaborated with Art Asia Pacific, who specializes in Asian Art, to publish an in-depth look at Korean contemporary artists in the book Extreme Beauty: 12 Korean Artists Today including artworks from artists who each represent different genres, such as painting, installation, sculpture, video, etc. This gained particular interest, as it appeared during the busiest month in the Korean art market, with global attention focused squarely on Korea.
---
Each artist's works are explored through critiques by both Korean and international experts. This composition transcends age and genre differences, and fully reflects the diversity and dynamism of contemporary Korean art.
---
The ARTRO will be featuring the "Behind the Beauty" series of articles to introduce the featured artists and their works, which will provide a better understanding of the book Extreme Beauty. In these feature articles, each artist will introduce a piece of their own work that he/she thinks is most meaningful and will tell the story behind it. Readers will be able to approach these pieces clearly and easily through such lively contextualisation.
---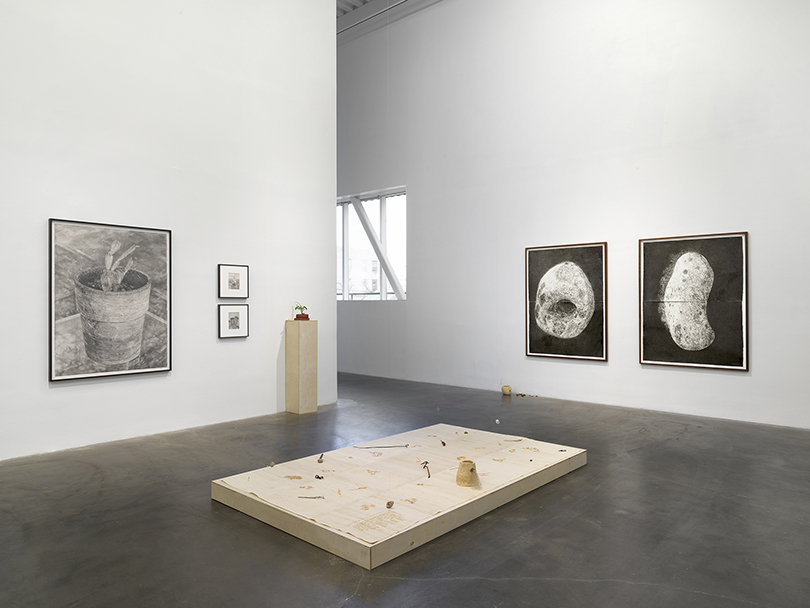 Installation view, "Soft Water Hard Stone", Kang Seung Lee, 2021 New Museum Triennial at the New Museum, New York (Photo by Dario Lasagni)
---
A giant drawing of a cactus stood out in the exhibition hall of the New Museum Triennial in 2021. It is Untitled (Harvey), by the artist Kang Seung Lee, who remembers and honors American politician Harvey Milk (1930-1978). Lee pays attention to the stories of those who belong to the social minorities, utilising his labor intensive methods, such as countless traces of graphite and embroidery work with gold thread. His painstaking practices seem to be an engraving of a promise to keep remembering the stories of minorities. In fact, Lee investigates a vast amount of data and discovers the histories of non-mainstream to bring out the forgotten narratives. His collaborative work with other artists, further invites the audiences to participate in the story.
---
Can you describe the process of how you begin a new work?
I usually work on a project-by-project basis. Each project is generally associated with a specific life story and work of an individual or a historical event. This research project is sometimes as short as one year or, as long as three to four years. Most of the people I study with interest have already passed away, thus, instead I visit various archives and meet bereaved family members or friends. Over this process of collecting and organising the materials I found, I sometimes get new ideas for the work, but I usually focus on recording. I often work on two or three projects simultaneously, each at a different stage.
---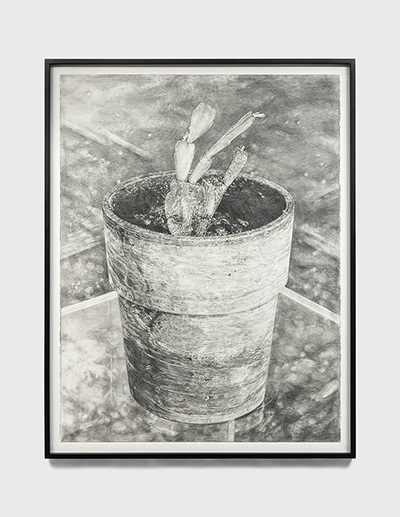 Untitled (Harvey), 2020, Graphite on paper, 150x114cm.
---
You have been working as an artist for many years now. Can you introduce any work that you are personally attached to or that has a special meaning to you?
Certain projects do not end in one work or exhibition but continue to be developed further. These are a little more special as they affect my life for a long time. In this respect, I could name the collaborative project that I have been working on for the past few years. It is inspired by a fellow artist Julie Tolentino's work,
Archive in Dirt (2019~). Julie Tolentino's work is a living plant, nicknamed 'Harvey'. This succulent plant, commonly referred to as the Christmas cactus, was bred from a 'mother plant' that Harvey Milk (1930-1978), a gay activist and politician in San Francisco, cultivated at his home, and was regenerated by Julie. Julie got this plant from a friend who works as a UCLA Special Collections Archivist, and when I first saw the piece in 2019, it was very weak from a lot of stress, and the tiny, tender leaves were just starting to grow. I still remember the emotion I felt when I first saw 'Harvey'; I was moved by the care and affection shared by generations of people through this plant. In particular, I felt that this work, which grows and changes every moment, very poetically expresses the way in which the memories and spirits of artists and activists who are outside of the mainstream conventions and norms are passed onto the next generation.
Since 2019, with the help of Julie and her friend Young Chung (founder of L.A.'s Commonwealth and Council), various collaborations have been carried out on this plant. I tended to the little plants that grew from Julie's 'Harvey', shared them with various people in the queer community, and made pots for these plants. Now, after more than 3 years since then, I am recording the plants of the next generation of 'Harvey', growing in various places, through drawing, photography, and embroidery. I have also exhibited these plants at the 18th Street Arts Center and the Commonwealth and Council in L.A., and the New Museum in New York.
---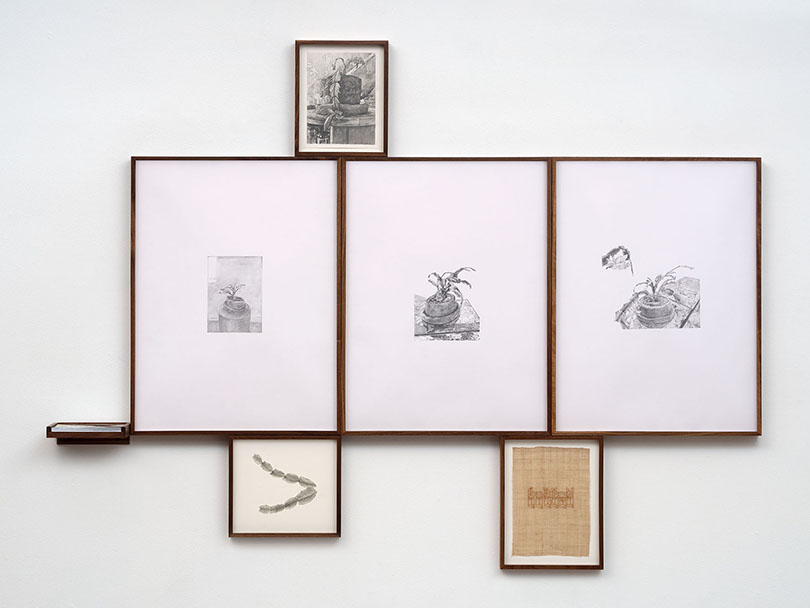 Untitled (Harvey), 2020–2022, Graphite on paper, antique 24K gold thread on Sambe, archival pigment print, walnut frame. Seven parts framed dimensions: 2 x 6.75 x 4.5 in; 24.5 x 18.5 x 1.5 in; 24.5 x 18.5 x 1.5 in; 24.5 x 18.5 x 1.5 in; 10.25 x 8.25 x 1.5 in; 9 x 10 x 1.5 in; 11.75 x 9 x 1.5 in; overall: 46.5 x 62.25 x 4.5 in. (Photo by Paul Salveson)
---
I would like to ask you what this work means to you.
Whenever a work related to 'Harvey' is exhibited, I reckon the responsibility given to me and the staff of the gallery or museum. This plant, which has a very strong vitality, can only grow well with someone's care. Likewise, I think the most important meaning of this work is that care is so integral in passing on the memory and history of the queer communities to the future generation.
---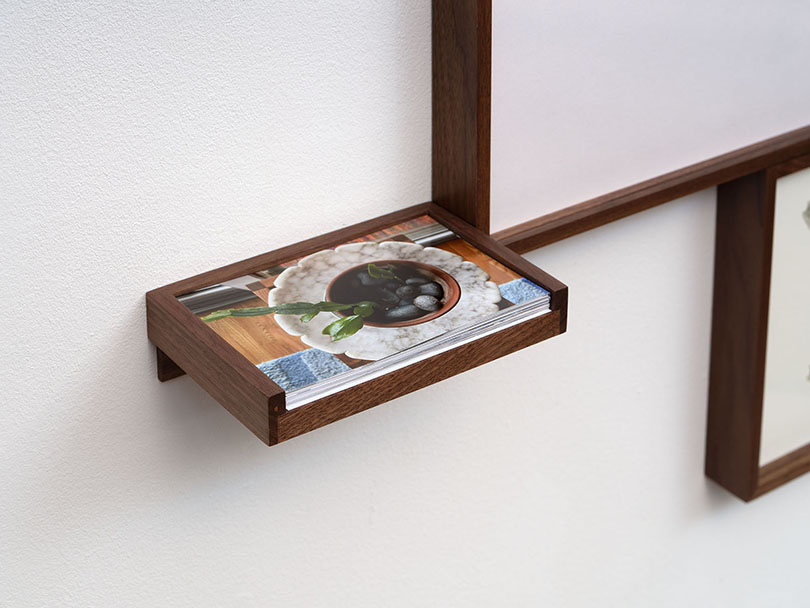 Untitled (Harvey), detail (Photo by Paul Salveson)
---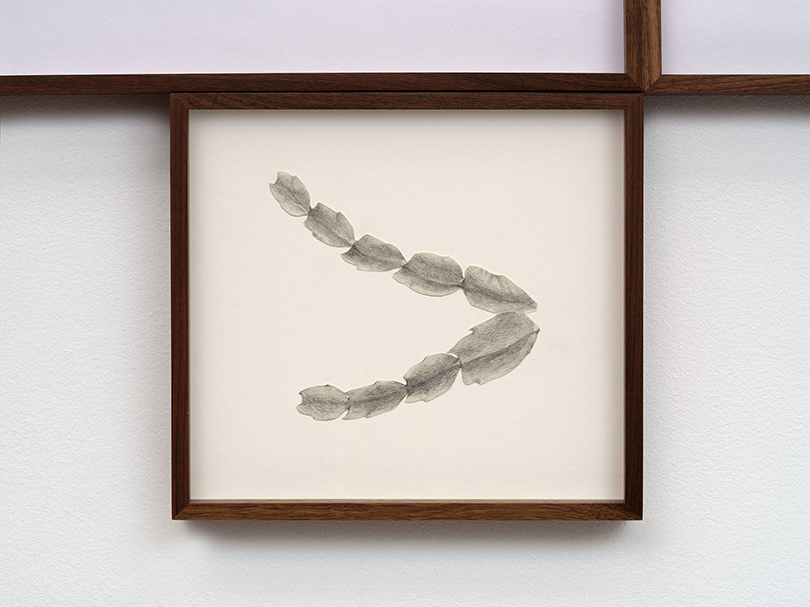 Untitled (Harvey), detail (Photo by Paul Salveson)
---
Please tell us if there are any interesting anecdotes or stories behind your work during the process.
I remember hand-carrying the cactus 'Harvey' mentioned earlier, from Los Angeles to New York for an exhibition in New York. A fellow artist made a customized box and bag for this small cactus so that it would not get hurt during the flight and transportation. Hence, it was safely transported to the New Museum where it was exhibited. During the three months of the show, the curator and other museum staffs took care of the plant wholeheartedly. The work was installed in the gallery space with natural light, and when the museum was closed, it was moved next to a sunny window to receive a little bit more sunlight. Contrary to the concerns of many, 'Harvey' actually grew up healthy and sprouted many new leaves during the exhibition, and returned safely to Los Angeles when the show was over. And after about one month, it bloomed.
---
When you are dealing with a social topic, I assume you would be more considering about the way of expression. Tell us about where you focus on, when you produce your work.
One of the important expressions in my work is 'appropriation'. It can be said that it is a way to re-import the work and records of previous generations of artists or activists into my projects, recontextualize them, and give them new meanings, mainly through drawings and embroidery. In the process of 'translating' and appropriating various images or records discovered during the research process into various media such as graphite drawing, hemp cloth and gold thread embroidery, and ceramics, I focus on 'embodiment' with my hands and body over a long period of time. While the research process is rather conceptual, I try to follow my intuitive decisions when working in my studio.
---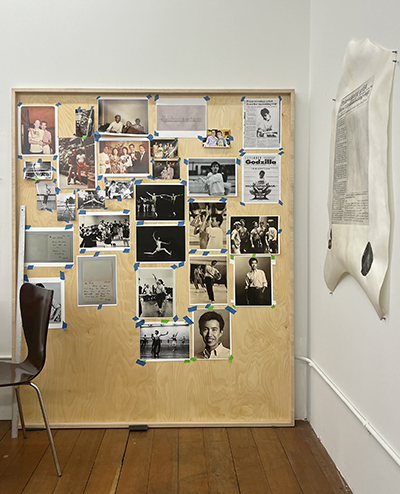 Kang Seung Lee's research board for a new project. (Image provided by the artist)
---
Lastly, how does artistic practice affect your life as an artist?
I am collaborating with various fellow artists, and I am trying to reflect the ideal values of participation, education, and sharing in the process and output of my work. I think it is difficult to separate my life from my work. Because many of the people I met while working and researching, exercise a great influence on my thoughts and life as colleagues and friends.
---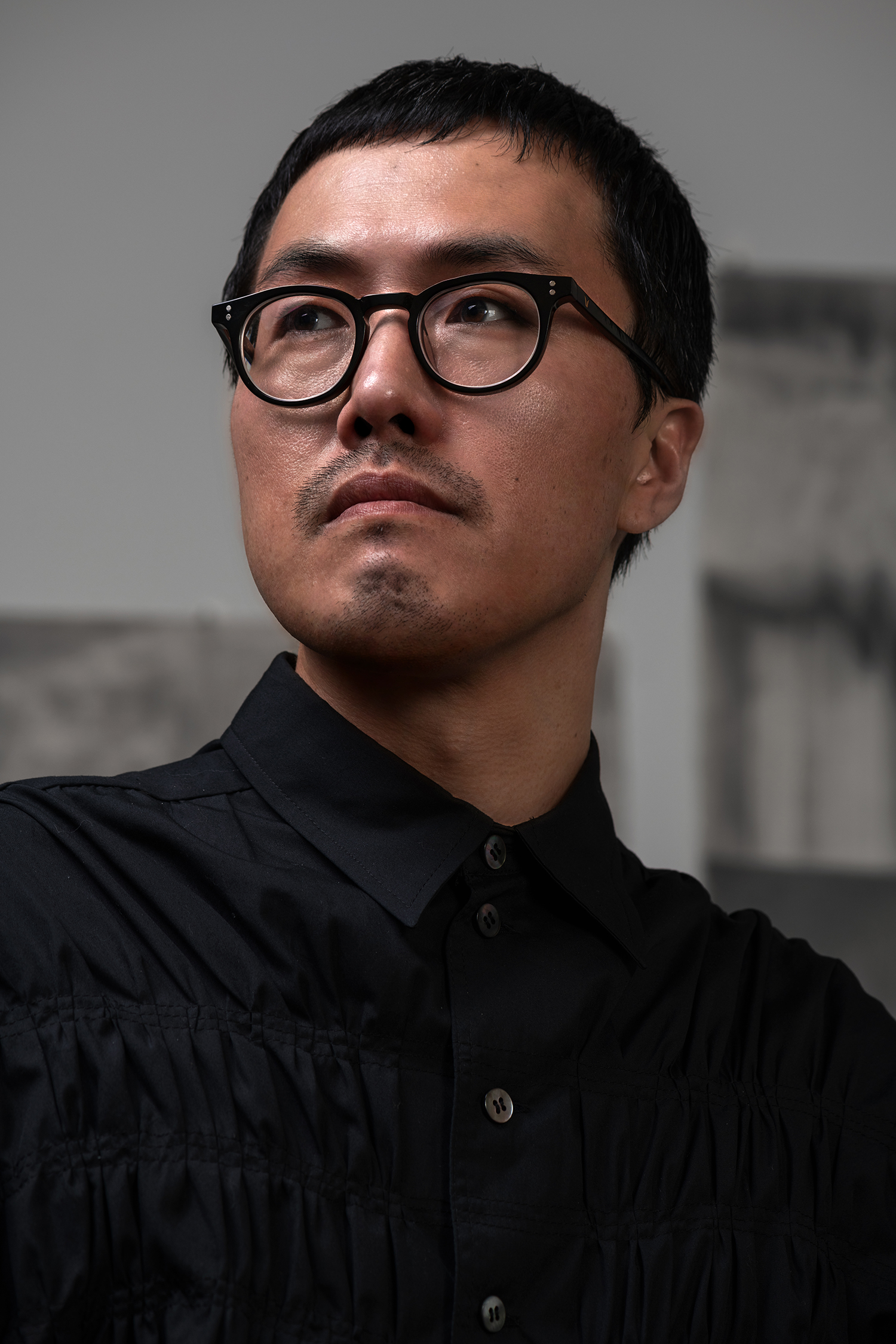 Kang Seung Lee
Kang Seung Lee was born in Seoul and currently lives and works in Los Angeles. His interest lies on the legacy of transnational queer histories, especially where they intersect with art history. Lee had solo exhibitions including Gallery Hyundai, Seoul in 2021, and participated in many group exhibitions of 2021 New Museum Triennial, and 13th Gwangju Biennale etc. Lee's work is in the collections of Solomon R. Guggenheim Museum New York and the National Museum of Modern and Contemporary Art, Korea among many others. (Photo by Ruben Diaz)
kanglee.net