---
In September 2022, the Korea Arts Management Service (KAMS) collaborated with Art Asia Pacific, who specializes in Asian Art, to publish an in-depth look at Korean contemporary artists in the book Extreme Beauty: 12 Korean Artists Today including artworks from artists who each represent different genres, such as painting, installation, sculpture, video, etc. This gained particular interest, as it appeared during the busiest month in the Korean art market, with global attention focused squarely on Korea.
---
Each artist's works are explored through critiques by both Korean and international experts. This composition transcends age and genre differences, and fully reflects the diversity and dynamism of contemporary Korean art.
---
The ARTRO will be featuring the "Behind the Beauty" series of articles to introduce the featured artists and their works, which will provide a better understanding of the book Extreme Beauty. In these feature articles, each artist will introduce a piece of their own work that he/she thinks is most meaningful and will tell the story behind it. Readers will be able to approach these pieces clearly and easily through such lively contextualisation.
---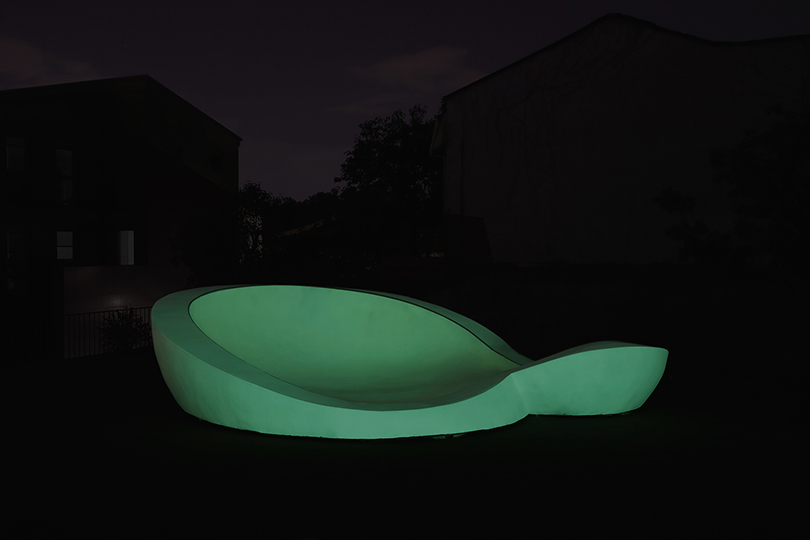 resonance, 2020, 620x810x170(h)cm. Courtesy of the artist & PKM Gallery.
---
A secluded sculpture park in Vassivière - an island in southern France- glows with fluorescent green light every night. It is one of Koo Jeong A's glow-in-the-dark skate park series: OTRO (2012). The artist painted the skate park with phosphorescent pigments that absorb light received during the day and emit it at night. This phosphorescent skate park was commissioned as part of the urban regeneration project initiated by Vassivière city. Most of the area in Vassivière was surrounded by a green belt, so it was dark and deserted at night. Koo's OTRO lights up the dark and quiet nights of Vassivière and invites children with skateboards and people taking a walk to visit this skate park at night. In this way, Koo revived an underdeveloped idle space into a place where local residents connect with each other. As Koo's signature piece, glow-in-the-dark skate parks have continued to be produced around the world: the second was built in 2015 at the Liverpool Biennale, UK. This was followed by another at the 32nd São Paulo Biennial, Brazil, in 2016 and at the Milan Triennale, Italy, in 2019.
---
As seen in her skate park series, the artist has consistently shown interest in 'space' through her work. In Dr. Vogt (2010), Koo painted the whole floor of the exhibition space using fluorescent pink. The scattering light imbued not only the walls but also the whole space with fluorescent pink. Seven Stars (2020) is one of a series of stars drawn with phosphorescent pigments. The stars are not seen when the exhibition space is lit up, but only shine when the lights in the exhibition space are turned off. Koo explores how the two conflicting spaces – those of light and darkness – can coexist in one exhibition space. In this way, the artist breaks down the boundaries of space and recreates and regenerates it by inviting the audience to physically sense and experience the familiar spaces surrounding them.
---
Can you describe the process of how you begin a new work?
I do a site visit and conduct research in broadly defined directions.
---
You have been working as an artist for many years now. Can you introduce any work that you are personally attached to or that has a special meaning to you?
I am still paving the way for the EF series, Glow in The Dark series, Your Tree My Answer, and Seven Stars. Making art demands a lot of patience.
---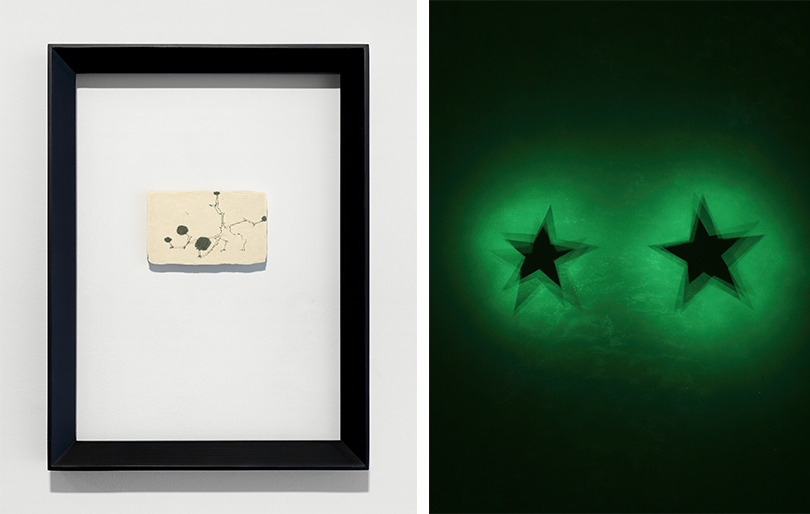 (Left) Your Tree My Answer, 2020, Ink on rice paper, 5.7x9.2cm (framed: 32.5x24.5cm). Courtesy of the artist & PKM Gallery.
(Right) Seven Stars, 2020, Phosphorescent pigment and acrylic painting on canvas, 200x150x4.5cm. Courtesy of the artist & PKM Gallery.
---
I would like to ask you what this work means to you.
These works open the gates into my inner self and the community, as if I'm a trained public speaker, yet without losing my core self.
---
It seems like the site where the work is to be placed would be a prior consideration in the work process, especially in the case of work presented to the public in an outdoor space, such as the Skate Park projects. I would like to hear about how you approach the medium and character of your work differently depending on the location.
Most of the locations are predetermined and given to me, and it is part of the learning process to understand how my art could be created there.
---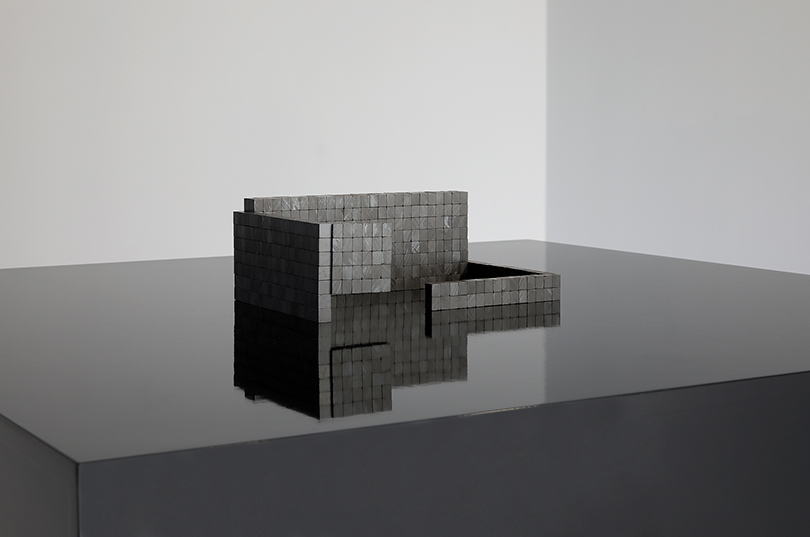 625, 2020, 625 pieces of Ferrite ceramic magnet, Dimensions variable (each magnet: 10x10x8(h)mm). Courtesy of the artist & PKM Gallery.
---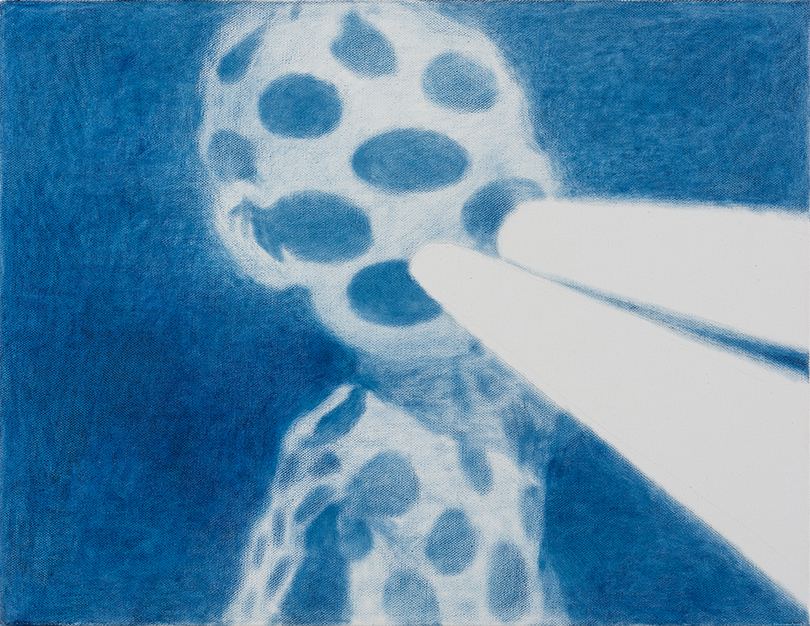 After CURIOUSSSA, 2016-2017, Oil painting on canvas, 35x45x2cm. Courtesy of the artist & PKM Gallery.
---
As you work across various genres, I reckon the choice of medium is an important part of your work. If so, I wonder what your criteria for selecting a medium, suitable for each subject matter.
The implantation of the core in the various master plans.
---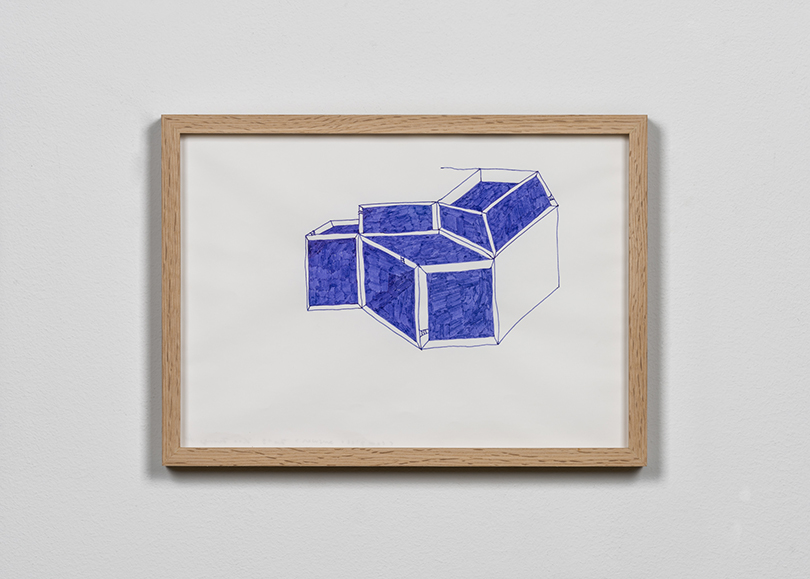 complete answer, 2019, Ink on paper, 21x29.7cm. Courtesy of the artist & PKM Gallery.
---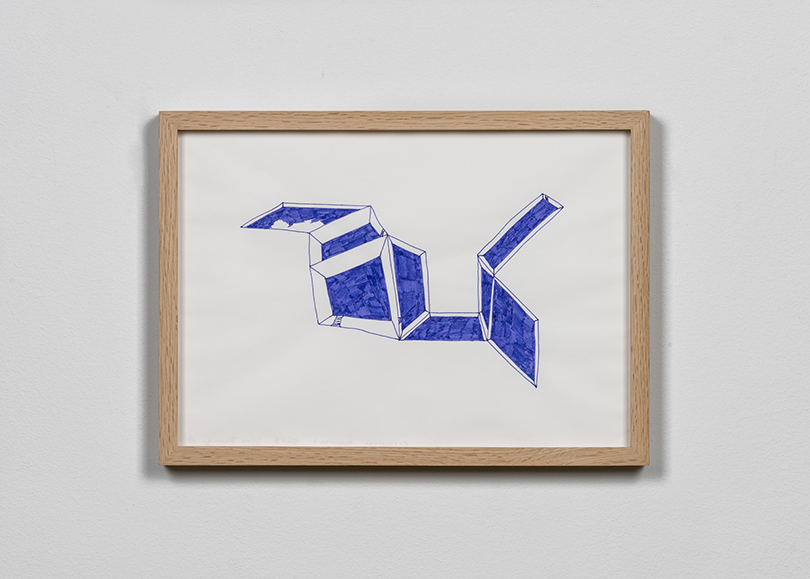 complete answer, 2019, Ink on paper, 21x29.7cm. Courtesy of the artist & PKM Gallery.
---
Please tell us if there are any interesting anecdotes or stories behind your work during the process.
Doing this job constantly changes my life and sometimes the lives of others.
---
Lastly, how does artistic practice affect your life as an artist?
It motivates, shapes, and simplifies.
---
Koo Jeong A
Koo Jeong A's interest lies in exploring 'space' through her artwork. Koo travels to many places and works with experts in various fields, encompassing multiple mediums such as installation, sculpture, painting, moving images, and architectural projects. As if reflecting her pluralistic work method, her work creates a new space that breaks away from the existing sense of place. Her solo exhibitions include Kunsthalle Düsseldorf (Düsseldorf), Dia Beacon of Dia Art Foundation (New York), and The Centre Pompidou (Paris) and she has participated in many group exhibitions including Venice Biennale, Liverpool Biennial, Gwangju Biennale, The Jewish Museum of New York, Solomon R. Guggenheim Museum, National Museum of Modern and Contemporary Art Seoul etc. Koo was a finalist for the Hugo Boss Prize in 2002, has won the Hermes Korean Prize for Contemporary Art in 2005, and was selected as '2016 Artist of the Year' by the Korean Cultural Centre UK.
koojeonga.com