---
In September 2022, the Korea Arts Management Service (KAMS) collaborated with Art Asia Pacific, who specializes in Asian Art, to publish an in-depth look at Korean contemporary artists in the book Extreme Beauty: 12 Korean Artists Today including artworks from artists who each represent different genres, such as painting, installation, sculpture, video, etc. This gained particular interest, as it appeared during the busiest month in the Korean art market, with global attention focused squarely on Korea.
---
Each artist's works are explored through critiques by both Korean and international experts. This composition transcends age and genre differences, and fully reflects the diversity and dynamism of contemporary Korean art.
---
The ARTRO will be featuring the "Behind the Beauty" series of articles to introduce the featured artists and their works, which will provide a better understanding of the book Extreme Beauty. In these feature articles, each artist will introduce a piece of their own work that he/she thinks is most meaningful and will tell the story behind it. Readers will be able to approach these pieces clearly and easily through such lively contextualisation.
---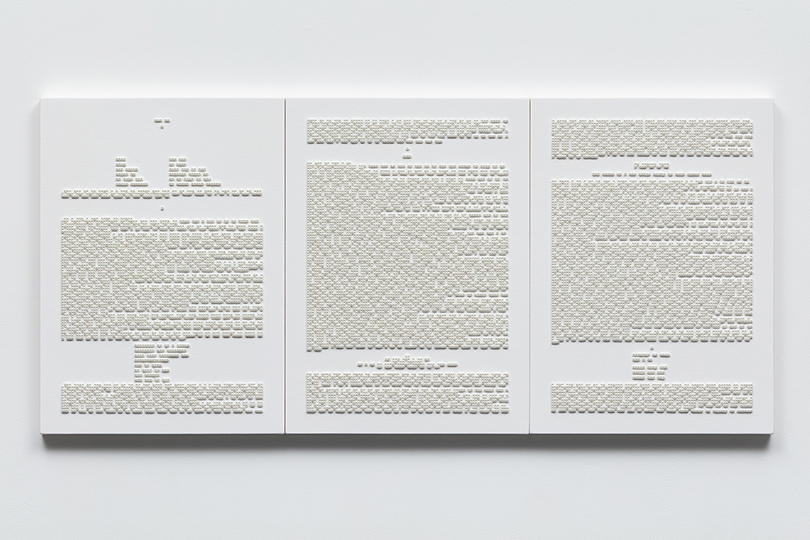 Greek Lessons pp.50-84 by Han Kang, 2021, 4mm artificial pearl beads, adhesive, acrylic, fabric on wooden panel, 55x120cm overall, 55x40cm each, 3 pieces. Image provided by Gallery Baton. Courtesy of the artist.
---
Pearls are attached to imitate the form of prose, and flowers are made by knitting. This is the work of artist Koh San Keum. In her work, Koh turns the texts that exist around us into the form of type or sound and captures the various perspectives in the world. However, the work does not remind us of the original text, as it is rather closer to an elaborate handicraft work. The artist uses her hands, instead of brushes, so that the artist's 'thrill at hand' is embodied in the array of indecipherable pearls and knitting.
---
Can you describe the process of how you begin a new work?
There isn't any particular preparation process, however everyday experiences naturally become the foundation of my work. If there's anything special about me, it is that I don't remember experiences as images, but as text that connects to the text I read. When I use an OTT platform like Netflix, I don't watch videos with my eyes, but listen to them like a radio. It can be said that all the information that comes in by listening to the news or reading a book is an influx of external stimuli. Just as texts come and reach me, my work begins from others, rather than starting from me and heading to others. It is because I start to project my emotions into the story of someone else. Reflecting this direction of my work, the exhibition title of the solo exhibition was "Hommage To You". As such, I am an artist who works by receiving from people rather than addressing a topic to people. Usually, my work starts from ambiguous emotions that I naturally feel while reading texts. So I would like to say that I am an artist who expresses emotions in a matter of text.
In other words, I feel the subject matter of love, in the lyrics of "Boy with Luv," one of BTS' songs. Especially in the work based on some pop music, I try to capture the cultural flow of an era along with emotional sympathy. The work also differs, depending on the characteristics of the medium containing the text. When my work is based on novels, I pay attention to the humanities aspect, and when I read newspapers or legal codes, I focus on the political elements contained between the lines. I am using text as a code to read different aspects of an era.
---
(Left) Flower 3 (Na Tae-joo), 2022, cotton yarn, fabric on wooden panel, 37x37cm. Image provided by artist. (Right) Artist Koh San Keum is introducing her studio.
---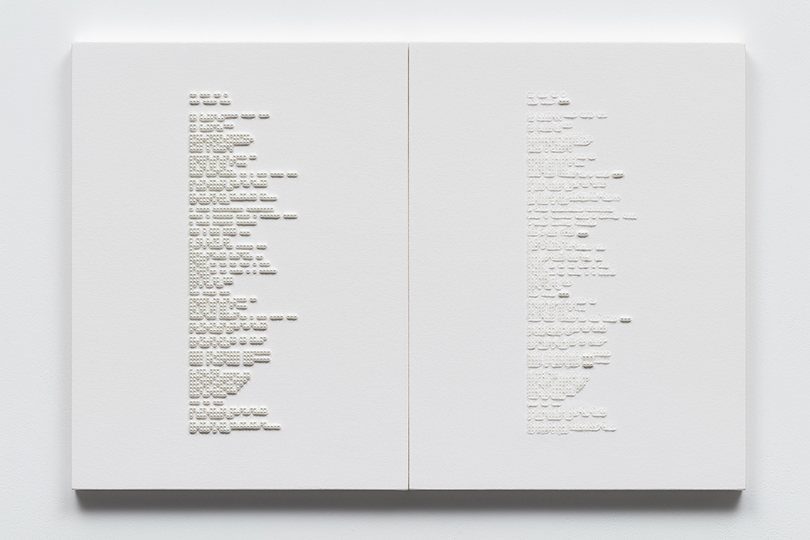 Boy with Luv (BTS lyrics), 2021, 4mm artificial pearl beads, adhesive, acrylic, fabric on wooden panel, 53x80cm overall, 53x40cm each, 2 pieces. Image provided by Gallery Baton. Courtesy of the artist.
---
You have been working as an artist for many years now. Can you introduce any work that you are personally attached to or that has a special meaning to you?
In fact, I cherish all my work. Every work was embarked with its own reason. So, it is hard to pick one, but I would like to introduce The New York Times (2000). This work has transposed the text of an article pertinent to the June 15th South-North Joint Declaration published in The New York Times in 2000 into pearl beads. Since the original text of the article is about the political event, June 15th South-North Joint Declaration, it is often interpreted with an emphasis on the political and social aspects. But in fact, it contains my personal story. When the South-North Joint Declaration was announced, I was living in New York, and it had been almost ten years since I left Korea.
Since I went to New York, I haven't returned to Korea for a long time, so I was living as a stranger there. I listened to news about Korea through American news channels, which made me look at my home country from an outsider's point of view. When I heard the news that the inter-Korean summit would be held, I thought that Korea would be unified in no time. All eyes around the globe were on the Inter-Korean Summit, followed by many news articles about Korean food, such as bulgogi and kimchi, as well as the human rights of North Korean women. I felt nostalgic for Korea; I collected all the articles about South Korea and North Korea and the Inter-Korea Summits published in the US for two years. The Unification did not take place in the end. But this work has a complex layer that contains not only the political and social aspects of the time, but also my personal identity as a stranger in New York, my perspective of looking at Korea as a foreigner, the longing for my homeland and the fantasy of unification.
---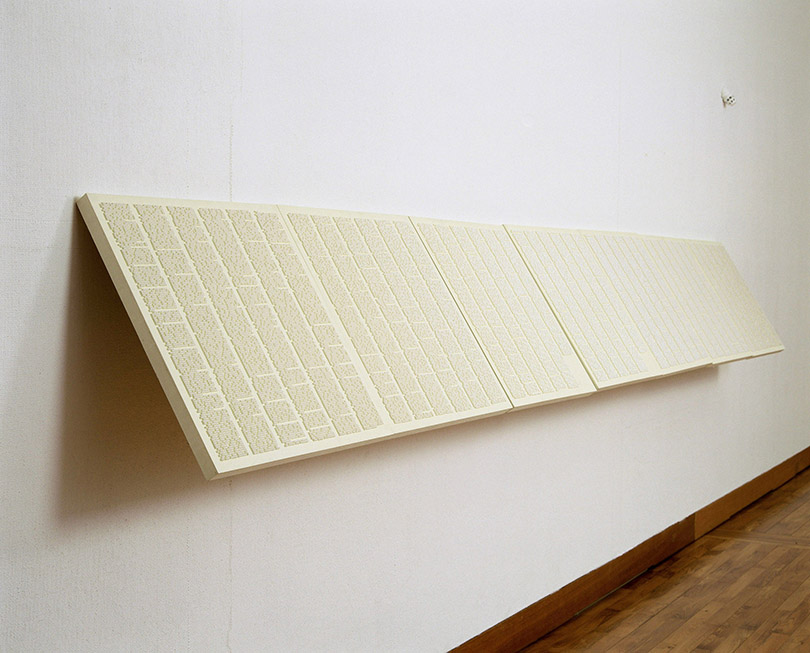 The Joint Communique Between the South and the North of Korea (The New York Times series), 2000-2003, 4mm artificial pearl beads, adhesive, acrylic on wooden panel, 60x300cm overall, 60x60cm each, 5 pieces. MMCA Collection. Image provided by Gallery Baton. Courtesy of the artist.
---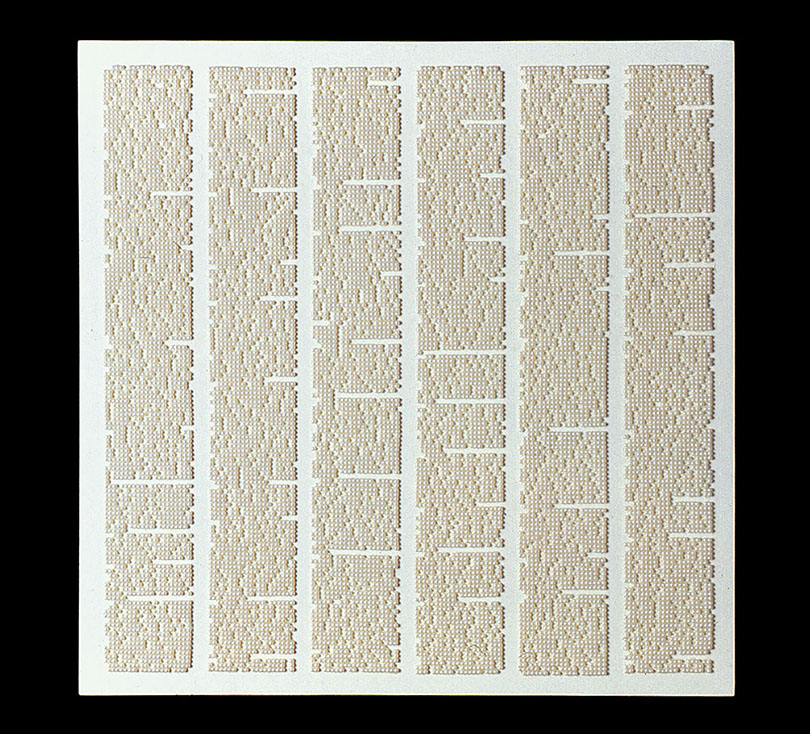 The New York Times No.1, 2000, 4mm artificial pearl beads, adhesive, acrylic on wooden panel, 60x60cm. Image provided by Gallery Baton. Courtesy of the artist.
---
I would like to ask you what this work means to you.
Personal emotions and memories are very important when selecting the text to be the basis of the work. Of course, there are times when I work based on others, but it wasn't so easy. In this case, my work is expressed abstractly. It's because I'm not good at expressing or explaining my emotions outwardly. Maybe that's why I want to borrow the text. As I mentioned earlier, The New York Times is deeply involved in my feelings, but it is by no means my personal story. It's my story, it's your story, and soon it will be our story. I recorded the historical event of 'the inter-Korean summit in 2000' from my point of view, but I project my labor force of attaching numerous pearl beads. Labor is an act with properties of time, and spending time means belonging to a certain space. Therefore, the work that is the result of labor must be able to communicate with 'us', living in the same space and time. In that sense, I think The New York Times contains a topic where we can all discuss and communicate the value of moving forward in a positive direction.
---

Artist, working from reading Agatha Christie's novel 'Curtain'.
---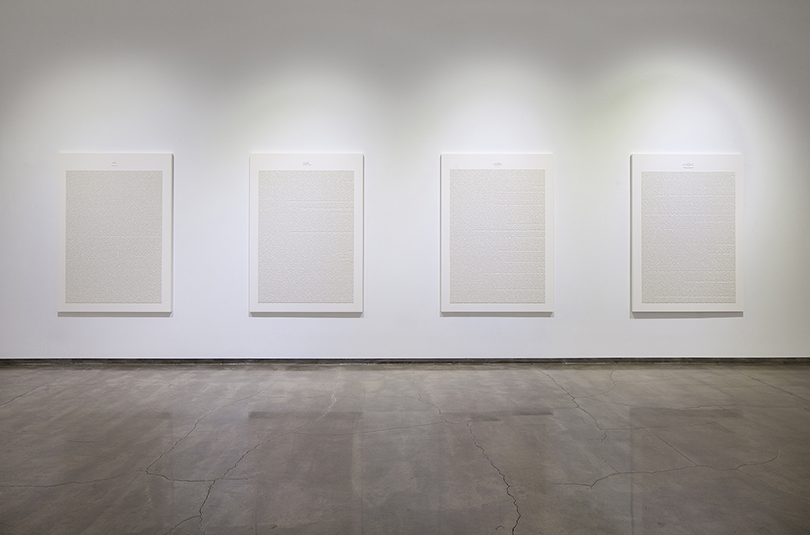 Installation view, Koh San Keum's solo exhibition, "Hommage To You - Capital and Love", Gallery Baton, Seoul, 2 Jun - 2 Jul, 2016. Image provided by Gallery Baton. Courtesy of the artist.
---
Please tell us if there are any interesting anecdotes or stories behind your work during the process.
I participated in a group exhibition, "Collecting for All" at the Seoul Museum of Art (SeMA) in 2020. When SeMA posted my work on social media, I remembered the comment below. "I told you, this is it." I wondered what this meant, so I looked at the texts running under it for a while, and I saw that two people who looked like friends were talking. It seemed like they had a conversation online before, there was something difficult to convey but they found the answer in my work. This reminded me of food for thought. As we have gone through the pandemic of covid-19, we are used to the non-face-to-face communication. Moreover, nowadays, we communicate more often through text messages rather than phone calls. The text message cannot convey all the meaning accurately. I think the one who commented on my work, wanted to talk about the incompleteness of the text. That's exactly what I want to say through my work. Working with texts for a long time, I have constantly questioned the meanings conveyed by texts. I removed the original text and replaced it with various interpretations there. The meaning of the text seems to be absolute and fixed, but it is not at all. Text can have infinite meaning depending on the person who reads it. Sometimes it is completely different from the intention of the person who created the original text. So I think that text is closer to a phenomenon rather than the substance of something. This is also the reason why I express various phenomena of an era through erased text rather than clear language or images.
---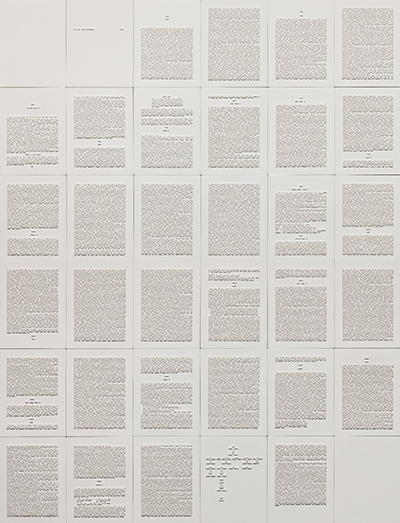 La Vie Mode D'emploi (Georges Perec, Excerpt from Chapter 1, pp.21-145), 2012, 4mm artificial pearl beads, adhesive, acrylic on wooden panel, 204x156cm overall, 34x26cm each, 36 pieces. SeMA Collection. Image provided by Gallery Baton. Courtesy of the artist.
---
'The handcrafted method' stands out in your work. Why did you choose to work in a way that requires human hands to complete even the tiniest details that can sometimes be considered overwhelming in today's largely digitalized world?
Strictly speaking, I'm not adhering to any particular method. It's more like, 'just' doing the work. As mentioned earlier, if you think about it related to labor, labor has a characteristic that the more labor you do, you become a more sophisticated performer. If your performance is sophisticated, you will have a discerning eye.
The sense of accomplishment that comes from the process can never be replaced by machines. Maybe I am continuing manual work, because I majored in painting and know the unique 'thrill at hands'. As the brushstroke is an integral part in the paintings, I need a direct contact between the work and the body to have the artist's personal gesture. It is the same with my work, I just use my hands as if I am drawing a painting. That's all.
---
Koh San Keum's studio.
---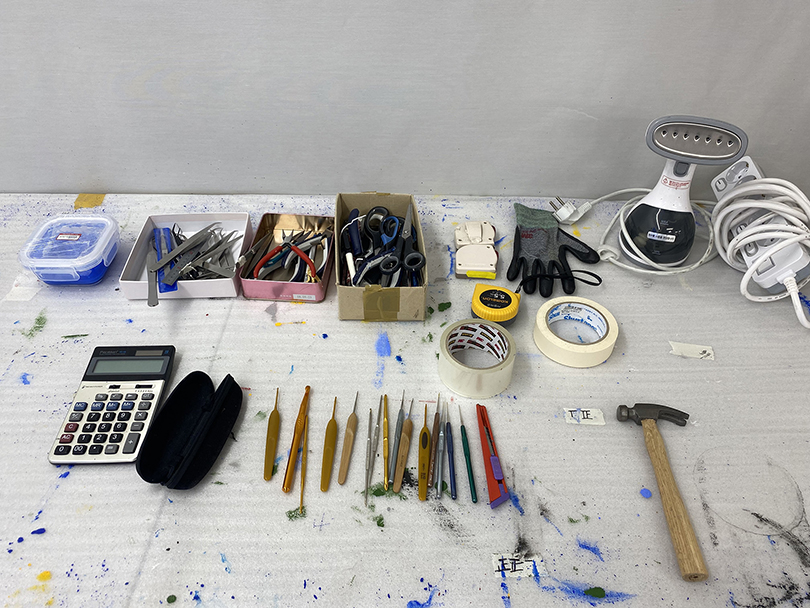 A table with artist's work tools.
---
Lastly, how does artistic practice affect your life as an artist?
Work is my daily life, itself. I don't think the act of making an artwork is a big deal. It's just labor like any other job in everyday life. It takes absolute effort to materialize the thoughts and imaginations that pop into your head into something figurative. Of course, there are difficult times. However, like ordinary office workers who feel good on the day they get off work early, I am also happy when the work is finished quicker than expected. Large scale work makes me cry, as it is so hard. (Laughter) Work is my daily life. I communicate with others and society, as the work becomes a channel connecting people.
---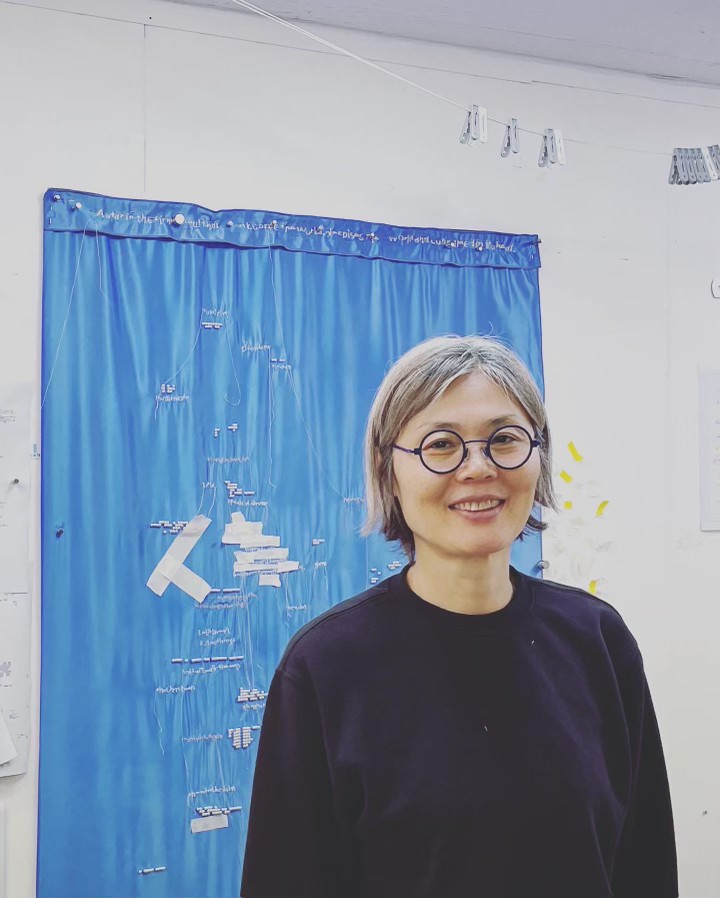 Koh San Keum
Koh San Keum received her master's degree at Ewha Womans University and the Pratt Institute, New York. Koh has held solo exhibition at Gallery Baton in 2016 and participated in many international exhibitions including, National Museum of Modern and Contemporary Art, Korea (MMCA); Seoul Museum of Art (SeMA); Buk-Seoul Museum of Art; Gyeonggi Museum of Modern Art; Daejeon Museum of Art; Sungkok Art Museum; C5 Art Beijing; and Museo Carlo Bilotti in Rome. Her works are in the collections of MMCA, SeMA, Gyeonggi Museum of Modern Art, Pohang Museum of Steel Art, and Seoul National University Museum of Art.