Judy Kim is someone whose work takes her to New York, Bilbao, Venice, and Abu Dhabi, capital of the United Arab Emirates. She oversees the Guggenheim's affiliate projects in Spain, Italy, and elsewhere, but she is also in charge of its Abu Dhabi Project, which is set to open in 2017. We sat down with her during her recent visit to Korea to attend a curatorial workshop organized by the Korea Arts Management Service, the Tate's Asia-Pacific Research Centre, and the National Museum of Modern and Contemporary Art, Korea (MMCA). On the 6th, she delivered a talk at the MMCA's Seoul branch on the theme of "stretching," sharing her thoughts with the next generation of curators. Speaking of her own experience as she saw her duties grow from curating at the Brooklyn Museum to overseeing the Guggenheim's affiliates, she urged the listeners to "break your own boundaries." The following is an interview from her workshop visit.
Be humble, but be confident
How do you become a curator?
It may sound like your typical "immigrant story," but my parents first wanted me to be a doctor, and they thought of art as just a hobby. But I ended up majoring in art in college, visiting museums and earning a master's in curatorial research. In career terms, I got started as a curator at the American Federation of Arts (AFA).
It seems like joining the Guggenheim changed the nature of your work.
I was a curator up until my time at the Brooklyn Museum. I headed an exhibition department of 30 curators, planning and overseeing exhibitions for contemporary artists like Yinka Shonibare, Gilbert & George, Sun K. Kwak. [Kim was in-house curator for major incoming traveling exhibitions such as Yinka Shonibare MBE and Gilbert & George, and also curated original contemporary exhibitions such as Sun K. Kwak: Enfolding 280 Hours.] Preparing for an exhibition does involve program and budget management, but up until the very end I was always curating something. At the Guggenheim, I'm no longer a curator. So it isn't just my workplace that changed, it's my work, too.
What does it mean to be a Guggenheim Foundation supervising director for affiliates in Venice and Bilbao and the Abu Dhabi Project?
Affiliates are different from what most people think of with museum branches. We operate them through partnerships, but we don't own them. The only example that really counts as a "branch" is the Peggy Guggenheim Collection in Venice. That means the Guggenheim Foundation in New York owns it and also manages it. The Berlin and Bilbao affiliates are owned by Deutsche Bank and the Basque government, respectively. Usually, the Guggenheim in New York is in close contact with its affiliates on their programs. As general director, I'm in charge of coordinating a wide range of tasks involving management of each affiliate, fundraising, hiring and training staff -- the full gamut of museum establishment and management from A to Z. Each museum is different in location, in scale, in the country it's affiliated with. And so the characteristics and cultures are also different. That's also what makes it so much fun. So even though I'm in New York, I'm also working and sharing the Guggenheim brand identity with the different staffs of the different museums.
What kind of work are you doing as director of the Guggenheim's Abu Dhabi Project?
The Abu Dhabi Project is something the Guggenheim has been working on for the past few years. It's really about creating a museum from scratch. So we're not just putting up a building -- we're also supporting the organizational structure for its operation, and the different policies and procedures as a museum. Right now, we're talking about what kind of strategies it's going to operate under going ahead, what kind of exhibition planning.

What's the most important thing when you decide to establish a museum in a new location -- is it the region itself, the collection, the budget, the brand, the staff?
Everything you just mentioned is important. During my visit to Korea this time around, I went to the Asian Culture Complex in Gwangju, and the most important question that came to my mind was, who are you making it for? The context and environment in which you're establishing the museum is going to vary from one place to another, so you need to ask yourself things like, who is this going to serve? What's the mission or goal? How can we make it different from other museums?
Let's talk about Abu Dhabi specifically. Why is the Guggenheim establishing an affiliate there?
There was a similar question during the workshop that someone asked Nigel Llewellyn, head of research at the Tate's Asia-Pacific Research Centre: "Why did the Centre start with the Asia-Pacific region?" Nigel's answer was that there were both theoretical and practical reasons, and I think that's also true for the Guggenheim in Abu Dhabi. The Middle East is one of the key regions now in modern art, and the Guggenheim wanted to examine the history of Middle Eastern art and the contemporary and modern art of the region. Obvious, there are a lot of committed places in Asia, or in South America, but it's an issue where various factors have to be present already. It isn't something that gets decided because one party wants to do it, and the two sides have to mesh with their aims. Abu Dhabi and the Guggenheim were both interested, and the social, culture, and political conditions were right. So that's how the project got off the ground.
There are also branches nearby for other museums, including the Louvre. It seems like you'd be concerned with setting yourself apart.
You could call it a synergy effect. If you add in the Zayed National Museum, which is being built in conjunction with the British Museum, then there are actually three different museums all being planned at the same type for Saadiyat Island in Abu Dhabi, which is where the Guggenheim is doing its project. So the British Museum will be focused on history, and that will help produce a synergy effect with the Guggenheim, which will be a contemporary/modern art museum. The three of them will all have collections with different focuses. These are three large museums with very different areas of focus in their collections, so I think it really gives people a reason to visit Saadiyat Island. They'll complement each other.
Why does the Guggenheim want affiliates around the world?
Sixteen years ago, Berlin was getting a reputation as a creative city, thanks to all the artists heading there for the cheaper rent. That was what led the Guggenheim to establish its Berlin affiliate with Deutsche Bank. Not only did it continue to fostering a community of artists, but it also gave us a new role as a partner museum. The Bilbao case is often talked about as an example of a museum helping the local economy -- some people even call it the "Bilbao effect." The reason the Guggenheim is building new museums is because of the success stories of these museums and cities. Hopefully, Abu Dhabi will be another example.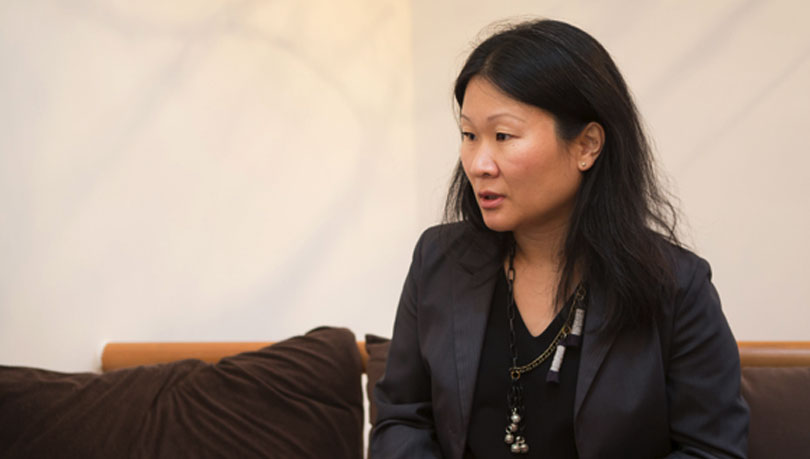 The affiliates all share the same "Guggenheim" brand, but they all must have their own regional distinctiveness. How do you keep a balance between the two?
In basic terms, it's about maintaining the level of the exhibitions, because they share the exhibitions. There's definitely uniqueness to each affiliate in terms of the region and the building. In the case of the Peggy Guggenheim Collection in Venice, that was actually created in the home of Peggy Guggenheim, which was located along one of the Venetian canals. The museum designed by Frank Gehry in Bilbao is much larger. So you get to experience galleries with high ceilings and white walls, or sometimes galleries with a more irregular format. The locations and programs are a bit different, but visitors can expect well-planned exhibitions when they go to the Guggenheim, be it in New York, Venice, or Bilbao. High standards as a museum -- that's the key thing, I think.
How does an affiliate get started? Does the city make a request?
It's always different. I think it's safe to say that every method is used everywhere. We get requests from different places, and we examine them, but ultimately it's up to them. We don't say, "Okay, we'll build the museum. Take it." A lot of elements are in play before the partnership is formed. It was before I came on board, but I've also heard there were several ideas considered for Korea. And China.
How big a staff does the Guggenheim Foundation have?
We've got about 300 people in New York, 45 in Venice, and 100 in Bilbao. Usually, when we talk about the Foundation's staff numbers, we mean the 300 in New York.
When you're cooperating with regions in different cultural spheres, there's the delicate matter of cultural difference. How do you navigate that?
It's important that you be willing to learn from and listen to others. Whatever it is that you have to do, you need to be humble and listen to the other side with an open mind. When you want to do something in a different society, you've really got to try to respect your partners there. But then, that's really true for any human relationship.
Photos courtesy of Jung Young-hoon