Features / Review
MIND MAP_Gallery Director Interview - part3(Gallery chosun, drawing Room, SPACE SO)
posted 31 Aug 2023

---
In a thoughtful examination of contemporary art, curator Lee Daehyung met with 13 gallerists to explore their views on art, life, and the relevance of their chosen artists today. These conversations inspired the second edition of Dialogue, leading to the exhibition Mind Map. Focusing on the artists' philosophical and humanistic viewpoints, the exhibition uncovers the profound thoughts shaping their work. Lee skillfully extracted the gallerists' mind maps, offering a vivid depiction of their philosophical thinking. "13 Inner Views" transcends a mere interview series; it's a shared journey into the core beliefs and artistic values that resonate in our era. Inviting viewers to engage with contemporary art on a deeper level, the critical comments from each gallerist serve as a significant and accessible exploration of art's meaningful dimensions.
---
1. Gallery chosun
KWON Misung (Gallerychosun) X MIN SungHong
"At a time when the world's myriad cultures and values are converging into a global ethos, as Goethe once envisioned, interest is growing in works that carry both regional character and universal codes of communication. Artist Min SungHong's creations embody this duality. By reassembling discarded objects into anthropomorphic sculptures like a hand waving antenna bird or an object wearing a camouflaged tarp, he engages the viewer's empathy. His meticulous process of threading beads all day, hand-stitching with a sewing machine, painting expressions on pottery birds, and collecting discarded furniture and Oriental art fragments evokes a pilgrim's journey. The careful handwork in piecing together the collected fragments to connect the past and present resonates with universal human emotions, enabling empathy with the artist's dream world. His objects, crafted from discarded materials, symbolize local life in the way he envisioned, creating a metaphor that reveals what is seen and unseen, artfully camouflaging emotions and experiences." - KWON Misung (Gallerychosun Director)
---
Min SungHong's artwork is rooted in the anxiety and consciousness that arise from the inevitable changes in everyday life caused by current social systems. He deconstructs and reconstructs objects that have lost their original purpose and have been abandoned by past residents to create variable structures and installations. He affixes decorative elements like beads, lace, or thin fabric such as vinyl on top of a mixture of large and small objects to tactilely represent the moment when an individual is confronted by external changes.
---
The Korean title "Dasirak" comes from "Dasireagi gut," a type of Korean traditional funeral play that consoles the chief mourner and grieving family. Traditionally, the Korean funeral entails a bereaved family who spends days lamenting with long, loud cries at first but ultimately sends off the deceased with music and dancing by a vividly embellished bier. Dasirak is not only theatrics for the enjoyment of the people, but it also serves as a form of consolation to the living and a means of circulation wherein grievers wait for a new beginning and birth beyond the sorrow of their loss. The sculpture Dasirak, exhibited in the show, also takes on a form of mourning, presenting a paradoxical joy of overcoming sadness. Min summons the "movement" of those unwillingly migrated into his works by combining their abandoned objects into literal moving objects, overturning what could have been structures of solitude into a subject of a vibrant festival.
---
Min's artwork is dystopia satire of a spatial installation that visualizes the conditions of contemporary people who face significant conflicts and concerns due to external stimuli and changes, exhibiting the process of finding solutions amid such struggles. He creates works that transcend the limits of everyday experience, which is considered a priority over other areas but simultaneously creates a sense of constraint. In addressing this, Min employs objects lost or left behind due to unjust systems during involuntary migration to discuss invisible mutual relationships and identities. The artist defines these abandoned objects as objects that have lost their functions and memories attached to them. Through his work, Min states that even the restrictions of reality that instigate inner conflicts are valued aspects of life.
---

Min Sung Hong, Rolling on the Ground, 2017, Found object, landscape painting, wood, wheel _ mirror
---
2. drawing Room
KIM Heejung (drawingRoom) X YANG Jung Hwa
---
"I am captivated by art that offers multi-sensory experiences, enriching our understanding of the present from diverse perspectives, and the world we inhabit. Yang JungHwa's art holds profound significance in the contemporary era, as the theme of "Memento Mori" - contemplating mortality - gains even more relevance. Through life and creative endeavors, the artist skillfully conveys the intangible essence of "death," prompting introspection. Her work traverses two-dimensional pieces from body performances to three-dimensional sculptures and installations, capturing the essence of her artistic journey. By transcending the distinctions between drawing and painting, Yang's art harmoniously fuses the two-dimensional and three-dimensional expressions, allowing a profound comprehension of her artistic realm. Her creations symbolize a boundless reconciliation of boundaries, continuously evolving in mesmerizing variations." - KIM Heejung (drawingRoom Director)
---
Yang Jung Hwa is an artist who employs a unique style of expression that ranges from representation to abstraction, using materials such as charcoal, coal, and conte to portray the aspects of our lives where life, nature, and death coexist. Her works are composed of series that showcase the physicality of Yang's practice, manifested in tactile drawing and the inherently intimate artistic process of casting. Based on the black chromatic characteristics of the carbonized materials that absorb light, the artist repetitively rubs them by hand onto white surfaces such as paper, canvas, and plaster, resulting in the layering and contrast of black pigments accumulated on the white background. This technique fully reveals the artist's profound contemplation and process of facing the depths of the abyss.
---
In recent years, the artist has focused on the primal anxiety of life and death, creating works that face and contemplate death as it is instead of avoiding and fearing it. This exploration is more vividly presented in works like Study of Skull and Study of Heart in this exhibition. In the past, the artist used linguistic expressions that indicated the shape, timing, moment, and flow of the unnamed existence rather than specifically indicating the subject matter in the work's title, such as Untitled Figure and Untitled Wave. However, in recent works, the artist directly indicates the subject matter of the exploration in the title, showing a change in attitude toward facing death. The artist uses materials symbolizing the heart, the birth and maintenance of life, and the skull, the death, to directly confront the primal contemplation of life and death.
---
In addition, Yang's exploration and attitude towards her art continue through the repetitive act of drawing and erasing shapes on a white background, transforming images, and creating a unique painting-like expression. This process conveys shapes representing life and death and crosses over into the boundaries of abstraction. In her artwork, this unique expression reflects Yang's attitude towards crossing the boundaries between life and death, beginning and end, normal and abnormal. Her works explore the interconnected narratives of the materials surrounding her and her bodies, centering on the duality between positive and negative space, and essence.
---

Yang Junghwa, Untitled Part (Hand), 2023, Plaster, charcoal, sculpt after life casting, 18.5x7x4.8cm
---
3. SPACE SO
SONG Heejung (SPACE SO) X BYUN Sanghwan
---
""Art that captivates, provokes questions, and stirs the soul, engaging us in endless dialogue, sparks curiosity, and broadens our minds. It moves us, holding our body, head, and mind still for a moment, offering a glimpse into a different world that opens our minds. BYUN Sanghwan's art beckons us to ponder anew what we thought we knew. His creations leave us still, engaged in profound contemplation. His unique approach presents the familiar urban landscape in uncharted ways, yet without shock, but rather with quiet power and metaphorical elegance. Through his artistry, we encounter overlooked wonders like floral foam in a vase, a test chart for color blindness, pebbles in concrete, icicles formed from boiler flues, and structural beams. As a sculptor, Byun unearths traces of what will be the past in the future, with the explorations of our urban existence." - SONG Heejung (SPACE SO Director)
---
Byun Sanghwan is an observer, a creator of objects, and a seeker of lights that spark phenomena within the heavily dense and monotonous cityscapes. Engaging history and meaning into rich three-dimensional forms that steer various perspectives, he concurrently investigates the multiple properties of art – weight and volume of sculptures, flat planes of paintings, and limitless reproductions of lithographs. As his works probe between the thematic intersection of time and body, which serves as the foundation for all his artistic creations, Byun's work refuses to be specified and occupies positions between different art forms. Maintaining a balance of meaning between them, he expresses the dualities of sculpture and painting, image and object, flatness, and three-dimensionality.
---
Such practice is evidently portrayed through the Live Rust series. The res flat surfaces are composed of literal physical traces of H, or I bean steel, a conventional framework material of building construction. He applies a reddish-brown anti-corrosion paint on the cross-section of the trimmed steel and carefully places 15 to 25kg weighing steel on coordinates pre-marked on printmaking paper. He then puts a drop guide equivalent to the weight of the steel on top of the steel to force sufficient pressure. When the drop guide and the steel are removed, the first layer is completed. He executes the same process repetitively before the ink dries to enact the designed movement of the section steel.
---
Continually evolving to push for new boundaries, the Live Rust – Magneto series acquires three-dimensionality when multiple units of paper prints are hung in the air. Meanwhile, the Live Rust – Odyssey series assumes a cosmic space-time beyond three dimensions with concave and convex symbols akin to the alpha and beta of the parallel theory.
---

Byun Sang Hwan, Live Rust-Magneto, 2020, Anti-corrosion paint on paper, section steel, type printing, 70 x 10 cm
---
* Leads to MIND MAP Gallery Director Interview Part4.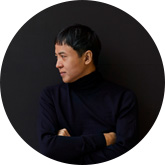 Lee Daehyung
Curator, Daehyung Lee, values the social role of art in the era of the 4th industrial revolution in the 21st century. Lee is expanding the scope of contemporary curation to the environment, community, technology, and the future. Daehyung Lee directed Korean Pavilion in 2017 Venice Biennale and he led the success of CONNECT, BTS – a global public art project exhibited in five cities including Seoul, New York, London, Berlin and Buenos Aires. Lee organized Korea Research Fellow, a research network of 10 domestic and 10 overseas curators from 2018 to 2021 and has also served as a judge for the 40 UNDER 40 of the London art magazine, APOLLO in 2022.