Features / Report
Art Busan 2017 Ends in Success with 170 Galleries from 16 Countries and 4,000 Works on Exhibition
posted 15 June 2017
50,000 visitors—an increase in number of visitors with paid admission
Art Busan firmly positioning itself as an art & culture festival in the Busan area with the expansion of the exhibition hall at Kiswire Complex Culture Space F1963
Art Busan 2017, the event that's been heating up Busan for the past five days, ended with great success. Art Busan 2017 was held at Busan BEXCO Exhibition Center 1 on June 2–5, with a special VIP preview day on June 1. About 170 art galleries from 16 countries participated and exhibited around 4,000 pieces of contemporary art. During the five days, including the VIP preview, the event attracted more than 50,000 industry insiders and art lovers from Korea and around the world. The organizer of the show said the event ended well, successfully blending the presentation of art with the regional characteristics of Busan, to the great interest of the audience, which included art collectors, art lovers and people in the art industry, as well as the citizens of Busan.
Artwork sales were noticeably high on the VIP Day and on Monday, the final day of the fair. Major works by artists such as Murakami Takashi, Jean-Marie Haessle, Julian Opie, Mustafa Hulusi, Yin Zhaoyang, Ding Yu and Kohei Nawa were sold one after another from exhibitions hosted by about 30 major art galleries. Galerie Perrotin, participating in Art Busan for the first time this year, gained popularity by selling Mr.'s artworks, which had previously sold out at a gallery showing in Hong Kong. With such sales, Galerie Perrotin confirmed it would be returning for next year's Art Busan fair. Korean artists were also popular at the show. Million-dollar sales were made on works from artists such as Chung Sang-hwa, Lee Ufan, Lee Kwangho , Ha Chong-hyun and Kim Taeho, along with pieces by Kim Tschoonsu, Choi Myoungyoung and Byun Sook-kyung.
Sylvain Levy of DSL Collection was invited to the fair this year to produce a special exhibition. "Art Busan 2017 gave me a deeper understanding of Korean art," he said, adding, "It was so good to enjoy the restaurants in the Busan area, which go perfectly with Busan's unique seaside."
In 2016, a large number of visitors were given free entry to the fair through a promotion sponsored by a credit card company, but this year's fair still saw a boost in paid admissions, even despite an increase in admissions fees. Like last year's fair, Art Busan was held at BEXCO's main building. The venue provided a pleasant viewing experience with its spacious and convenient floor plan and booth arrangements that emulated art galleries. The event was smoothly operated throughout its duration, and a variety of new attractions were presented by the recently-organized Design Art Busan.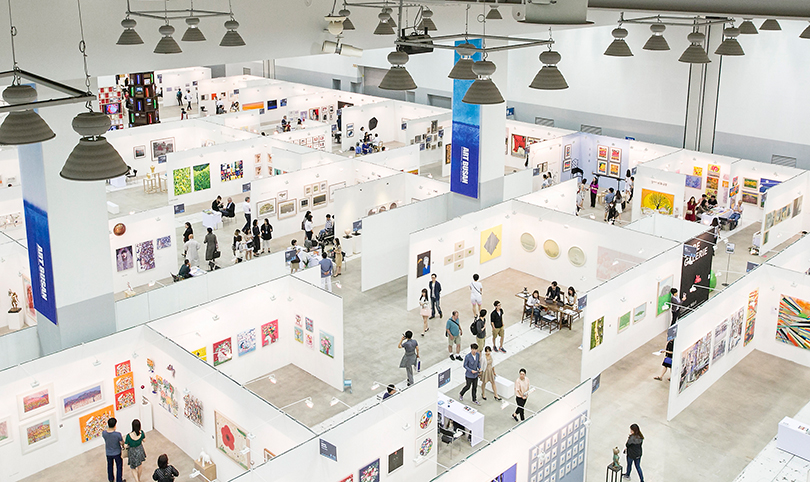 Busan artist Kim Seongho was chosen to receive the Hwaseung Artist Award, hosted by Art Busan's title sponsor Hwaseung Group for its third consecutive year. His works will be exhibited at the Hwaseung Group's main Seoul office. Art Busan will continue to support outstanding artists through corporate awards, in hopes of finding new artists and establishing a foothold for them to enter the global stage. It plans to appoint many local culturally-invested companies to the organizing committee to encourage further sponsorship of art and culture activities.
Major galleries that took part in this show appreciated such broad local support and lined up to host reception dinner parties. This was part of the galleries' efforts to expand the fair's customer base in the Busan area. Choi Sunhee, owner of the Choi and Lager Gallery based in Cologne, Germany, which has participated in the fair for three consecutive years, said that she was excited to have sold all of her galley's pieces, thanks to the large number of customers at the fair, and that she hopes to participate in Art Busan again in future years.
Representatives from Ozasa Kyoto Gallery, a Japanese art gallery that joined the fair for the first time this year, said they were dissatisfied with their booth location on the periphery of the venue at first, but were later thankful to the organizers, as they were able to sell all of their pieces by the Gutai Group by the second day of the show. Byun Wonkyung , owner of Aando Fine Art of Berlin, also left with a big smile, saying that his sales record at this art fair was the highest among other art fairs. Korea's Asan Gallery and other major galleries also recorded high sales, ending the show in success.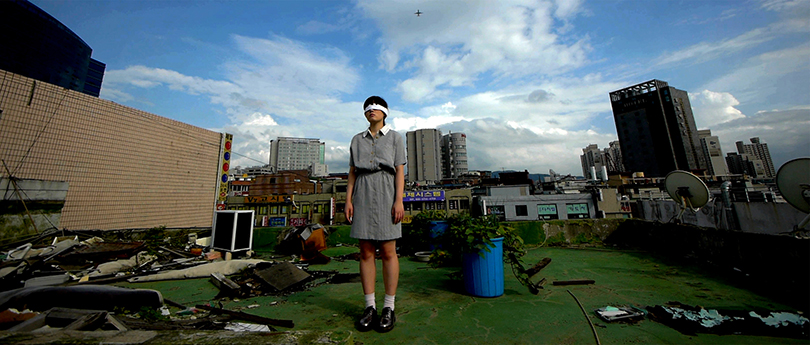 An official from Art Busan said that in the future, the fair will continue to offer its unique content along with more advanced promotion and marketing strategies. The official said there will be continued multifaceted communication with various organizations in effort to change and stimulate the domestic and global art scene, all to build a healthier art market. Art Busan hopes that this fair will play a significant role in making Busan a city like Miami, which people from all over the world visit for art.