Features / Report
Korean Art International Seminar: Asian Avant-Garde and Its Practice
posted 19 June 2017
On May 26, 2017, an international seminar titled "Asian Avant-Garde and Its Practice" was held at Asia Society in Hong Kong, focusing on avant-garde art of Korea, Japan and China. The venue showcasing experimental art from different times and parts of East Asia was jointly organized by Korea Arts Management Service and the Consulate General of the Republic of Korea and sponsored by Asia Society and Asia Week Hong Kong. This event was attended by Lee Yongwoo (Executive Director of Shanghai Himalayas Museum), Chong Doryun (Deputy Director of Hong Kong's M+ Museum), Toshio Shimizu (Professor at the Gakushuin Women's College), Chung Yeon-shim (Professor at the Hongik University), Kim Hong-hee (former Director of Seoul Museum of Art), Moon Young Min (Professor at the University of Massachusetts Amherst), Philip Tinari (Director of the Ullens Center for Contemporary Art) and Liu Ding (Chinese curator and artist). There heated discussions continued from morning to evening. An audience of 140, including many from Hong Kong's art circle, attended this highlight of Hong Kong Art Week 2017 where Asian contemporary art from Asia Week Hong Kong and Christy's were auctioned.
At the outset of the first session, Lee Yongwoo, who was the moderator and a key player in organizing this seminar, brought up that the Asian avant-garde is a platform that produces critical ideas in the territory of art history as well as politics and culture. In particular, Lee proposed a close look at Asia's political and cultural background to see the emergence of an avant-garde. He also questioned whether the Asian avant-garde can be seen as a wholly autonomic art movement despite its tie with and inevitable impact from Western modernism. The awareness of this problem was shared through both the "Korean and Japanese Avant-Garde" session and the following session on "Korean and Chinese Political Art". Speakers repeatedly referred to years that marked each country's historical junctures such as the end of World War II and the Tiananmen Square incident, and they frequently compared the East and the West to examine the Western influence on Asian art, providing supporting facts.
The Asian avant-garde has been a theme intensively studied and exhibited by not only Asian countries but major museums in the West. Recent examples are the special exhibition and seminar on the avant-garde of Korea, Japan and China held at the Busan Biennale 2016 and Avant-Garde Asia at Sotheby in 2015. Dating a little further back, Tokyo 1955-1970 was presented at the Museum of Modern Art in New York in 2012 and Gutai at Guggenheim Museum in 2013. An expansion of the context would also include a solo exhibition by Lee Ufan, often associated with Mono-ha, an experimental art movement in Japan in the 1960s, at Guggenheim Museum in 2011 and Kim Kulim, a leader of Korean avant-garde art of the 1960s and participant in A Bigger Splash: Painting after Performance at Tate Modern in the U.K.
Under the theme "Korean and Japanese Avant-Garde," the speakers for the first session were Chung Yeong-shim and Toshio Shimizu, and Chong Doryun joined for a panel discussion. The two speakers reviewed avant-garde artist groups of Korea and Japan, where the art movement began a decade earlier than in Korea. More specifically, the speakers talked about the small group movement by Korean experimental artists in the 1960s and 1970s and Japan's avant-garde art from the 1950s through 1970s.
Chung Yeon-shim from Korea introduced artist groups of the younger generation who formally experimented anti-abstractionism after World War II while informel and abstract art works represented by monochromes were the artistic mainstream. Small groups like Origin, Korea Avant-Garde Group (AG) and Space & Time (ST) Group captured in their works how industrialization changed the urban environment. Using various art forms such as happenings and body art, they also expressed their perception of the bleak social reality as a generation that experienced the April 19 Revolution and their resistance to the corrupt art circle.

Next, joining through a live video stream, Toshio Shimizu gave an overview of Japan's post-war experimental art. Taking place amid the exchanges with the West, the artistic trend unfolded with the publication of the journal Gutai. Yoshihara Jiro, who led the Gutai group, declared separation from the existing art and presented performance and objet art that were outside the boundary of formalism art of the past. Towards the end of his speech, Shimizu touched upon how the post-war situation for young people laid the foundation for the art movement. After progressing with relatively little interruption, Japan's modernization met a historical inflection point as the nation lost World War II, and post-war confusion was converted to a comprehensive experimental art movement. Shimizu said that the movement was powered by the younger generation's skepticism after experiencing death and war, or, in other words, "separation from the parents' generation".
After discussing avant-garde art such as happenings and body art that denied existing art forms in the first session, the second session focused on art that criticized society or delivered other political messages, such as Korea's Minjung art in the 1980s and China's cynical realism in the 1990s. Moderated by Kim Hong-hee, the session's speakers were Moon Young Min and Philip Tinari and panelist Ding Liu.
Session two offered a rare opportunity to contemplate the political art of China and Korea side-by-side, noting the common denominator that both Korea's Minjung art and China's cynical realism were triggered by domestic political surroundings. As another major branch of Korean contemporary art history corresponding to monochromes that has drawn global attention lately, Minjung art is being actively revisited through prestigious galleries and art fairs in Korea.
Moon introduced Korea's Minjung art, a realistic art trend reflecting the realities of the divided nation and farming villages through not only painting but banners and printing. Minjung art, which strictly denied Western modernism that symbolized foreign power and capital and sought Koreans' own expressions, reflected opposition to the tyrannical administration and other such critical awareness of the reality. Moon spoke of key Minjung artists who formed the lineage of the movement, such as O Yun, the Doorung group and Shin Hak-chul. He also talked about younger artists including flyingCity, Mixrice and Park Chan-kyung, who shed light on issues of Korean society such as post-1990s rapid urban development and migrant labor.
On the topic of the "Rush of Chinese Art," Philip Tinari started with Fang Lijun's painting featured on the cover of New York Times Magazine in 1993, then turned his focus to the China Avant-Garde exhibition in Germany and China's New Art, Post 1989 in Hong Kong in the same year. Attended by a large number of artists representing the corresponding trends, the monumental shows played a pivotal role in determining the characteristics and direction of China's cynical realism that unfolded afterwards. Also dubbed as political pop, China's contemporary art has been introduced to the West in various languages and brewed the fever over Chinese art, claiming the top position in the global market.
The various avant-garde movements in Asia examined at the seminar are correlated with one another against the backdrop of Asia's and each country's political and cultural situations. Visitors may have been more familiar with Japan's avant-garde and China's cynical realism and while they felt the presentations on Korean avant-garde and Minjung art to be new information. To discuss the radically creative art movement named avant-garde, the seminar collected cases from each country, analyzed their relationship and closely examined each of them. Thus, the seminar was an opportunity to add another layer of context to the Asian avant-garde.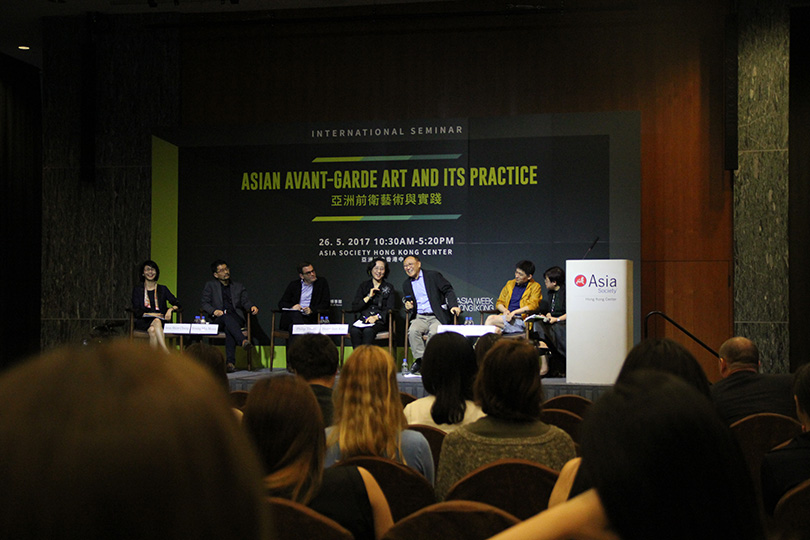 Kim, Sooyoung / TheArtro Editor