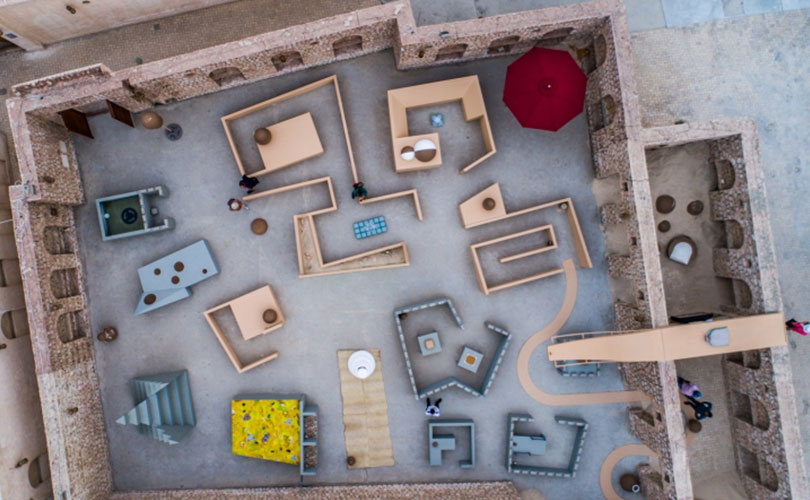 One Korean artist, Koo Donghee, participated in this year's Sharjah Biennial 13 (SB 13). Koo installed her commissioned work Way of Replay II (off peak), 2017 in Bait Gholoum Ibrahim, one of the SAF Art Spaces. Inspired by her visit to Sharjah, Koo refused to objectify a distant, ethnic image of the city in her installation, but reinterpreted the art space's architecture, experimenting with formative elements. Complex elements such as space, architecture, climate, and season found their form in the artist's intuitive expressions, coming together to present an interesting installation. The installation proved popular on social media, after the Sharjah Biennal posted an aerial photo of the piece, showing from above how the installation looked like a miniature of the city's traditional areas.
Tell me more about how you participated in the Sharjah Biennial and how the production and installation of the work went.
General Director Christine Tohme remembered my project Way of Replay, presented as part of the Korea Artist Prize 2014 at the National Museum of Modern and Contemporary Art, Seoul and contacted me. After deciding to participate, I visited Sharjah for research early this year. It was my first visit to a Middle Eastern area, and many things such as the climate, smell, sounds, and the red clay buildings felt unfamiliar to me. During the visit to the main exhibition area to select the space for installation, I found the mix of narrow mazes of arcades and alleyways, open courtyard spaces, and normal buildings to be very unique. After choosing the installation space and coming back to Korea, I decided to reinterpret this area's paths and architecture, the only material inspiration for my work in terms of formation.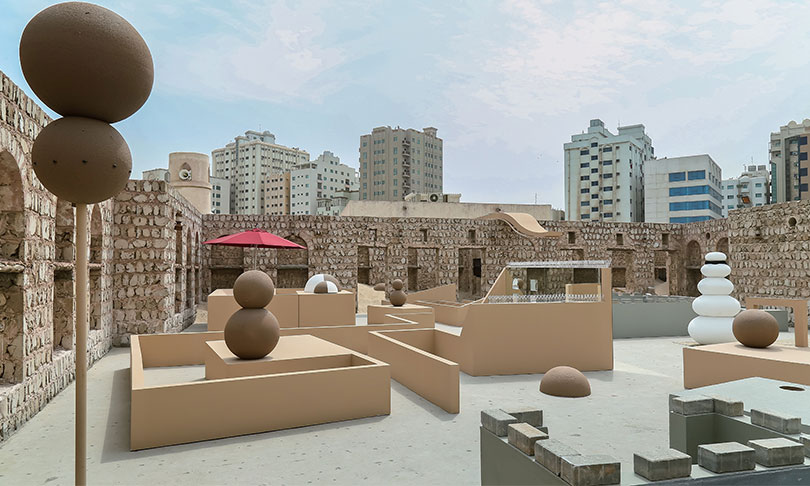 Your project is impressive in that the giant installation can feel "abstract." Especially, the artist's imagination on "season" was tangible. In a country of deserts, you built a snowman figure, and, in some parts of the exhibition, a video of snowing Seoul was screened.
During my five-day research trip, I did not visit many places in Sharjah. Instead, I stayed in my hotel room Googling things about United Arab Emirates (UAE). I thought so many institutionalized international biennales were now deeply related to art tourism, considering the travel routes and flight time difference for exhibition staff and artists. In comparison with a Korean city, where an eccentric mix of Islamic elements is frequently shown in architecture, ranging from the roof of National Assembly Building to love hotels and wedding halls, Sharjah looked even more like an artificial arcade, and it left me confused for a moment. So, I didn't have any intention to blindly objectify an ethnic image of Middle East while I was in the area. While looking through the tourism website for UAE, I found the most impressive tourist site, a ski resort in Dubai. This was the ultimate tourist attraction, only possible to have been created through the immense capital of Dubai. In the ski resort, there was artificial snow, and live penguins had been imported from different countries. There was even one penguin named after the king. I remembered I had read a news article a few years ago that said making a snowman was forbidden in neighboring Saudi Arabia. I thought the ban on making snowman could be explained by its resemblance to idolatry in a country where Islamic laws rule. To me, rolling snow into a ball reminds me of traces of a self-production, where you temporarily collect background elements and turn them into an object. I too collected these elements I noticed and reassembled them in an artificial and intuitive way. I want visitors to experience my project as "a tour of an object in another time zone."
As a participating artist, what do you think of the organization and administration of the Sharjah Biennial?
I thought the organization of the Sharjah Biennal was very well done. The exhibition was neatly organized and run through each of its different parts, such as curation, project installation, logistics, public relations, and archiving. The budget expenditure for artists as well as their assistants was precise and generous, and it included expenses for our stay and performance fees. It was an environment where I was able to focus on my work as an artist. However, Korean installation crews have much more experience, and supplying materials is much easier in Korea. The level of the art foundation was very high, even by global standards, but I learned that the notion of working hours was very different from different countries in different climate.

※ This article was originally published in Art in Culture magazine (July 2017) and reprinted under authority of a MOU between KAMS and Art in Culture.