Features / Focus
Minjung Art in the Market: Will Minjung art emerge as the post-monochrome painting?
posted 31 Aug 2017
Minjung art gains attention from the art world in Korea
The Korean genre of realism dominated the Korean art world during the 1980s
After the Moon Jae-in administration took office, the art movement received renewed evaluation
Sales of Minjung artworks enjoy a boom at galleries and auction markets
A series of upcoming Minjung art exhibitions are expected
Lim Ok-sang presents a solo exhibition at Gana Art Center
Song Chang's works to be featured at Hakgojae Gallery
Hwang Jai-Hyoung displays his works at Park Soo Keun Museum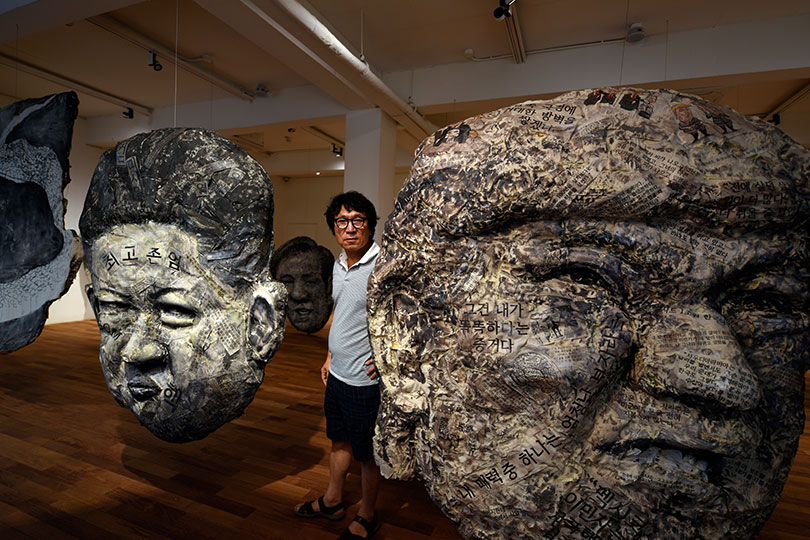 Emerging in the midst of the democratization of Korea in the 1980s, Minjung art (people's art) is a genre that represents a Korean version of realism that expresses the arduous life of ordinary people such as the working class. Since then, the Minjung art movement has provided a sharp critique on the contradictory reality after industrialization and expressed on canvas the dark moments of contemporary and modern Korean history and sensitive issues Korean society faces today. This art movement, which had dominated Korean art world in the 1980s and 1990s, now gains a renewed interest in the market in the Moon Jae-in era. Since 2015, when Minjung art received a short-term spotlight thanks to the popularity of retro culture at the time, this genre of art is once again enjoying great attention from the art world in Korea.
This year, senior Minjung artists such as Shin Hak Chul, Son Chang-seop, Kim Jeong-heon, Min Jeong-ki, Lim Ok-sang, Song Chang, and Yoon Nam-seok have held or are scheduled to hold exhibitions; several other artists including Hwang Jai-Hyoung, Lee Jong-gu, and Noh Won-hi are set to present solo exhibitions. Recently, due to an increasing demand in the art market, prices for the works by some of the first-generation Minjung artists such as Oh Yoon, Kang Yo-bae, Hwang Jae-hyeong, and Lim Ok-sang are on the rise. This is in contrast to the past when Minjung art was neglected for the so-called "too radical" nature of its political orientation and messages.
Woo Chan-kyu, the head of Hakgojae Gallery, noted, "Minjung Art will be recognized for its historical value someday." He added, "Among others, quality works of sophistication that express the zeitgeist of Korean society will enjoy popularity."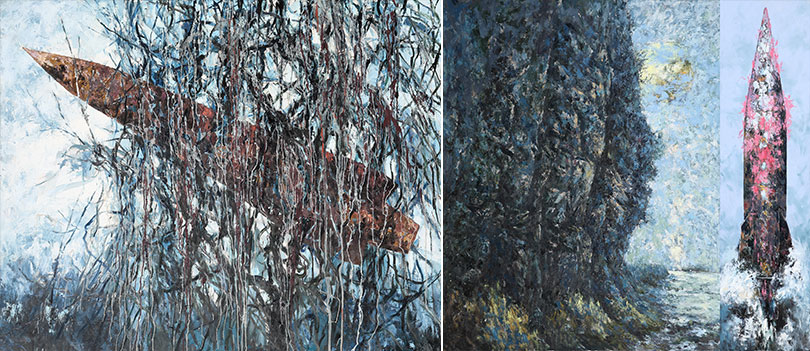 A series of upcoming solo exhibitions by Minjung artists such as Lim Ok-sang, Song Chang are expected
Such change of trends in Korean art world is felt as many galleries are now engaging in a fierce competition to gain an advantage in the art market. Gana Art Center, which has shown continuous interest in Minjung art, is scheduled to present a solo exhibition of the most popular Minjung artist Lim Ok-sang from August 23 to September 17, 2017, in an attempt to attract Minjung art fans. This exhibition titled The Wind Rises, the artist's first one in six years, will present 30 works offering an incisive critique on Korean society including a work that embodies the Candlelight Movement held in Gwanghwamun, Seoul. The center is set to present another exhibition in December this year, featuring new works of Hwang Jai-Hyoung, an artist who has described the hard life of the people in coal mine neighborhoods in Taebaek, Gangwon-do.
After exhibiting the works of Joo Jae-hwan (in March) and Shin Hak-Chul (in September) last year, the two prominent Western-style painters of the first generation of Minjung artists, the gallery this year invites artists Son Jang-seop and Song Chang. The solo exhibition of Song Chang will be on a view until September 24 this year, featuring 30 works for sale including In the Field (1986), which depicts an old man who uses the helmet as a basket in the Yeoncheon area during the 1980s, and Refracted Time (1996), in which a rusty Chinese cleaver is seen cutting out the branch of a pine tree. Next year, the Hakgoje Gallery plans to present Lee Jong-gu and female artist Noh Won-hee to the audience. In Busan, Johyun Gallery held a solo exhibition of Ahn Chang Hong from May to July last year to attract local art collectors.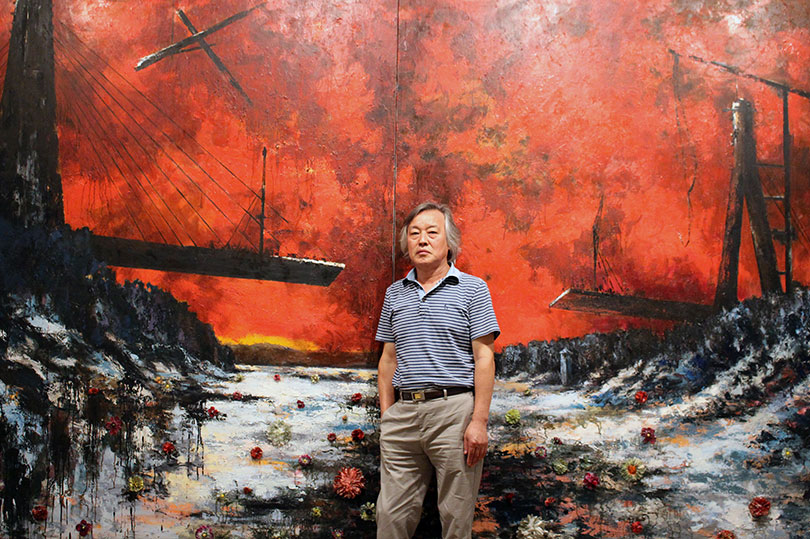 Art museums are also joining the trend to highlight the works of Minjung artists. The Park Soo Keun Museum in Yanggu, Gangwon-do, awarded Hwang Jai-Hyoung as the winning artist for the first Park Soo Keun Art Prize and is holding an exhibition of his works, while the Leesangwon Museum of Art in Chuncheon presents a solo exhibition of Yun Seok-nam, an artist dubbed the "mother" of Minjung art, until September 24, 2017. The Gyeomjae Jeongseon Art Museum is in preparation for a retrospective next month of Yeo Un, a former president of the Minjung Artist Association. In March last year, Kumho Museum of Art received positive reviews for presenting a solo exhibition of the artist Min Jeong-ki.
Sales of major Minjung artists' artworks
| Artist | Number of Winning bids | Total Sales Value |
| --- | --- | --- |
| O Yoon | 113 artworks | 1,147,000,000 KRW |
| Lim Sang-ok | 43 artworks | 991,200,000,000 KRW |
| Hwang Jai-Hyoung | 34 artworks | 1,000,000,000,000 KRW |
| Kang Yo-bae | 32 artworks | 751,600,000,000 KRW |
| Shin Hak Chul | 17 artworks | 560,000,000,000 KRW |
| Lee, Jong-Gu | 17 artworks | 300,000,000,000 KRW |
| Kim Jeong Hun | 9 artworks | 96,000,000,000 KRW |
100 Minjung artists working in the Korean art scene
The Korean art world estimates the number of Minjung realist artists who have been actively working in the Korean art scene from the 1980s to today at around 100.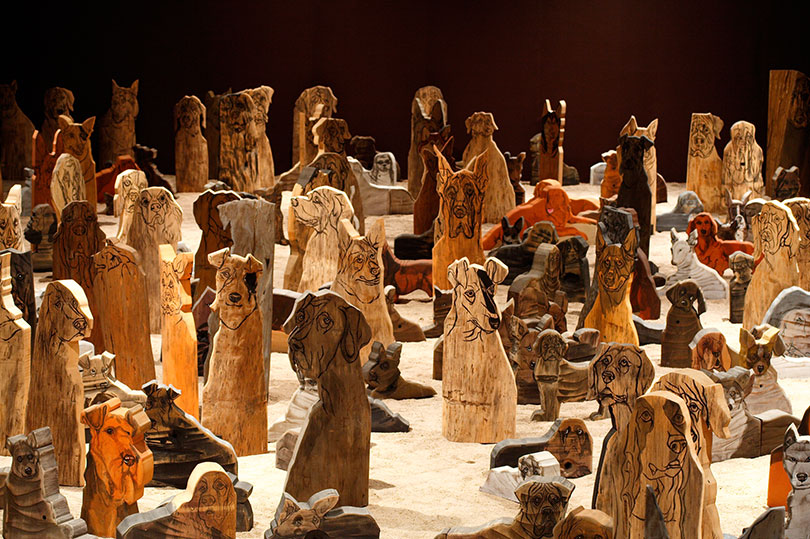 Prices of Minjung artworks are relatively low compared to those of other genres. A piece of work (size 100) by a popular Minjung artist is sold at KRW 50–80 million through the galleries in Seoul, which is only a fifth what was brought in by a work of Jeong Sang-hwa, the master of monochrome painting, at KRW 400 million. In the auction market, works of Oh Yoon, Kang Yo-bae, Kim Jong-gu, Lim Ok-sang, Hwang Jai-Hyoung, and Kim Jeong-heon are the most popular. The 113 works by Oh were sold for KRW 1.1 billion in total, exhibiting the power of the first generation of Minjung artists. Other artists' works are also sold at their record-high prices. Such works include Lim Ok-sang's American Dream 1, 2 (sold at KRW 93 million), Shin Hak Chul's Uphill Path (KRW 73 million), Kang Yo-bae's Samtaesung (KRW 60 million), and Hwang Jai-Hyoung's Untitled (KRW 54 million).
Many art specialists and gallery owners are positive about the marketability of Mingjung art. They say the art movement could set a new trend as it sheds light on the nature and life of people, rather than focusing on political messages, as it previously tended to do. Lee Ok-kyung, the head of Seoul Auction, said, "Minjung art, which centered on political propaganda during the 1980s to 1990s, is now trying to cope with the changes of the time." She added, "It has much potential to emerge as the post-monochrome painting."
By Kim Kyong-gab / The Korean Economic Daily

Related Article : http://koreajoongangdaily.joins.com/news/article/Article.aspx?aid=3037594
Kim Kyong-gab
The Korean Economic Daily​​