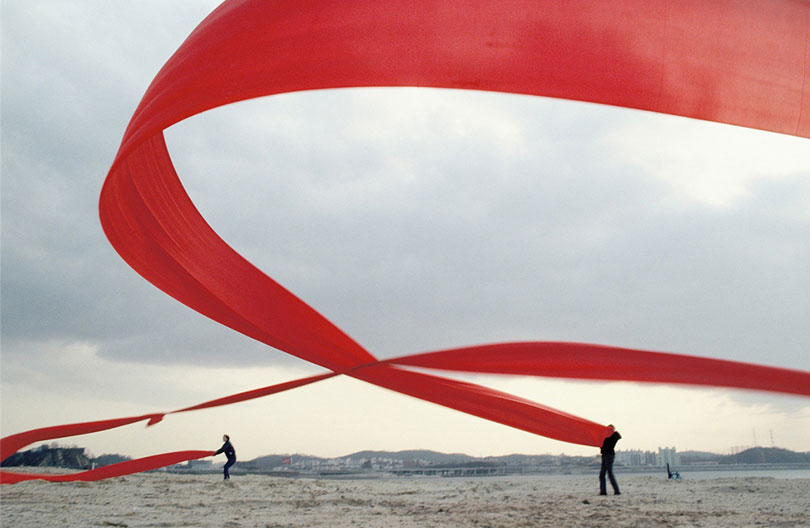 On an overcast, windy afternoon in the fall of 1971, Lee Seung-taek and a group of friends ventured out onto Nanji Island on the Han River in Seoul, and unfurled three giant strips of scarlet cloth. With one person holding each end, the cloths rose with the wind, gradually unraveling to their full 80-meter lengths—three enormous red arcs, billowing, swaying and whipping in the sky. Wind – Folk Amusement is one of many large-scale outdoor works in which Lee gives form to the transience of nature.
The fluttering material in Lee's "Wind" series recalls the multicolored flags and banners of Korean folk festivals. In both this series and in other installations, Lee has employed the five cardinal colors: blue, red, yellow, white and black. Recurring throughout Korean classical art and architecture, these colors represent the Five Elements of ancient Chinese astrology—wood, fire, earth, metal and water, respectively—and it was thought that the interrelationship between these elements, together with the forces of yin and yang, influence all natural phenomena, including human fortunes. Lee has made dramatic use of earth, water, wind and fire throughout his career, but for all its echoes of tradition, his exploration of these materials is situated in the context of the postwar Korean avant-garde. His diverse body of work, which ranges from stealthy performances in public space to iconoclastic installations of found objects, is a celebration of irreverence, carefree provocation and a relentless desire to create striking and incongruous new visuals.
Lee's emergence as one of the most prolific experimental artists of 1960s Korea took place against the odds. In a telephone conversation with ArtAsiaPacific in April, he describes an early interest in art, but one that was heavily influenced by the political climate of the time. Born in 1932, he grew up in Gowon, a town near the coast northeast of Pyongyang, while the Korean peninsula was under Japanese occupation (1910–5). Following Japan's surrender at the end of World War II, life in the Soviet-controlled northern half of the country became dominated by Communist ideology. "My high-school art classes were mainly focused on painting and making bronze sculptures of Kim Il Sung and Stalin," he recalls. When war broke out with the US-backed South in 1950, Lee initially joined the anti-Communist resistance, but within weeks he and his family fled by boat, traveling farther down the coast to Jumunjin, where US and South Korean forces were stationed. In an effort to maximize the family's chance of survival, Lee's parents decided that he (the third of four brothers) and his eldest brother should accompany their father, while his other brothers and their mother would remain in Gowon. None of them imagined that the division between North and South would become permanent, and today Lee still knows nothing about the fate of his family in the North.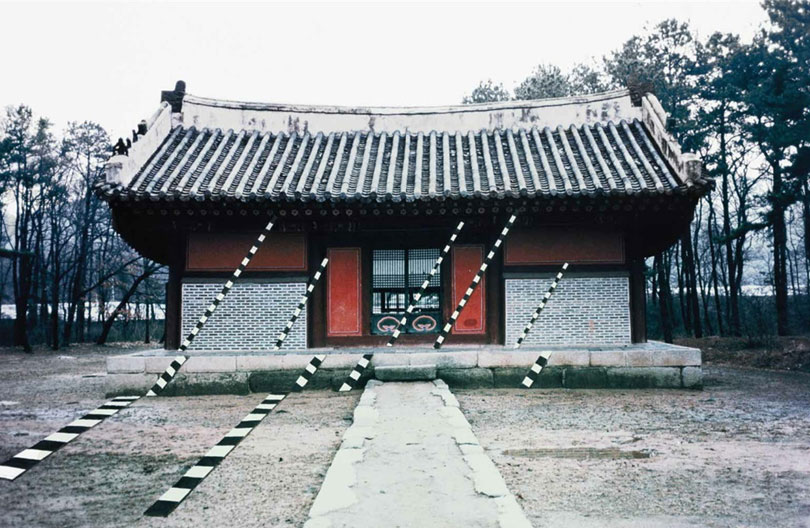 The 19-year-old Lee joined the army and was stationed in Seoul. While fighting there, he was shot in his right knee, and was sent to a hospital at the very south of the peninsula to recover. Despite being honorably discharged and paid compensation, he rejoined the army's training division a year later, where he taught cartography. Shortly after the war's end in 1953, he entered the sculpture department of Hongik University, where he read the existential and nihilist writings of German philosopher Friedrich Nietzsche. Lee's first works evoke the misery of Korea's fate as a pawn caught between superpowers. His graduation piece, History and Time (1957), was a rough, wormlike crescent of plaster, painted dark red and blue, wrapped in barbed wire and suspended from the ceiling. Meanwhile, Lee's professors took advantage of the bronze-casting techniques he had learned in highschool, commissioning him to make a statue of General Douglas MacArthur in Incheon City in commemoration of the US commander's amphibious invasion there in September 1950. Following the monument's unveiling in 1957, Lee received numerous commissions from local governments for sculptures around the country—a lucrative profession that allowed him to realize his avant-garde ambitions.
The starting point for Lee's experimental approach can be found in Godret Stone (1958). The work was inspired by godret warp-weave looms, which use weights made of six to a dozen small stones carved into yo-yo-like discs and tied together with string. For his version, Lee carved much shallower and smoother grooves in the stones and strung them up on a bar of wood. He explains that when he made the piece in 1955, he did not originally think of it as an artwork; he simply wanted to decorate his room. However, over the next three years, he began to see that the work offered a different perception of stone, that something hard could be made to look soft—"I was the first person to make a squeezable stone!" he exclaims.
This shift toward exploring dematerialization was also inspired by images Lee happened across in daily life during the late 1950s. The first of these influential encounters was seeing a small newspaper photograph of one of Alberto Giacometti's signature sculptures of the human body reduced to a lean, minimal structure. "I wondered what would happen if I denied even the skeleton in Giacometti's work," Lee says. "Form was a very important element in art, but I would be making something formless. I agonized deeply over this idea. I thought I was insane." He was also inspired by images of immateriality in other contexts. He explains that during the 1960s (and until as recently as the 1990s), cinemas presented propaganda bulletins on South Korea's economic development before screening the main feature. He recalls a visit to the cinema during his student years, and his being struck by footage of smoke rising out of factory smokestacks and residential chimneys, a symbol of industrial progress, national prosperity and a call for all Koreans to engage in the reconstruction effort. "I realized that these are elements that I envisioned as formless works of art."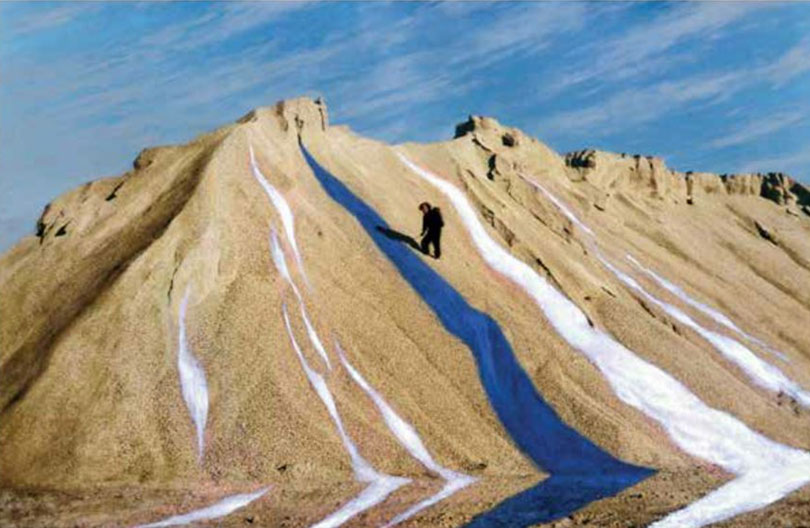 Since then, Lee has explored innumerable permutations of this basic premise, an approach that he refers to as "non-sculpture." And yet, in spite of his efforts, he was a tangential, lone-wolf figure in the South Korean art world of the 1960s, receiving little recognition from his peers. "At that time, there was no such thing as conceptual art in Korea," he says. Indeed, the mainstream was characterized predominantly by paintings and sculptures by artists of the prewar generation, who continued to work in European Cubist and Fauvist styles. "Some professional artists and critics, such as Lee Il, appreciated my approach, but most ordinary people were cold toward it. Only a few were interested in seeing something new."
During the 1960s and 1970s, South Korea's artists worked in relative isolation, developing their styles independently from trends in other countries. Some art magazines from Japan and the US were imported, but they were too expensive for most people. Among those of Lee's generation who sought to create new forms of expression were the members of the Contemporary Artists Association, founded in 1957 by Park Seo-bo and other artists in their 30s. Their exploration of dynamic, abstract brushwork and the materiality of paint bore a strong relation to the Art Informel movement in Europe. Although the French art critic and curator Michel Tapié promoted this movement in Japan in the late 1950s, influencing the members of the Osaka-based Gutai Art Association, historians debate to what degree, if any, information about these activities would have percolated into Korea while the country was still recovering from the war.
Likewise, Lee's work has formal and conceptual parallels with that of the Japanese Mono-ha artists, who were active between 1968 and 1972, and sought to draw attention to the interrelationships between natural materials through juxtaposition. Lee tells AAP that he was barely aware of artistic developments in other countries, and rarely had any interest in what little he saw. For him, the purpose of his art was to create visuals that were unexplored by his peers. "My art questions stereotypical notions of material. I work by looking at the world upside down. Most Korean artists followed the norm, but I took an oppositional stance to that."
※ This article is published as part of a collaboration between ArtAsiaPacific magazine and Korea Arts Management Service. It first appeared in ArtAsiaPacific No.69, Jul/Aug 2010.
Ashley Rawlings / Writer