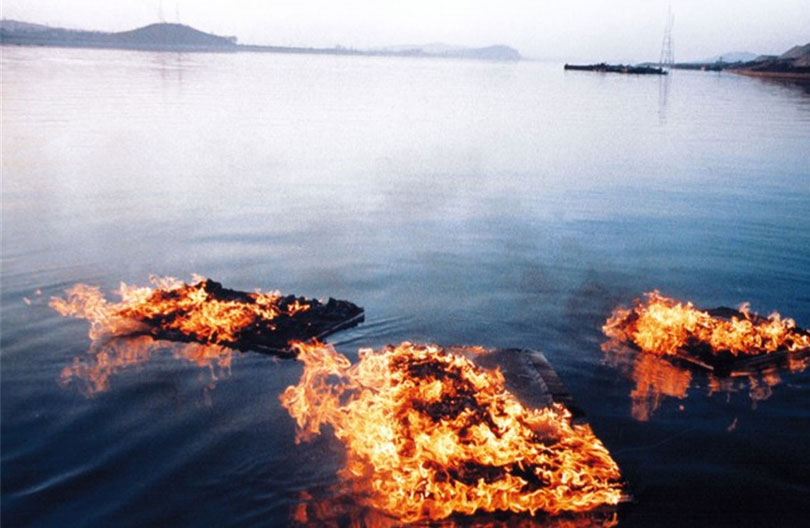 In an early work that signifies a literal rejection of convention, entitled Burning Canvases Floating on the River (1964), Lee took three figurative paintings of the kind that represented the stolid old-guard of Korean modern art, set them alight and cast them adrift in the Han River at dusk. Lee has repeatedly made works along the Han, as it represents a fundamental bond between North and South Korea. By the same token, however, the South Korean military keeps the river under close surveillance as it is an easy route of infiltration. Lee explains that he was only able to execute Burning Canvases on Christmas Day, when security in the capital was relatively relaxed. As soon as he had set the canvases on the water and photographed them, he left the scene. How long the canvases floated there and whether or not anybody saw them remains unknown.
Though many of Lee's works are spectacular events, he does not necessarily stage them for an audience and he has no qualms if nobody witnesses them on-site. Nanji Island, a deserted, 280-hectare terrain within Seoul's metropolitan area, was an ideal place for experimentation, and he has performed many works there. One example was Painting Water (1979), in which he spray-painted river-like stripes of water-soluble blue and white pigment down the side of a sandy hill, where they remained until rain washed them away. For Green Campaign (1980), he hired a team of laborers for a day to help him plant vast swathes of moss seeds and fertilizer across the island, with the plant flourishing over the following months. Throughout the sweeping installation, Lee laid down black-and-white wooden planks, marking off sections of the landscape. The artist models these planks on road barriers and uses them to redefine any setting, natural or manmade, as his artwork. At the same time, he takes a symbol of military checkpoints and the division of Korea and turns it into a depoliticized marker of territory.

Outdoor pieces such as these exemplify Lee's idea of "non-sculpture," and yet he does not reject craftsmanship. His body of work includes solid sculptures of his own making, as well as assemblages composed of found objects. Lee's art-making is spontaneous to the point of incoherence; there are few obvious sequential developments in his style. He develops his ideas on a whim, sometimes coming back to them many years later and reworking them in a different context. One example is At Last, Art Has Been Garbage (1973), made when he discovered an abandoned painting of Jesus Christ in the street. Intrigued by the casual iconoclasm of discarding a painting of Jesus, as well as the phonetic similarity between the Korean words for Jesus (yesu) and art (yesul), Lee made an installation in which the painting stuck out from a pile of trash.
Just over a decade later, Lee revisited this associative connection he had made between art and trash, as an environmentalist subtext began to emerge in his practice. Not long after he had made Green Campaign, Nanji Island ceased to be a pleasant place to visit. South Korea's rapid industrialization during the 1970s and '80s brought environmental pollution with it, and Nanji Island, once rich in flora, was converted into a landfill site in 1978. Ultimately, 92 million tons of refuse were dumped on the island, resulting in two 90-meter-tall mountains of trash. As the damage to Nanji Island worsened, Lee responded by returning there in 1986 to stage a performance in which he crawled inside an empty septic tank. The framed photograph of this work, showing a somewhat disgruntled Lee leaning out of the metal tank, is overlaid with black strips with white writing in Korean and English that reads "And, art come to a garbage finally. And me."
Since the late 1970s, Lee has striven to raise awareness of the environment through his "Earth Performance" series, for which he created inflatable vinyl spheres of varying size—from three to seven meters in diameter—painted to look like the Earth as seen from outer space. He has taken these globes all over the world, including politically charged sites. In 1982, he floated one in front of the Berlin Wall, and in 1993 he walked one through Tiananmen Square in Beijing. The artist, however, remains apolitical and altruistic in his explanation of the piece—"I wanted the public to perceive the Earth from a new perspective, to recognize its beauty and protect it." He says that he stages these performances primarily for children, whom he invites to play with the globe, purposely deflating and reinflating the piece to change its shape. "Fascinating things start to happen when it is less full. People's interactions are more diverse and interesting. When it is almost entirely deflated, kids can go underneath and be inside the piece."

Though Lee has operated outside of the mainstream of the Korean art world, over the past few decades he has gradually gained enough recognition from a handful of open-minded artists and critics to win him some commissions for his contemporary work. For the Seoul Olympics in 1988, he was asked to make a piece for the city's Olympic Sculpture Park. Rising out of the ground, Tile Works is a nine-meter-tall and thirty-meter-long undulating roof of ceramic tiles, its form suggesting that some kind of distorted temple has been half-buried in the earth—a contemporary artwork that draws on the tension it creates between its reference to Korean architectural heritage, its warped but elegant shape and the sheer irrational incongruity of its emergence out of the ground. "I take inspiration from Korean heritage," he says, "because things that are the most ethnically specific and local are also the most international."
In 1990, the Korean Culture Art Fund asked him to serve as the commissioner for the country's participation in that year's Venice Biennale, for which he chose artists Cho Sung-mook and Hong Myong-seop, two peers whom he admired for their experimental installations. Two years later, at "Metabolism," a satellite event of Documenta 9 in Kassel, Germany, he staged a performance in which he set fire to a wall. In 2009, at age 77, he received the prestigious Nam June Paik Art Center Prize, and this year he was chosen to participate in the Gwangju Biennale, opening in September. Lee tells AAP that he is mulling several potential submissions, including an Earth performance, a classical bronze sculpture of a woman set on fire and an installation of penis sculptures affixed to trees.
In contrast with the light, optimistic character of most of his work, however, throughout his career Lee has continued to produce somber sculptures that, like History and Time, reflect on the division of his homeland. One of the most poignant expressions of personal loss is Dispersal Family (2001), an installation of two puppet-like figures made of bundled cloth. Their distorted, conjoined bodies are sprawled across the floor, each bearing a sculpture of Lee's scowling face. The spaces between the figures are marked off by black-and-white barriers, except that here the markers seem less to signal inclusion and are more an awkward sign of separation.

As Lee approaches his ninth decade, he remains a hedonistic figure, drawing on whatever source of inspiration takes his fancy. Most of his work is uncollectable, and yet his income from building public statues affords him the rare luxury of not having to compromise his ambitious projects in order to earn a living. He is content to make art for art's sake, regardless of whether or not anyone is there to see it, and he is likely to continue working in this manner. His compelling life story and his position in art history are barely known—his legacy remains in the balance.
What remains, however, are the images. It is fitting that Lee should take part in this year's Gwangju Biennale, whose artistic director Massimiliano Gioni envisages the event as an exploration of the unquantifiable proliferation of images in the contemporary age. If Lee's on-site installations at the Biennale succeed in captivating a broad audience, and the visually arresting documentation of his earlier work is widely disseminated, then there is a chance he may still enter contemporary folklore as a silent pioneer of the postwar Korean avant-garde. Equally, his art may end up lost in the fray. Either way, Lee will continue to work without limits.
※ This article is published as part of a collaboration between ArtAsiaPacific magazine and Korea Arts Management Service. It first appeared in ArtAsiaPacific No.69, Jul/Aug 2010.
Ashley Rawlings / Writer