Features / Report
KIAF 2017 : Dreaming of the "golden age" once enjoyed by the art market
posted 27 Oct 2017
KIAF 2017 ART SEOUL (KIAF), the largest art fair in Korea, was held for five days from September 20 to 24 at COEX. This year's event attracted approximately 56,000 visitors, with a total of 167 galleries from 13 countries. In terms of numbers, it is apparent that this year's KIAF did not enjoy as much popularity compared to previous years when the economy was booming. From 2011 to 2014, more than 80,000 viewers visited the art fair each year, and since 2015 the number has decreased to around 50,000 with this year's event attracting similar numbers. However, the success of an art fair does not depend solely on the number of visitors; the KIAF 2017 recorded the highest sales in its history with a total turnover of KRW 27 billion.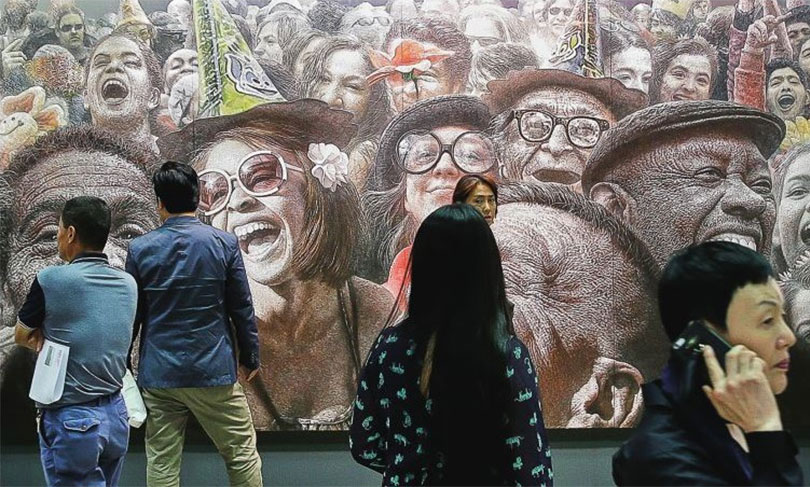 The new steering committee led by Lee Hwa-ik (President of Leehwaik Gallery), who was appointed the eighteenth President of the Galleries Association of Korea earlier this year, pushed for a major change inside the KIAF 2017. First, the organization removed its "guest of honor" system, which had been in place for 11 years. "Until now, we have made efforts to grow by attracting as many international galleries as possible through the guest system, but we plan to develop KIAF more qualitatively in the future," explained a member of the committee. First launched in 2006, the guest system had invited artists from many countries such as France, Spain, Switzerland, India, United Kingdom, Australia, Latin America, Germany, East Asia, and Japan with Taiwan being the last guest country last year. Over the past decade, KIAF has shifted its focus from "internationalization" to "qualitative growth." It is true that there are many voices that raise doubts whether KIAF has been attracting prestigious galleries around the world successfully enough to match its reputation as an "international art fair". As if to resolve such doubt, this year's fair succeeded in luring some major galleries from across the globe including Perrotin Seoul, a Seoul branch of Perrotin in Paris, and STPI from Singapore into the market for the first time in its history.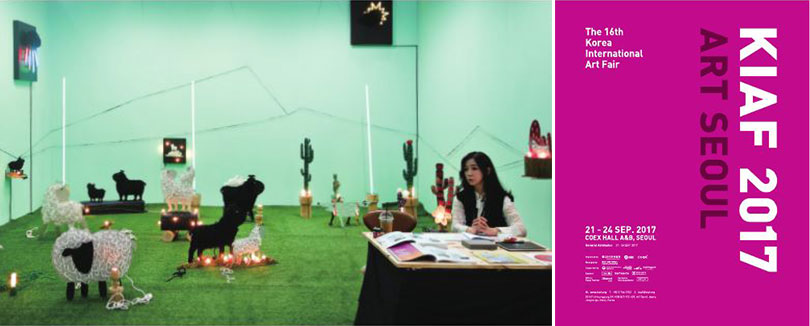 Second, the committee added two more sectors to the existing organization, which was largely divided into a main and a special exhibition. In addition the galleries participating in the main exhibition, the festival also offered "Highlight" and "Solo Project" sectors. It is assumed that this format was modeled after Art Basel in Hong Kong, which divides its event into sectors such as Galleries, Discoveries and Insights. Each sector was organized as follows: In the Highlight sector, the featured galleries set up booths for up to three artists, and they displayed only works produced by the artists over the last three years or works which were deemed highly valuable in terms of art history. Ten galleries from both home and abroad were featured in this sector including Gallery Chosun (Jeong Jeong-ju, Kim Chin-wook, Kook Dong-wan), Gallery Lux (Sata, Koo Seong-youn, Yang Yoo-yun), and Gallery Shilla Art Project and Partners (François Ristori, Choi Myoung-young, Paik Nam-june). On the other hand, galleries participating in the Solo Project sector presented a series of solo exhibitions featuring both up-and-coming and renowned artists to offer the viewers an opportunity to focus solely on each artist's works. The eleven galleries participating in this sector include Gallery Date (Choi Byung-so) Duru Art Space (Kwon Dae-hun), Mori Yu Gallery from Japan (Yasuhiro Fujiwara), and Shang-up Gallery (Hwang Hae-sun). As for the Highlight sector, the committee made an extra effort to make a change in the layout by examining the booth design and display plan prior to the event, but it seems to have failed in creating an original visual setup when it came down to the actual event. However, the attempt was useful in diversifying routes by which collectors encountered and approached the works.
There was also change in the size of the venue. Compared to previous years, this year's exhibition spaces seemed particularly grand because the 3-meter walls of each booth were extended to 3.6 meters. In contrast to the dramatic change made in the height of the walls, there were not many special changes in the artworks displayed at the market. The art fair presented some interesting works ranging from paintings by monochrome painters such as Kwon Young-woo, Park Seo-bo, Lee Ufan, Chung Sang-hwa, and Ha Chong-hyun to works by renowned artists whose names are familiar in the art market, such as Paik Nam-june, Oh Chi-gyun, Lee Lee-nam, and Julian Opie. KIAF 2017 also introduced some works created by international artists who have been participating in numerous biennales around the world, such as Tomás Saraceno, who recently held his first major solo exhibition in Korea, and Xavier Veilhan, an artist who participated in the French Pavillion of the Venice Biennale, adding a sense of diversity to the event.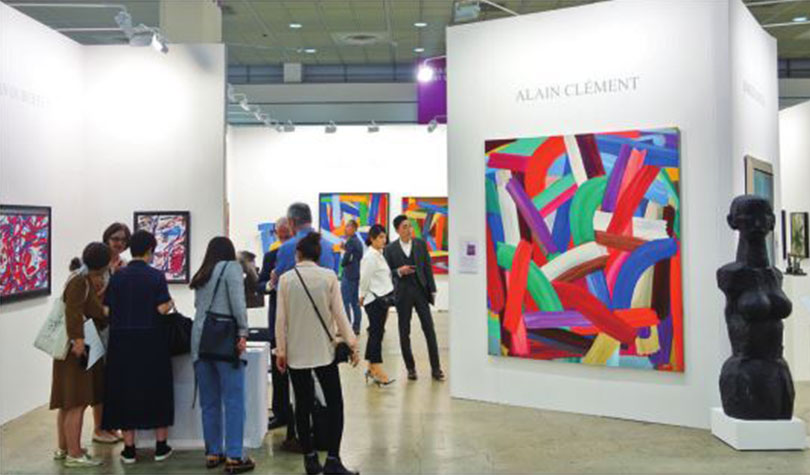 In addition, two special exhibitions were provided in an attempt to add archives and media installations, which rarely receive attention at an art fair due to the lengthy list of artworks on view. Curated by Art Critic Yoon Jin Sup, Explores of Experiment and Challenge, an archive exhibition displayed at KIAF 2017, illuminated the 50-year history of performance art in Korea, and will be extended into a major special exhibition and presented at Daegu Art Museum in January 2018. Director of Art Space Hue, Kim No-am, curated a special exhibition Ineffable Things with a focus on media art. The special exhibition featured a total of nineteen artists including Kang Hong-goo, Na Hyeon, Park Ji-hye, Ahan Seong-seok, Yangachi, and Jeong Yeon-doo.
Above all the most interesting feature of the KIAF 2017 programs was that the number of sessions regarding "talks and conversation" greatly increased. During the four days of the event from September 20 to 24, a total of ten programs were offered in a row. The Conversation Program offered five talks on September 21 and 22, while K-ART Conversation, organized by the Korean Arts Management Service, offered five more on September 23 and 24 in the Conversation Hall in front of Coex Hall B.
With a look at the titles of the programs—The Possibility of Performance; Shanghai, Fast-growing Heart of the Contemporary Arts; Private to Public Collection; New Business Models for Galleries and New Ways of Collaborations; What's Next? The Future of Asian Art Market; A Closer Look into Asian Abstract Art; How Collectible is Media Art?—one can easily that the art fair attempted to deal with the regional category of Asia and various genres such as performance, media art, and abstract painting from all angles. The program panels also boasted a number of prominent figures and experts in the arena of the art market as well as museums, art criticism, and academia including Kim Sun-jung (President of Gwangju Biennale Foundation), Kim Hong-hee (Former Director of Seoul Museum of Art), LeeYong-woo (Former Director at Shanghai Himalayas Museum), Park Seo-bo (Artist), Clara Kim (Curator at Tate Modern), Amy Sherlock (Deputy Editor at Frieze in London), David Joselit (Distinguished Professor of Art History at the Graduate Center of CUNY), and Adeline Ooi (Director of Art Basel Hong Kong), along with the celebrity collector Uli Sigg.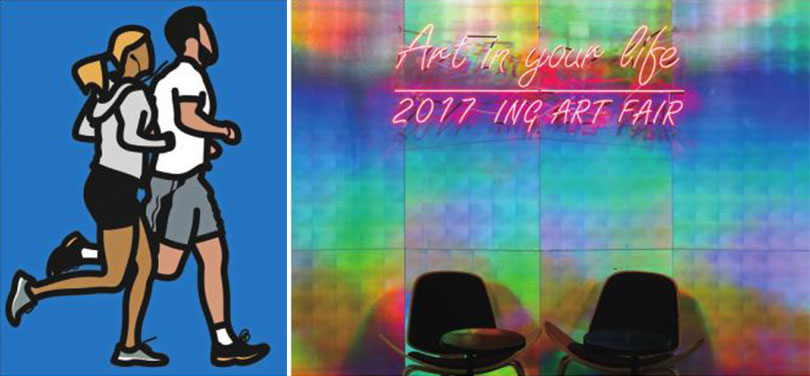 This reporter participated in the program titled A Closer Look into Asian Abstract Art on September 24, the last day of the event, and listened to some of the lectures and conversations given by the panel that included Woo Jung-ah (Associate Professor at POSTECH), David Joselit, Shoichi Hirai (Senior Curator at the National Museum of Modern Art in Kyoto), and Emerson Wang (Art Critic). The panelists introduced Korea's monochrome painting (Dansaekhwa) movement, Japan's Gutai art movement, and Taiwan's Fifth Moon Group ovement to the audience and shared their opinions on contemporary trends of abstract art in Asia. Joselit compared From Point and From Line series created by Lee Ufan during the 1960s and 1970s with those of other contemporary artists such as Daniel Buren and Hélio Oiticica as well as Paik Nam-june's 1963 work Zen for TV, and his remarks received much attention. He raised questions regarding how to view Lee Ufan's works in terms of conflicting cultural perspectives and how to compare and analyze the global and local currents of art. The program was an extremely welcoming occasion that provided an open space for discussion that will bring the Korean monochrome movement, which received renewed interest due to the booming art market, into the context of art history across the world as its theories are re-evaluated. In the venue of the program, one could easily find prominent art historians and critics from Korea, along with Uli Sigg, a renowned international collector—proof of great interest in the event from the art world.
It seems that the "qualitative growth" pursued by this year's KIAF was more prominently felt in the overall composition and content of the fair, which were an improvement over previous years, rather than in the artworks themselves displayed in the gallery booths. Now that current art fairs around the world are attempting to expand into major "cultural events" as well as an "international exhibitions" beyond being a market for the sale of artworks, KIAF seems to be moving forward in this same direction, step by step.
※ This article was originally published in Art in Culture magazine (October 2017) and reprinted under authority of a MOU between KAMS and Art in Culture.


Chang Seung-yeon / Editorial Committee, Art in Culture
Editorial Committee of Art in Culture magazine in Seoul, and is currently a PhD candidate in contemporary art at Hongik University. ​​